The North Face Mountain 25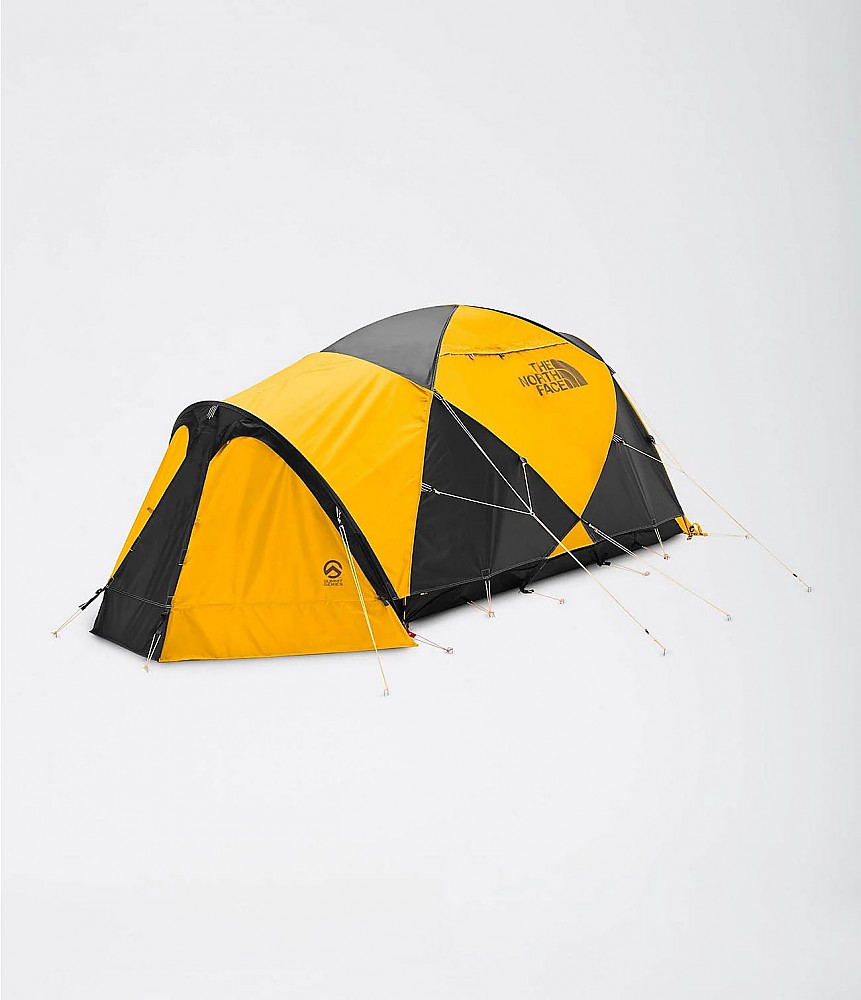 A Swiss Army Knife of a tent.
Pros
Can be used for the other three seasons
Can withstand a lot more than you can
Good use of space
Bright interior keeps you from killing your tent mate
Great vestibule
Cons
A little heavy, but bullet proof
Throwing in my 2c for anyone considering this tent, although I can't speak to the new and improved Mountain 25 (since mine is probably 15 years old) I can at least sing its praises.
If you are scouring the web looking for firsthand testimony for a new, or your first, four-season tent you really can't do any better (IMHO) than this one. I'm the type of person who likes things to be multifunctional or jack of all trades, especially gear. The Mountain 25 is a VERY capable shelter from Summer in the Appalachian Mountains to Winter in the Cascades, it does its job and does it very well.
It may not be the lightest, but if you split the body and fly between you and your partner you can each carry a bag that's half the pack size of the BD Tempest, 3LBS heavier — or 1.5LBS between two — and you can set it up from the outside and not risk poking the poles through the tent floor or tent walls (if 3 LBS is a big deal, put you money to better use and join a gym).  
"But I need to go super duper light, since that's what all the cool kids are doing" you say. I use to think the same thing (still kind of do) so I went out and purchased a BD FirstLight single walled, 3LB tent/bivy. A few months later I find myself perched on the side of Mt. Hood during a particular nasty winter storm. Now I'm no stranger to snow, crappy weather, suffering, etc.., but that was/is the only time in my life where I've sat fully clothed in my tent just waiting to blow away. It didn't blow away and I lived, but if it hadn't survived I doubt that I would have either.
For comparison, my partner in suffering and I found ourselves on yet again on Mt. Hood, in yet another crappy winter storm — like I said I'm no stranger to suffering, but this time with the Mountain 25 tent split between us. The winds were so strong that my buddy had to lay on the tent body to so I could thread the poles (wearing expedition mitts) through the sleeves; it's possible to set up the tent in high winds by yourself, but you need to anchor the corners out first.  
Once the tent was up we crawled inside for the next two days. We cooked (in the vestibule which also housed our winter packs and boots), ate, slept, played cards, read, stared, etc... all with the confines of our happy place on the side of Hood. Not once did the tent even flinch in the wind, in fact the the bright interior color and ample livable space made the stay quite pleasant.
I spent a week on Mt Rodgers, VA during a period of rain that was so intense my partner and I had to yell to be heard. The tent leaked not a drop.
I lived for a Summer in the woods in West Virginia while working as a white water raft guide. The double doors, but more importantly the double mesh doors, were perfect for allowing air to circulate through the tent, keeping the bugs and unbearable humidity at bay.
It has survived numerous sea kayaking tours throughout the East, South and Pacific NW.
Once during a week long trip through the Everglades we were hit by a storm that had straight line winds that were so strong we had to guy the tent out to the kayaks just to keep it and us from blowing away. Just imagine siting on an ideal white sandy beach in the sun looking South towards Cuba when you see what looks to be a black line drawn across the horizon with a sharpie marker — I mean black as in the absence of white — not gray/black.
Within a minute it's as if Mother Nature decided that this is the moment that she wants to rid the world of everything peaceful and nice — aka Hell followed the white horse and you were the last man standing. What do you want to retreat to, a tent that's so specialized unless at 20,000ft you're going to sweat to death and drown in your own condensation, or a tent that can hang with any tent at 20,000ft, BUT still covers your a** during all of your other mad capped adventures too?
For solo stuff there may be better options, but nothing (at least that I've found) that isn't a compromise in some way, shape or form for year round use.     
At $530 bucks this thing's a bargain for what you get; think of it as the LandCruiser FJ 55 of tents, no matter what stupid adventure ideas you and your friends come up with (always after a few too many), this tent will keep up (unlike your buddies) and look good doing it!
I payed $150 through a pro-deal back in the day, but I wouldn't hesitate to pay full price today.   
Don't listen to the haters!       
Source: bought via a "pro deal"
Price Paid: $150

I bought this tent at an REI garage sale for $99. I thought to myself for that price I had better set it up. I took it out and set it up. It was like brand new. The only problem was the window on the rainfly was almost completely detached. I took it to my local North Face store and they repaired it and shipped it back to me for free (under warranty) even though I got it used.
I just used it for the first time in the Colorado Rockies. I took it even though it was still summer. I camped at a lake at 11,897 feet. Close to treeline. At first I thought it would be too hot so I took my new REI Half Dome tent as backup.
As we hit camp the sky got really dark and nasty. We got our tents set up just in time for the rain. It rained off and on all that night and into the next day. Even though we where 4 wheeling in, each person took their own 2 person tents. I am glad I took this North Face tent. It saved my bottom. It rained so hard that all of my friends' tents got some water in under the vestibules. My tent got no water in and kept me dry and warm.
I also had more room than any of my other 2 person tents. I am 6 foot 2 inches and weigh 250 lbs. Each morning we woke ujp to frost on our tents and I was the only one with a dry sleeping bag and gear as the others had 3 season mostly mesh tents and the condensation got them.
I have to give kudos to TNF for making a bomb proof shelter. Now I can't wait to use this tent in the winter in the Rocky Mountains. My nephew and I are already planning trips above treeline, based around this tent. Can't wait to abuse it and test it's abilities.
Although I got this tent for $99 (like winning the Lotto) I would highly recommend this tent and even at full price it is worth it due to the quality and durability TNF put into this tent. Just think, your life may depend on it in bad situations. Don't skimp on your gear.
FYI, I did find the footprint at an REI store and it is a must-have. It kept water and mud off my tent floor.
Design: A
Sleeps: 2
Ease of Setup: Very easy after a few practice runs.
Weight: About 8.5 pounds
Price Paid: $99

Ok, so TNF are big corporate #$%@holes that make gear cheaply in China to sell to rich urban college kids. And this tent is heavy and bulky.
Get over it and consider each bit of gear for what it is!
Can say from experience that when you are holed up in a raging blizzard this tent is the goods. The tent does what it claims it can, and is a solid and comfortable place to survive a storm. For two big guys well over 6 feet it was comfortable for three days in gale force winds and whiteout. Probably saved our lives.
The design has been refined over years and has some nice little features. Vestibule is huge and great to work in for hours melting snow (instructions say not to cook in vestibule but they must know everyone will).
Complaints? Well a spindrift collar on the small vestibule would be useful. Somehow in strong gales fine ice can work its way up under the fly and through the internal zipped up zippers in a fine mist but not enough to be of concern.  
And I really would like a tent like this to be designed that could be an integrated pitch (fly and inner at once). Setting up in strong winds with numb hands is 'tiring' and you may not bother with all the fly to inner attachments when you really just need to get it up and get out of the weather.
However, from experience, even a rushed, sloppy pitch will survive some pretty nasty weather. The sleeve attachments for the poles are more mucking around than clips, but mean that once up the tent is better pitched regardless of conditions.
If you value light weight above all else don't get this tent and stay away from areas where the weather can get really nasty. Otherwise, carry something like this. You won't regret it ever once you have experienced your first storm that really needed it.
The TNF Mountain 25 is not the perfect tent for me (none are nor ever will be), but it is very good as a whole and up to everything it is advertised for. +1 to TNF, they still do make some very worthwhile gear.
Price Paid: $400

When I was shopping for a four season backpacking tent I read every review of every tent I could find.
There are a lot of reviews for the Mountain 25 and almost all of them say the same thing. This tent is all around SOLID! Weighing in at a hefty 9+ pounds it ought to be.
For use in high winds, cold and snow...this tent is amazing.
It takes longer to set up than any other tent I have experience with. This isn't a bad thing though..it's the reality of what it takes to get such a rock solid shelter.
The doors could be bigger but the weight would go up.
As is this tent has been well thought out and designed.
Clips would be nice instead of pole sleeves but that would effect stability. The venting options with the dual doors and roof vents are great. The pockets are a nice feature and the interior space and headroom is plenty enough to invite the neighbors over for a game of UNO when the weather outside is frightful. There are plenty of tech reviews and stats in other reviews so I won't go there.
This design has been around a long, long time and there are many of these tents in use today for a very good reason.
Tent makers often change their designs and don't offer the same tent years after year...that isn't the case with the Mountain 25 and many other companies have their own versions of this palace of a winter tent.
If you're in the market for a true four season shelter that will laugh at Mommy Nature...this is a good pick. If you don't go with the Mountain 25...it's still a good tent to use as a comparison to whatever you think is better.
Design: Four Season Freestanding Portable Igloo
Sleeps: 2
Ease of Setup: Rome wasn't built in a day either
Weight: 9+
Price Paid: $375

I find it strange that some want to design this tent as a lightweight expedition tent. Hate to say it but after climbing for 35 years there are times when the "lightweight" tents I have been in were not doing so well when pitched on exposed ridgelines or faces taking the full brunt of storms.
Must admit that I have an early version of this tent that comes in a little lighter, but in all the years of camping in high places my two all time favorites are the Mountain 25 and TNF Oval Intention, still have one of those also.
Please don't turn this one into a single wall lightweight! If that is what you want there are plenty on the market.
I bought this tent to withstand the environment up here in interior Alaska. It certainly does that.
The Mountain 25 is very solid, surviving many trips, some in very cold temperatures. It handles very well from 50 F to -30 F. It has shed heavy rain without leak and withstood heavy snow in Thompson Pass, Valdez, AK. (highest average snowfall in North America).
The space within the tent is one person plus gear or a comfy two persons with boot space. The vestibule is just enough room to place a stove or other gear you don't want to lose in falling snow. Again, it is built like a sub. There are no windows besides the "peep hole" on the fly. This is not a warm weather tent! Inside, I find more-than-ample room in pockets. They surround the inside of the tent. There also are two pockets above the doors.
The Mountain 25 is versatile on a mountain, like the name alludes to. When off a mountain, one may find it too heavy or too difficult to setup. The five poles required to stand the tent up are cerainly necessary when under heavy wind or snow, but not under lesser conditions. Consider another tent for "normal" environments.
The fly and vestiblule are kept in place by cords and tent stakes. I have used it many times without staking the fly down but have no choice but stake the vesibule out. The fly, in general, is very solid but time consuming to install.
Design: four-season freestanding
Sleeps: 2
Ease of Setup: Worth the setup in the snow and wind but too difficult under those conditions
Weight: 9 lbs +
Price Paid: $350

I bought this tent just as the NF started to change its venue from a state-of-the-art mountain gear brand to its current incarnation as a provider of fashion for the college set. It had just come out on the market and I needed to replace my old VE-24 complete with the snow tunnel windows which I regret having to leave behind somewhere on the Arctic sea ice.
The Mountain tent has served me well, perhaps better than the VE-24 in that it is slightly lighter and packs smaller. Being rectangular it also fits well on narrow ledges and such; a problem with larger tents. Set up is fairly easy with cinch straps to tighten the tent and fly. The interior space is small (compared to the VE series) but livable.
It also stands up well under heavy snow and, perhaps most importantly, during high winds.
The only complaint that I can come up with is the tent poles. The elastic shock cord freezes at very low temperatures and does not retract too easy into the poll causing frustration during set up.
It should also be remembered that this is essentially a winter tent. Although I have used it during the summer months, this tent and others like it, should only be used during the winter.
Other than that, it's a great tent, designed for the worst weather and worth every penny.
Design: 4 season modified geodesic dome
Sleeps: 2
Ease of Setup: 4 out of 5 because of the shock cord during extreme cold
Weight: about 9 lbs
Price Paid: 600.00 CD

I have just started backpacking/camping again in the last year after a long hiatus. I am not much for the "car camping," preferring to put everything into the pack and hike into backcountry sites at the National Parks, or into the backwoods of the interior. I still like some of the "creature comforts" like a foldable stool and table, butane lighter, a wind-up radio and MREs. I'll hike a 45-50 lb pack in and out for 1-2 day trip.
I have two 2-person tents (I find that a 2-person leaves lots of space for one); a three season for spring/summer/fall, and the Mountain 25 for the winter. I recently purchased the Mountain 25 a month ago, and so far have been in the backwoods in a snowstorm, and in a windy overnight squall of ice pellets, freezing rain, and snow, and the Mountain 25 held up beautifully. Just a shake in the morning to get the layer of ice and pellets off, and it's good to go. No leaks, no condensation.
I am very pleased with the purchase, and look forward to many years of use.
Design: four season expedition
Sleeps: 2
Ease of Setup: Make sure you set it up and are familiar with it before you set out.... one person setting up in a freezing rain storm can be trying. Once you know where all the poles go, setup is about 20 minutes.
Weight: 8 lbs 9 ozs
Price Paid: $500

Well designed tent with lots of nice touches, let down by two major flaws.
Pros
Well designed 3-point self-balancing guy-attaching points on fly.
Nicely designed inner doors
Cupped groundsheet that extends several inches up the sides
Reasonable amount of room in the bell end
Cons
Extremely thin and weak aluminium poles
Inner tent has to be pitched first
I have had two of these tents for over 10 years and in that time have had multiple breakages of the aluminium poles. These are made of DAC 9mm aluminum and are sold as "extremely strong for the weight."
Well, that may be, but the weakness is at the joints where the poles are even thinner than the 9mm and these have snapped under gentle breezes in back gardens, and even just when being inserted into the neighbouring section of pole. I have returned them to TNF and had replacements provided and the same thing has happened. Was not impressed with the TNF response, either.
The rest of the tent is alright, indeed, nicely designed (especially the self-adjusting 3-point anchors for the main guy attachments), apart from the problem of having to erect the inner first. If the weather is fine when pitching this is not a problem, but if the wind is up, the rain is lashing down and the light is fading, you want the outer to go up first, otherwise the inner gets soaked before you start. And this one is fiddly to do in the dark and the cold if you're not used to doing it blind.
Overall, while it has some really nicely designed features, if I needed a tent on which I could rely in the mountains in inclement weather, this would not be it. My favourite tent? "The Tent" by Ultimate, unfortunately now no longer made.
Background
I've been wild winter camping in the mountains of Scotland and northern England for over 30 years and used several different tents from different manufacturers in that time.
Source: bought it new
Price Paid: GBP £350 in 2010

For use in high winds, cold temperatures, and snow.
Pros
Moves well with the wind
Multiple configurations for tie downs
Handles cooler weather
Cons
Heavier pack weight on extended climbs adds up
Prone to tears in the pole guides
I have used this tent under varied mountain conditions. The tent is at its best when the winds whip up suddenly and when you get overnight heavy snow and drops in temperature. When the weather is mild or the winds are mild, the extra weight that you carry, feels unjustified.
The footprint that is made for this tent is a welcome addition when pitching the tent on rocky surfaces. Tent packs tight in a backpack.
Source: bought it new
Price Paid: $520

After reading some glowing reviews on this tent, I took the leap and bought a Mountain 25. Very good decision.
I recently spent 4 days camping at 3,800m whilst climbing Mt Blanc. My girlfriend and I got caught up in a thumper storm which would have destroyed our old tent. Not this tent. She shook and groaned for most of the night, but held up perfectly. There were times when gusts were well over 150km/h. One of our neighboring tents was actually blown away (the owners were sleeping in the lodge).
I also bought the ground sheet which seems like a good extra layer to keep moisture out when camping on the snow.
Downsides, like other comments, not the lightest tent and takes some practice setting up. I would not go high altitude without it.
Price Paid: $350 secondhand

I bought this tent back in 2006 and have used it twice every year in snow conditions since.
Positives:
- very strong in the wind, especially if you use all the guide points
- unlike other tent manufacturers, the tent bag actually is made to fit all the components
- bright yellow colour stands out in white out conditions
- Glow in dark zippers
Negatives:
- It's not the lightest tent around
- The floor isn't very waterproof if you get the spring or autumn snow/shower sort of weather
- Takes a while to set up but it's worth it!
Price Paid: 400

Awesome winter tent! I have had this tent for three years, and I've used countless times. I've mainly used for snowshoe backpack trips. I've used it a few times in the summer, and it's not too bad. It vents well. But it's too heavy at almost 9 pounds to lug around in the summer time. There is plenty of floor space for two six-footers inside, and a nice vestibule for gear storge. A well-made tent that should last for many years!

Design: 4
Sleeps: 2
Ease of Setup: fairly easy
Weight: almost 9 pounds
Price Paid: Trade

When at altitude and exposed to serious winds it's impressive. However, it's heavy and like other TNF tents, trying to velcro the fly to the canopy in winds with numb hands brings tears to my eyes. I do like it, but if you're often in very windy and wet areas I would consider the TN ultra quasar, as the fly has a valance that prevents rain getting blown up the canopy.
Design: geo mountain
Sleeps: 2
Ease of Setup: easy with 2 people & wind free - terrible on your own in wind!
Weight: 4.22 Kg - heavy
Price Paid: £350 discounted

A true 4+ season tent -- totally bomb-proof. 1st time out it performed flawlessly. Weight is an issue, but well worth it when you are at 7,000 feet in the middle of January with snow and 40 mph winds. The front vestibule is very functional (especially if you dig out about an 18" pit) -- plus the tent just looks cool! Well worth the price paid. I highly recommend it.
Design: 4 + Season Geo-dome
Sleeps: 2
Ease of Setup: Very Easy
Weight: 10 lbs.
Price Paid: $325

This is a great tent for mountaineering and will withstand just about any storm. it is a bomb proof shelter and has a good quality name behind it. as for using it year round, it is to heavy for a summer tent and doesn't breathe very well. use it for what it is meant for; surviving a high mountain storm.
Design: Freestanding
Sleeps: 2
Ease of Setup: not bad , it depeneds on the wind.
Weight: 9.0 ... i think
Price Paid: it was a friends but i believe $600.00 Canadain

Great Tent. I sleep cold and take this more than most would. You could probably sit on the roof of this thing it's so sturdy (only kidding). With continuous pole sleeves the setup can take a few more minutes than normal but its worth it.
Bottom Line: Bombproof Indeed. Quality. Heavy for a two-person. Everest compatible!!!!!!
Design: 4 Season freestanding fallout shelter
Sleeps: 2
Ease of Setup: Give yourself a few minutes here but its worth it.
Weight: 8+ pounds
Price Paid: $250 @ Campmor

Simply the best tent in its field. The Mountian 25 is faultless in my books. I have used a Terra Nova Quazer before this tent and I would say the Mountain 25 stands above it due to its larger storage space and lightness compared with the quazar.
Plus the gold colour is just cool!!!!!!
Design: 4 Season tent
Sleeps: 2
Ease of Setup: Very easy. Fool proof even for use Climbers!!!!
Weight: 3.80 kg
Price Paid: £399.95 (UK)

At 10,000 ft on Mount Rainier in heavy winds this tent performed very well. It is a little difficult to set up in heavy winds, however very nice once set up, would recommend snow anchors rather than those that come with it. Vestibule is also a little small.
Price Paid: $500

I set this tent up at 12,000 feet on Mount Whitney. I experienced two blizzards with 75-85 mph winds. The tent performed awesome, barely moving during the storms. Awesome tent!!
Price Paid: Don't Remember

Really solid tent and just come back from the Cairngorm Mountains in Scotland where despite numerous blizzards the tent remained firm.
Sleeps: 2
Ease of Setup: Easy
Price Paid: 160 Sterling

Great 4 season tent. In the summer it can be set up without the fly, or it can be set up using only the fly and the foot print.
It's too heavy though. 4 pounds could easily be saved if North Face would redesign the tent slightly. I would like to suggest:
1. Make the tent as a single wall using a 3 layer Gore-Tex Pro Shell or HyVent Alpha (the fly could be saved)
2. Move the poles to inside the tent (the 4 pole sleeves could be saved, and perhaps 2 poles)
3. Change the design slightly, so that it would pitch perfectly with 2 poles
4. Consider saving excess features such as the 4 pockets
5. Redesign the vent system to save zippers
6. Decrease the width slightly to save weight
7. Great ventilation for 4 season use
That would make it a very lightweight 4 season 2 person expedition tent. Perhaps it would be another model.
Design: 4 season freestanding expedition tent
Sleeps: 2
Weight: 8 lbs 9 oz
Price Paid: $399

Think you could try something else, like the Hilleberg Tarra.
Pros
bombproof
outer inner simultaneous setup
tunnel tent design incorprated in dome tent structure
2 colour choices
Cons
quite heavy
plastic pole holders
metal zipper pulls that jingle in the wind
I think for those of you who have tried this tent and want a simultaneous setup, the Hilleberg Tarra would be much better. 
Your Review
Where to Buy
Help support this site by making your next gear purchase through one of the links above. Click a link, buy what you need, and the seller will contribute a portion of the purchase price to support Trailspace's independent gear reviews.
You May Like
When the high-alpine expedition you've planned calls for gale-force winds with a high probability of blowing snow, consider the two-man, four-season Mountain 25 tent by The North Face. Structurally, the Mountain 25 is designed like a Quonset hut with six strategically placed helix poles for a formidable frame, and it's even dubbed by one TNF pro-staffer as "a virtual bomb shelter." There's a nylon ripstop canopy to keep it weather tight, and a polyester ripstop fly with 1500 mm polyurethane coating to keep your team and all your gear dry. A durable denier and nylon-taffeta tape-sealed floor with a water-resistant 100,000 mm polyurethane coating prevents seepage or rivulets from forming on the inside. The DAC Featherlite NSL aluminum tent poles were designed to withstand incredible tolerances and slide through the tent's sleeves without a hassle.
Features:
Polyurethane (PU) port window, cold-crack tested to -60°F
High-low venting
Compatible with square gear loft
DAC stakes with pull cord
Two opposing zip-close doors with overhang vestibules for easy escape and entrance
No-trip reflective, cam adjustable guylines made of unbreakable Kevlar
Glow-in-the-dark pull tabs on zippers
The Mountain 25 replaced the The North Face Mountain.
Specs
Price
MSRP: $690.00
Current Retail: $690.00
Historic Range: $319.20-$690.00
Reviewers Paid: $99.00-$520.00

Total Weight
9 lbs 13 oz / 4.45 kg

Trail Weight
8 lbs 13 oz / 4 kg

Fastpack Weight
6 lbs 5 oz / 2.86 kg

Fly
40D nylon, 1500 mm PU/silicone coating, water-resistant finish

Capacity
2

Canopy
40D uncoated nylon ripstop, water-resistant finish

Mesh
20D lightweight nylon mesh

Floor
70D nylon, 10000 mm PU coating, water-resistant finish

Floor Area
29.30 ft² / 2.72 m²

Stuffsack Size
24' x 7' in / 61 x 17.8 cm

Floor Area
29.3 ft² / 2.72 m²

Recently on Trailspace