The North Face Pebble

The Pebble has been discontinued. If you're looking for something new, check out the best three-season tents for 2020.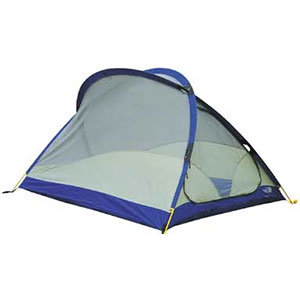 Specs
| | |
| --- | --- |
| Price | Reviewers Paid: $120.00-$169.00 |
Reviews
4

reviews

5-star:

0

4-star:

3

3-star:

1

2-star:

0

1-star:

0
Durable, moderate weight, moderate packability.
Pros
Price
Light-ish
Strong
Good in the wind
Setup: Because this tent stretches nice and tight and has very little flapping in the wind or pooling of rainwater, it also takes some practice to set it up efficiently. But overall it's not too bad. My main complaint with setup is that the model I bought in 2002 still used pole sleeves rather than clips and the poles had to be threaded through this in a crisscross manner and this is kind of annoying. 
Stability: I have camped in some windy locations in this tent. It is taut! Easy to stake down the fly which comes low. I would push this into being a 3 and 1/2 season tent. 
Weather Resistance: I have never had rain drip in, or condensation drip down, or wind blow through (when I didn't want it).
Ventilation: The main structure of the tent utilizes A LOT of noseeum mesh which is great for ventilation (and the reason that I wouldn't not push this to trying to be a 4-season tent). Condensation is NOT an issue — even with two campers inside
Room & Storage: I think the tent was billed as a "1.5" person tent. I have mostly used it for solo backpacking or car camping and it is more than enough room for one person and your gear — the rain-fly vestibule area is nicely sized
Packability: In reality, this tent packs up to a relatively reasonable size, especially if you are going to use it as an efficiency for two campers. Strapped to the bottom of my Jansport D3 external frame I don't even notice the weight or bulk (I think it's less than 4 lb.) However, when I want to go fast an light with my 40L alpine bag I'm a little annoyed with the bulk. But if I try to put this whole tent (sans stuff sack) and my sleeping bag inside my 40L I barely have enough space left for 24 hours worth of food let alone a stove or water treatment.
The fly alone comes down very far. So I have considered traveling with footprint (sold separately), poles, stakes, and fly and leaving the main structure at home. But I think this is the main category where my old Pebble really does not measure up to more modern solo backpacking tents. 
Ease of Use: It took me a couple times setting it up to get the hang of it. Last time I did it was in a 15mph steady breeze and I was done in about 5 min. 
Construction and Durability: I bought this tent in 2002 and have used it many, many times in a variety of scenarios and had to store it in some less than optimal conditions. It has stood up to everything I have thrown at it. Not a single zipper fail, or frayed seam, or even a torn mesh. 
Source: bought it new
Price Paid: $150 (Closeout)

Perfect tent for 2 people of medium build. Not very heavy and easy to set up. Very hardy...won't rip even with a lot of abuse. I have had it for 6 years now and it gets about 20 to 30 days of use every year. The worst weather it has seen was: 1) in Utah with about 3 to 4 " of snow and ice and 2) this April in the Olympic Peninsula with 3 days of non stop rain. It gets a bit damp inside on such cases but does not let water in if you pitch the rain fly correctly.
Con: Gets a bit snug with two people inside and the rear of the tent has a little too much mesh. A heavy slanting downpour tends to kick up dirt underneath the fly which easily reflects through the mesh into the tent.
Design: "three-season freestanding
Sleeps: 2
Ease of Setup: Very easy
Weight: 5-6 lbs (cant remember)
Price Paid: $120

I have had this tent for two years now. It mostly sees the backcountry of the Smokies, and well as many parks in the sunshine state. The Pebble is a rock star in high winds, during a recent trip a tropical storm came through with some pretty strong winds and the pebble was up to the task.
I find that in the rainy Smokies the Pebble can have some difficulties shrugging off the water on multiple days of rain. But what doesn't get wet on a five day hike with all of them seeing rain? The fly comes very close to the tent walls at points and can cause some leaky spots. For the most part I have not had any problems with excessive water in the tent.
The tent is great for its weight, but beware there is only one entry/exit point, which can prove difficult with packs in the vestibule. Even thought this tent has some points that could be improved upon, over all it is a great weight to value.
Design: three season freestanding tent
Sleeps: 2
Ease of Setup: easy-once you get the hang
Weight: 5lbs
Price Paid: $155

I bought this tent after I tried (and failed) to pitch my non-freestanding tent at Trail Camp on the Mt. Whitney Trail. The construction is very high quality. I have had it a little over a year, and it is holding up well.
It is a basic two pole dome tent, but the poles cross each other twice, which adds stability and makes the area with the maximum sitting headroom bigger. The entire roof is noseeum. The rainfly fastens securely via snap-buckles and velcro. The tent is very sturdy and secure in heavy rain with high winds. The tent is slightly narrower at the foot end, with the vestibule and door at the head. The door is a little small, but usable. The vestibule has room for two packs, but they block the door.
I have shared this tent with a fellow six-footer, and it is a little snug. This can be a problem when it rains, because even when guyed-out, the rainfly is pretty close on the sides, so you can get a little damp.
I am satisfied with this tent, and expect it will serve me well for years to come. If I had it to do over again, I think I would get the REI Half Dome Plus 2 instead, because I like the door and vestibule arrangement better.
Design: free-standing modified dome
Sleeps: 2
Ease of Setup: no-brainer
Weight: 5 lbs.
Price Paid: $169

You May Like
Recently on Trailspace