The North Face Peregrine

The Peregrine has been discontinued. If you're looking for something new, check out the best three-season tents for 2021.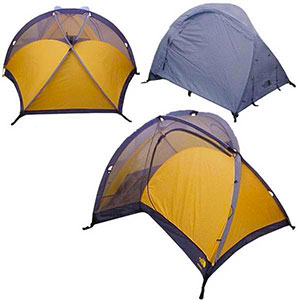 Specs
| | |
| --- | --- |
| Price | Reviewers Paid: $70.00-$314.00 |
Reviews
9

reviews

5-star:

7

4-star:

1

3-star:

0

2-star:

0

1-star:

1
18 years old, and I still love this tent!!
Pros
Perfect size
Easy to set up
Easy access
Cons
Too heavy for backpacking
Not made any more :'(
Weathered severe thunderstorms/tornados in Wisconsin in August, 1999, and then later on trips in Kansas and Missouri. Despite severe winds and torrential downpour, we always stayed dry and didn't get blown away. Couldn't hear several kids singing at the top of their voices in another tent three feet away during part of the storm in Oshkosh...
But here it is 18 years later and it is still holding up very well. I've had to re-apply the weather proofing a couple of times. Seam tape has all but disintegrated. But other than that, no problems at all! Never had water leak through the floor, but the fly started leaking a few years ago (hence the need for weatherproofing).
There is plenty of room inside the tent for two people and gear (in the wings), and lots of room in both vestibules for shoes, etc. I'm 6'3", and the length fits me fine with room to spare (which many tents do NOT do).
Wish they still made it, because this is one heck of a tent and I'd love to get a new one to replace this aging bird when it finally fails.
Source: bought it new (Galyans in Overland Park, KS, before Dicks bought them out and ruined the store.)
Price Paid: ~$100?

Year 22-ish...no rain, zipper, or soggy bottom issues...ever! Rainfly peakaboo windows gave up about 3 years ago; covered them and still obsessed with this tent.
Pros
Well built
2 doors
3 poles, easy to put up
Great protection from wind and weather.
Cons
Heavy @7lbs
No longer available!!
Best ever tent!
Experience
Heavy seasonal use.
Source: bought it new

This is a very well designed two-man tent with both inside and outside vestibules with two entrances. I have had this tent for about 20 years and it has served me well under extreme conditions. It is very stable in high winds and has remained dry inside while submerged in shallow water. The mesh interior provides excellent night views under warm camping conditions.
Pros
Compact waterproof design
Easy setup
Stable in windy conditions
Inside and outside storage vestibules
Comfortable for two
Cons
Sadly it is not produced anymore
The fly is disintegrating after lengthy sun exposure and fly zippers are failing.
I purchased this tent in the late 1990s in north Toronto, Ontario, Canada. I have used this across the USA particularly in the Southwest for extensive camping trip. It has also served me well in camping trips across Australia. It has been very durable and remained dry under rainy conditions.
It is easy to set up and holds up well under windy conditions. Under warm dry conditions the fly is optional providing exceptional night sky views. It is roomy and comfortable for two. I loved the inside and outside vestibules for storage. The two entrances allowed easy separate entrance and exit for two.  
The tents packs into a modest size which is a bit bulky for backpacking. It is easy to set up and take down. The tent has been very durable. Sadly after about 20 years the fly has become brittle and is disintegrating. The tent fly zippers are also failing. The tent itself is still very useable.
I have not been able to find a tent of comparable design. I wish that North Face would re-issue this tent design.    
Experience
Used this tent extensively in camping trips across the USA particularly the southwest. Also used it across Australia on extended camping trips. It has held up well under rainy and windy conditions. It stayed dry inside after being caught in a flood and submerged under shallow water.
Source: bought it new
Price Paid: About $350 (Can)

I got this tent at a discontinued price...but it is an awesome tent. I have used it all over and at times when it has been downpouring and we stayed dry without a problem.
Design: "roomy design"
Sleeps: 2
Ease of Setup: takes 2 minutes to set up this tent
Weight: nice and light
Price Paid: $70

We took our this tent out for the second trip and it was an ace. It withstood pea-sized HAIL and a deluge of rain that turned our campsite into a 2-inch deep river. The storm brought a tornado within 10 miles of us and the Peregrine didn't even flinch in the wind. The tent remained perfectly dry inside. Our first night had good weather; we slept with the fly off and had plenty of ventilation with all of its screening.
Sleeps: 2
Ease of Setup: easily done by one person
Price Paid: $300

Thought highly of this tent, space/ergonomics/stability/weight all that good stuff UNTIL it rained. The floor let in water, tried without ground sheet, with ground sheet facing upwards, ground sheet facing downwards -- water would seep in through most of the centre of the floor anyway! This, in the middle of BWCA !
Talked to Galyans (Minnetonka) and they agreed to take it back after examining it for signs of poor use.
Some opinions along the way;
a) manufacturing defect of the material of the floor
b) poles too long, thus causing floor to expand due to excess tension, increasing the size of the pores of the material.
c) North Face quality has gone down in the past few years
Hate to put in a bad review considering most people I talked to that had other North Face tents for a looong time have had no problems.
I have now invested in a Marmot Swallow which seems to be a really well built tent.
Design: 3 Season
Sleeps: 2
Ease of Setup: Easy but there are better
Weight: 9lb 14 oz
Price Paid: $230

I have owned this tent for about eight months now and have used it in all but the most extreme conditions. If it is properly set up and guyed out, this is a very stormworthy tent. Excellent space to weight ratio. Vestibule/door placement could have been better, the vestibule door opens directly over the tent door which allows rain to get in when you enter and exit the tent. Plenty of interior space with good head room. Excellent stargazing due to large netting panels. This is one of the most comfortable tents I've used.
Design: 3+season
Sleeps: 2
Ease of Setup: easy enough for one to set up, the fly has too many velcro attachments
Weight: 7lbs. 4oz

The North Face Peregrine is a two-man, 3-season tent. We love this tent. First of all, it weighs just a few ounces over 7 pounds, but it is absolutly huge inside. My wife and I have enough room for each of us, our packs, and we're pretty sure we could get at least one more person in there if we tried. The floor shape, as you see in the diagram, is shaped like a hammerhead. The two "wings" on either side make great storage areas for your packs, or any other gear you would want to keep close to your head. And the dual doors and dual vestibules are pretty convienent as well.
The tent is also very easy to pop up. Just three shock poles do the trick. What makes setting the tent up a piece of cake is the continuous pole sleeves, which eliminate the pole popping out during set-up. Also, each sleeve has a pocket on the far end, so as you are pushing the pole through, you don't need to worry about when to stop, cause it'll just stop feeding through. The rain fly is a little overzealous I think. At each pole intersection there is a velcro loop to attach and then another velcro loop to attach halfway down the sides of each pole. Then all the normal attachments as well. It makes it a little difficult to set up in the rain or in a hurry.
We do like all the mesh walls. This tent is yellow, but the areas that aren't yellow are all mesh which makes for some pretty nice stargazing. The yellow also makes the tent considerably lighter inside than darker tents. However, because of the mesh ceiling, you do want to set your tent up quick, because if it's raining, it's gonna get wet inside.
The North Face says that this tent was designed for backpacking and camping in environments that are prone to severe wind and rainstorms. I would say they are right. We have yet to experience any severe wind, but we have gone through a few rainstorms with it and stayed absolutely dry. NF also sells a footprint groundcloth to match the unusual shape of this tent, but we just use our normal groundcloth and have no problems.
Design: 3 season
Sleeps: 2
Ease of Setup: moderate
Weight: 7 lbs.
Price Paid: $314

I really liked this tent. I just got back from Tamagemi Lake in Canada and it rained everyday. We were nice and dry. I loved the layout of the tent and the overall craftsmanship.
It has lots of space inside the tent, however the vestibules are small, barely big enough for my boots and rainsuit. Also, the tent only comes with 6 stakes, more would be nice. When you pitch this tent try to find the most level ground, because if your feet slide down into the front of it you're going to get wet. The space between the fly and tent is minimal here.
Also I recommend using the guy lines and getting them as taut as possible. The weather was cold and rainy but in my Cat's Meow and Peregrine I was set.

Design: 3 SEASON
Sleeps: 2
Ease of Setup: RELATIVELY SIMPLE
Weight: ABOUT 7 POUNDS
Price Paid: I PAID $250

You May Like
Recently on Trailspace