The North Face Primero 85

The Primero 85 has been discontinued. If you're looking for something new, check out the best expedition packs for 2023.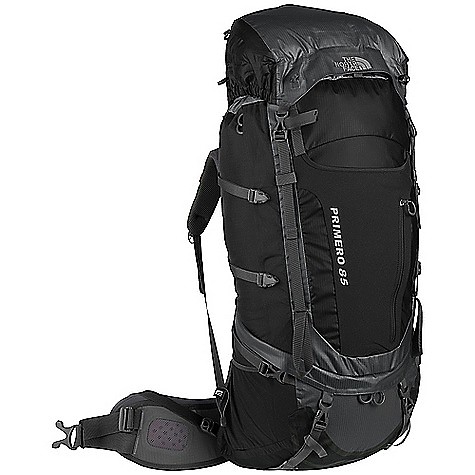 Before I bought this Primero 85, I would have told you that North Face makes good value day-to-weekend packs, but nothing that would really appeal to the extended-trip backpacker looking for something in the 60+ liter range. So I was admittedly taking a chance on this Primero, but all the reviews I was seeing of it said that its new suspension system was the *real deal*!
The fit was great, and the quality attention to detail better than any other North Face pack I've ever seen. But the true test ultimately comes not in the store but in the backcountry...and that's when I'm happy to report that the reviews don't lie. This baby really can pack on the weight!!
The wife and I spent a week in Big Bend Ntl Park (Texas). Anyone familiar with that place knows that natural water sources are basically non-existent in the backcountry. There are places to cache water but bottom line is that you're going to have to carry quite a bit of water if you want to spend any extended time in the backcountry. At a gallon-per-day and 8-lbs-per-gallon, I couldn't afford a sissy pack! I needed something that could push 50+ lbs for those first couple of days hauling all of that water.
I'm pleased to report that this is the best fitting internal frame pack I've ever taken into the backcountry. I'm always skeptical when a magazine like Outdoor hypes a particular new 'feature' in a backpack, but the hype surrounding the Primero's new suspension system certainly seems to be the real deal.
I contemplated the Argon 85 and Aether 85 packs by Osprey. I still love my Aether 45 for minimalist packing, and both of these packs are good choices. However, I still decided to go with the Primero for two reason: (a) the Aether 85 is comparable in price to Primero 85, but the Primero's suspension seems better if you need to pack over 45lbs, and the overall construction of the Primero just seemed a little better than the Aether; (b) the Argon 85 is a gorgeous pack and had it been priced around the Primero, I would have been 50/50 on which one to get -- both packs seemed equal in comfort when I strapped on 50lbs when trying them on, but with all things being virtually equal in comfort and quality you gotta go with the better deal.
The only thing that I could even find to nit-pick about was the belt accessories. For some reason, they put a zippered mesh pouch on the right side....but not the left (leaving it completely empty). Not sure why they did this.
I had a hard time finding the 85L pack for any kind of a discount. Most of the big outfitters would not accept product codes on this particular pack. One exception was Rock Mountain Trail (http://www.rockymountaintrail.com/detail.aspx?ID=10735) in Colorado. The product was discounted 15% of the $298 list price...and then I took an addition 10% via a product code. That brought the total to $235 (free UPS shipping, no tax).
Design: Top-Loading Internal
Size: 85L
Number of Pockets: 1
Max. Load Carried: Around 60lbs
Height of Owner: 6 foot
Price Paid: $235

TNF Primero 85 is a good looking pack but not very solid. We've done a few 3-4 day trips in it, hoping to use it for John Muir Trail in 2011 and are disappointed. 
The load-lifters are dysfunctional where they attach above the shoulder straps. It lacks stability, no matter how we adjusted it, it was always loose. It fit everything we needed ok, but couldn't get to the side-pockets for our water bottle. 
All in all it was an uncomfortable pack lacking attention to the details.  It made the journey tougher than it should've been.
Price Paid: $320

I've taken this pack on several trips, mostly backcountry climbing. You can put a lot in it and it's pretty tough, that's about the only positive I can think of. The only reason I can still use it is because unfortunately as a Marine I was conditioned to carry heavy, uncomfortable loads for long distances. It's very uncomfortable and can't be adjusted properly.
Pros
You can pack a lot in it.
Cons
Waistbelt is uncomforable and very big.
All around uncomfortable under load
It doesn't balance out well at all because you can't adjust the pack corrently
The pack doesn't fit will at all. Hard to adjust
Comfort? none
Capacity. It can fit a lot.
Organization is OK.
The ride is horrible. Don't try hopping with it. You'll be off balance under load as you can't adjust it properly
Compression: Reasonable, but like I said above, you'll feel out of balance.
Construction is tough, but that generally equates to heavy.
I've had the pack for 2 years. I've taken it on backcountry climbing trips, with decent approach distances over varied terrain. I bought a GoLite ultralite pack that handles better.
Source: bought it new
Price Paid: Too much

The main reasons to give a three star on my review is in first place the price. This backpack is too expensive for what you get.
Second place, simple put, the waist belt hurts. I thought that it was me that couldn't do it right on the set up of the backback, when i started to lookup it up on the internet and found some other guys complaining about that too. After a long walk, the waist belt starts to hurt your skin until you cannot use it anymore.
Third place the load-lifters are not good. It lacks stability even if you try a lot of configuration on them, it was always loose.
I think the only good thing about this backpack is its inside space, very good. Hold it down all my stuff on my Patagonia (W) trip.
Price Paid: $328.95

Your Review
You May Like
Specs
Price
Historic Range: $199.95-$329.00
Reviewers Paid: $235.00-$328.95