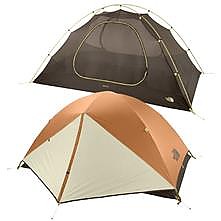 Specs
Price
MSRP: $209.00
Historic Range: $148.79-$229.00
Reviewers Paid: $120.00-$300.00

Capacity
3

Canopy Fabric
70D 190T Nylon Ripstop

Floor Fabric
70D 190T Nylon Taffeta with 5000 mm PU Coating

Fly Fabric
70D 190T Nylon Ripstop with 1500 mm PU Coating

Floor Area
43.5 sq ft / 4.0 sq m

Number of Poles
3

Pole Diameter
9.0 mm

Stuffed Size
24.5 in x 8 in / 62 cm x 20 cm

Vestibule Area
9.3 sq ft / 0.86 sq m

Trail Weight
5 lb 15 oz / 2.7 kg

Total Weight
6 lb 7 oz / 2.9 kg

Reviews
12

reviews

5-star:

3

4-star:

5

3-star:

3

2-star:

1

1-star:

0
Pros
2 doors
Mesh body
Spacious for 2 people
Bear resistant rain fly
Cons
Rainfly could be longer on the sides.
Rainfly touches mesh walls in heavy rain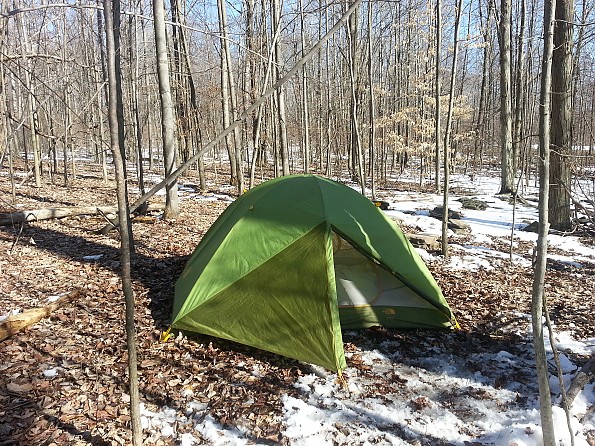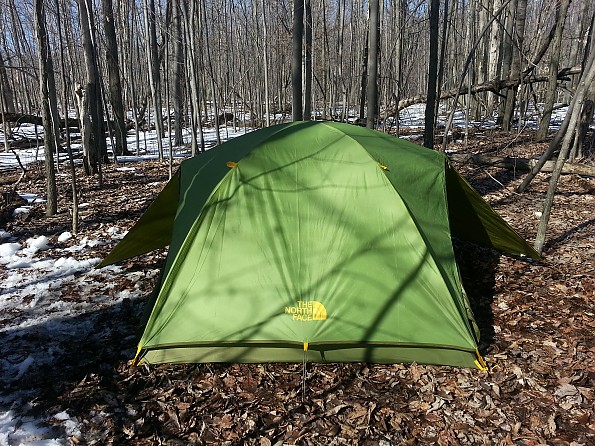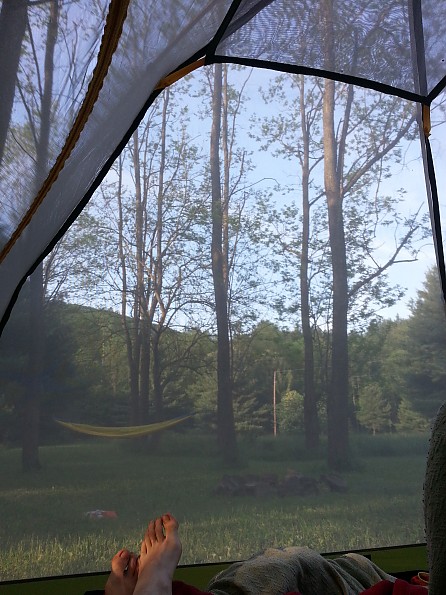 I love the all mesh top. It's great for those hot summer nights. On nights when it sprinkles a little, it usually doesn't matter because the close-knit screen doesn't really let the water pass through (until it really starts raining).
It's a little on the heavy side for backpacking, but not bad when split between two people. The girlfriend and I normally use this for car camping, but I'd love a smaller version to throw in the pack for personal use.
Setup is very quick and easy. I can set it up in under 5 minutes, and it easily fits back into the stuff sack with the footprint. You can actually put two rain flies in the stuff sack with everything, with no problem.
The first time I bought this tent a bear mauled it and the only thing to survive was the rain fly (I still currently use it in defiance of the bear). Also, bear attack is not covered under the North Face warrantee, but they did give me 50% off a new tent, so I got the same one again. I like it.
The tent is also sold as a 3-person tent, but like all tents, it's actually usable for one less comfortably. Construction seems pretty solid, and is waterproof. I've used it in early March in northeast Pa. a few times, a 3-day long constant heavy downpour, and a few various other storms and I've stayed very comfortable every time. You can also leave the mesh tent body at home and just attach the poles to the rain fly and the foot print, but this lets the bugs have free roam at you while you rest.
Overall I love this tent. It's sturdy, weather resistant, very breathable, and I love the 360° view when the rain fly is off. The only downside is the weight, but it is a 3-person tent (2+ gear).
Source: bought it new
Price Paid: $300 the first time, $125 the 2nd

I have a different twist for my review. I am a motorcycle rider. I have a KLR650 dual sport bike. I like to go on multi-day rides that take me places that I need to camp overnight often. Sometimes this means areas that there is really no campground. Although weight is not as big as an issue for me as it is for a hiker, I still wanted a tent that was under 10 lbs packed.
In addition, at the end of the day, I need a place to put a lot more gear than a hiker typically carries, such as my large MX boots, heavy bulky off road riding gear along with my touring riding gear and boots, helmet etc, so a tent with ample storage was requirement.
So far this Rock 32 has fit the bill well. I have been caught in a very heavy rain for 2 days and it stayed dry the whole time. Having the large vestibules on both sides really helped to keep the mud out of the tent.
Overall I am very happy with this tent. It sets up easy with just me doing it and has the features I wanted. Plus I got it at a great price at my local Sports Authority store! If you are looking for a rugged, waterproof, roomy and easy to set up tent, this is a good one.
The only reason I did not give it 5 stars is the bag it comes with is kind of small and getting it stuffed back into it is a challenge, so I use a duffel bag I have instead of the bag it came with. Kind of a design issue with every tent I have ever owned, seems the designers do not ever try to pack them back in the bag after they have used them.
Design: 3 person dome
Sleeps: 3
Ease of Setup: About 10 mins to get it all set up & staked
Weight: Under 10lbs
Price Paid: $159

LOVE THIS TENT! We use it for both car camping and backpacking. Quick and simple setup and break down, even in the dark. Adjustable fly so can be anchored down tight for the storms, no sagging. Like the details. Design is intuitive.
Pros
Heavy rain worthy
Spacious
Easy setup
No tears after 5 years
Small mesh keeps bug out
Room with a view!
Experience
Bought this tent five years ago in a Cabela's clearance. We have used it constantly, but the true test was last weekend. Six hours straight torrential rain/lightning/thunder at 8000ft+ in Montana. Didn't pack the footprint so was even more impressed. We stayed cozy and dry. Packs stayed dry inside, boots stayed dry under the fly. LOVE the dual openings, love the extended fly, love the small mesh!!! If I ever find another I will probably buy it so I have one when this one wears out. Have a two-man tent that's probably a bit lighter, but never use it because I know I'll wish I had brought this one.
Source: Either slightly used store return or display

It's a decent car camping tent.
Pros
Double vestibule and entry
Cons
Needs to be waterproofed
Doesn't breathe the greatest
It's a decent car camping tent. I take it with me on extended stays and there's ample room for my gear and myself. Handles the wind great...the rain is another story. I had to waterproof the bathtub floor as the first time I used it rain seeped right through on anything touching the ground.
Experience
Eagle Scout
Source: bought it new
Price Paid: $300

Inadequately robust. Poor quality materials. Inadequate protection against the elements.
Pros
Lightweight
Adequate room for one person and equipment
Cons
Cheaply made
Longevity questionable
This is the third North Face tent I have owned. I paid $170 Canadian. I have also owned tents manufactured by Sierra Designs and the Mountain Equipment Co-op since 1989. On average I repair and maintain my tents to extend their lifespan to about 15 years before they are considered non-serviceable.
Compared to previous manufacturing standards, design, and materials this North Face Rock 32 should not be considered a serious tent.
The structural stability is reduced by using only two poles (minus the vestibule pole) in strong winds. The completely mesh body allows rain to splatter up the sides and enter the interior. The total mesh body also provides little heat retention at night rendering it limited  to summer use . The mesh is fragile and vulnerable to tears from raccoons and  rodents or even curious domestic pets such as cats.
Consequently, I would not recommend this tent if you expect to encounter climatic extremes and adverse weather events. As stipulated in previous reviews the current market segment purchasing this product are back-packers  looking for weight reduction as a priority. Consequently, designers have compromised on the quality of the materials and layers of waterproof coating on the tent floor and rain-fly.
This has dramatically reduced the longevity of this product. While I only recently purchased my Rock 32, I do not expect it to last more than three years without major repairs. 
It appears tent manufactures are competing for this market segment by offering almost identical products. Marmot and Eureka have produced similar 3-person green tents.
Source: bought it new
Price Paid: 170 reduced from 300 CAN

I got this used at the beginning of this summer for my girls to use while we backpacked (got the 3-person so they'd have room for the dogs too) but each time we went, we ended up going with another family and they had to split the four-person tent among three of them for the extra room. Update: we took this tent to the lake last weekend for my girls' last camp for the year. They really enjoyed the open feel of this tent, especially with the vestibule folded back. The all mesh let them have a great view of the lake, more like a big picture window.
Pros
All mesh tent breathes really well
Vestibule (both sides of tent) is very spacious
Seems well made
Cons
Too short for my 6'3" body
I bought this tent used from a lady who'd won it in a company raffle and used it once. I think i paid her $120 which included the footprint. The plan was to get a three-person sized tent that was light enough to backpack with while adequately sheltering my two daughters and our two dogs. Split between them, it's about 3-3.5 lbs each. But, as indicated in the Summary, we ended up going with another family each time and we needed a tent for three girls and three dogs so they used our four-person tent.
We took this tent to a nearby reservoir for my girls' last outing for the year.  We car camped so we could bring more items to keep us warm at night and to entertain us around the fire.  The only fault so far is when I lie in it, my head and feet both touch the sides of the tent which is annoying. I have to lie in it cross-ways to get the room I need which sort of ruins the three person capacity. But since this tent isn't really for me, I don't want to downgrade that, but did want to let you all know.
Source: bought it used
Price Paid: $120

The design was nice, storage space good, set up very easy.  It seemed to be a great tent. I love the idea of this tent, the easy set up all mesh design.
BUT — and this is a big BUT — both times I used it the floor inside became totally wet...but the footprint and underside was dry...still not exactly sure why.
Yes, I used guylines...it couldn't be that hard to figure out?!  I have used cheap $40 tents with better luck. I live where it rains a lot and is humid a lot so staying DRY is essential no matter how slick this tent is.
Sure if you summer camp where it never rains or becomes moist I am sure you will love this tent,  but save yourself the cash and buy a cheap tent.
I called NF and just got some run around. I will be returning this tent...odd though because I read so many great reviews????
Price Paid: $208

In my research looking for a 3-person tent it seemed that all the reviews stated that a 3-person tent in actuality is a 2 or 2.5 people - however with the Rock 32 fitting three people is not a problem.  Sure, you'll be snug in there with three people and have little room for gear (that's what the TWO vestibules are for anyway), but it really can be 3-person tent.
I compared the Rock 32 directly with the Mountain Hardwear Drifter 3 (literally setting them up side-by-side) and found that the Rock 32 is a better constructed and sturdier design, has more internal mesh pockets, and the included gear loft is perfect.
Also, the Rock 32 has the third pole extending the vestibules height on either side which made it much easier to get in and out and store more gear.  Finally, although the Drifter 3 had a little more length (head-to-toe when laying down), the Rock 32 had more width making fitting 3 people doable.  Even at 6'0" I still have a (little) room length-wise in the Rock 32.
It's not the lightest 3-person tent out there, but if you're actually using it for three people splitting the weight among them makes it entirely manageable.  All-in-all, a quality product that is high value the price.
Price Paid: $170

The upside of raising kids to enjoy the outdoors is that they appreciate nature and live a fairly healthy life. The downside is that they "borrow" your stuff and you never see it again. So it went when they "borrowed" my Kelty 2 man tent that I had used for more than 10 years with no problems.
My wife for some strange reason declared she too wanted to go camping and hiking and for once she wasn't talking about a pre-dawn sale at Norstroms. So, off to Sports Basement we went after I did some research on-line. The Rock 32 seemed to fit the sort of compromise tent I was looking for, sturdy and well designed with plenty of room for my wife's stuff. With the AAA discount, it was $165 out the door.
We've used it twice and it has been easy to set up, roomy and comfortable. I did take away one star for the weight. I will be taking this on a trip this week to Yosemite and will have a better idea about how it works, I don't anticipate any problems.
Design: 3 season
Sleeps: 2
Ease of Setup: Easy, rain fly was a little strange
Weight: 6 pounds
Price Paid: $165

I don't see how you could find a better 3 person 3 season under $200. I bought last year's model in green.
No issues at all! However, like all 3 person tents, it's really only good for 2 people if you use sleep pads.
It's light. Sets up in seconds. Doesn't leak. LOTS of room.
It Breathes. It was a pleasure to use on a 2 week vacation this summer. Highly recommend!

Design: 3 person three season free standing
Sleeps: 3
Ease of Setup: Nothing Easier!
Weight: 6lb 7oz or 5lb 15oz trail weight
Price Paid: $150

Everything else was good until it rained and the tent leaked. Other than that, the tent was easy to set up and the two-door design was very good.
Sleeps: 3
Price Paid: $200

Just got this tent two months ago and I have loved it since I set it up in my living room. Very sexy design, but that was just a bonus.
I really like the strong poles it comes with and the ease of setting it up (5 minutes). I have always had help but it could be done with one person instead of two. Hasn't rained on me yet but I sealed the seams and sprayed the fly so it should be good to go.
The bottom is pretty thin so get the footprint if you will be on rough terrain. Maybe some stronger stakes too but I haven't bent any yet. It fits me and my girlfriend with a ton of extra room, three would be a tight squeeze, as usual with a backpacker...
Design: three season free standing dome
Sleeps: 3
Ease of Setup: Easy less than 5 minutes
Weight: 5.25 lbs
Price Paid: $189.99

You May Like
Recently on Trailspace