The North Face Spectrum 23

The Spectrum 23 has been discontinued. If you're looking for something new, check out the best three-season tents for 2020.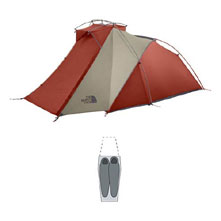 Specs
Price
MSRP: $299.00
Historic Range: $31.97-$299.00
Reviewers Paid: $120.00-$260.00

Trail Weight
3 lb 12 oz / 1.70 kg

Total Weight
4 lb 3 oz / 1.89 kg

Floor Fabric
50 Denier, 270T Nylon Taffeta Coated with 3000 mm PU

Canopy Fabric
33 Denier, 244T Nylon with Silicone and 1500 mm PU

Vestibule Area
6 sq ft / 0.6 sq m

Stuffed Size
20 in x 6 in / 50 cm x 16 cm

Number of Poles
3

Pole Diameter
10.5 mm, 9.0 mm

Capacity
2

Area
28 sq ft / 2.6 sq m

Reviews
9

reviews

5-star:

0

4-star:

2

3-star:

1

2-star:

3

1-star:

3
Wish I'd read previous reviews when I bought it in March '08. Why so late this review, August '11? Our plans hiking in Norway back then couldn't take place cause of pregnancy. So just now I picked the brand new tent up for a motorcycle trip in Ardennes.
The first night I saw some moisture on the floor and realized I missed a footprint. Every wall was wet, but I didn't pay much attention. The 2nd night we had a violent rain shower. After three minutes the tent dropped like a filtered coffeepot. I couldn't stay in because of my sleeping bag got wet, as well as the floor again. Sheltered the night under a canteenroof. Together with another two unlucky fellows - who had theirs for free.
I paid a lot though 'outlet-price' back then. Shame on you North Face fabrics. I'll return it right away and hope they will show enough courtesy after this time. #maxzeiler
Price Paid: EUR 203

We own a TNF Spectrum 23 (and a 33) and there are definitely condensation issues with this tent. The rear vent design isn't reliable to stay open enough for decent air flow.
We've only used the 23 as a single man tent but even with one person the condensation will end up pooling inside on the tent floor after collecting into rivlets and running down the seams. The problem is the "tight" single wall design. Even tents with removable flys get condensation build up but it runs down outside the main tent body and doesn't contact your gear inside the tent.
TNF must have counted on the 130 mph rated winds to ventilate the Spectrum 23 (and 33)!
Price Paid: $120 REI Sale

I used this tent a handful of times backpacking here in Northern California. I've only used the tent solo and about 80 percent of the time I've woken up to a wet tent. Only if there is a strong wind will there be no condensation. I could not imagine what it would be like to have two bodies in this tent!
I was so upset about the lack of breathability that I returned it to REI (their return policy is so awesome). I would not recommend this tent to anybody unless they only plan to backpack in super windy places.
I also wouldn't recommend this tent for people over 6 feet.
Sleeps: 2
Ease of Setup: easy
Weight: 4+ pounds with footprint and stakes
Price Paid: $260

Well well, how disappointing a tent. The serious amount of condensation that formed in this tent in 5 hours was staggering. Outside temp was 3 degrees in the Wicklow Mountains with a steady westerly breeze and both vents were open, still it condensated. Also the ground sheet was soaked by morning and I had managed to get a dry pitch. Why make a lightweight tent for this sort of money when it won't work? My sleeping bag was very damp, which meant I was also and so were my belongings. Was there no field tests done on this tent?. North Face you have just lost a good customer.
Design: three season freestanding tunnel
Sleeps: 2
Ease of Setup: this was great...in fairness
Weight: 1.7 kg
Price Paid: 230 euro

I have the priviledge of working in the outdoor industry for 12 years. I don't think much of TNF but I got this tent for a GREAT price. It had been returned by a very unhappy customer, I now know why. I used the tent in the Northeast ONCE. It was a beautiful night, about 60deg f a strong breeze and I was alone in the tent. I was amazed at how much condensation I woke up to in the morning, even after leaving the vents wide open. Again TNF made a tent for one specific purpose, high altitude, dry, and cool camping. I returned it the next day. I don't want to think what it would be like in that tent while it's raining.
Design: Modified 3 pole freestanding dome
Sleeps: 2
Ease of Setup: Extremely easy
Weight: Does it really matter the tent sucked
Price Paid: N/A

Pros
Quick setup, very easy to set up even in the dark with headlamp
Very good in strong windy condition ... especially on mountains
Cons
Condensation, especially if vents not facing the wind, not designed for spring and summer unless flaps are opened
The materials are breaking down, tacky, the lamentation flakes off. My older North Face Tadpole tent is in better shape
In the early stage: 2 1/2 to 3 stars
Now after mastering the two flaps: 4 stars
I knew it was designed for high winds. I kept the front flaps top unzipped and bottom partly open to keep air flow lower elevations and warmer nights. Majority of my trips are near 9,000+ ft in the mountains.
I have gotten better at adapting the front two layer flaps that I stopped having condensation! The one-piece system allows quick setup. And naturally condensation is easy if you don't analyze and adapt. It's like messing with ship riggings under different conditions to get different results.
The last dozen trips ... No more condensation due to flaps adjustments for different conditions. It takes finesse to control the flow. There is a double zipper for the exterior flap and mesh flaps. Clue ... Unzip upper fly. It's too much to explain.
This tent was designed for high winds. I knew it would have high condensation buildup unless you manipulate the front two flaps. It's not designed for warm summer use ... unless you get better at the two flaps control. I finally MacGyver the flaps to solve the condensation.
Source: bought it new
Price Paid: $200

I think it's great that TNF built a tent that withstands 130.2 mph winds. Really, that's pretty strong.
Regarding myself however...I try not to camp in category-3 hurricanes. And if I did, it would surely not be with an ultralight tent. Not that I don't have confidence my tent would withstand such high winds, but I would have doubts about it protecting me from things that didn't.
When TNF designed this tent, I wish they had spent more time researching moisture control rather than what was surely expensive wind tunnel testing. I've used this tent maybe 6+ times, and I've almost always woke up with water droplets running down the inside walls, pooling on the bottom. It gets bad...really bad!
I hate to give it such a bad review, because the structural design is quite nice - it packs great, and it's quick and easy to set up. I've used it exclusively as a solo tent...it would be a bit tight for 2 people, but it's possible. I'll keep this as a warm weather, dry-ground tent (like, at the beach). But I'll be shopping for something else for the next trip to mountain territory. Probably something from Marmot.
Sleeps: 2
Ease of Setup: Very simple; could be done in just about complete darkness.
Weight: Very light!!!
Price Paid: can't remember

I took this tent out to Death Valley in January for a geology field course. I had no problems setting up this tent on my own, and managed to do quite quickly. The first night, winds were holding steady at about 45mph, and gusting to 90mph, and this tent was the only one in the group that handled it without any issues (it even kept most of the sand out!) I do agree with the other reviewers that the condensation formed on the inner wall of the tent is excessive, and can be quite shocking when you sit up and brush your head against cold water in the mornings (even in dry Death Valley, so I guess the water is from your breath). A good tent if you tend to camp in dry, windy areas. Otherwise, there are better options.
Sleeps: 1
Price Paid: $150

This tent is a sauna. Not recomended for humid climates or hot summer nights. The floor will soak up water from moist ground, so the not-included footprint is a must (add weight). Two therm-a-rests will overlap at the bottom and no room for extra gear. The sidewalls and roof collect lots of condensation, even with front door open. Great design, super light and small, but lacking in ventilation. Will return for Vector 22 or Tadpole 23.
Design: ultralight
Sleeps: 2
Ease of Setup: very easy
Weight: 4lb 3oz (footprint not incl)
Price Paid: $259

You May Like
Recently on Trailspace