The North Face Starfire Extreme

The Starfire Extreme has been discontinued. If you're looking for something new, check out the best four-season tents for 2021.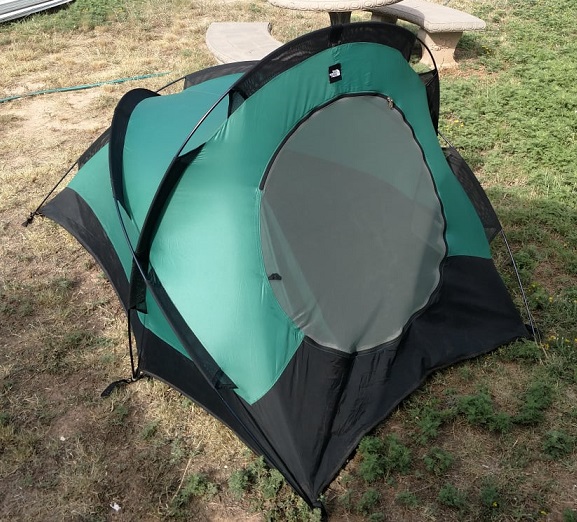 Specs
| | |
| --- | --- |
| Price | Reviewers Paid: $300.00-$350.00 |
Reviews
9

reviews

5-star:

6

4-star:

3

3-star:

0

2-star:

0

1-star:

0
I agree with the other recent reviews. Well-made tent.
Pros
Sturdy, even in strong winds
Cons
Heavy for backpacking by today's gear standards.
Entry/exit could be easier, but it was decent for 1995.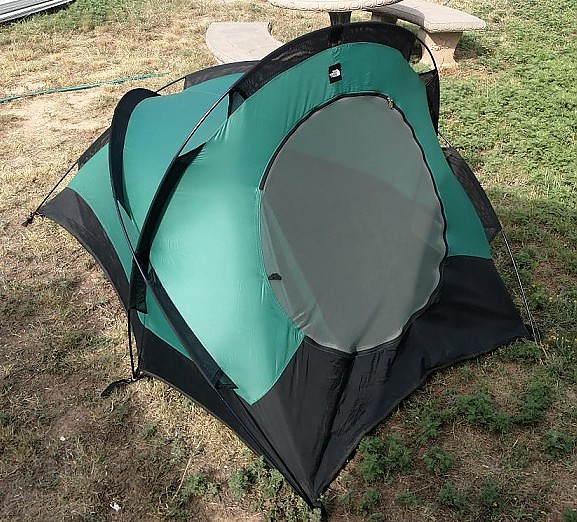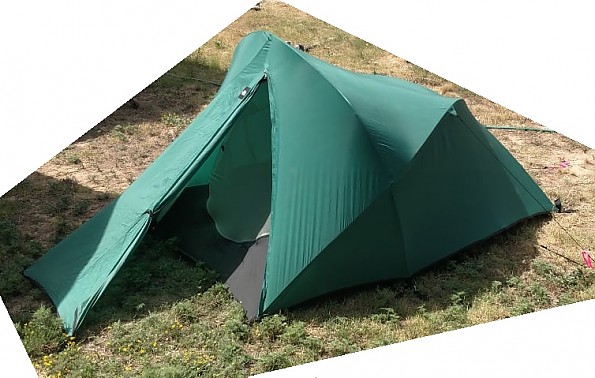 Bought new from REI in 1995. Used it once or twice and then got completely out of camping and backpacking. Got back into camping in 2015 and dug this out of storage. I was afraid it would come apart at the seams when it was stretched tight, being so old. But no, I had a brand new 20-year-old tent! I've used it for a few years of weekend campouts. Recently seam-sealed it.
It's cramped and hard for a pudgy, 50-year-old to get dressed in and get in and out of. I'm getting a roomier tent for truck camping where weight is not an issue. And if I get back in to backpacking, I'll probably get a lighter tent.
This tent does exactly what it was designed to do and does it well, but modern designs, and my needs, are making me look at other tents. I'll probably keep this around since most backpacking tents of today are basically mosquito netting with a rain fly. This one does close up completely. Might still use it in cooler weather.
Experience
I've used this tent on probably a dozen weekend campouts.

As far as experience with other backpacking tents, I spent a couple summers living out of a backpack, a long time ago (Philmont Ranger BSA 1988 and 1990).
Source: bought it new
Price Paid: $300-400?

Gotta chime in with other recent reviews. I've had this tent since 1995 and it is simply bomber and still going strong.
Pros
Great design
Sturdy free-standing
Easy to erect
Strong fabric
Cons
Initially, I had to cut a bit off one pole in order to fit
Heavy, but typical for its generation
Dark inside, but this can be a plus if you like your sleep
Twenty four years later, still a great tent! Fabric has not deteriorated. Several iterations of seam sealer have made the fly look a bit unkempt, but this 'uber Tadpole on steroids' has been taken on countless Arctic Alaska trips and has withstood wind, rain, sun, etc. It's dark inside—good for sleeping under the Midnight Sun.
Source: bought it new

The best tent I have ever purchased, and I have gone through quite a few. I keep on upgrading my equipment, and if I don't like it or feel it's not the best out there, I end up selling it. Suffice it to say, I still have my Starfire Extreme after seven years.
Handles snow load easily, and if you pitch it end first into the wind, the wind shears off with no sway. Has never leaked in those years of snowcamping and wet Washington seasons.
Only problems, which I consider minor but just good information to know, is that ventilation is not superior, but adequate. It took a couple trips to finally realize that all points of the fly should be staked out, and then minimal condensation results.
Also, not that this is designed for an expedition tent, but don't expect to cook in the tent or spend days in it. Keep the stove in the vestibule where you'll still be protected from the elements. Headroom is more than enough, but skewed to one side (for the wind shedding qualities I mentioned earlier) so you and your partner sit side by side to play cards, chat etc... and not facing one another.
Other than that, I wouldn't buy any North Face product now that they were bought out by Vanity Fair (the bra making company) in 2000 or so, but I wholeheartedly can endorse this tent, quality and performance.
I still check out the market and other than the fact that they now have lighter Easton poles and more ventilation options on newer tents, I wouldn't trade this tent for anything else out there.
I plan on keeping and using this tent for a while, and see no problems in durability in passing it on to my kids.
Design: Freestanding modified geodesic dome
Sleeps: 2
Ease of Setup: 5
Weight: 6 lb 3 oz
Price Paid: $350

23 years in, and still can't find a comparable tent...
I'm looking at this page as it is finally time for a new tent. I got this tent in 1995. It is now 2018. It has followed me faithfully around the globe and in all conditions. Now on its last legs of waterproofness, I have been looking for a new tent... and nothing out there is quite the same.
Guess I'll spray the heck out of the rain tarp again and head into the wild with my bomproof vintage AF portable awesome abode. Wish Noth Face didn't start manufacturing sub-par stuff... 
I live in Boulder, Colorado, where access to great outdoor products has always been a plus. Still no little green rockets out there.
Source: bought it new
Price Paid: $350

This will be the third year that my North Face tent has been going strong. It has had no problems, and has withstood tons of wind, rain, hail, snow, etc. When staked out with all of the guylines, this tent is bombproof.
One complaint is that it doesn't breathe as much as I would have liked for a backpacking tent. No problem in the winter, though.
Overall this tent has proven to be a stable shelter that doesn't weigh too much for a four-season tent. (About as much as a two person Eureka Timberline.)
Design: 4 season backpacking tent
Sleeps: 2+
Ease of Setup: Very easy, but has to be perfect for optimum ventilation.
Weight: 6 lbs. 9 oz.
Price Paid: $345

I bought this tent to use on the Canadian Arctic coast. It was the BEST choice. The tent withstood a two-day windstorm on the tundra, and when my camping partners' tent collapsed, could still accommodate all three of us (albeit a little snugly).
Very waterproof and very easy to set up, even in the dark. Worth every cent.
Design: 3-season plus dome
Sleeps: 2
Ease of Setup: very easy
Weight: 7.5 lbs
Price Paid: 400 CND

I love this tent. I have a VE25, and an REI Half Dome too. This tent eats wind. I have held out in a full gale 70 mph+ winds for two nights.
I have pitched it at 15k on Pico de Orizaba with literally howling wind for three nights, and used in in the worst of the worst.
It is roomy for one and a bit tight for two.
Also a little heavy, but hey 2+ years of solid service, and lots of storm use make this tent my fav.
Design: 3+
Sleeps: 2
Ease of Setup: Super Easy
Weight: @6lbs
Price Paid: $300

Just wanted to add my $0.02 to the review of this tent. I've found it comfortable, fairly easy to set up, and roomy enough for two. We slept three comfortably in it in Maine in mid-March. The vestibule is adequate, not outstanding, i.e. it gets crowded when you put two big packs and a pile of muddy boots out there. Interior headroom is nice.
Overall, I'd give it a 4 out of 5. It could be lighter, easier to set up, and have a bigger vestibule. Good solid tent for the price, though.
Design: 3 Season Plus Semi Dome
Sleeps: 2-3
Ease of Setup: Medium. A little practice is needed to get it right.
Weight: 7.65 lbs
Price Paid: $350

This has been the fourth season I will be using my TNF tent. Even though the price is a little steep, I think that it is worth it. The vestibule alone is roomy enough to store two tents and gear. Inside the tent there is enough girth for two people to sleep side by side without being pushed into the sides of the tent.
Design: 3-Season Plus Semi Dome
Sleeps: 2
Ease of Setup: This is an easy three pole tent to set up
Weight: 7.65 lbs
Price Paid: $350

You May Like
Recently on Trailspace