The North Face Thermoball Full Zip Jacket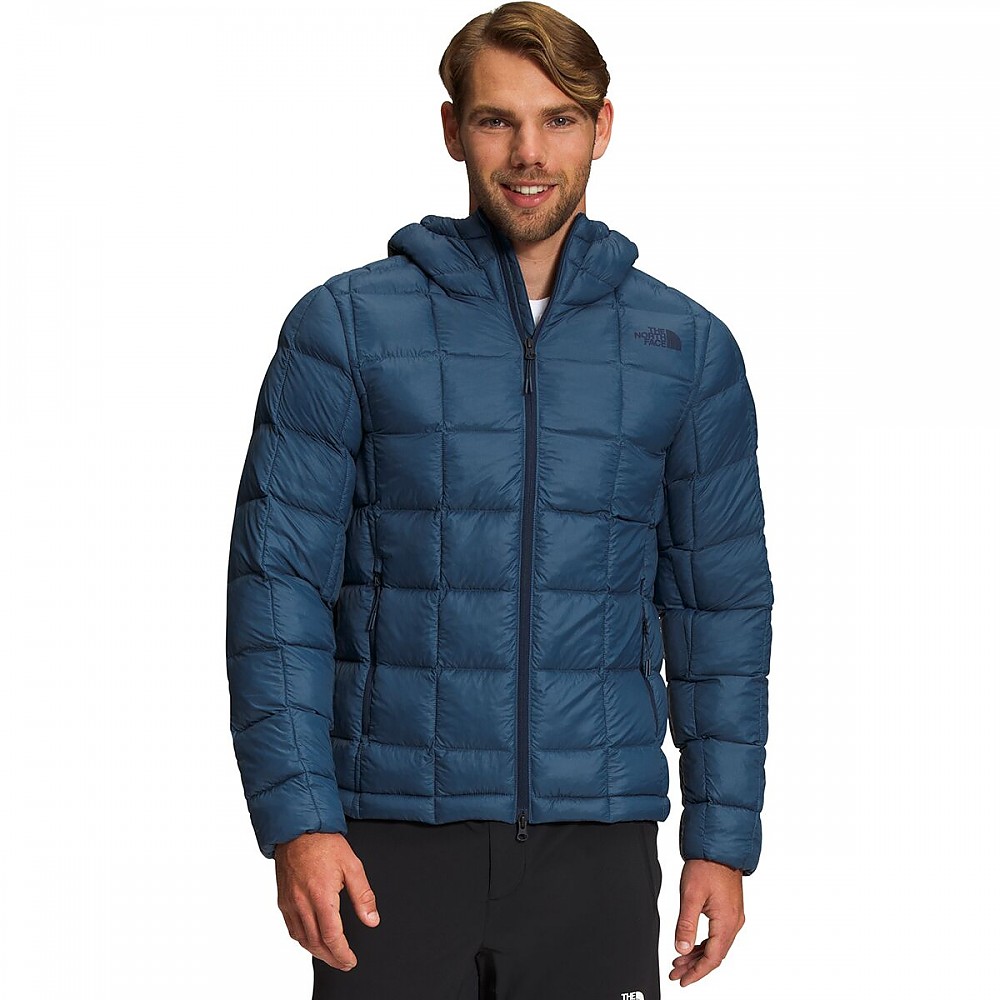 The Thermoball jacket does what it says it will do. It insulates—even when wet—at the loft and weight of 600-fill goose down. The shell repels rain quite well, it doesn't readily absorb moisture, and it dries more quickly than down. The fit is what I'd call "average-athletic," which is good to see from The North Face; this is an activity-minded garment, one that should be cut to fit active people.
Pros
Very warm for the weight and feature set; individual Thermoball clusters loft impressively
True dual use: Use it as your outer layer until the gnar hits, then throw on a shell and keep going
Minimal feature set—two slash pockets—keep weight low while allowing dual use: a pillow!
Draft flap blocks wind effectively and insulates, while staying flexible under the neck
Cut well: accommodates a base layer and light fleece underneath
Thermoball is a resilient insulation, standing up well to regular use
Smart features like hem adjustments routed through the slash pockets…
Cons
Still cannot match down in terms of packability
Lots of sewn through seams can mean heat loss in high winds
A two-way zipper would be nice, for use with a climbing harness
Best For:  Backpackers and mountaineers in damp, wet areas like the United States Pacific Northwest and the UK. Adventurers who travel in multiple climates, needing one garment to cover many situations. Commuters desiring a jacket to handle short periods of rain and snow, with intermittent periods of compression as in taxis and trains.
Design:  Quilted pockets of Thermoball insulation make up this jacket; the individual pockets measure about an inch-and-a-half wide by two inches long, allowing the clusters to loft around five-eighths of an inch, an impressive figure for a one pound synthetic jacket.  Thermoball clusters are around the size of a green pea, with a denser core and fluffy exterior; they readily interlock with each other much like good quality down. Thermoball clusters are noticeably springy, rebounding well under compression.
Thermoball jacket on some idiot...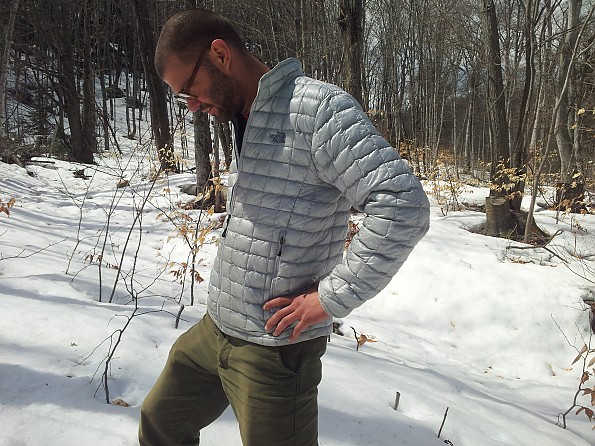 The shell is a gossamer-light sil-nylon with a thick silicone coating—maybe a double coating? It is 20-denier, recycled, shiny and obviously very water-resistant. It is a semi-translucent fabric, especially so in the light grey color this jacket adopts. It has a very tight weave, and this—with the coating—will mean a high tear strength. It is a Bluesign-approved fabric, meaning it meets a certain level of standards regarding sustainability. Slick and sleek, it layers with the greatest of ease.
The jacket has a stand-up collar which tucks under the chin nicely while allowing full range of movement; it is a good three inches tall, providing both wind resistance and effective insulation. This attention to detail extends to the cuffs and waist of the jacket, both perfectly sized to allow a good seal—indeed, requiring only an elastic band hem—while not being too restricting.
The main zipper is well-suited to the type of jacket. A plastic-tooth type, it is more durable than a coil-type zipper, while maintaining flexibility. It is backed by a quilted row of Thermoball pockets as a draft tube of sorts, windproof and insulative. As a synthetic mid-layer with a lean towards alpine endeavors, I'd like to see a double zipper on a garment like this, but this perhaps more a personal preference.
Thermoball draft tube & zipper...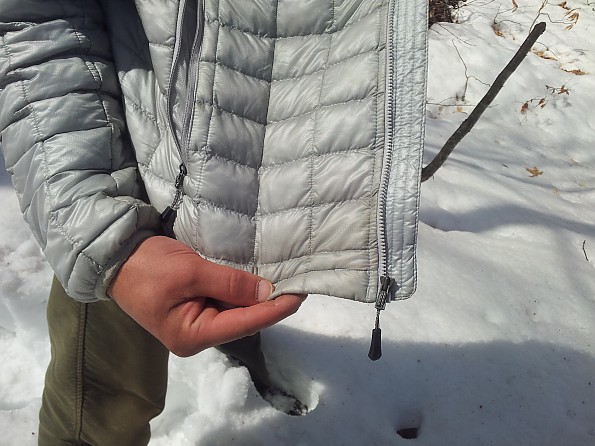 The cut is, generally, athletic. There is not much room for a beer gut in my size medium. The sleeves are perfect for my longish arms, with room in the shoulders and chest for dynamic arm movements. The neck is sized to allow a high-necked baselayer or fleece.  An elastic cord adjusts the waist through a pair of cord-locks accessed through the two slash pockets at the waist; just pull the cords and the waist draws in. Brilliant.
Thermoball inner pocket and cord routing detail...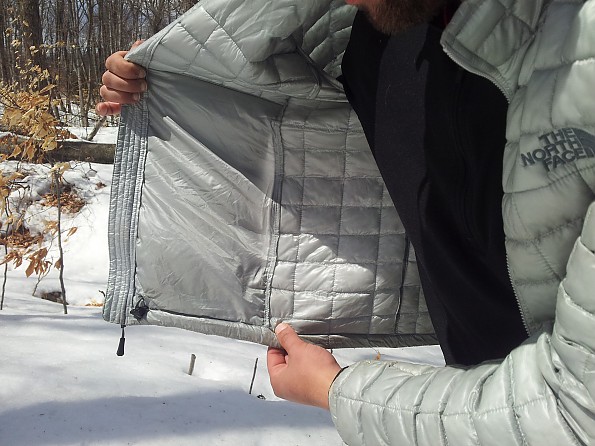 Weight is average for the field of synthetically-insulated competitors. From a sheer warmth-for-weight perspective, the Thermoball lags far behind the best down garments, by about a 2:1 ratio. A very smart man—A Materials Scientist, I believe—by the name of Richard Nisley has done wonderful things to try to standardize the comparisons between various garments on the market today. In 2009, Mr. Nisley created the following graph:
The exact specifications of the garments have certainly changed since then, but the general curve can still be appreciated, one identifying a certain trend: a synthetic garment like the Montbell Thermawrap Parka, a near-60gsm (grams per square meter—the thickness of the insulation) hoody—weighing a little less than the Patagonia down hoody—is less than half as warm. Now the value used, Iclo, is a measurement of a garment's ability to retain heat, but this concept in relation to overall warmth is dependent on the user's heat output, and this relation is illuminated again by Mr. Nisley here:
As one would expect, the Iclo needed to maintain comfort at a given temperature is reliant on both one's activity level and one's level of insulation. The Iclo of a given garment is based on its ability to trap and isolate dead air space, resisting the effects of conductive and convective heat loss. It's kinda convoluted…Clo is different from Iclo…MET is a measurement of one's own personal metabolic output. Clarification here:
And here:
And more good stuff here, compiled graciously by the venerable Dane Burns:
http://coldthistle.blogspot.com/2012/11/primaloft.html
So, this whole figure-out-what-garment-works-best-for-which-situation thing is pretty complicated, though it can be quantified. Primaloft ONE has a listed clo of 0.92/oz, vs. 1.75ish for the best quality (900FP) goose down. Primaloft themselves judge ONE to be about equivalent to 500-550FP down, which means that if Thermoball is equal to 600FP, the clo value might clock in at 1.10 (.92/500=?/600).
Overall, these equations can manipulated to allow one to determine if a given garment will be sufficient for a given temperature and metabolic output; however, this is beyond the scope of our treatment here. Mr. Nisley is very active at Backpackinglight.com, a site which caters to the more adamant Ultralighters in our world; his equations can be found on multiple threads within that site. (That said, the author would personally love to see Mr. Nisley assume a more prominent role here at Trailspace; his contributions would be welcomed enthusiastically.)
I'd speculate that since Thermoball is at least as insulative as Primaloft ONE in terms of Iclo, and Primaloft ONE was the previous leader in the industry, Thermoball is on the bleeding edge as far as synthetic insulation warmth-to-weight is concerned. This makes sense, as it was developed for and tested by the United States Special Forces; they tend to get cool stuff way before we do.
Performance:  
The Thermoball jacket is a standout in its field. In a world of continuous insulation like Primaloft ONE, Thermoball offers a few worthy advantages. Its structure allows it to dry faster just by wearing it dry; the clusters maintain loft even when extremely wet, meaning the air circulation crucial to drying the insulation is maintained. Rather than laying there under your pack strap like wet noodle, Thermoball seems to pump air through itself, leading to a more lofty garment after a given amount of drying time.
The jacket is as warm and lofty as 600-fill power down, as The North Face claims. This point is, I think, not to be undervalued; it is a monumental benchmark. That said, Thermoball insulation is not as compressible as 600FP down. This tradeoff is absolutely worth it when you know you're going to be in wet, humid conditions; if you're not sure if rain is in the forecast—and pack space is at a minimum—there are better options to be had.
My best Steve Zissou, showing loft pretty well...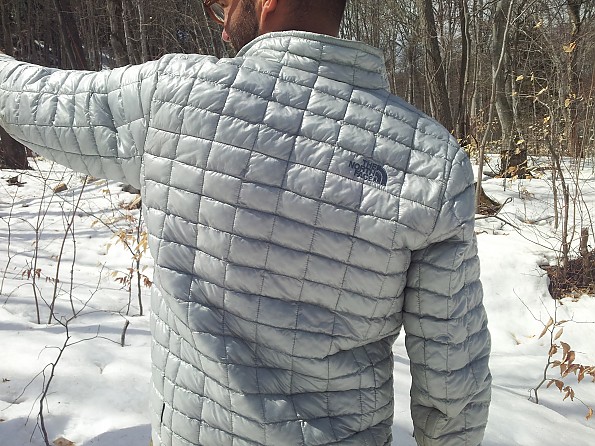 Overall, the Thermoball jacket is well suited as a mid-layer and outer-layer in conditions from 50F-0F. It can provide substantial warmth in-camp, while being a versatile option when still on the trail. The pass-through pockets keep hands warm. As a mid-layer by itself, over a baselayer, it should be good to about 32F in camp; while walking or otherwise ambulating, it will work down to the point where you'd want a full-on parka. Of course this all assumes appropriate leg, feet, head, and hand coverings. I should say I'm glad there isn't a hood on this piece; it would limit it, and be extra weight in many situations.
One point to make here is the sewn-though construction. Now, this is to be expected in these 3-season jackets, and it is indeed an almost ubiquitous feature; yet, I can't help but miss an internal layer of fabric, as is employed in the Patagonia Nano Puff series. Yes, they use a liner because of the quilting needed for the continuous insulation in the Nano Puff, and that liner isn't needed in the Thermoball, but that liner also does not have holes for wind to penetrate. When using the Thermoball by itself above tree-line, one may notice heat being robbed through wind loss.
Thermoball pass-through pocket detail...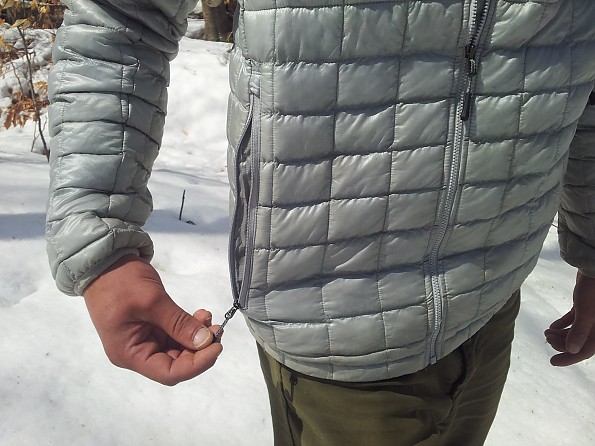 Water beads off this jacket readily, even in moderate rain. The coating used is likely functionally waterproof…something very close to the triple-coated nylon used in the recent Mountain Hardwear Ghost Whisperer series. The jacket absorbs more moisture through the seams than the fabric, certainly. This is all to say that while one could wear the Thermoball jacket through a rainstorm, I wouldn't recommend it. It'll be drier, and warmer, than the Nano Puff or the Mountain Hardwear Compressor at the end—two 60gsm Primaloft ONE jackets I've both owned and used extensively—but you'd want at least a windshell over it if things really whipped up.
The Thermoball jacket also seems to dry more readily than other offerings, likely due to the springy, fluffy nature of the Thermoball cluster. (Clever marketing by the way, TNF, naming the jacket for the insulation…) You see, it just does not "soak through" like down does; that is not even a question with Thermoball…it does not flatten out to begin with, just as it lofts continuously as it dries. The resilient nature of the clusters, combined with the method of construction, should lead to a longer-lasting jacket…My Nano Puff is quite flat—and the quilted insulation quite loose—after about two years of (albeit regular) use.
Clean Up & Maintenance:
The shell, which is also the lining, wipes up fine with just a bit of soapy water and a rag or soft nylon brush. Brush the zippers clean and lubricate them with a drop of mineral oil as needed. I'd think even with regular use—200 days a year—one might only need to wash this jacket once a year. Being synthetic, one needs not mind temperature extremes as much when drying the jacket.
The kind of nylon employed will become more translucent as body oils are accumulated. This means that areas around the zipper and around the sleeves will require more attention if the user wants to keep the garment looking new, as with almost all jackets. Almost exclusively, I heartily recommend a yearly application of Mirazyme on outdoor gear: it breaks down oil and mildew, allowing it to break free of the fiber structure, which is why Mirazyme recommends wiping down or brushing down the treated surface after it has dried.
Otherwise, launder the Thermoball jacket like any other garment; it is sturdy enough to take top-loading washers, though I'd still recommend a commerical dryer. It can be dried on a high heat setting without any fear of damage, though I'd always recommend following the directions on the hang-tag. Of course, keep an eye on it to prevent over-drying. The Thermoball can be stored hanging without any concern for impairment of loft.
Conclusion:
As an insulation, Thermoball is what I would consider a next-generation product, among the likes of Polartec Alpha; it is on the cutting edge of the warmth-to-weight battle as manufacturers try to match the performance of down. I suspect future versions of Thermoball will approach 800FP down, and then surpass it. The development of this technology is exciting as the market continues to demand more and more of these technical garments; naturally, humanely-harvested goose down will not be able to match the demand, and so it is good to see such options available.
The Thermoball jacket is a fine example of this technology: cutting edge fabrics and insulation combine to create a piece that offers a welcome tradeoff of features. It should find a wide market, as it is in the wheelhouse of a large market: warm, weather-resistant, and markedly less expensive than a comparable down jacket. Additionally, for those users who might not launder their outwear all that often it wears very well, requiring perhaps less maintenance than a comparable down jacket.
This jacket fights with the aforementioned Nano Puff (same weight) and a Stoic Hadron Anorak hoody (four ounces less) for space in my pack. Of the three, it is the least packable, but it is also probably the warmest when worn with an adequate hat. If I know rain is in the forecast, I'm going to bring the Thermoball because I can wear it until it the rain really starts coming down, and then just throw on my rain jacket, and it'll dry in very short order. If I'm going really ultralight and pack space is at a minimum, I will go another route.
The Thermoball is a versatile jacket that's also very good at one thing: maintaining loft in wet, humid conditions. Precip can really only enter through the seams, and it doesn't have much reason to stay there. If you seldom get a chance to dry out your gear mid-hike, take a look at this jacket…if you want a synthetic jacket to outlast continuous-insulation offerings while also out-performing them, this is your jacket.
Testing Conditions:
Locations:
Shawnee National Forest, Giant City State Park, Fern Clyffe State Park, all in the beautiful Shawnee Hills of Southern Illinois:  Late Winter and Spring temps ranging somewhere between 60-20F in the day and 45-10F at night.
Hiawatha National Forest, Pictured Rocks National Lakeshore Trail, in Michigan's incomparable Upper Peninsula: Spring temps ranging between 50-20F in the day and 35-10F at night.
About the Author:
Vince Contreras has been working as a professional Forester and Ranger for various federal land management agencies since graduating with a Bachelors Degree in Forestry from Southern Illinois University in 2010. He enjoys rock climbing, backpacking, and German Idealism. Other hobbies include leatherworking, bushcraft, and really, just creating original things.
Visit his Trailspace page at: www.trailspace.com./people/pillowthread or email him at pillowthread@yahoo.com
Source: received for testing via the Trailspace Review Corps (Sample provided by The North Face for testing and review)

Your Review
Where to Buy
Help support this site by making your next gear purchase through one of the links above. Click a link, buy what you need, and the seller will contribute a portion of the purchase price to support Trailspace's independent gear reviews.
You May Like
Specs
Men's
Price
MSRP: $199.00
Current Retail: $69.65-$204.73
Historic Range: $49.00-$280.00

Weight
330 g / 11.64 oz

Fabric
body: 15D 33 g/m² (1.16 oz/yd²) 100% nylon (bluesign approved fabric) / insulation: PrimaLoft ThermoBall

Length from Center Back
28 in

Women's
Price
Current Retail: $229.95
Historic Range: $49.75-$348.95

Kids'
Price
Current Retail: $89.99
Historic Range: $20.23-$149.00

Boys'
Price
Historic Range: $43.00-$120.00

Girls'
Price
Historic Range: $30.00-$120.00

Recently on Trailspace