The North Face Thunderhead 3D

The Thunderhead 3D has been discontinued. If you're looking for something new, check out the best 3-season synthetic sleeping bags for 2023.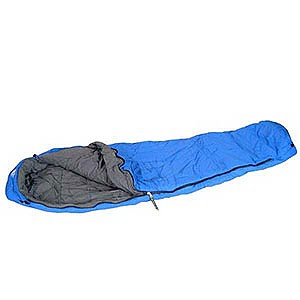 A nice lightweight entry level synthetic bag for 3-season camping.
Pros
Fairly lightweight (2lb 13oz)
Packs well for synthetic
Comfortable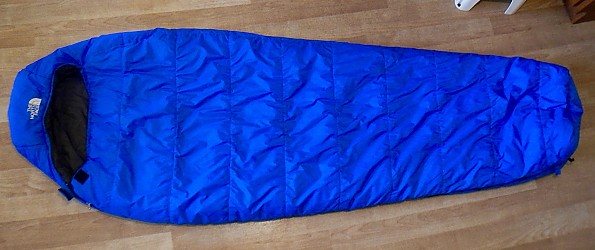 I bought this bag for my son and he has used it for the past 3 years. He really enjoyed it but has recently traded in for an upgraded model. I have used this bag a minimum of 5 times myself ranging from spring to fall. We compared notes and this is what we have come up with:
Warmth: The bag is rated to 20°F. North Face touts, "Whether you're camping in a goliath blizzard or huddling against cold, damp air, this awesome 20° bag will keep you snug and warm". 
I would not trust this bag in a blizzard but it does keep you warm down to about 32°F. The synthetic insulation was a definite plus when we camped sans tent and a light spring drizzle moistened our bags. Those of us in 20° down bags were miserable by morning, but the Thunderhead shrugged off the moisture and kept my son happy through daybreak. We agree that comfort level is high 30's temp range. 
I haven't noticed cold spots nor did my son. The bag was either warm enough all round or it wasn't. 
Fit and Comfort: The bag has ample room in its tapered shape. Hood fits nicely.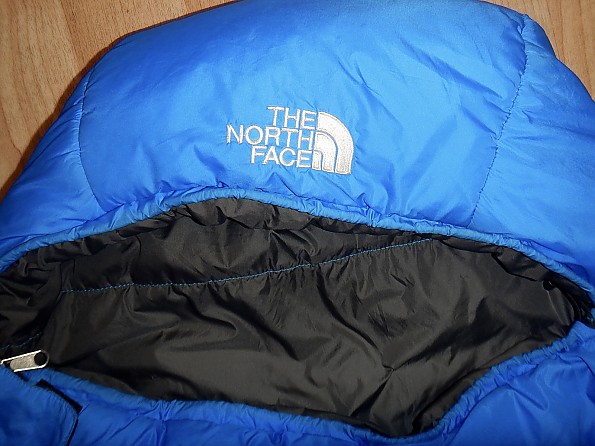 The silky interior/exterior allows you to undulate and squirm without feeling claustrophobic. The hood's drawcord is easy to use and snugs down well. There's no draft collar (it's a pretty simple bag really). This allows heat to escape readily on cold nights so beware.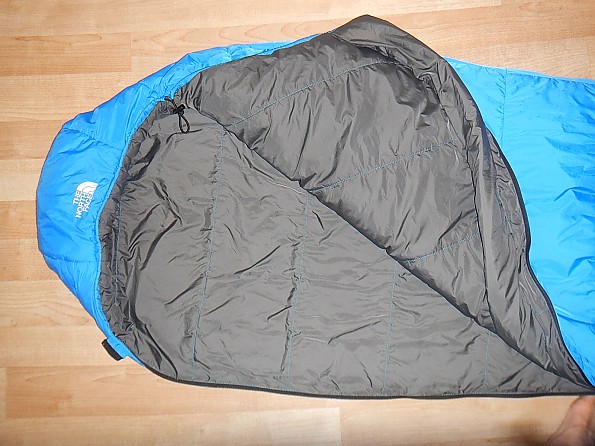 My macho son went against the advice of yours truly and brought the bag on an early spring campout. At night the temp dipped to about 20° (updated: he said it was 18°F with a windchill that made it feel like 5-10°F). With a down puffer, pants, and 1" Therm-a-Rest TraiLite camp pad he shivered the whole night. It was one of his most grueling camp experiences. 
Entry/Exit: The zip works well and doesn't easily snag. It unzips down to the shins. Really easy to get in and out of. 
Moisture: The bag's synthetic polar guard 3D insulation does keep you dry even in moist weather.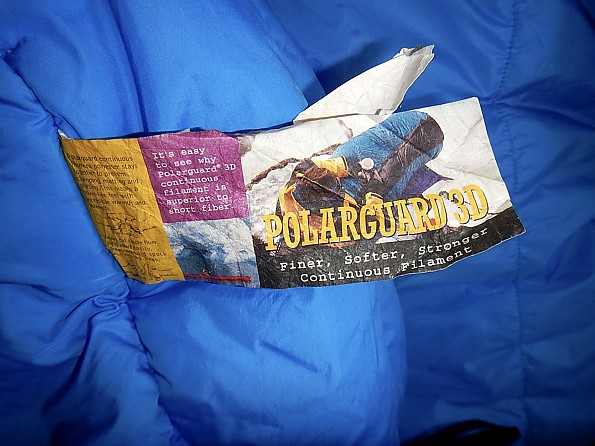 Packability: Packs down to a 9 x 13 (pic is 9 x 17) with a good compression sack.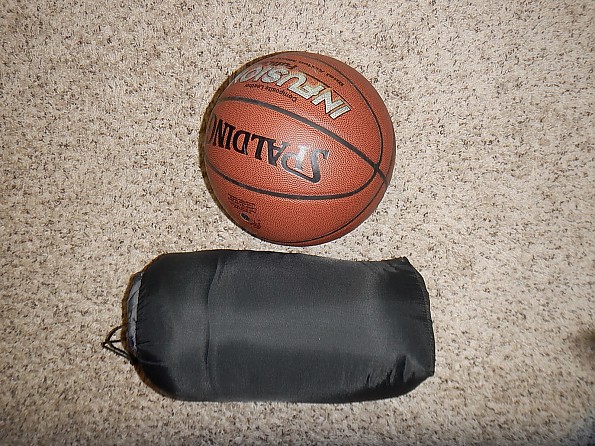 Loft: I don't know exactly how to explain the loftiness of the bag. It seems to have very nice loft. I wondered if this lack of density translated into lack of insulation. I had a Mountain Hardwear Lamina 20. It had less loft but I felt that that bag kept me warmer than the Thunderhead. You could use the pictures for a guide. We used it for three seasons and hung it up while not in use and it has kept most all of its loft as far as I can tell. 
Ease of Use: Really simple bag with no bells or whistles. Easy as opening the zipper, crawling in, and zipping up. 
Construction and Durability: This is a lower end North Face bag model. Like stated, it's an entry level bag for 3-season camping. The materials are Nylon Taffeta shell and overlapping shingle construction. After 3 years of monthly use, it looks like it did when we first got it. 
Conditions: We've used the bag in temps from about 18°F to 70s for three years. 
2lb 13 oz according to our scale.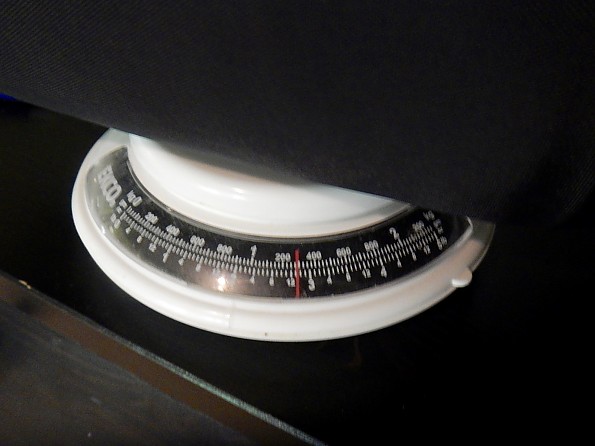 Overall, if you want a lightweight, no frills, durable entry level 3-season bag at an affordable price, pick this one up. I dare say you won't be disappointed for your money. 
Source: bought it used
Price Paid: $50

This was a warm bag when it was new. Not perfect but a massive step up from entry-level bags and a sight less pricy than most at the time.
Pros
Melted. It was too hot for most of my uses in Scotland when it was new. However out on bike camping and tent tours of the Highlands it was never cold and that was with a very poor ground mat.
On boats at sea on the west coast it was also never cold.
It stuffed and compressed as much as it could in the provided sack.
It came from the outlet factory store in Greenock and cost me £45 in about year 2000.
It lasted 19 years without failure before I moved it onto a homeless shelter charity.
No drafts with the zip baffle.
Cons
I remember being stuck in this thing a few too many times with the zip chewing into the thick internal baffle.
It was a heavy bag for the temperature rating even at the time. But it was synthetic.
It was not breathable so often got very damp inside. Especially in inside spaces like bunks onboard sailboats.
The material was slippery and would cause the bag to slide off surfaces and twist round you.
Everything is covered in the bullet points more or less
Imagine being trapped in a sauna with a raging hangover and needing to both drink water and empty water but you find yourself in a straight jacket too.
The zip I think only went one way but it did have a large grab tag so it could not be vented from anywhere other than the top.
The drawstrings pulled the hood on well but it was easy to get lost in the top of it.
I had to retire the bag after a very cold night in my 4-season tent despite having upgraded to a mega ground mat.
I woke to everything being frozen inside and out of the tent. In retrospect a bag rated to -5c would not have dealt with that well. However having washed the bag a couple.of times in its life I suspect the insulation had collapsed after all the years. Its a problem I've had with lofty synthetic thermals. They do die over time.
Each time I used the bag I recall it becoming colder. It has now been replaced by a pair of down bags each of which cost many times more than this did. So it was certainly worth every penny at the time.
Background
4-season camping
Motorbike touring
Sailboat touring
Car camping
Bivy bagging
Tarp and bag
Used light travel synthetic bags/blankets through to heavyweight down monsters.
Temps experienced from +25c down to -15c overnight.
Source: bought it new
Price Paid: £45

Got this on sale earlier this year for $89. It satisfied my requirements: Lightweight, Warm enuff, Cheep.
Not a huge roomy bag, and not much good for anything but sleeping in. The zipper seemed kind of lame, and tended to snag and unzip a bit when I rolled around. The fabric was a bit sticky. I did use it on snow this year, but the temps were fairly warm. I wouldn't recommend it down to 20°, but OK for part of spring, summer, and part of fall. In short, Yagetwhatchapayfor and in the case of the Thunderhead, it met my expectations.
Design: Mummy
Fill: 3D
Temperature Rating: 20 F
Weight: 2 lb 15 oz
Price Paid: $89 (on sale)

The base exchange in Nebraska was having a sale on the Thunderhead 3D, so I couldn't pass it up for $39. I've taken it all over the world and it's been the best bag I've ever owned. I've used it in the uncomfortable cold confines of a military transport jet, cold tents in Diego Garcia, and a buddy's couch in Florida and have no complaints.
Design: mummy
Fill: Polarguard 3D
Temperature Rating: 20F
Weight: about 3 pounds
Price Paid: $39

I just bought this bag and it performed well. It is rated for 20 degrees and I slept in 24 and was never the least bit cold. I bought the model that was 90" by 33" so it was very roomy inside. I could even sleep fetal position inside the bag ( I am 6'3"). The bag seems to have a true temp rating. Great bag for the money.
Design: mummy
Fill: polarguard 3d
Temperature Rating: 20 F
Weight: 3lbs 2 oz
Price Paid: $89

I've had this bag for just over 10 yrs. yes, 10yrs!!!! It's not my go to anymore but I still use it on weekenders in the Colorado high country and most recently in Moab, UT. IT STILL ROCKS!!!!
Great bag for light packing and moderate weather conditions. Absolutely a steal if there are any left out there!!!
Fill: Polargaurd 3D
Temperature Rating: 30+
Price Paid: $40-50 bucks

This is the only bag I've been in that exceeds its temp rating. It says 20F but I've been in 10-ish and was still warm. I have never been cold in this thing. I even took it up into the Brooks Range where it rode small and stayed warm. For the price, it was a steal.
Design: mummy
Fill: synthetic
Temperature Rating: 20F
Price Paid: $45

For the money a good overall bag. I've used it from the 40's down to the mid 20's. Below 30 wear your LJ's to bed and you'll be fine. The zipper does snag. I like the fit of the hood. About 600 miles so far on the AT with it, mostly in November in VA/MD/PA.
Design: Mummy
Fill: Polarguard 3D
Temperature Rating: 20
Weight: 3lb 2oz
Price Paid: $120

Your Review
You May Like
Specs
Men's
Price
Reviewers Paid: $39.00-$120.00

Women's
Price
Reviewers Paid: $45.00

Recently on Trailspace