The North Face Ultra Gore-Tex XCR

The Ultra Gore-Tex XCR has been discontinued. If you're looking for something new, check out the best trail running shoes for 2023.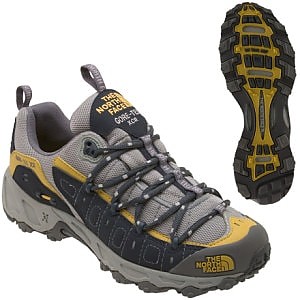 I'm 6 ft, 190 lbs just so ya know how to judge this review.
I just don't get it!!! Where is the fore foot cushioning in these shoes??? Actually where the heck is the fore foot cushioning in most trail running shoes? I can understand wanting less cushioning for scrambling up boulders and technical approaches because you want more feel in the shoe so you know what's going on down there. But not in a running shoe, dudes! I couldn't imagine running more than three miles in these. They do fit my narrow foot well and seem to be more than stable enough, but the lack of cushin nullifies the good.
I hear all this crap about people wanting want more feel for the trail, well 15 miles into a run and I don't think you feet will agree with you. Okay, if you're small and light and doing short runs and nature hikes not over a few miles then these shoes are SUPER DUPER!
I have always gone back to Nike for my running shoes. I like the Air Max Assail for most of my training. They have good cushin in the fore foot and heel, and they feel good on the pavement after many miles! The other Nike trail running shoes I've had suck! They have suffered the same problem as the Ultras.
I really hope someday trail running shoes can actually be worn for running, What a concept!!!!!!!!!!!!!
Use: 10 mile and above runs
Break-in Period: none
Weight: dunno
Price Paid: $65 on ebay

I'm more of a hiker than a runner, so for me these shoes were terrific. I was sad when it became too cold to wear them - they are way more comfortable than my winter weather boots, and are even usable in light snow, but not when it's measured in feet.
Otherwise, I wore these shoes year-round for two years (this is for the 2004 model). They absolutely rock. I did a number of significant hikes in them, including one longer than 34 miles in one day - Rachel Carson Challenge. I mention it specifically because if there was ever a good test for a pair of shoes, it was that thing! Mud, multiple creek crossings, crumbling hillsides, hot pavement... 7,000 feet of elevation gain and loss all put these shoes and my poor feet through hell. They held up beautifully.
The only thing I will mention is that I happen to have freakishly skinny feet, and they were a little wide for me. It's not really a complaint of the shoes, more my genetics, but if you have skinny feet like me, you may notice a tendency for the shoes to want to 'roll' when walking on an angle.
I definitely recommend these shoes for anyone that likes to hike without wanting the weight of a boot on his feet. I finally wore the soles out on mine, and I plan on buying another pair.
Use: 3 season hiking / running
Break-in Period: 1 week, maybe
Price Paid: $110

North Face makes great trail runners for my feet. I wear a 8.5W shoe but buy 9M North Face and there is no shifting, heel cup movement or slippage. This is my fourth pair, but my first pair of XCR's. Good mileage so far and are very comfortable on my feet.
Break-in Period: 1 day
Weight: 71KG
Price Paid: $110

Not waterproof.
Wore these on Colorado Trail. Leaked on first downpour within the hour. Hated them after that and bought different shoes at next resupply. Wrote email to North Face but no reply. Didn't expect one. That's the end of me buying NF.
6' and 203 lbs.; Worn these shoes for 5-6 months now for both hiking and running. Comfortable, hold up well on trails and roads. Good cushioning where needed. No warm spots after miles walking or running. Recommend for the heavier hiker/runner.
rs
Use: hiking/running
Price Paid: $70

These shoes are incredible. Very comfortable, stable secure, and weatherproof. The Gore-Tex in this shoe holds up very well. They kept my feet dry in pouring down rain. They are so good I use them to even run at the track.
Materials: gore-tex
Use: hike, ren
Break-in Period: one week
Price Paid: $119

Used these shoes to hike the Grand Canyon and Sedona. Unbelieveably comfortable. Only downfall is they don't breathe well so your feet get a little sweaty. Overall well worth the money.
Price Paid: $99.99

Your Review
You May Like
Specs
Men's
Price
Historic Range: $23.34-$110.00
Reviewers Paid: $65.00-$119.00

Women's
Price
Historic Range: $29.55-$110.00

Recently on Trailspace