The North Face Vapor Light

The Vapor Light has been discontinued. If you're looking for something new, check out the best trail running shoes for 2023.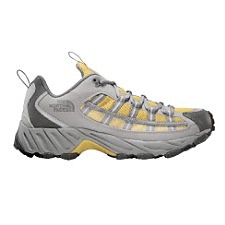 I was so excited to get these shoes. I saw that they won an award from Trailrunner Magazine and I liked the style. These shoes felt good in the store and good in the house, but when I took them outside I started to feel something digging into my right big toe. The pain persisted.
I figured that maybe they needed some serious breaking in, so I started to take them to the gym with me. Pure pain. I was on the ellipitcal and I could literally feel the lugs pushing up into the sole of my right foot. It was like standing on a waffle iron. Then I tried the stationary bike, and something starts digging into my right instep.
These shoes have been a complete disaster. Let the buyer beware.
Pieces of garbage!

First of all they started falling apart in the first week! The sole delaminated and the upper started to shred before I even hit the trail.
I wanted a trail runner. The bottoms are so soft that I could feel every rock and pebble. The bottoms also have a hinge where the tread stops and it's just a 5/8" of spongy midsole between your foot and the rock--OUCH! These things are barely walkers, forget about running in them.
The treads squeaked on everything, even carpet, with every step, just to remind me of how much I hate these shoes!
I WILL NEVER BUY ANY THE NORTH FACE FOOTWEAR AGAIN!
PIECES OF GARBAGE......ARGHHHHHH I HATED THEM!
Price Paid: $100

I'm surprised the previous comments on the shoes have been so negative. Sometimes it also means you do not pick-up the right shoes for the right exercise...
I am very happy with my Vapor Lights. They are very comfortable, a lot of cushioning. I use these shoes for trails from 20 to 50 miles on easy and dry terrains. I avoid absolutely to use them on very technical, muddy, wet and rocky grounds. It is not what they are designed for. You would then have high chances to twist your ankles...
So, my advice: select the right shoes! They are perfect for what they have been designed for.
E.
I loved these shoes from the moment I put them on!!
I usually have severe problems with blisters in any shoes I wear...not these!
They've been used HARD in everything from ultimate frisbee to all day hikes in mud and over sharp lava.
After one year, the treads are just starting to get worn. I've been through hiking boot treads faster.
These are the most comfortable running shoes I've ever had!!
Use: frisbee to day hikes on lava rock
Break-in Period: None!
Price Paid: $25

These are the best shoes ever. I always have trouble breaking shoes in and my feet getting too hot in shoes. Not these! I have hardly taken them off in the 1 1/2 years I have owned them. These shoes have done everything from backpacking the Grand Canyon to daily runs and getting groceries! I am definitely up for buying another pair.
Your Review
You May Like
Specs
Men's
Price
Historic Range: $20.73-$74.95
Reviewers Paid: $100.00

Women's
Price
Historic Range: $74.95
Reviewers Paid: $25.00