The North Face Venture Jacket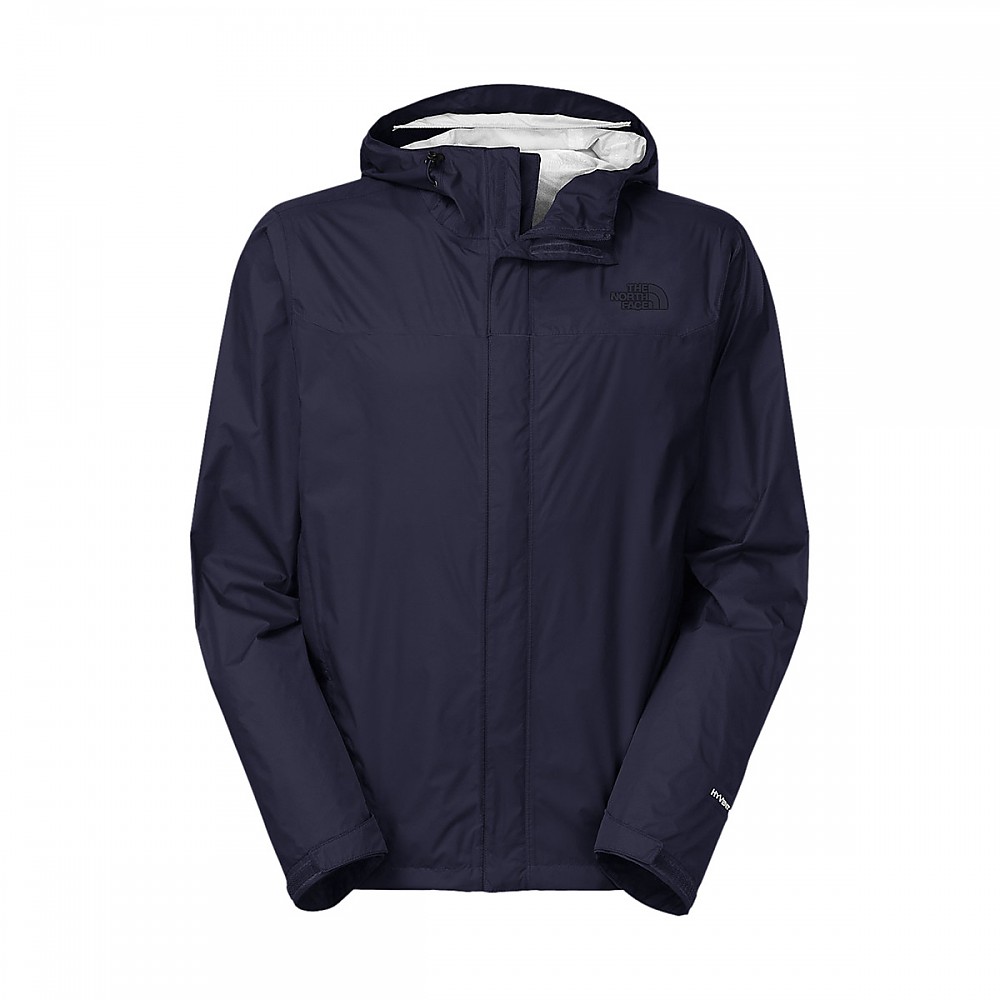 A nice, budget-minded jacket, breathes as well as you can expect for a hundred bucks. My only real gripe was the hood fit too tight, and the drawcords are troublesome, but altogether, great jacket for its cost.
Fabric: HyVent, Two Layer
Price Paid: $99

The lifetime warranty means nothing. The lining in mine has completely deteriorated and the jacket is unusable. And I'm told lifetime warranty = 2 years! Very disappointing. Don't waste your money!
Cons
Lifetime warranty means nothing
Lining deteriorates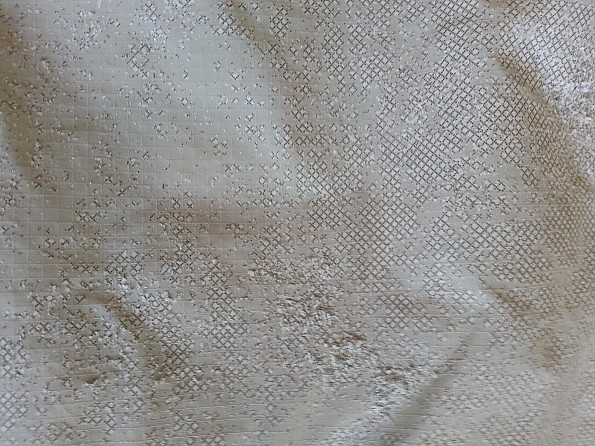 Very disappointed with this item, as I thought I was getting something of quality. The lining has completely deteriorated and the jacket is unusable....it can only go in the bin. Their "lifetime" warranty (as I've been informed by email) means two years. Deceptive advertising if you ask me! Don't waste your money.
Source: bought it new

Great rain jacket if you are not moving. 400-foot mountain bike climb in 4.5 miles had me soaking wet under this jacket (outside temp 38 degrees F), with fleece under that and a base layer under that. Head soaked as well. Lousy.

Keep seeing very pos review of this technology. Guess I am missing what others are raving about.
Cons
Not yet no-sweat technology
Good fit. Holds up to rain on 50°F summer rain.
Poor wicking performance on 38°F winter day, no rain but cycling hard up incline.
Source: bought it new
Price Paid: 150$

Lightweight, waterproof, roomy.
Pros
Waterproof
Roomy
Lightweight
The two main things I like about this jacket is that it's lightweight, but not flimsy...and also roomy. It's a bit longer than I expected, but that gives more protection to your body. I'm usually a 1X, but an XL is perfect for me in this jacket. It's waterproof too. I like it!
Source: bought it new
Price Paid: $50

The North Face Venture Jacket is a good waterproof rain jacket, great to pack for emergency rain showers.
Pros
Packable
Relatively waterproof for intended use
I've had my North Face Venture Jacket since 2007 and for the most part it's still doing its job.  Of course since I've bought mine in 2007 I am basing this review on the fit, form and functionality of the jacket that I have.  Not sure if they've changed much since then.
Fit and Form:
I am 5'6" and 145 lbs, athletic build. Size small fit me very well, loose but not baggy. I would say you can comfortably fit a thinner fleece and T-shirt. You can certainly fit a trim cut thicker fleece underneath like a Mountain Hardwear Monkey Man, but definitely not a North Face Denali Jacket.  
I do prefer the fit and form of this jacket over my newly acquired Marmot Aegis Jacket. The Aegis is size small definitely had a lot more room and left much baggier than the Venture.
Function and Intended use:
I used this jacket as a "just in case in rains and forgot my umbrella" kind of jacket, stowed and packed away in my bag. Living in New York City, depending on Mass transit and not driving all the time, you think of ways to avoid getting wet.  Its saved me more times than I can remember when I've forgotten to bring an umbrella.  It's kept me dry the top half of me dry between walks the apt, to the subway, to work and back.
I've also brought this during camping trips where its held up relatively well to rainfall for a non-GoreTex Jacket. It's been through some 10 minute downpours without any leaks, but I would not recommend doing much more than that. 
It is for the most part breathable at least for the low heart rate activities that I've put it through which does not exceed fast walking.  The Venture has pit zips that vent heat pretty well.
Durability:
This is a bit tricky.... yes, I've had it for 7 years, but for how much I do use this, I've started to see the Hyvent lining flake off the neck and hood area.  So yes its lasted me a good amount of time, but I expected more from this piece since I've taken care of this as stated on the instructions and only used this intermittently.  The last thing I expected is the North Face's own waterproof technology fail.
Conclusion:
The Venture Jacket did exactly what it was suppose to do, keep you dry when it rains. Just still bummed that the Hyvent is flaking off, but the fact that I'm bummed (even after 7 years of service) just goes to show how much I've like this jacket.  
Source: bought it new
Price Paid: $99

Overall, the North Face Venture is a decent rain jacket. Not the most breathable jacket in the world, but the armpit zippers help to keep you from feeling like you're wearing a greenhouse. After an hour of wearing this jacket in a constant downpour, I was still dry. Can't say how much longer it will keep the water out after that, though.
Pros
Keeps you dry
Adjustable in several areas for a better fit
Pit zippers to help you air out
Cons
Not as breathable as it should be; kinda hot if you're exerting yourself
I tested this jacket out on two separate occasions. These are my findings. 
Test #1 for this jacket was on the Pinhoti Trail. We were hiking 5 miles uphill at midnight. There was no light except for what our headlamps illuminated, and we were bookin' it. We covered 5 miles in under two hours, so there was some exertion on my part. We were expecting storms in the early morning hours and the wind was really picking up. Temps were in the low 70's and humidity was very low. We were hiking on a ridge, so there was little to stop the wind, which was nice because it helped to cool us off. 
I was wearing my TNF Venture Jacket over a Columbia wicking shirt, carrying a 25lb pack. The lack of rain didn't tell me much about the waterproof properties of the jacket, but I got a pretty good idea of how breathable it was. Within five minutes, I had the jacket's main front zipper down, with both side pit zips following. It got hot. Fast.
The Venture Jacket employs HyVent, which, according to The North Face website, is a multi layer technology that is both breathable and waterproof. Depending on who you ask, the answer to the question 'Can a jacket truly be both waterproof and breathable?' would vary. If it has seams, it's going to leak at some point. I guess the real question is 'How long can it keep me dry?' and ' How long before it feels like I'm wearing a greenhouse?'
During this trip, my body was quickly turning into a furnace, so I just don't know that its fair to say it's not very breathable since I was working harder than normal on this trail. I would say that you may get a better sense of how breathable the HyVent tech is if the temperature was much cooler. The pit zips did help keep it cooler than it normally would have been without them, however. I'm sure of that.
My second 'test run' was some backroads near my house. The weatherman said 100% of rain, and he delivered. The temperature was 74 degrees, with 94% humidity. I went for a 3 mile walk and back in a steady downpour. I liked how the hood adjusted easily to cover the bill of my baseball cap. The velcro adjustable cuffs opened up my sleeves a little to allow for more airflow, but just barely.
Once again, the pit zips were the feature I appreciated the most, but the high humidity made my skin feel sticky. The front zipper has a double flap to cover it, so a leak by way of that zipper is unlikely. The two side pockets have a covered zipper, so I was able to reach into my pockets for things without getting rain in them. There are also inside pocket made of mesh, so you can more easily find what you're looking for. 
The bottom hem of the jacket features lockable draw cords, so you can adjust the fit tighter at the bottom if you want to. I was uncomfortably hot, so I didn't wanna.
I was out in the rain for about an hour and happily, found that no water leaked in through the seams. My arms , head and back were damp, but that was from sweat.  Would it hold up the same if I had a 20 pound pack on my back? Good question. I'll have to find out another time, but at this point, I'd say I'm pleased with the jacket overall and would recommend it based on my experiences. I think when Fall and Winter roll around, I'll have a better idea of what this jacket can do. 
The jacket wasn't very heavy at only 14 ounces, and it packed down into a front pocket, so it fit inside my backpack with no problems. 
I'm happy with the jacket and I'm happy I bought it. 
Source: bought it new
Price Paid: $40

Nice looking, keeps the rain out. Average breathability, and average comfort. The big selling point of this jacket is its very low weight and small pack size which makes it ideal for throwing in your pack just in case the weather turns.
Pros
Very lightweight
Good looks
Pit zips
Waterproof
Decent hood
Cons
Rides up while hiking leaving back exposed
Material feel is average (very crinkly, feels almost like GoreTex paclite)
Fit and Comfort: Overall it fits well and feels fairly comfortable, but the bottom of the jacket is poorly designed and constantly rides up while hiking leaving back exposed and requiring readjustment. This tends to be a nuisance and is one major drawback for this jacket. Breathability and design is otherwise quite good and I would not hesitate to wear it more often, but because of the riding up issue I prefer to save it in my pack just in case I need it. However the small pack size and low weight make this more than reasonable and a major redeeming factor for this product.
Adjustability: Decent adjustability on hood, standard velcro on cuffs
Water Resistance: Good water resistance, nothing to complain about
Breathability: The material itself is probably no more breathable than any competitor in its price range, but the pit zips are excellent.
Moisture: Doesn't appear to be any more moisture wicking than any other rain coat in that range (which is to say quite poor!), but the pit zips as mentioned above go along way to curtail these effects.
Warmth: Not warm, just a thin outer shell. However, if all zipped up with chords cinched you can build up quite a bit of heat and moisture to keep you warm.
Layering: Excellent for layering, loose fit can go over anything including multiple insulation layers as well as other softshell jackets you may be wearing when the weather turns.
Abrasion: Appears to be decent, but it has not yet been rigorously tried
Function: Functions as a standard rain shell, pit zips are a nice touch for the price range. It is perfect for packing away and using when needed. If I had to wear this for extended periods of time, I would have done more research and found something a better design/cut to prevent riding up.
Construction and Durability: Appears to be well made, only been used for 4 months, so far so good (spends most of its time in the backpack just in case). So far the print of the inner fabric hasn't worn.
Conditions: Hiking and traveling throughout rainy UK
Source: bought it new
Price Paid: 66 pounds

The North Face Venture Jacket is really rain proof jacket for its price. Keeps you dry even in harsh conditions, really great for wind resistance. Vents on the side arms are great to keep you cool but does feel clammy if hiking in hotter conditions.

This jacket is great for its price, but should you be looking for a jacket that keeps you dry inside and out, this jacket fails to breathe while hiking. The heat one's body produces when hiking seems to make the inside clammy.
Pros
Price
Lightweight
Great waterproof fabric
Fantastic fit and feel
Cons
Breath ability lacks from body heat
The North Face Venture Jacket fits really well on the body provided you get the size and measurements correct.
Basic adjustments around the hands, waist and hood, bust serve its purpose.
The jacket is great in rainy conditions both waterproof and windproof.
Jacket lacks breath ability when doing an activity, but for the price you cannot complain.
The rip stop fabric on the jacket is great. Looks like it can handle a bit of abuse.
I have used the jacket on various trips into the Drakensburg mountains in winter and summer hikes and feel that should you need a jacket that can do a great job for its price is a winner.
Source: bought it new
Price Paid: $70

Very bad jacket...not breathable at all, wateproof is OK. But the quality of this jacket is terrible. It tore on the sleeve after 1 month wearing. It is definitelly not an outdoor jacket. If you wore this while hiking — it wouldn't last very long.
Cons
low quality
not breathable
very expensive for the quality (130 EUR)
Source: bought it new

Great jacket. There must have been a problem with the older models, but all the new ones should be fine. I am not sure what all the bad reviews are for.
Pros
Light
Waterproof
Windproof
Armpit zips
I love my Venture Jacket. It is light and gets the job done. The sizes are very standard and the medium fits me great (I'm 5'8").
It is adjustable at the waist, hood, and wrists. It is very water resistant and could also be used as a shell for skiing. However the breathability is not great, but it's not bad either, whenever I get hot I just open the pit zips and it cools me off, just a little exposing. It is light and thin so it is not that warm of a jacket but works well for layering.
All of its functions are great, zipper doesn't get stuck and there are plenty of pockets. I have used this while camping above treelike in the poring rain and raindrops bead up and roll right off. Highly recommend it for a great affordable shell. check backountry.com!
Source: bought via a "pro deal"
Price Paid: $70

So far so good.  Picked up two at 50 percent off. For $50 a lightweight, waterproof jacket that can be pulled out on the trail when the rain hits.
Does not breathe like some higher end jackets, but does the job.
Price Paid: $49.99

I TOTALLY love this jacket.
Bought an ivory rain jacket and it is just AMAZING. It looks good with all my jeans and yoga pants and all my friends are JEALOUS of it! I love it so much and i want to buy every color of it!
At first i was a little uneasy because of the price.. but most GOOD rain jackets cost about that much and this is DEFINITELY worth it. BUY IT, LOVE IT.
Price Paid: $80

Bad, sorry. I bought this jacket, not very breathable but stopped well rain and very small and light! I always had with me. After one year it began detaching the inside shell, starting from hat, then shoulders and so on. Useless.
I thought it was due to wrong washing.. stupid I was and bought e new one lots of $$$. The second detached in 4 months. Never buy unless you want to use just for walking in town. North Face says granted for life, my opn is you pay for tech and get cheap cinese stuff. Sorry.
Price Paid: 150 euro

Utterly disappointing. I bought this for a 3-day trek in the Lakes and it ruined my trip. The weather was predictably awful and the water just soaked straight in. I can't figure out why; there's no obvious place for it to come in, but as soon as it rains I get wet. I use it as I would a cheap kagool now; stuffed in my bag when I go to town. Glad I didn't pay the RRP.
Price Paid: £54

I love it!! I bought this jacket at our local outdoor shop 7 years ago because it was on closeout and I got a spankin' good deal on it. For the first year, I only used it as a rain jacket on hikes and overnight camping and backpacking trips. Then I discovered how useful it is - it packs up really small, hardly weights anything, and keeps me completely dry!
While it doesn't breathe like mesh (I don't know why anybody in their right mind would expect that), it most certainly does its job as a waterproof shell! I wouldn't intend to use it a running jacket, but for everything else I give it two big thumbs up! I use it for almost everything outdoors - from casually strolling in the neighborhood to backpacking trips to day hikes to wearing it around all winter to... you name it (within reason...).
In fact, I like it so much that I stole the fleece liner out of my Columbia parka and ditched the Columbia shell. It has withstood snowboarding and digging trucks out of the snow in the winter in Idaho, scrambling through fields and mountains of lava-rock, torrential downpours of both Washington State and Virginia, the Teton mountain range of Wyoming, the dense fog and sea-spray of Northern California, the cloudbursts of Scotland, and everything in between.
I'm 5'9", 170 lbs with a thicker athletic build and a medium fits well. It's not too baggy and saggy by itself and it has just enough room for me to move around with a fleece. It even fits fine with a hoody underneath the fleece for days when the mercury doesn't get above 0 and your nose hairs turn into snotsickles.
The only issue that I've had with it is the inner laminate layer is starting to rub off in certain areas (like by the cuffs and where the hood meets the shoulder/neck area from carrying a backpack stuffed with engineering books nearly every day) - but that's after 7 years of use and abuse. And, amazingly, it still keeps me dry.
It is EVERYTHING I expected in a lightweight low-cost hard shell!
Price Paid: ~ $60

I'm really angry about this jacket because I paid good money thinking I'd get a premium (quality) product and I got a jacket that soaks me. It's utterly useless.

Price Paid: £90

I bought this HyVent hard shell because I wanted a second rain coat and I found this one on sale. It is very similar to my Marmot PreCip jacket.
I wore it yesterday on a motorcycle trip through the heavy rain of a tropical depression that just hit the Gulf Coast. On the basis of that trip, I am very happy with this jacket. The inside was comfortable to the touch and it kept me completely dry.
Contrary to other reviewer's reports, it seemed to vent well. The hood fit well; the zipper action is exceptionally smooth; the pit zips offer additional ventilation if needed; the velcro cuffs allows a custom fit; and it compresses into a small space. Compared with my PreCip jacket, the material seems a little thicker but the overall jacket weight is about the same.
I really like the extra length of the jacket and the extra long sleeves (I have a 36-inch sleeve). My one concern is the smaller girth in the abdominal area may limit the number of layers I can add this winter - but this should not be a problem for most people.

Fabric: Nylon
Fill: none
Price Paid: $70

I've had this jacket for about 2 years. For the first couple times I wore it, it was fine. A little humid inside but otherwise dry.
A few weeks ago I used it in a heavy rain storm and my shoulders and upper back were wet. I may have just gotten a lemon but from my experience, NOT waterproof.
The PROS are it's only 12 oz and packs up nicely in the mesh pocket. Good for light showers but not so great in heavy rain.
Price Paid: $100

I am extremely disappointed with this jacket. This jacket
does not breath! I took it out recently in the coastal redwoods on a damp but not raining day. It remained dry on the outside and dripping wet on the inside.
As a frequent user of gore-tex, I understand the limits of gear. My gore-tex products become damp inside under similar situations too, but I at least get some breathability out of it. I see no difference in performance between this jacket and regular
unbreathable coated nylon.
Price Paid: $80

I purchased my Venture jacket about three weeks ago to prepare for the upcoming rainy seasons. I've been able to use it once so far because I had to take my 10-month-old puppy out for a walk in the rain.
The jacket kept me nice and dry and I didn't get too hot in it either, which I really like because most rain jackets make me sweat and this one didn't (we walked two miles).
I especially like the long brim on the hood to keep the rain from splashing on my glasses. The adjustable velcro, around my wrists, on the sleeves is a bonus too!
This jacket is just alright. It has many things I like about it such as this compresses very easy for travel and is light for packing. I would mainly use this for summer excursions and short trips.
Do not trust The North Face! I bought this jacket on brand name loyalty alone. I could not have been more disappointed. I was trekking through the rainforest in Tasmania and was soaked after two days of serious rain. The jacket was only 1 month old. My friends in Gore-tex were dry. The North Face would not honour the warranty. The store in London (Novaks) gave me an in-store credit and I bought an Arc'teryx instead (excellent!).
Fabric: Hydra-vent (crap!)
Fill: Fleece
Price Paid: $400 CAD

I will preface this by saying that this is my second Venture Jacket. The first one was a total piece of crap and after two years of total frustration with it, I boxed it up and sent it back to North Face. The NEW one they sent me is great.
Fabric: Hyvent
Price Paid: $100

Rain seems to soak through after a while. At first I thought that it just did not breath very well, but after further use it became obvious that the fabric is really not waterproof. Water everywhere, not just at seams or around the edges, everywhere. I would not recommend this product at all.
Fabric: not-so-DryVent
Price Paid: $90

I had this jacket for three days on three separate day trips, and then took it back to the store. It simply does not vent at all. You might as well not wear it. The CORE venting system that TNF has bet the farm on does not work. This jacket has a major design flaw, as it does not have pit zips. Stay away from this one.
Fabric: Hyvent
Price Paid: $150 (Canadian)

The worst jacket I have ever worn. It has the breathability and durability of a GLAD garbage bag. I just came back from a 5-day trip in Yellowstone National Park and this jacket is ripped in three areas and it was only lightly used with a medium sized backpack. And there is a 7 inch tear in front of the jacket after getting scrape with a small tree branch.
At least the rips increased the breathability of the jacket! This jacket is also made in Bangladesh. Bangladesh people do not know how to assemble jackets. As far as I know, The North Face is really stupid. I will get this jacket fixed and donate it to Goodwill - oh, damn, Goodwill might not even take it. Hello Salvation Army.
Fabric: Hyvent
Price Paid: $98

Your Review
You May Like
Specs
Men's
Price
MSRP: $99.00
Historic Range: $23.00-$199.00
Reviewers Paid: $40.00-$150.00

Fabric
40D 2.7 oz / sq yd Nylon Ripstop HyVent™ DT 2.5L

Women's
Price
MSRP: $99.00
Historic Range: $23.83-$199.00
Reviewers Paid: $50.00-$100.00

Fabric
40D 2.7 oz / sq yd Nylon Ripstop HyVent™ DT

Boys'
Price
Historic Range: $45.03-$79.00

Girls'
Price
Historic Range: $45.03-$79.00

Recently on Trailspace