Mountain Hardwear Monkey Man Jacket

The Monkey Man Jacket has been discontinued. The Mountain Hardwear Monkey Man Jacket was renamed and is now called the Mountain Hardwear Polartec High Loft Jacket.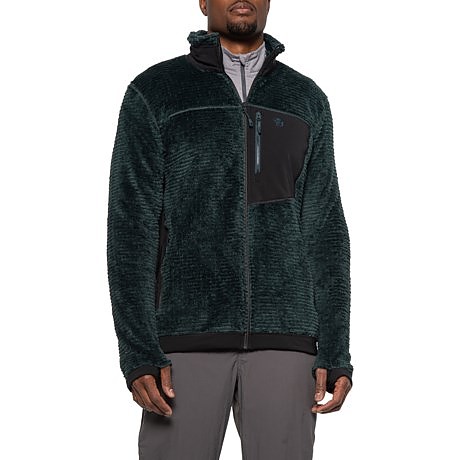 Warm, warm, warm, fuzzy jacket with breathability and stretchiness to boot. The jacket is said to be non-piling, but I'm not so sure about that. Also, if you and your wife/girlfriend are already together, wear this on a date. If she is not your girlfriend yet, think twice—the fuzziness may be too much for unattached women.
Size L, black, bought 6 years ago.  5'9, 195.  Fits very nice, even flattering.  Ill start out with things this jacket does not do:  repel water or wind (just wear a shell). 
That being said, this jacket does just about everything else. It is very very warm. I asked the REI salesman whether it blocked the wind, and he told me that when I wore this jacket I would appreciate wind. He was right.  This is a comfortable jacket, with all that fuzziness.  
My former girlfriend (who is now my wife) loved to hug me in this jacket. Who doesn't love hugging a fleece blanket? That is also the source of this jacket's greatest esthetic weakness: until you are on hugging terms, this jacket may be a little much. Pretend you ate a sandwich yesterday...you now have crumbs stuck in your jacket.  Pretend you wear your seatbelt in a car... the shoulder belt compressed the fleece and you have a stripe of matted down fleece across your jacket.  You can probably live with that, and people generally don't make sasquatch comments to me, but, "wow, that's a fuzzy jacket," with wide eyes has made me wonder.  
On the other hand, if "a little much" is your style (say, if you are from Bellingham, WA, or are personally offended by Portlandia) then you should probably buy this jacket. Or you already did, and should get another one as well.
I love this jacket. It's really not overly fuzzy for me, and who cares when you are warm. Think drive-in movie night in central Whidbey Island during September.
Source: bought it new
Price Paid: $150

My favorite coat. You can use this for many different applications.
Cons
Doesn't fold up small
Short length
Not windproof
I have had mine for about seven years and I absolutely love the coat. It is my go-to for sitting around the house. It is also my go-to for traveling through airports because the pockets are tall and I can fit a magazine or book in them. The chest pocket I can put chapstick, pen, and iPod or cell phone. Also, you can ball it up for a comfy pillow.
Mine is an older fleece version and the pile is balled up and is full of dog hair and less then attractive, bit luckily dark blue. I always loved the elastic cuffs and waste band, but mine are starting to stretch out at this point. My wife has had three of these because she uses them all the time and buys a new one when they go on sale because she has stained each previous one from wearing so often.
I love my older model, but these coats are great. You can wear it down to about 10 or 0°F if there is no wind. Wind does go right through it though. I consider it a more around town type of fleece.
Source: bought it new
Price Paid: $90

I bought this jacket just after Christmas and I have lived in it ever since. But, a couple of weeks ago I took it to a Boy Scout meeting and we had it outside with a campfire and it got the dreaded smoke scent from the fire. I tried to wash it, and followed all of the instructions (trust me, I did), and it came out really matted. All of the "phur" was matted and had lost all of its loft.
I gave Mountain Hardwear a call and they said that they have been having lots of problems with this product, so they have stopped producing it. The MH service was top notch, the best in the world. I got my $140 back and spent it on other Mountain Hardwear gear. So, if you really want one, get one now.
But, I will advise you to buy a MH Link Jacket. There aren't many left, so act quick. I just got mine and I love it. It is warm, windproof, and I got a steal of a deal on backcountry.com. Just trying to get the word out.
Oh, and I called up my local outdoor store and since I went in on Friday to tell them, they have had two come back because of the washing problem and it is only Monday! So, if you really want one, don't wash it; or get another MH sweatshirt, you cannot go wrong with their products.
Fabric: monkey Phur
Price Paid: $140

Warm, soft, and form fitting. My go-to jacket for layering or wearing around.
Pros
Warm
Athletic fit
Excellent pockets
You will be so soft, people will want to touch you
Cons
Zipper pulls fall off eventually and need to be retied
Possibly too many people stroking your jacket
This jacket is great for wearing around on winter days and also works wonderfully as a heavier underlayer. It breathes well and has an athletic fit that can be hard to find on heavier fleeces, the only downside to that being that you can't layer too many things beneath it.  I'm 6'1" and a medium fits me, but I'm only 155 lbs and I really wanted a tighter fit for xc skiing.  I am comfortable in this + a hard shell down to about -15°C as long as I am active.
Tactile people will have a hard time not touching you. I've had it for 2+ years now and it still hasn't started clumping, which I was worried about initially. Still super soft and fuzzy.
I also own a Patagonia R3 (redundant gift), which I would say is fairly equatable, and the Patagonia jacket seems to shed fuzz at an alarming rate.  Not so with the Mountain Hardwear.
Source: bought it new
Price Paid: $70

As a background, this jacket was purchased back in October of last year and has been used in the Great Smoky Mountains and around Knoxville/Farragut TN. It has been used (weather permitting) as my outer layer and does a great job keeping me insulated down to the mid 30s as long as there is not a great deal of wind. When it is snowing/raining/sleeting outside, when paired with a good hard-shell (Arcteryx Theta AR) it keeps me more than sufficiently warm in temperatures down to low 20s.
I haven't owned it for years so I don't know how badly it mats when washed. The sleeves have a nice elasticy feel at the wrists which keep wind out and it is actually pretty stretchy all around.
I will give this piece of advice before you purchase it, go out and try it on because it is most definitely built for athletic fit in the torso area. The torso of a medium fits me and the sleeves of a small fit the best, but I have a medium for all around comfort (I am 5'7" and 150 lbs).
Lastly the darned thing looks pretty nice too! Would definitely recommend to a friend for function and style!
Price Paid: $90

Lightweight, high flexability and the feel of the fluffy fleece make it nice to wear. It is warm but not really hot. There are a few downsides, the biggest is the sizing. I fit a North Face and Arc'teryx large exactly being 6 foot 43 inch chest, but the large in this is too small and tight round the chest, but the xl is ok, but the arms are an inch too long and I've got longer than average arms. It's not windproof in the slightest and too thick to comfortably wear under most jackets so its functionally limited.
The zip is a corse ykk zip and when zipped up near the chin it rubs, which I find frequently irritating. However this isn't a problem when fully zipped up. I haven't washed it yet but I can only imagine it won't be good for the fluffy brushed finish.
Despite all this its still the first one I pick up, although I mainly use it indoors. It's quite eye catching and people are complimentary. It's overpriced at 100 pounds but if you can get a deal it's worth it.
Price Paid: £75

Great fleece, incredibly warm, almost as warm as my puffy down jacket.
Pros
Warm
Fits well
Good layering
Cons
Irritates neck just a bit.
I've used it around town in temps from 0 to 50, and it's performed well. Around 45 degrees, I start to seriously overheat. Also used it in Jackson, WY, on a snowshoe trip, great for layering.  
It's not windproof, but it's not just a piece of mesh either, it will shield you from a little wind. Great layering piece, fit is excellent, I'm 5'10" 160lb, got the medium.  The body fits like a body builder, with longer arms, but it looks good.  
Only con is that the fur, although extremely comfy, can irritate and dry out the skin around my neck after wearing it for a while.
Source: bought it used
Price Paid: $80

Extremely breathable insulating layer.
Pros
Exceptionally warm
Breathable
Cons
Durability/longevity of the fleece loft
I've worn this fleece for 4+ years and overall it has held up very well.
The jacket is NOT windproof as stated in several reviews...but then it is not designed to be windproof. Rather it is an extremely breathable technical piece for highly active users.
This jacket is made to transfer moisture during periods of strenuous activity while retaining warmth. It does this better than any other fleece I've ever owned.
The sleeves are designed longer so that when you reach (stretch your arms out) they don't ride up your forearm.
This is simply the best and most misunderstood jacket ever produced IMO.
Source: bought it new
Price Paid: $100

Most comfy fleece jacket I own!
Pros
Super comfort
Light
Napoleon pocket
Athletic fit
Cons
Short arms length
Expensive
Low color selection
If you are looking for the ultimate fleece jacket look no further. The fabric is so comfy I now wear it all the time! I'm 6 foot tall and the only problem is the arm length, but they have a thumb hole to have them well in place and keep your lower hands warm when needed. 
Experience
Hiking
Source: received it as a personal gift

Stylish MH jacket on its own or for layering. Nice colors, appearance.
Pros
Warm
Comfy
Reasonably priced
Cons
Feels light, thin for warm coat/layer
Fit is appropriate w/ length I need in arms. My chest is thick yet still fits w/ room to spare for layering. Adjustability is limited but functionality and durability are stellar. Breathability leaves one wanting but still useful for most cold weather activities.
Nice features like pockets for hands and chest pocket, as well, passable zippers and cuffs. For price a nice jacket for sure.
Source: bought it new
Price Paid: $55

Amazing warmth and comfort. Great all around jacket.
Pros
Warm
Packable
Comfortable
This fleece is amazing! Have use this from every thing from 19 degree overnights, to walking the dog and house chores. Most comfortable layer I own.
Only slight downside is weight, coming in at about a pound (my down layer is 1/2 the weight), and it does not compress so could be difficult to pack, depending on your setup.
I still think it's one of the best articles of clothing I have.
Source: bought it new
Price Paid: $80

Extremely comfortable, this is my go-to jacket.
Pros
Durable
Soft
Chest pocket
Cons
Not windproof
Need another layer for extreme cold
I haven't had any qualms at all about this fleece in the two years I've had it. I noted that the cons were it's not windproof or built for extreme cold, but it wasn't built for alpine conditions. I live in Virginia where the weather is moderate, and I wear this jacket 8-9 months out of the year.
Source: bought it new
Price Paid: $75

Good one.
Very warm for dynamic activities, still has its role in a winter layering system.
The jacket is very stretchy, allowing full range of arm movement, and it has some strategic Polartec Powerstrech panels in key areas.
Shines in chilling autumn temperatures when you can just pair it with a t-shirt.
Has a little wind resistance. Very soft and pleasant.
Source: bought it new
Price Paid: Around 150 USD

Ok,
The jacket is pretty warm, but only if it is worn inside of a shell. Wind cuts right through this thing, much worse than other fleeces I have owned. The fleece is also starting to wear out, and I have only had it for six months. It needs a drawcord at the bottom and two way zippers on the front. I like the stretchy cuffs so you can roll up you sleeves. Overall, I probably will not buy this jacket again. However, you all might have another opinion about it. It is very light...it really weighs next to nothing. But, I will be looking for another jacket come time.
Fabric: Fleece, puffy
Price Paid: $59

This fleece is very thick and warm. Despite this jacket being lightweight, it provides very good warmth even in the winter. I really like the stretch elastic on the wristbands and at the waist.
One tip for sizing: you may need to order one size up from what you normally wear. It has more of an athletic fit than other fleece jackets. I'm 5'8" and about 155 pounds and normally wear medium jackets. However, the medium in this jacket was very tight and I had to exchange it for a large.
Other than the sizing, this seems to be a very good quality jacket.
Price Paid: $88

This fleece jacket rocks. It is incredibly warm. However, it is not windproof (weight savings), so you need a shell over it in wind. Take note that it is VERY warm, and I can't do any aerobic activity in it when the temp is above 0 F. For sitting around camp, sleeping, or backpacking at a slow pace, it's simply wonderful. I am nice and toasty all the time. It wicks better than expected as well. Weight was as quoted, 410g.
Fabric: Polartec Thermal Pro
Price Paid: $110

I bought this jacket after reading reviews online and can honestly say this thing is the best fleece i have ever owned!! It instantly warms you up when cold and protects you from any chill.
With an outta shell over the top it will stop any wind chill and will keep the core of your body extremely warm.
If your looking to buy a fleece you won't do any better than this.
Price Paid: £55

I've heard one of the best warmth to weight ratios and I would agree. This jacket is extremely warm (and fuzzy). I really like it. Sometimes I get too hot wearing it.
The sizing is really weird so definitely try it on before buying or ordering one. The arms are longer than average and a little bit tight and the body is very slim. The jacket is very stretchable though.
Price Paid: $140

Great heavy fleece jacket...will not keep out wind though (it was not designed to), but is very warm and when combined with a shell, it is almost hot even in sub teen to single digit weather. Would have liked a draw cord for the waist though to keep out powder.
Price Paid: $85

MH MM Jkt rocks... to be honest it's the warmest and most lightweight insulation I'v ever owned..though i would strongly recommend to wear it under a shell due its poor wind shielding properties on one hand and over long sleeved baselayer for better performance...Good jacket!!!!
This is the warmest fleece jacket I have ever owned! I knew it wouldn't be windproof that is why I bought a MH WindStopper Jacket which I also love! Very soft fleece on the inside and the outside of Jacket.
Fabric: Polartec
Price Paid: $85

The jacket is very warm, light and looks awesome. On the downside it is no good on the wind, but for wearing at camp it is perfect. Plus you can't beat the name.
Price Paid: $80

I love this jacket. It keeps me warm, but not good when it's windy.
I paid 35 dollars.
Price Paid: $35

I do a lot of hiking, camping and work in EMS/Fire and was looking for a good lightweight jacket for layering. I have lots of Mountain Hardwear gear and apparel.
This jacket is great for the average user that is wanting a lightweight jacket that is stylish. The fit is definitely athletic. I am 5'8" 165 lbs and ordered a large. The sleeves are about 4" long, but the mid section fits good. Definitely could go with a medium if it wasn't so tight around the abs.
The jacket is made well...zipper, loft, all the seams are good.
The only complaint is it is NOT WIND PROOF...good thing I am going to use it as a layer for my Mountain Hardwear shell on cold days and my lightweight jacket.
Price Paid: $112

Your Review
Where to Buy
Help support this site by making your next gear purchase through one of the links above. Click a link, buy what you need, and the seller will contribute a portion of the purchase price to support Trailspace's independent gear reviews.
You May Like
Specs
Price
MSRP: $150.00
Current Retail: $108.47-$131.46
Historic Range: $37.88-$175.00
Reviewers Paid: $35.00-$150.00

Weight
14.2 oz / 401 g

Center Back Length
27 in / 69 cm

Body Fabric
Polartec® ThermalPro® Monkey Phur