Tilley LTM2 Airflow Hat

#9 in unisex Sun Hats
The Tilley LTM2 provides the most sun protection of any hat I have owned, is extremely durable, water resistant, and very light and comfortable. It is expensive, does heat up a bit (Airflo works to a certain extent), and the wide brim doesn't work that well in wind or with a bug net. I expect to be wearing this on sunny trips for many years to come, backed up by the excellent Tilley lifetime guarantee.
Pros
Broad brim provides maximum sun protection
Double-wire brim holds its shape
Water repellent
Comfortable
Long-lasting and guaranteed for life
Light (3.5 ounces)
Front and back cords for windy days
Floats if dropped in the river/lake
Washable
Cons
Expensive
Airflo doesn't work as well as full mesh (duh!)
Sweatband can build up and wet cords
Brim can still bend slightly in high winds
"Secret" pocket not really useful to me
Wide brim doesn't work well with bug net
Looks a little goofy...or maybe that's me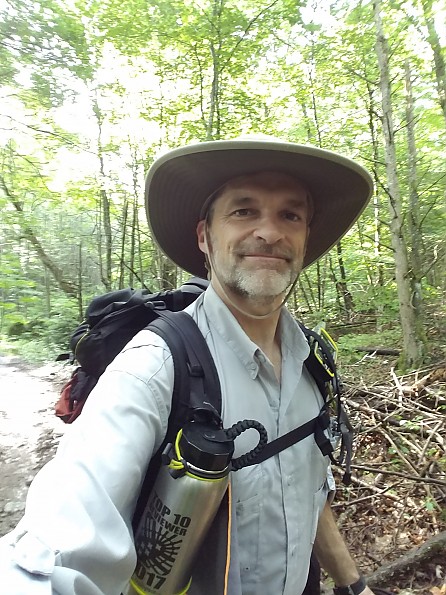 My Scottish genes mean I burn easily so I can't begin to estimate the amount of sunscreen I have slathered on for backpacking trips over the years. I have migrated to long sleeve shirts, pants, and sun hats for a lot of my outdoor pursuits and now use them a lot for backpacking as well (supplemented by a small tube of sunscreen), except in midsummer forest trips where I go back to t-shirts and shorts.
I finally splurged last year on a good sun hat—the legendary Tilley. I went for maximum protection with the LTM2 broad brim, and it didn't hurt that it had the venting Airflo design.
Features
The Tilley LTM2 sports the widest Tilley brim at 3 7/8 inches front/back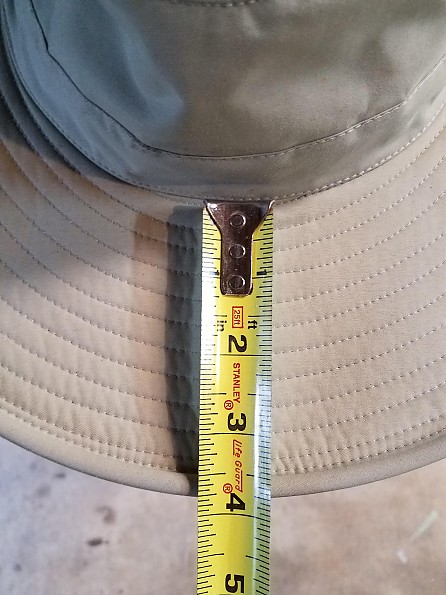 and 3.5 inches on the sides. It has a double-wire construction to keep it from flopping.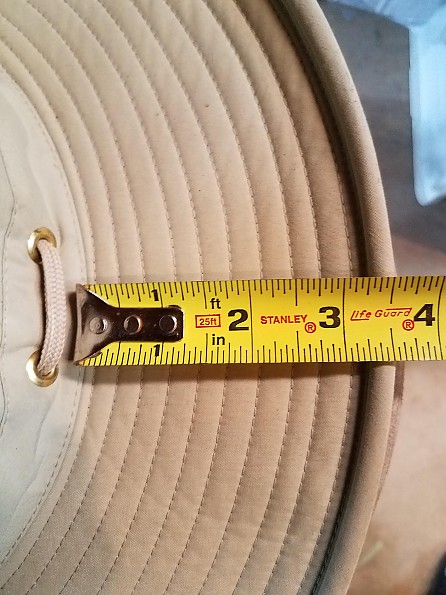 Mine is kahki, but has an olive brim underside that helps to reduce glare. Other darker colors would have matching underside color.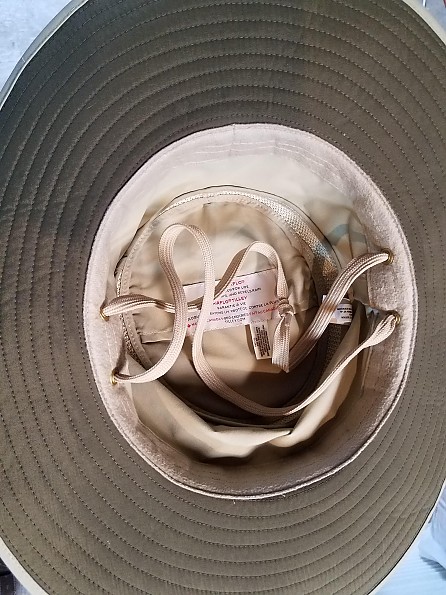 The Airflo line has a 3/4 inch mesh vent at the top to help with cooling off. I found it didn't work as well as full mesh, which is obvious, but did make a difference. (see Breathability)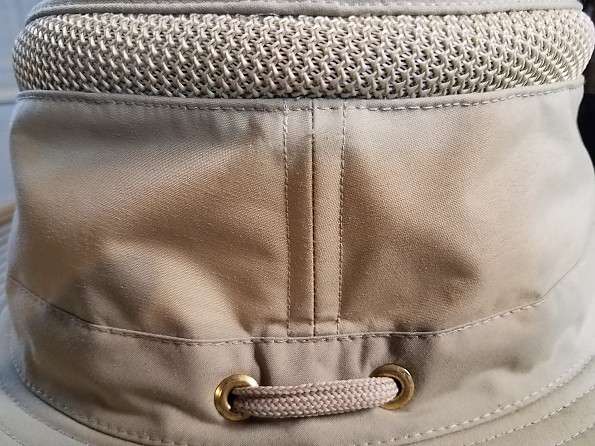 Most Tilley hats come with a "secret" pocket, which is not really useful to me—I guess others may like it. Is it really a secret any more? There is no velcro closure on this one either like some other models. For no added weight I guess you could slip some cash into the pocket for emergencies, but it might get wet.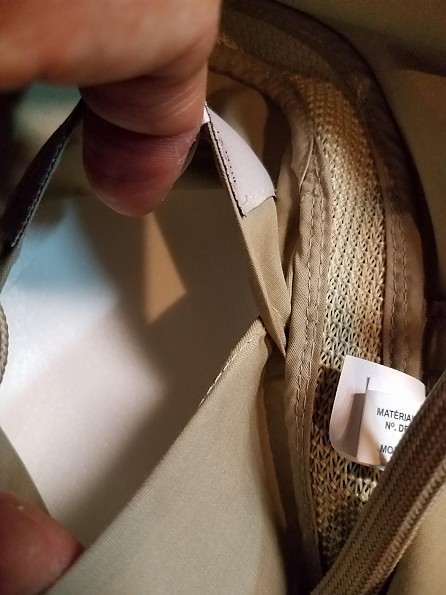 You can see the foam insert in the crown of the hat as well in the photo above. This helps it keep its shape and also float.
The front and back wind cords work well (see Weather Resistance), and are very comfortable, although can get wet in high heat (see Breathability). I vary their use—tighter or looser and front and/or back cords depending on wind strength and direction.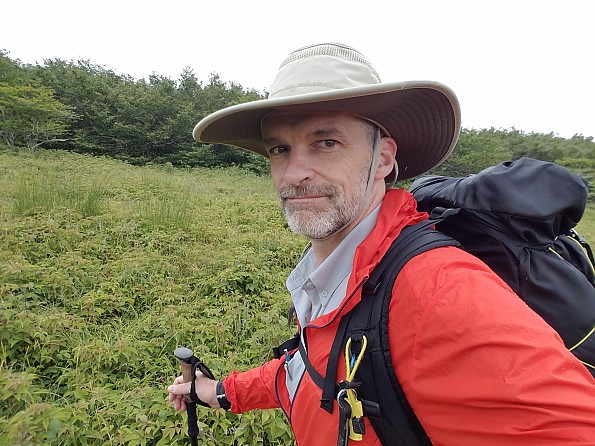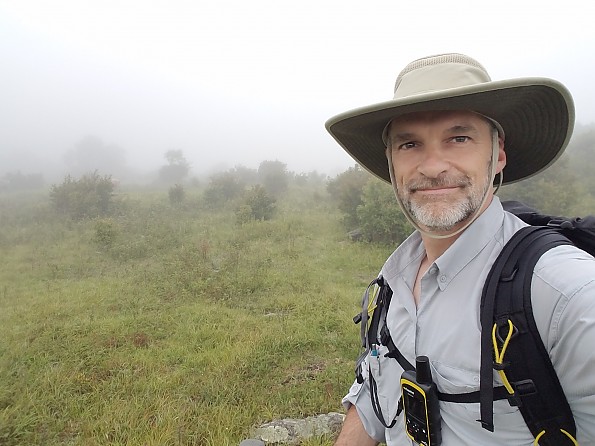 The legendary Tilley construction and guarantee (see Durability) is almost unparalleled in the outdoor industry.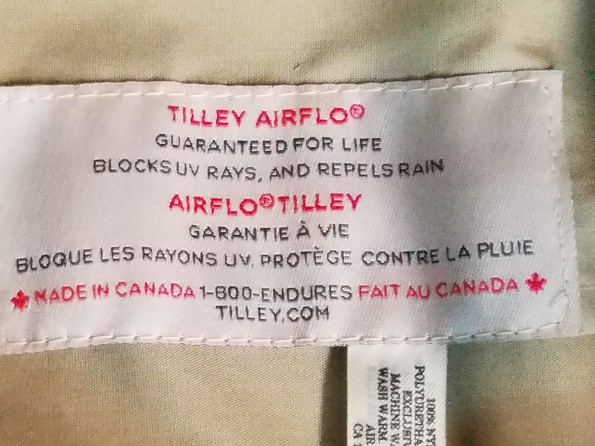 Fit & Comfort
The Tilley LTM2 is extremely comfortable—you need to follow their advice and size it correctly (the fit should allow two fingers to fit between the hat and head). My noggin needed a 7 3/4 to fit properly. At 3.5 ounces, it's about as light as I need, and barely noticeable—in fact I end up wearing it all day including lunch in the shade.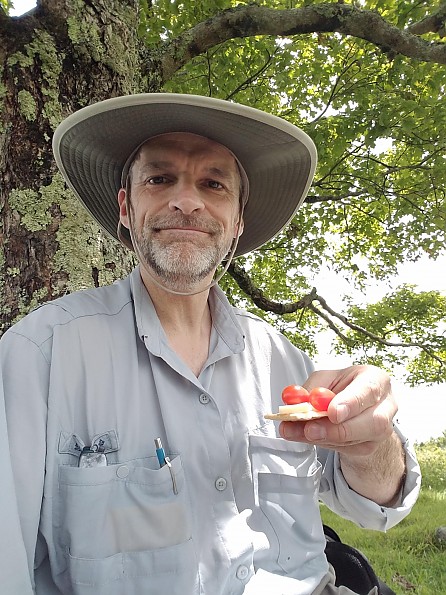 Due to the range of sizes available, I am not sure adjustability is a criteria of relevance for the Tilley hat. You can tighten the wind cords somewhat but that may not be necessary. Make sure you size your order correctly by the excellent instructions on the Tilley website. The fit is supposed to be a bit loose to allow for circulation and comfort.
The wide brim may be a little goofier looking to some, but I'm not into style obviously.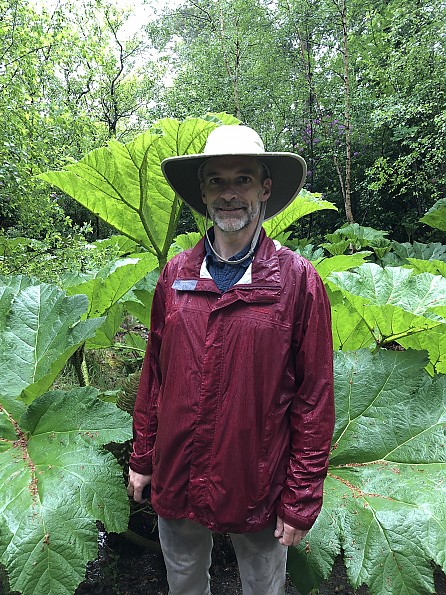 My main concern at first for backpacking was how the wide brim would work with my pack. This ended up being no problem whatsoever as it either didn't touch or didn't bother me at all when it did. The brim holds its shape but is not uncomfortable if pushed down by the pack.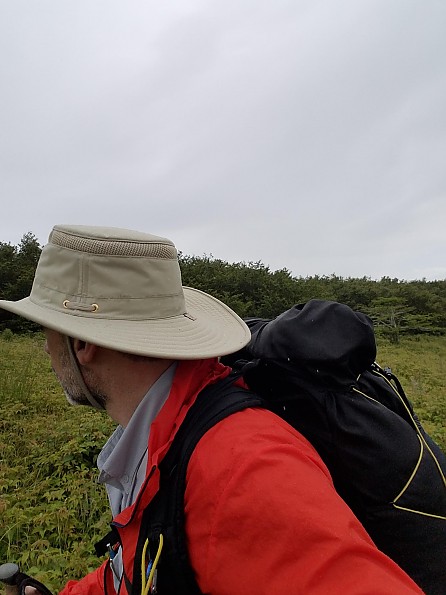 One last comfort item—the wide brim is excellent for sun but does not work well with a standard sized bug net—the width of the brim keeps it off your face but results in a slight gap in the back that you can maybe just see in this staged photo as I forgot to take one in the field.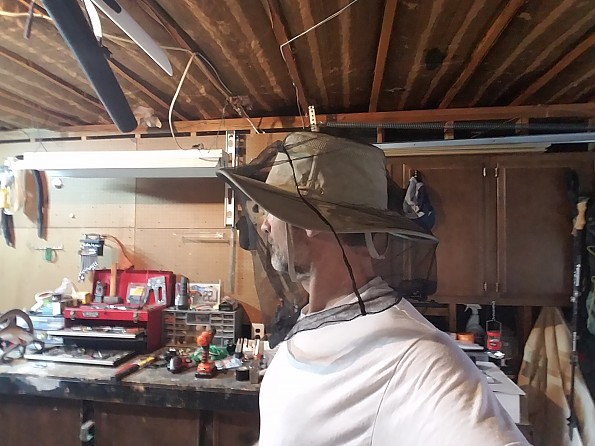 Not a large gap but an issue if it's bad enough to wear a bug net. I would switch to a ball cap or maybe figure out a way to rig it up with the back wind cord pulling the brim down (that's my plan but the bugs haven't been bad enough to inspire me to try that yet).
Weather Resistance
Weather resistance is where this sun hat shines (pun intended)! The broad brim provides about the most sun protection one can expect from a hat. I found it kept me shaded, and a darn sight cooler on several warm weather backpacking trips above treeline as well as river floats in my canoe.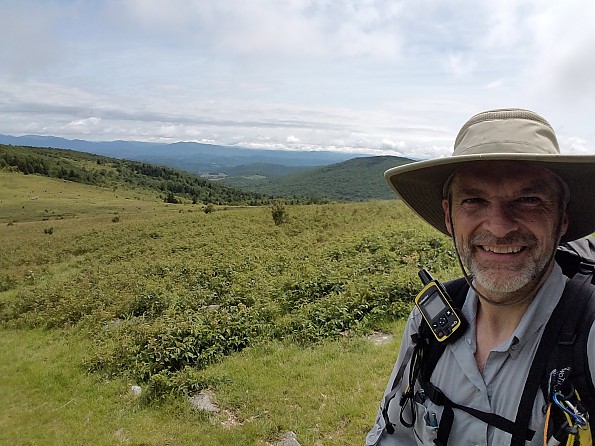 The Tilley LTM2 is rated to UPF 50+ (highest rating), which means it blocks 98% of UV rays. It's not perfect for afternoon sun angles, but that is the same for all hats and the sun strength is not as bad that time of day. I still carry and use a small tube of sunscreen.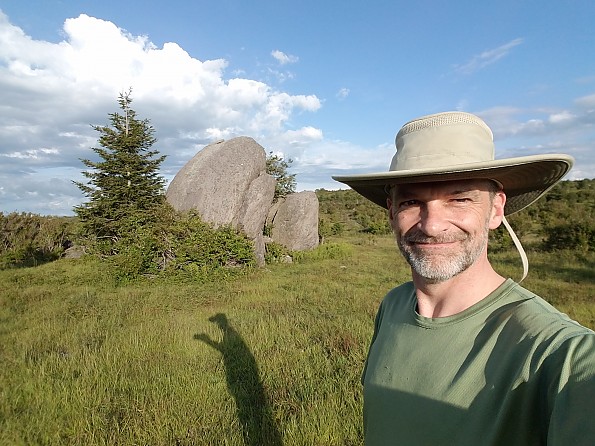 Tilley says the LTM2 is water repellent. I found this to be true, but often supplement my hats with an extra coating, and plan to do the same to this one eventually. Tough to see the rain beads in this photo, but I wore it all day through several rain showers and it never soaked through.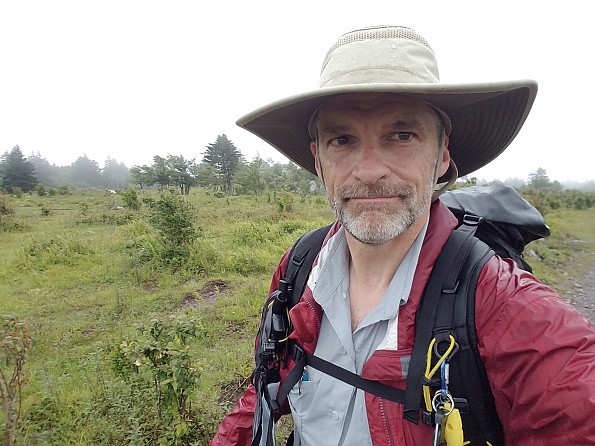 I'm not sure it's really too relevant for backpacking, but the Tilley hat floats if dropped in the river/lake etc. I tried not to test this but did give it an inaugural launch on a canoe trip and it did fine.
As with any brimmed hat, it's not the best for high winds (see the slight difference in brim shape between the last two photos—the second in 10-20 mph winds coming in from the right or my left). The brim can bend but still provides protection and recovers its form easily. The front and back wind cord system keeps me from being worried about losing it—even in the highlands of Scotland and Virginia in open ground mine never blew off.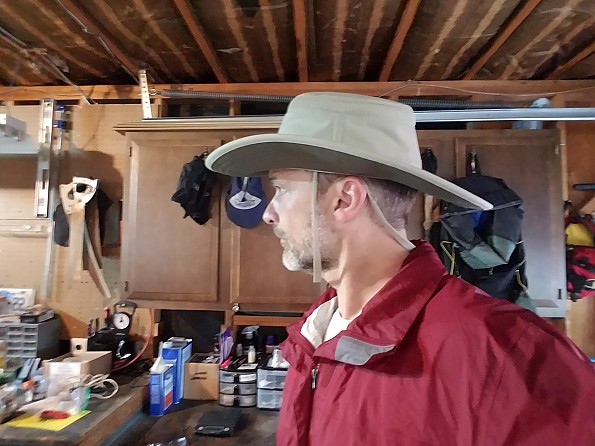 Breathability & Moisture
The 3/4-inch Airflo mesh design does seem to work, as direct comparison with another full brimmed hat revealed in a back yard gardening sun test. It doesn't work as well as full mesh (duh!) and does heat up, but proper sizing helps along with keeping an airspace at the top for good ventilation.
The Hydrofil sweatband is very comfortable, but can get saturated over time (see damp brim below) if you sweat as much as I do in a southeastern U.S. summer. It does a good job of soaking up sweat and leaving me mostly dry.Eventually it will wet the wind cords which may annoy some folks, but that feels good to me on days I'm sweating that much. It dries out quickly.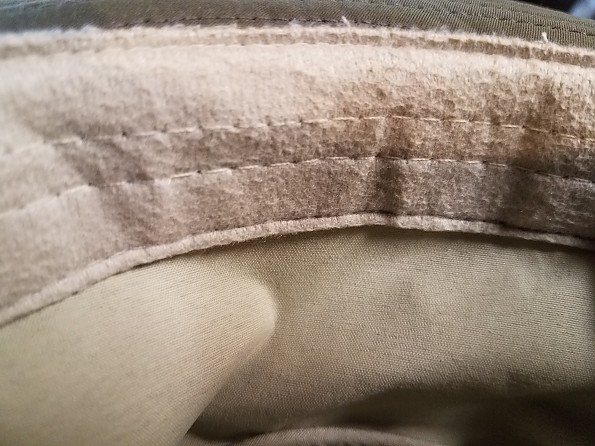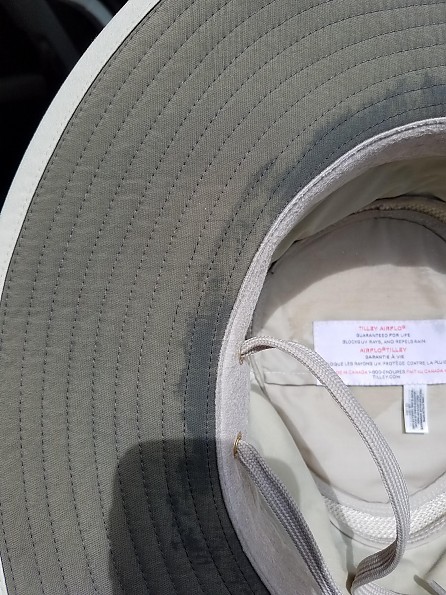 The Tilley brim obviously doesn't fit under hoods, but there shouldn't be any sun then anyway! I wear it on a lot of warm season rainy days and it keeps me mostly dry and a lot cooler than a full hood trapping my heat.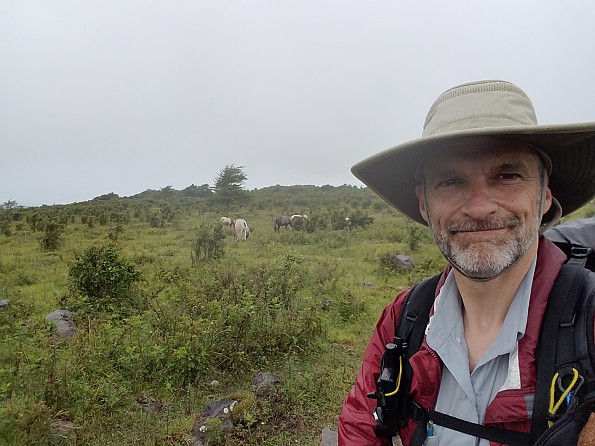 Durability
While I have only owned this hat since 2018, the Tilley reputation goes a long way for me. Most models are guaranteed for life (check for the tag on the inside that says so) and backed up by a great company—normal wear and tear included! I like the last line of the return instructions:
"Worn out Tilley Hats returned for replacement will not be returned with your new one. We encourage you to take some time to appreciate all the memories you've made together and then get ready for new memories with your new Tilley."
The brim, although really wide, holds its shape for the most part. It only folds a bit in high winds and can be reshaped easily or recovers on its own. You could use one of the drawstrings to tie up if really necessary. Of course that means you lose one of the wind cords from its primary function (keeping it on your head) as well as lose the brim shade, so I don't recommend that and have never seen the need while out and about.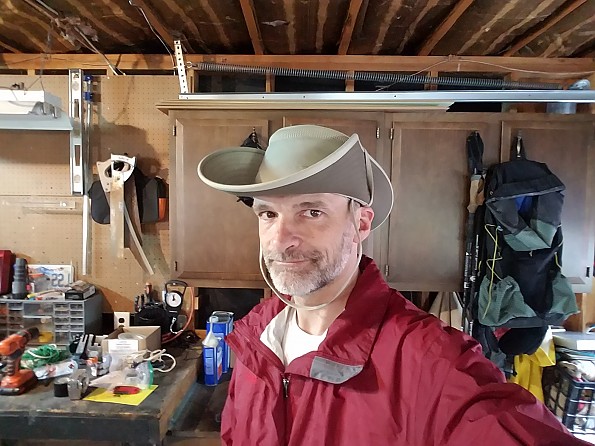 The Tilley hat takes little maintenance. It's washable—just remove the cord and foam insert from the top, and then machine wash and reshape. I hand wash myself, but trust the instructions wouldn't do it any harm.
I have worn my Tilley through woods, brush, vines and more with no issues to date. The wide brim has certainly been abused by branches etc. and suffered not a nick. I don't mind popping through the brush...or bamboo...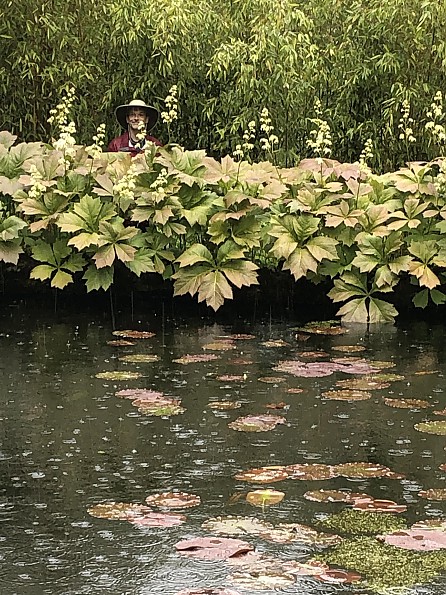 And besides going "Where's Waldo", it's a great accessory for photobombing...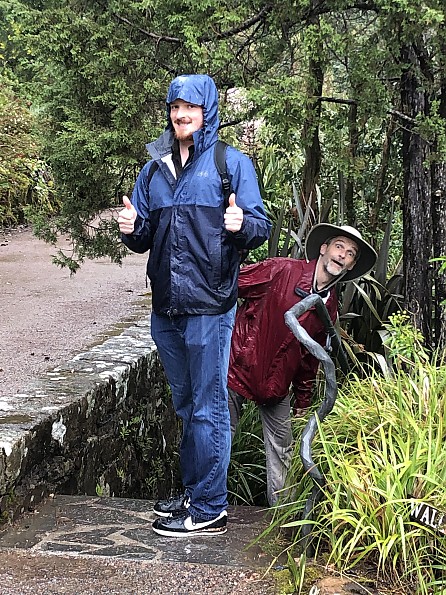 I really appreciate the quality of my LTM2 and feel it was well worth the price for the excellent quality and years of use I expect out of it. If I'm not in one of my Trailspace hats I'm in my Tilley!
Experience
I have worn hats of many kinds, including various sun hats, for decades of field work, backpacking, hiking, canoeing, fishing, and gardening. However, I have primarily used runners caps/baseball hats for backpacking in the past (or beanies in colder weather). I consistently used this Tilley hat from October 2018 to July 2019 on day hikes, backpacking trips in wind, sun, and rain, Scottish windy and rainy days, gardening in the hot and humid southeastern U.S., and field work through woods, brush, and open ground as an environmental consultant.

Source: bought it new
Price Paid: $80

Bought this hat in 2017, after a few too many friends had come down with skin cancer.
Pros
Warranty is interesting
Cleans up easy
Dipping in a creek help keeps it cool
Certainly covers the face/neck/ears
Cons
Expensive
Is kind of dorky looking after wearing boonie hats all these years.
I think we all started with baseball caps that only offered the bill protection, after being introduced to Boonie Hats in the service, they offer a lot more protection and used those for 30 years until some friends developed skin cancer of various degrees and started to get serious about. I looked at the Tilley and price seemed high but most good things are.
I have used on fishing trips, backpacking, and bird hunting the last two years and the dorky look is not as important as cancer.
Source: bought it new
Price Paid: $75

Your Review
Where to Buy
Help support this site by making your next gear purchase through one of the links above. Click a link, buy what you need, and the seller will contribute a portion of the purchase price to support Trailspace's independent gear reviews.
You May Like
Specs
Price
Historic Range: $51.99-$99.00
Reviewers Paid: $75.00-$80.00

Weight
3.5 oz / 99 g

Brim size
3 7/8 in front and back, 3 1/2 in sides

Fabric
100% supplex nylon, mesh 100% polyester

Recently on Trailspace