Timex Health Touch Heart Rate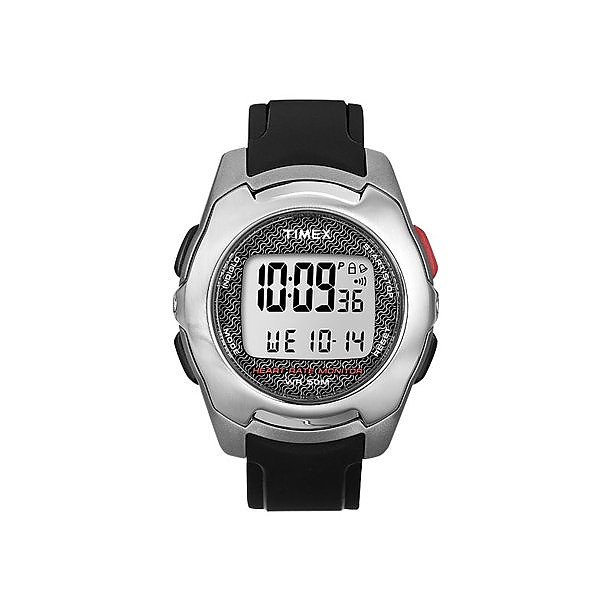 The Timex Health Touch Heart Rate Monitor Watch fails to provide any serious usefulness to runners. This review will show that, not only does the Heart Rate Monitor function fail to work well, the watch is lacking because of the HRM's glitches.
Cons
Fickle performance
Inaccurate readings
Over estimation of calories burned
I purchased the Timex Health Touch 11 weeks ago as a training tool to help prepare for my climb of Mt. Rainier next year. This HRM/watch had mixed reviews on Amazon, but the price was right for a guy not looking to spend big bucks to know if he is in his Target Heart Range (THR).
How it <supposedly> works:
On your wrist is a stylish watch, with many of the features found on a digital watch.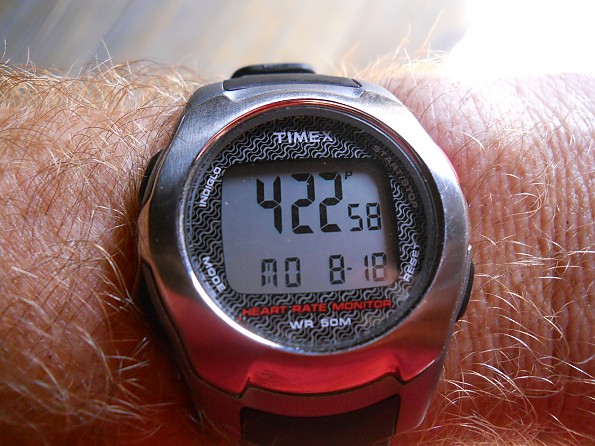 Clock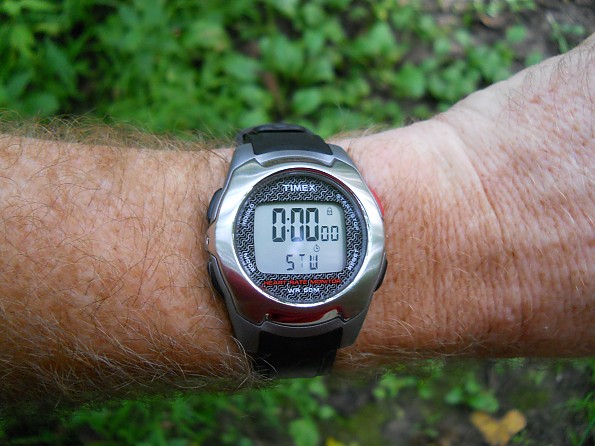 Stopwatch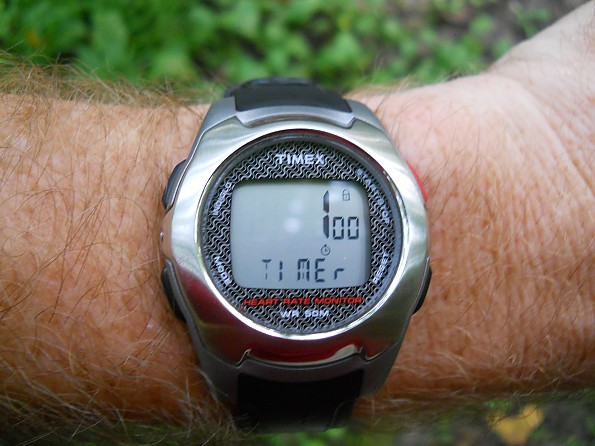 Countdown Timer
There is also an alarm clock, a secondary watch for a different time zone (I guess this is for those who regularly cross time zones.), and a backlight to see it in the dark.
The functions of a Heart Rate Monitor (HRM) come into play when you gently place the pad of your finger onto any part of the metal bevel around the watch. If my heart rate is outside of my THR, the watch will beep and either flash "Zone-Low" or "Zone-Hi" below the reading.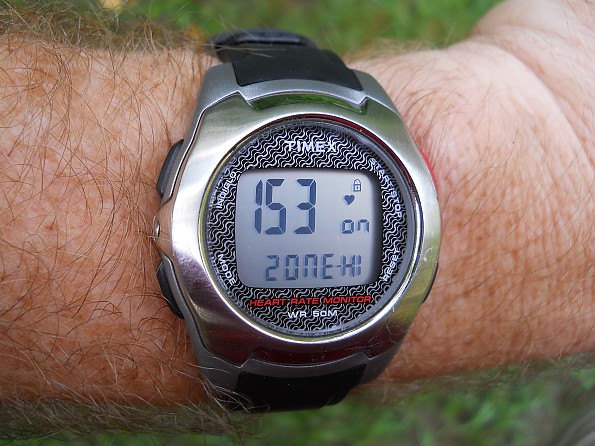 At the high end of my THR
The user's THR is established in the setup screen by entering your age and gender.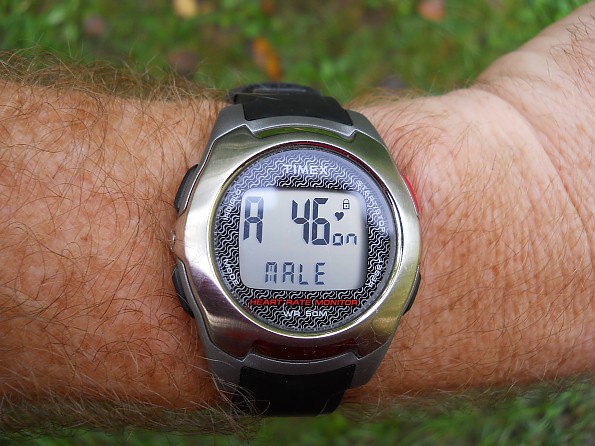 Big "A" for age
In addition to checking your heart rate, there is an "Activity Function" that times your exercising and computes calories burned. The user manual states the more frequently you check your heart rate, the more accurate the calorie counter will be.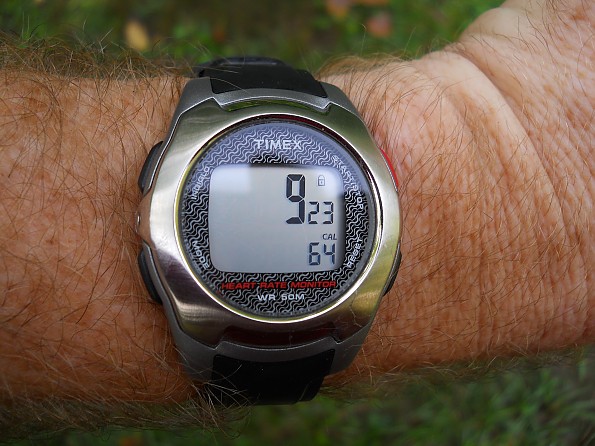 9 minutes, 23 seconds = 64 Calories
Useability:
It is not a problem walking around and pressing the bevel with you left right. Try that at a full run! Or when cycling. Or on a treadmill. Or...you get the point. At high levels of activity, it becomes impractical to monitor your heart rate.
Reliability:
The chief problem with this HRM is its unreliability and perchance to randomly beep or flash to another screen. Listing what I mean by that:
If the monitor lock is OFF, and I cross my arms, it will start taking readings (and beeping if I am outside of my THR.
If the monitor lock is OFF, it may start randomly taking readings, even though it is not suppose to work that way.
If the monitor lock is ON, and I bump the bevel plate, the watch will automatically flash the "Heart Rate Monitor Off" screen for three seconds. That means waiting three seconds to see the time or switch to the function I was attempting to reach.
If the monitor lock is ON, it may randomly flash the HR Off" screen off for three seconds, without my touching it at all.


Just 3 more seconds until you can see the time!


Sweat greatly interferes with the HRM function. The user guide warns of this. The irony in this is a HRM is meant to be used during exercising, when one is expected to be sweaty.
Not always, but at least 40% of the time, I can be sitting quietly (even lying in bed) with a desire to check my resting heart rate. The monitor will tell me I am at 98% of my Maximum Heart Rate. This makes me wonder about readings when I am actually exercising.
The calorie counter is just plain wrong. After my first 1 mile run/walk, the watch told me I had burned 800 calories. The picture posted above, shows me having burned 64 calories after 9 minutes and 23 seconds of...sitting around.
In Conclusion:
The Health Touch is really not worth the money. If you are set on buying a HRM, I would recommend one that does not require two hand operation and does not stop working when you get sweaty. I am disappointed with this purchase.
Source: bought it new
Price Paid: $38

The watch displays my heart rate maybe once in 20 attempts. It has happened, but rarely. The one thing I can say about it is that it does display the time of day.
Pros
It displays the time of day.
Cons
It hardly ever displays my heart rate. It is snugly attached, and little heart icon blinks 15 times, but no heart rate shows.
It displays my heart rate about once every 20 attempts, although the little heart blinks off and on. But after 15 blinks, it quits and no heart rate displays.  It has worked maybe 4 or 5 times in the week that I've had it. I consider it worthless, except that it does tell time, so I have a wristwatch.
Experience
Only what I have described already. I have never owned a similar product.
Source: bought it new
Price Paid: $55

Your Review
Where to Buy
Help support this site by making your next gear purchase through one of the links above. Click a link, buy what you need, and the seller will contribute a portion of the purchase price to support Trailspace's independent gear reviews.
You May Like
Specs
Price
MSRP: $60.00
Reviewers Paid: $38.00-$55.00

Recently on Trailspace