Toad&Co Pacer Slim Long Sleeve Quarter Zip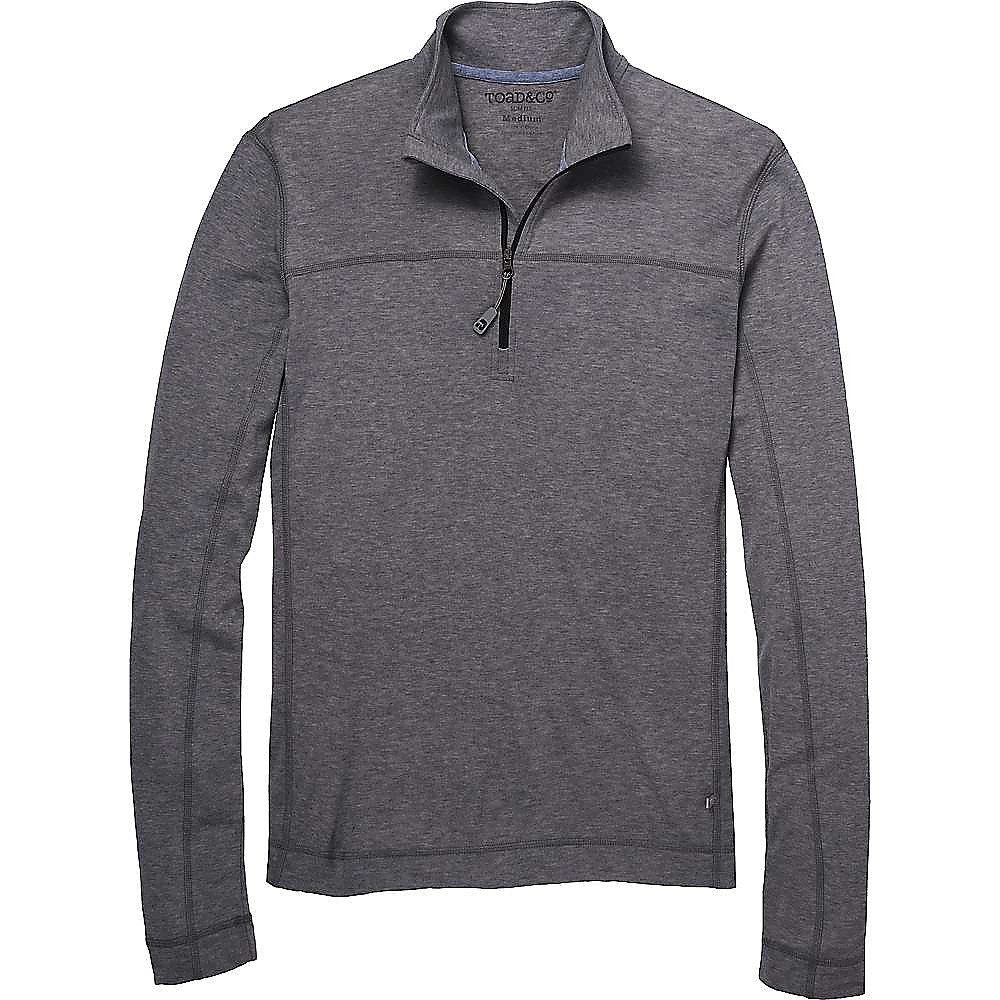 A versatile garment from a philanthropically-minded company that strikes a compromise between backcountry base layer and in-town casual wear. With grime-concealing colors and a poly-wool blend, the Pacer Quarter Zip is a thermoregulating, moisture-wicking, low-odor option for travelers with limited wardrobe space and for anyone who doesn't mind giving up some performance or style for a garment that offers a viable trail-to-town option.
Pros
Comfortable and versatile top
Can be used as base layer or second layer
Fabric wicks moisture from body while retaining warmth
Practical colors conceal grime
Wool blend fabric helps prevent odors
Cons
A compromise: neither the best base layer nor the most fashionable top
Garment's cut somewhat limits use as base layer but enhances town use
Fabric pills after prolonged use
The Toad & Co. Pacer Slim Long Sleeve Quarter Zip is billed as a base layer but works as a light mid-layer, "equally suited," according to the company's mission, "for the rigors of the trails or the tavern." The Pacer Slim Long Sleeve Quarter Zip (hereafter called Pacer Quarter Zip for simplicity's sake) I tested came in an XL size in Ash, a light grey color. It also comes in a darker charcoal grey color labeled "black." The garment is made of a 70/30 polyester/wool blended fabric.
The Company & Philosophy of Design
Toad & Co. had its origins (as Horny Toad)  in Telluride, CO, in 1995 and currently partners with Planet Access Company to process Toad's inventory (PAC trains and employs people with developmental disabilities) and to provide first-time outdoor adventures for people with disabilities—a nice extension of the company's mission, which states in part that "90% of our products are eco-friendly and a portion of each sale supports people with developmental disabilities. Live well, do good."
The company appears to target a demographic that includes members of the outdoor community but which isn't strictly limited to that demographic: their holiday marketing included gifts intended for the "Outdoorsy," "Eco Friendly," "Intellectual," "Homebody," and Jet-setter"—the Pacer Quarter Zip was found (by cursory search) as a gift suggestion for both the "Outdoorsy" sort and the "Jet-setter."
A prospective buyer should consider, then, that this garment's design appears aimed as a compromise between backcountry base layer and out-on-the-town casual—hence the company's mission to provide garments "for the rigors of the trails or the tavern."
In addition to engaging in worthy philanthropic endeavors, Toad & Co. employs with a wink some hyperbolic rhetoric in their ad copy. I learned from the copy, for instance, that the Pacer Quarter Zip "feels just as comfortable as the buff," that it is "the only base layer that feels better than being naked," and that its "poly/wool blend wicks moisture and regulates temperature better than your birthday suit." While I good-naturedly tested these assertions, I shall spare the reader photographic evidence of my comparative experiments.
Materials and Design
The Pacer Quarter Zip is crafted from 70% polyester/30% mercerized non-mulesed wool. With a little research, I learned that wool cannot truly be mercerized, but the term is nevertheless often used of wool that has been treated for enhanced comfort and washability—both positive qualities in a base layer.
Museling is a controversial animal husbandry practice that has both supporters and critics; by choosing non-museled wool, Toad & Co. avoids the controversy and makes use of wool that is harvested by those not engaged in this controversial practice and who, one assumes, practice kind animal husbandry.
The fabric is billed as "woolbase rib knit," and on close inspection, one can see the fine ribbing of this knit.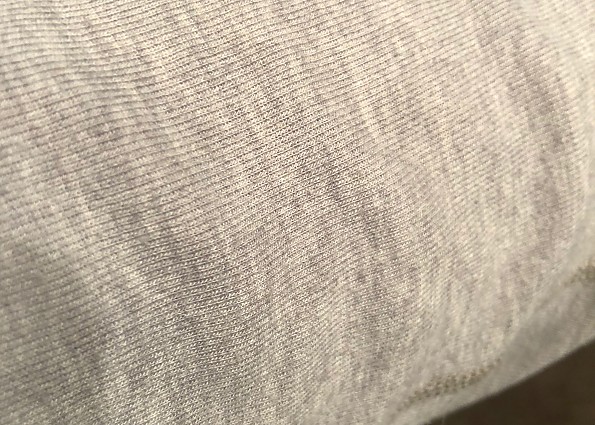 Toad & Co. have eschewed the Raglan sleeves common to some more purely athletically inspired base layers, broadening the appeal of the Pacer Quarter Zip for more activities than just the physical. I don't think I ever managed to go directly from a trail to a tavern in this top (as Toad & Co.'s mission suggests), but I did hoist a pint with friends while wearing this in casual surroundings—the tailoring and cut do help one move from town to trail more easily than base layers with more severely athletic cuts would allow.
Toad & Co. say that this blend allows the Pacer Quarter Zip to wick moisture and retain body heat, again obvious benefits of a base layer. The company further notes the top's "side seam panels for chafe-free movement and a slim fit for a better-than-basic base layer." Owing to a more generous cut than that of other, more form-hugging base layers, the Pacer Quarter Zip's side panels extend from the bottom hem to the arm pit, offering what may be a more tailored appearance and perhaps a more aesthetically pleasing fit than one might expect in a more purely utilitarian base layer.
The Pacer Quarter Zip features a nylon YKK zipper with a stylish and useful zipper pull, an especially valuable feature when one is wearing gloves. The zipper opens and closes smoothly, and when the zipper is fully closed, the zip-up collar still provides enough looseness that it isn't uncomfortably confining. An additional touch of comfort is provided by a strip of fabric behind the zipper that keeps the zipper from touching bare skin. The zipper provides ample room to slip on the layer when it is unzipped.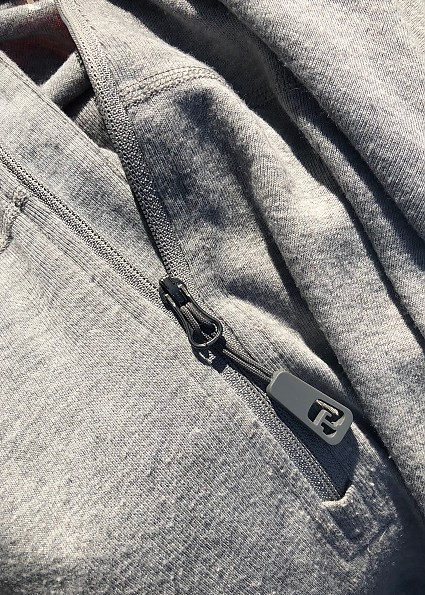 While citing "wash-and-wear easy care" in the web site copy, the actual care directions on the garment are "hand wash cold, lay flat to dry." Unaware of this, my spouse once washed the top in our washer on cold and hung it to dry. Happily, the Pacer Quarter Zip showed no ill effects.

Fit
The Pacer Quarter Zip's cut is "slim"—as Toad & Co. calls it—but not form-fitting, as some base layers are wont to be. If you are a lean trail athlete, this cut is not what I'd call truly slim. If you have embraced hearty food and beverage on the town side of things, Toad's labeling of this as "slim" will feel very supportive of your positive self-image, as it did to this reviewer after holiday indulgences.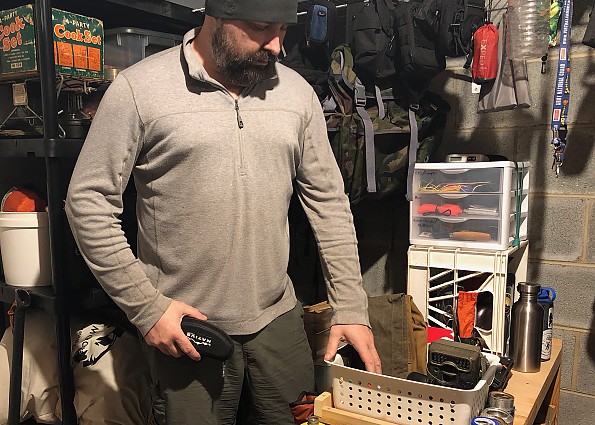 The cut adds versatility to the garment by allowing it to be used as a mid-layer while also somewhat limiting its ability to be used as a base layer under certain "grabby" outer layers: though the Pacer's fabric slips with ease over snug shirts and base layers, it tends to catch and bunch a bit when soft fabrics drag over it as they are pulled on over the Pacer. My other, more form-fitting base layers, while not as suitable for town wear, are more functional when performance layering is the prime consideration.
The waist of the Pacer Quarter Zip is not as long as some base layers; in the image below you can see that the layer I wore beneath it (in this instance) was considerably longer than the Pacer itself. I did not find this to be an issue, but it may be a consideration for some prospective users.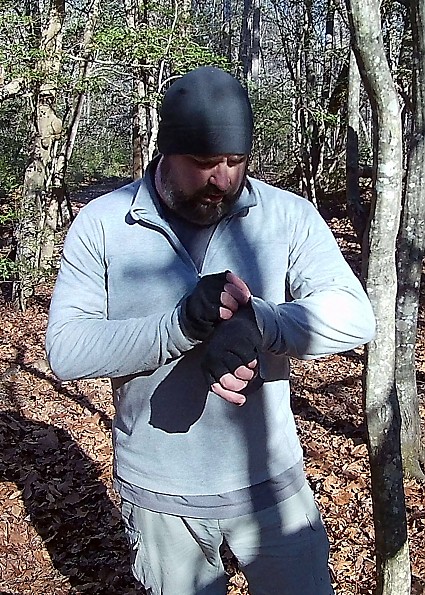 Use
I wore the Pacer Quarter Zip for a period of few months, using it as a base layer and as a mid-layer atop a thinner base layer on casual days at work, or about town and in the wilderness—over 40 days total.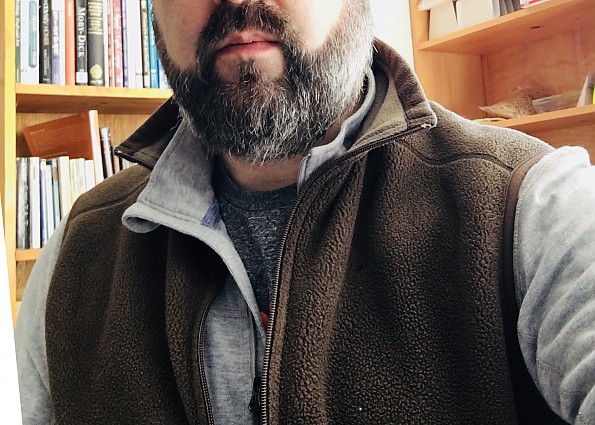 My activities ranged from sedentary consumption of food and beverages with family and friends at home and in town to trail maintenance in a cloud forest in Costa Rica to vigorous backpacking in a U.S. national forest. Temperatures ranged from low 70's to low 20's F/ 21˚C to -6˚ C—naturally, I wore additional layers atop the Pacer Quarter Zip in cool and cold weather.

Thermoregulation and Wicking
Toad & Co.'s claims about the warmth and moisture wicking of this blended fabric held up in a variety of activities, ranging from hiking or strenuous work to more casual, socially oriented endeavors. In keeping with Toad & Co.'s claims, the Pacer Quarter Zip certainly helped retain body heat, either as base layer or a thin insulating layer over a more form-fitting base layer.
In my unheated indoor shop this winter, which always hovers at a cool 52˚F/11.7˚C temperature, energetic work induced me to strip off outer insulating layers to let the Pacer Quarter Zip regulate my body temperature. The same can be said of its use in the cool, moist climate of the Costa Rican cloud forest, where hauling bags of gravel along steep trails had me unzipping my shell and insulated vest to let air cool my Pacer Quarter Zip-clad torso. The Pacer Quarter Zip, then, retains body heat nicely. Used alone in moderate temperatures, the the Pacer helps keep one cool by wicking away moisture to permit evaporative cooling.
Naturally, vigorous physical activity will cause the Pacer Quarter Zip to become damp, but the fabric's moisture-wicking quickly allows the material to dry. When I hung up the damp garment over a tree limb in a place with a moderate breeze, the base layer dried quickly. After washing at home, the Pacer Quarter Zip dried even faster in a still but low humidity environment. On my person the drying speed varied with my activity level and my top (or bottom) layers, but in general The Pacer's moisture-wicking nature prevented it from feeling wet or clammy, and—once my exertions abated—it dried in an appreciably quick amount of time.
Wear and Multi-day Use
An added bonus I discovered was that the 30% wool content seemed sufficient to help minimize odors even when I wore the Pacer Quarter Zip for several days without a wash. I also experimented with going several weeks between washes when I layered it as a midlayer over other base layers. For all that a brownish tinge began to appear on the cuffs from this long use, the top did not collect any especially bad odors. Owing to the Ash color, the Pacer I tested concealed grime quite well between washes, too.
Through long use, the Pacer Quarter Zip's fabric does have the tendency of some blended fabrics to pill, forming small balls of short or broken fibers in high wear areas. After several weeks of wear, this was especially noticeable on the cuffs and underside of my forearms as well as inside the collar (note: the loose thread below is surplus sewn into the seam during manufacturing, not an unraveled cuff thread).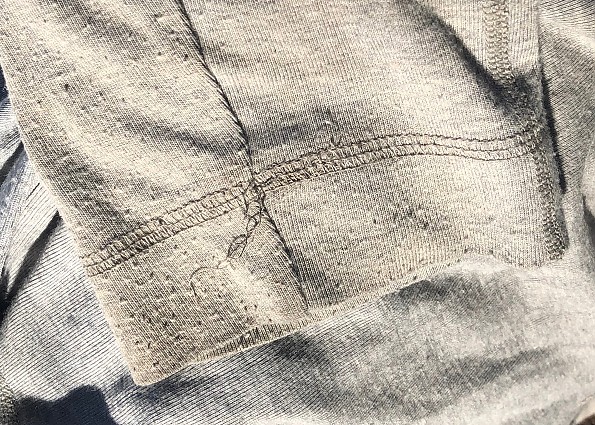 This tendency does cut down on some of the trail-to-town benefits on the town side of things: by the end of my testing, the Pacer Quarter Zip had a bit more of a worn backcountry vibe to it than a fresh, casual, round-about-town sensibility.

Conclusions
As soft as being in the buff? Better than naked? I'd have to say these remain exaggerated claims, save when autumnal or winter chill makes an extra layer desirable. The Pacer Quarter Zip is a perfectly comfortable garment, but it does not possess an extraordinary sensual softness that stands out in a fashion that fully supports the hyperbolic claims of the ad copy. It held up well to my wear and testing, showing only pilling of the fabric as evidence of frequent and protracted use. The color was practical and concealed superficial grime.
Toad & Co. guarantees that "If you don't get a compliment within three wearings or if you find something wrong with your Toad & Co.  garment, we'll take it back and make it right." My wife did offer a "that looks nice" comment as I dressed, but otherwise I fear I seemed fairly unremarkable to others I encountered (not that I usually seek flattery when donning base layers and mid-layers…).
As noted previously, the looser "slim" fit is both advantage and disadvantage, a feature one might expect in a garment that seems aimed at a midpoint between rougher backcountry use and more moderate in-town wear.
I found it to be not as practical as some more form-fitting base layers I own because its looser cut made overlayering a bit more difficult, but this also meant a greater degree of comfort and, Toad & Co. note, no possibility of chafing.
The top worked beautifully as a second layer, and it was to this mode of wear that I found myself gravitating as I grew accustomed to the Pacer Quarter Zip's features. As such, I'd say this garment leans more toward the town side of a trail-to-town top.
The Pacer Quarter Zip does provide added warmth by retaining body heat while also allow moisture to be wicked away from one's skin. Used alone, it also cools nicely as wicked moisture is evaporated. The 70/30 poly-wool blend serves this purpose well, with the additional benefit of reducing odors between washes and drying quickly when wet.
So for whom might this garment be best-suited? First, it is suited for one who recognizes that this garment is a compromise between performance and fashion. While it is perfectly capable of being tossed in a pack for backpacking, the Pacer Quarter Zip is perhaps most admirably suited for day hikers who might want to head to town after a day's hike for a bite to eat before heading home.
It is also very well suited for travelers with limited wardrobes: its moisture-wicking, thermoregulating, and odor-preventing qualities are all useful features during travel, and its grime-concealing color options are welcome when one finds oneself several days between washing machines. If your needs fall into one of these categories, check out the Pacer Quarter Zip.
Is it a good value? The current MSRP of $75 USD seems high for a product that straddles categories. The current sale price of $45 seems considerably more reasonable. There are likely better value base layers on the market; what Toad & Co. offers is a "socially and environmentally committed" garment that strikes a compromise between techy wear and casual wear with the added feel-good satisfaction of buying it from a company engaged in philanthropic endeavors. 
Source: received for testing via the Trailspace Review Corps (Sample provided by Toad&Co for testing and review)

Your Review
Where to Buy
Help support this site by making your next gear purchase through one of the links above. Click a link, buy what you need, and the seller will contribute a portion of the purchase price to support Trailspace's independent gear reviews.
You May Like
Specs
Price
MSRP: $45.00
Historic Range: $36.73-$74.95

Recently on Trailspace