Trew NuYarn Wool Pocket T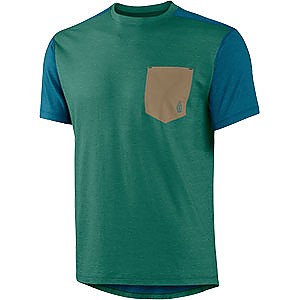 The Trew Superlight NuYarn Wool Pocket T is an exemplary garment for layering or as a stand-alone summer T-shirt. It is one of the most comfortable and functional garments that I have ever worn. I am impressed by its continuous-wear abilities, which meet merino wool class performance, and may even exceed certain standards given the shirt's lightweight and quick drying properties.

The only problem it suffered from is some pilling in high-abrasion areas, which is common to merino wool fabrics.

On my short-list of clothes that I would bring along for extended travel and/or a thru-hike, this shirt makes the trip, and that is the best endorsement I can give.
Pros
Most comfortable next-to-skin feel
Multi-use, long-wearing, no-stink
Long hem length
Flat seams/stitching and no tags
Appealing and stylish colors, lines, and fit
Cons
Pilling of fabric (common to merino wool garments)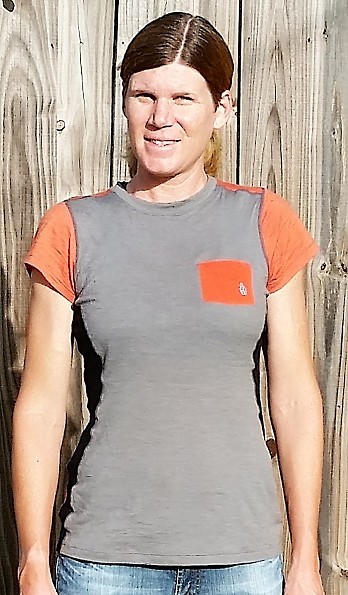 Product Description and Claims:
The NuYarn Wool Pocket T is the layering equivalent of a smartphone—you didn't know you needed one until you owned one, and now you can't imagine the world without it. Our NuYarn Merino Wool has a smooth, silky surface, and is the quickest drying and toughest merino wool around. 

38.9% LOFTIER, 25% WARMER, 35% STRETCHIER, 5x FASTER DRYING, 16% STRONGER

FEATURES/SPECS

125 Superfine NuYarn Merino, 17.5 micron fine fibers
85% merino wool / 15% nylon
Laminated stretch woven pocket
Heat transfer interior labeling
4.9 oz. (M)

FIT: Slightly longer and slimmer than traditional t-shirt, Articulated back arm and side seams, Scooped hem, Flat lock seams stretch and lie flat against the skin
Background/First Impressions:
Let me first admit: I am a long-time user and proponent of merino wool products. I became a fan during a trip to New Zealand over 13 years ago. While 'tramping' around the country, I talked with many Kiwis who were emphatic about their local brand, Icebreaker, one of the first companies to specialize in merino. Being a relatively small country, Kiwis show a lot of national pride in their products (as well they should), but it wasn't just hype.
Based on all the glowing recommendations, I bought a long-sleeve mid-weight merino wool shirt and used it exclusively for the rest of my trip. I shortly understood why the fuss. I still have and wear this shirt today, despite how much 'love' it shows. I've also added to my collection…I have underwear, socks, shorts, mid-weight long sleeve shirts, lightweight short sleeve shirts, a hat, and even a Buff all made from merino wool.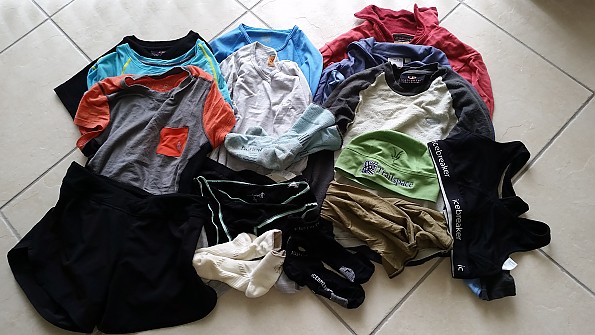 (I have a bit of a merino wool obsession)
Many are surprised that I still prefer merino wool over synthetics for use in Florida's hot, muggy conditions. Above all, I value the fabric for its ability to repel odors and to thermoregulate. A wet shirt feels nearly as comfortable as a dry one, in both cool and hot temperatures.
While I am familiar with and/or own products from most of the big-name brands of merino wool, before receiving this shirt, I hadn't previously heard of the Trew brand or of NuYarn. The latter is a New Zealand company, with which Trew has partnered to offer several merino baselayer garments.
Trew is a small Oregon-based company, specializing primarily in outdoor (ski/snowboard) apparel. Their business model involves an interesting combination of direct internet sales, a mobile RV retail setup, and a soon-to-open combination office/retail space in Portland. I am glad to see yet another U.S. company offering these type of products and supporting the New Zealand wool industry.
One thing you may have noticed about merino garments is the very steep price! I can assure you, even in New Zealand, merino is very dear (Kiwi expression for expensive). But factoring in the export costs, it can be prohibitively expensive here in the U.S.
Trew states that because they are a small company selling products direct to the consumer (eliminating retail middlemen costs), they can improve on product quality while also keeping costs down. Their NuYarn wool pocket T retails for $59, which is a lot for a t-shirt, but a cursory internet search showed this is $15-$20 less than retail for similar offerings from the bigger competitors. This being the case, does the product also live up to its claims of being better (stronger, loftier, warmer, stretchier, and faster drying) when compared to competitors?
Here's what I found out:
Fit & Comfort:
My sample arrived in minimal packaging (no plastics!) and included a cloth drawstring bag, along with some other sample offerings. I am unsure if this is what you get when you order any product from Trew, or if it was special packaging for this sample set (see OutdoorKelley's review, as well).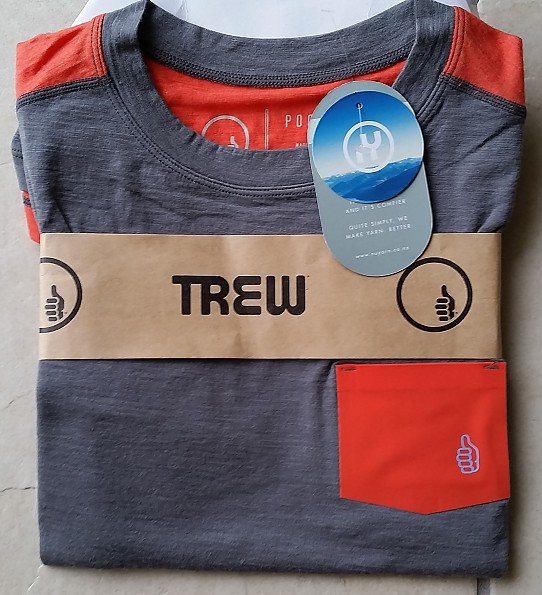 I received a size women's small. I was quickly impressed by the attractive lines and colors of the shirt, as well as the athletic fit. It is a form-fitting style to be sure, made to follow a woman's contours.  This is fine by me, as I like tight-fitting T's for hiking, biking, and casual wear. At no point in my varied use did it ever feel restrictive, as the nylon blend endows super-stretchy properties. Nor did I experience any friction or gapping.
In fact, after A LOT of wear, I have concluded that it is one of the most comfortable garments that I've worn. A compilation of factors add to this. The seams are flat, there are no tags (all labeling is printed directly on the fabric), the fit is athletic, the material is very stretchy, and most importantly, it's made from merino wool, my favorite fabric.
There are two additional factors to be aware of. One, the sleeves are also rather short for a T. This is common to women's style T's, so just don't expect a lot of arm coverage. Secondly, the shirt is very long, with a scooped hem. This ensures good waist-line coverage (no riding up above a pack's hip-belt or exposing skin when you bend over), but for shorter-bodied gals, you may feel more like you are wearing a dress. I am on the taller side at 5'9", so everything about this shirt made it feel like it was a custom fit for me.
My testing session occurred during the summer in Florida (outdoor conditions never dipped below 70 degrees), so unfortunately there were no times when I was concerned about staying warm. Despite a lack of evidence here, I would have no reservations using this shirt as a next-to-skin insulation layer, underneath other shirts or jackets. It is ideal for this purpose because it is exceptionally lightweight, a close-fitting style, comfortable for all-day/multi-day wear, and does provide great insulation.
I can say this because in relation to my other heavier weight merino garments (200-250 gm, which I've worn extensively in cold conditions), it has a very comparable feel. When matched with a similar-in-class lightweight (150gm) merino/nylon blend shirt, it is noticeably less see-through, loftier (almost fluffy), and a tighter fit (warm air stays trapped). I couldn't really test NuYarn's specific claims that it is 25% warmer and 38.9% loftier than traditional ring spun yarn, but I can say that it does compare well to my brawnier merino shirts, while being almost half the weight.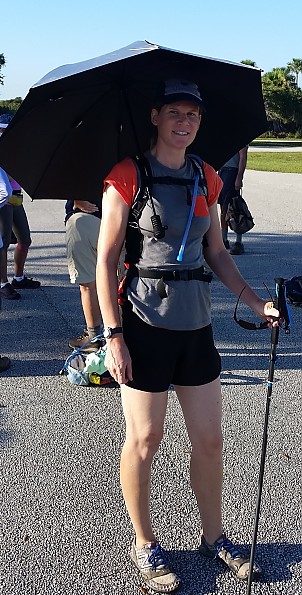 Breathability/ Moisture:
After extended use in hot and humid conditions, I can confidently say this shirt excels at wicking sweat and thermoregulation. Most notably, I wore the shirt during a 67-mile / 4-day section hike of the Ocala National Forest in September, with temps into the 90's and high humidity.
It should tell you something that Florida is still getting hurricanes this time of year (Matthew passed through just a week after my hike) and that most people don't attempt long, overnight hikes until at least November, for good reason. I knew staying cool was going to be a challenge for this and an earlier 16-mile day hike, so I also used a sumbrella and took every opportunity to go for a swim.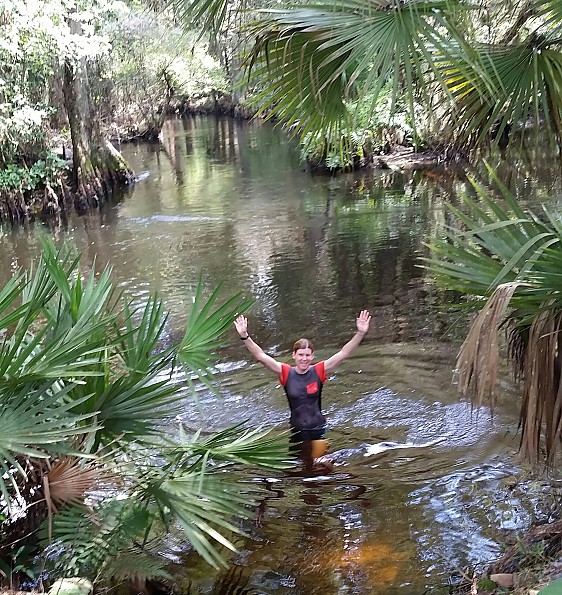 Between dips in various water sources, hand washings, and being soaked with sweat, the shirt was wet more often that it was dry. I even wore it (my only shirt on the trip) to bed while still damp and had no problem going to sleep. It's hard to believe that a fabric can do so well in all conditions. I guess it's the marvel of a product made in nature, which I have long come to respect.
Already knowing the amazing capabilities of merino wool, I was very curious about NuYarn's claim of being 5x faster drying. Since it is pretty hard to test such a claim in the outdoors, I set out to replicate BigRed's T shirt drying test with a selection of my own samples. Ironically, this is how I spent my day-off during Hurricane Matthew.
For my test, I compared a 50/50 cotton poly blend T, a generic synthetic T (the kind I get with every race entry), a 250gm Icebreaker 100% merino T (an original dating back to my 2003 NZ trip), and a 150gm Icebreaker 85/15 merino nylon blend T, which was the most analogous match to the Trew shirt.
I would have compared more of my lightweight merino shirts (products from Smartwool and Outdoor Research) but alas, I shipped these to Colorado in August, in preparation for a visit to my parents, which unexpectedly had to be postponed. When I get my full collection back, I plan to repeat the test with all merino samples.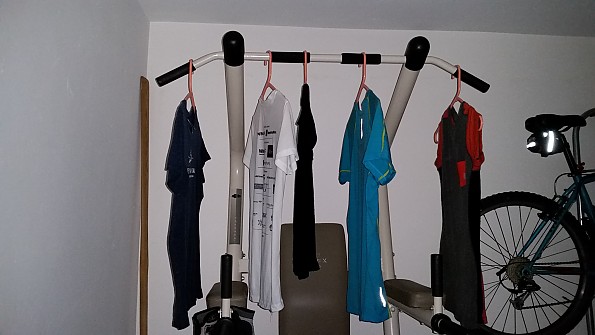 For the test, I soaked the shirts in the sink and then hand-wrung each to remove as much excess water as possible. I hung them in the same location to dry, weighing them at intervals of 30 minutes. After 5 hours, all but one were completely dry. I used the equation (wet weight - dry weight)/dry weight to determine and plot the water content of each shirt over time.




Based on the results, the Trew shirt demonstrated some very good properties. In terms of dry weight, I was surprised to discover that out of all the generic t-shirts I've collected over the years, not one was lighter that the Trew shirt at 3.25 oz  / 93 grams! There was one synthetic shirt that matched this weight, so it was the one I included in my drying test.
Interestingly, the synthetic T initially absorbed a fair bit more water, but both dried in the same amount of time. The lightweight Icebreaker T absorbed the least water and also dried the quickest, but only by 30 minutes. It appears to be the winner of the contest but because it is slightly heavier and does not have as warm of a feel when worn next to the skin, I'll call it a tie with the Trew shirt. The two lightweight merino shirts along with the synthetic shirt did dry much faster that the cotton T and everything outperformed the heavier weight merino T.
As far as the 5x faster drying claim, well, since I don't know under what conditions that figure stems from, all I can say is that it seems a bit exaggerated given my trials. But I think it is enough to know that the shirt dries fast and just as well as other performance shirts.
Abrasion/Durability/Continuous wear:
If there is one fault of this shirt, it would be the fabric's tendency to pill in high abrasion areas and/or due to machine washing. I have found that this is a property common to merino garments in general, which is why I didn't deduct any points from the rating. So far it's only a cosmetic issue, as I haven't noticed any decrease in performance.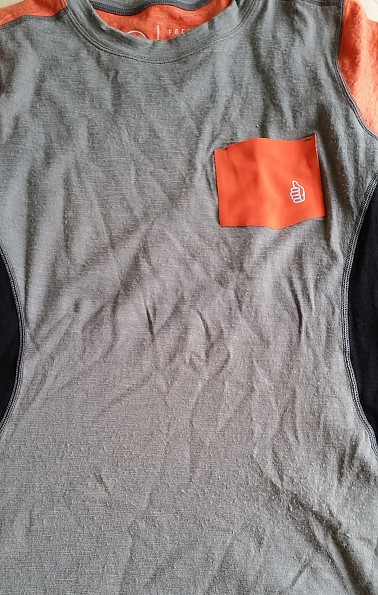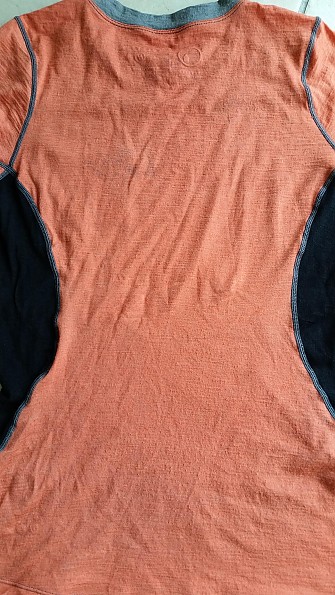 To put things in perspective, I did wear the shirt under a pack for 83 trail miles during my testing. I also wore it as a night/sleeping shirt for about six weeks straight. I expected there to be some signs of wear, most notably at my pack's hip belt and where it contacts my lower back.
My first merino shirt eventually developed small holes at the waist from being carelessly and repeatedly pinched in my pack's buckle. Thru-hikers have reported similar wear-problems, but such intrepid travelers usually go through several shirts over a summer, regardless of fabric. When you have a garment that can be worn for days on end, signs of wear are going to accumulate much faster. So if one wants to keep a shirt looking like new and suitable for a night on the town, they shouldn't wear it extensively in the backcountry.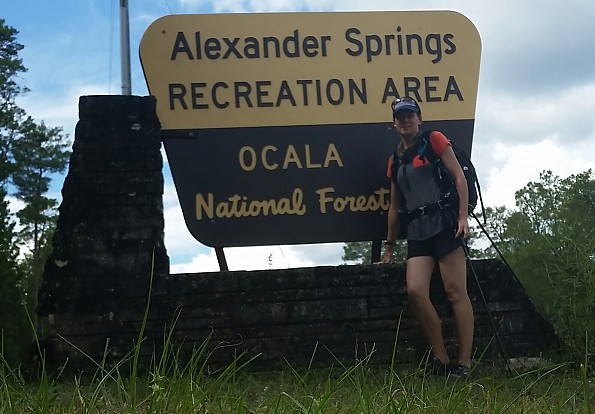 As to the product's claims of being stronger and stretchier, again, these were specific metrics that I was unprepared to dispute. There is an interesting video on Trew's website depicting a guy intentionally poking holes in a merino wool garment and then comparing the same attempts of abuse on a NuYarn sample. I wasn't about to try to stick my finger through a shirt that I like so much, so I'll have to take his word on this. I do know that I was repeatedly snagged by branches, high grasses, and giant spider webs on my section hike, with no apparent ill effects to the shirt.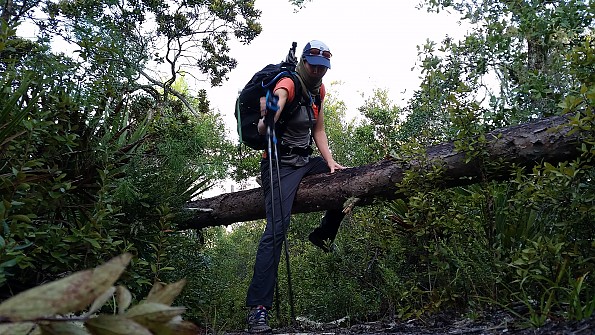 (Scrambling over one of the many hurricane-downed trees on the trail)
Despite a lot of use, I have kept machine washing of the shirt to a minimum (only twice in four months). I even debated about washing the shirt for the first time, in between a particularly sweaty day hike and my section hike, a week later. Wanting to begin the multi-day hike with a fresh start, I caved but in hindsight, it would have made no difference. The trip was a particularly challenging test of the no-stink factor.
I was wet and hot pretty much the entire four days; a perfect recipe for the brewing of bacteria. I did my best to wash off in the three springs and one sinkhole that I came across, but I think these efforts only brought me closer to becoming Swamp Thing. By the third night, things had gotten pretty extreme. I was surprised that even the shirt seemed to smell, but then again, it was hard to differentiate between my other clothes (like my synthetic bra) and my own body.
I pitched the whole lot in the laundry bin when I got home but took special care to hang the shirt separately to dry. When I went to do the wash the next morning, a cautionary sniff test belied none of the horrific rigors the shirt had just been through. It didn't smell fresh-out-of-the-washer but it didn't stink like the rest of the laundry either. I was pretty amazed.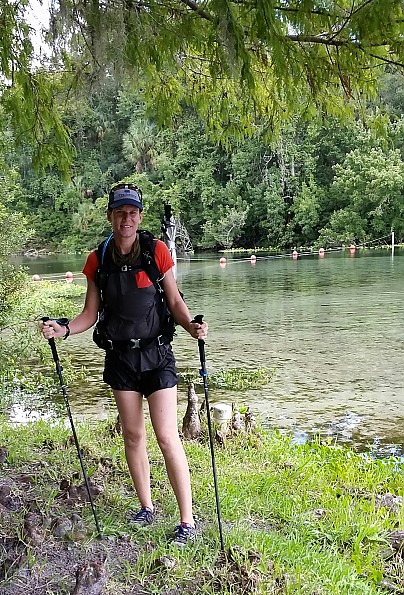 (Soaking wet, I'm feeling very refreshed after a bath in the 71 degree water of Alexander Springs)
A few more notes here about caring for merino garments. Hand washing (which I also did on several occasions) is probably most preferable, but the shirt is machine-washer safe. Just don't throw your merino in the dryer! While merino/nylon blends (especially socks) can often survive a few accidental dryings, I did shrink one of my Icebreaker shirts. It's also possible to stretch the fabric if it is hung to dry via a few small points i.e. clothespins. It's best to dry the shirt on a broad hanger. It also dries well when worn!
Features/Function:
Aside from the many benefits of the merino fabric already highlighted, the shirt's design is very basic, save for one front pocket. At first I thought of this as more of a stylistic feature, rather than functional. But I did find a use for it as the perfect spot for my MP3 player! It could also be used to stash a bar, gel, ticket, or anything else small. The pocket fabric is very stretchy but not large enough for a modern smartphone (given the weight, I wouldn't want to put one there anyways). The pocket is laminated to the outside of the shirt, with two small stitches at the top corners. It is mostly unnoticeable, until or unless you need it.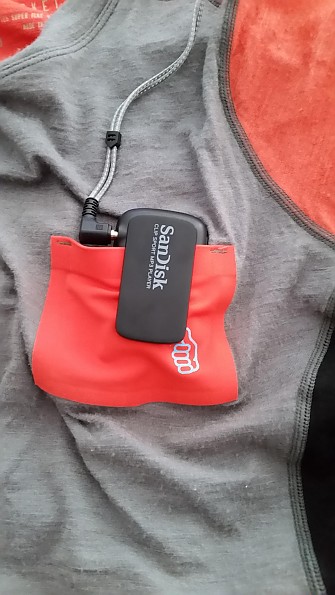 The women's shirt can be purchased in three attractive color combinations: Grey/Black, Grey/Black/Orange, and Light Blue/Dark Teal. There are also four choices in the men's shirt. My sample was made in Vietnam. I really like the sample I received but would have been happy with any of them (and I'm fairly picky when it comes to color).
One of the things that has always impressed me about the Icebreaker brand is their use of appealing colors and stylish designs. Trew's offerings are very competitive in this regard, too. Friends and relatives have all endorsed the shirt's stylish looks. So when you buy one of these garments, you are not just getting a performance layer for wear on the slopes but one that can also turns heads later at the pub (if that even matters to you, of course!).
Summary:
Aside from finding it hard to confirm NuYarn's very specific merino wool performance claims, I'm left with the overall conclusion that I'm very satisfied with the results. There is likely a degree of embellishment in the figures but the shirt is lightweight, fast drying, stretchy, lofty, comfortable, and that is all that matters. I rated this product the highest because it has the capability of replacing two or three shirts in my pack. It would be my go-to garment for a long trip and even a thru-hike.
The other selling point with a natural, smell-repelling and renewable product such as this is that we can achieve a smaller environmental impact. Just think of the savings if everyone owned only a few pairs of this type of clothing. Unfortunately, the less-is-more concept is very contrary to societal norms and we're raised to believe that wearing the same clothing every day makes you a bum or dirty (when maybe you're just a thru-hiker or fan of merino wool).  It would do us all well to ponder, just how much do we really need?
Source: received for testing via the Trailspace Review Corps (Sample provided by Trew for testing and review)

Your Review
Where to Buy
Help support this site by making your next gear purchase through one of the links above. Click a link, buy what you need, and the seller will contribute a portion of the purchase price to support Trailspace's independent gear reviews.
You May Like
Specs
Women's
Price
MSRP: $59.00

Recently on Trailspace