Tubbs Mountaineer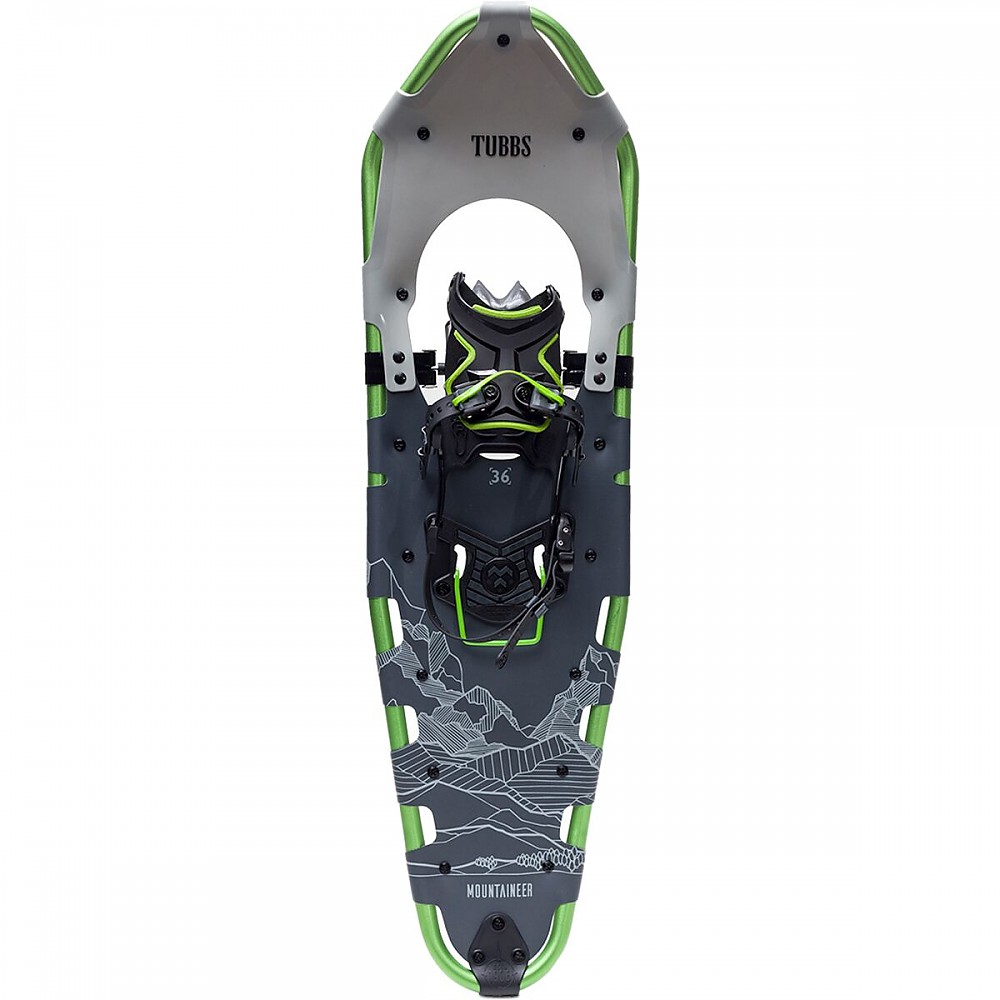 Version reviewed: 25"
I received these snowshoes this season as part of my involvement as a member of the TUBBS Snowshoe Ambassador Team. I requested this model, to test it out on our variable backcountry terrain here in Vermont.

I have previously reviewed my TUBBS Flex Alps on this site (purchased from before my involvement with TUBBS), and if you check, you can see that I really like the Flex Alps. The Mountaineers are a framed snowshoe, and I was extremely happy with their performance this past season!
Pros
Durable
Easy binding system
Great traction
Attach easily on a pack
Cons
Some discoloration on decking of the white women's model
This review is for the Tubbs Mountaineer 25, women's model. The snowshoe is available in women's sizes of 21, 25, and 30 inches, and in the men's model, the size options are 25, 30, and 36. Questions about proper size selection for snowshoes can be found on the tubbssnowshoes.com blog.
As a long-time Tubbs fan, and for the past two years an Ambassador for Tubbs, I have quite a collection of snowshoes. These Mountaineers definitely fall into the "favorites" category.
These snowshoes have become an integral part of my snowshoe fleet. This past winter has seen some really wonderful snowshoeing weather, and I was able to explore quite a variety of trails and conditions, giving these snowshoes a good workout. I have used them in deep powder, soft snow, steep uphills, and a few gnarly traverses and descents. The Mountaineers have proved to be a reliable, confidence-inducing snowshoe, suitable for the variety of terrain we encounter in Vermont.
I use the 25-inch snowshoes because we often have to negotiate tight, narrow trails. In some conditions, a longer snowshoe may be more suitable, but for all-around backcountry use, the Mountaineers 25 have worked out great.
They are 8" x 25" , with a rugged but light 6000 aluminum frame, and Tubbs SoftTec decking that has proven extremely durable. They weigh 4.8 lbs. per pair, with a 178 in. surface area. These are the women's specific model, so that is a bit smaller surface area than the men's, most likely due to the slightly narrower nose on this shoe than on the men's model.
The binding is easy to use, and holds my boots in place throughout some rigorous motion. This asymmetric ActiveFit+ binding is comfortable, and holds my boot in an efficient position. I will note, the binding is gender specific; I wear men's boots, and the narrower toe box of this model's binding does leave some small gaps. However, I am able to snug my boot in the binding quite adequately, and never feel and slip and slide action.  
I did try my boots in a men's Mountaineer, and the boot fit perfectly; hence, your boot style should be taken into consideration for gender model determination. The woman's specific binding fits up to a woman's size 11 boot. My men's boots are a size 8.5, which converts to a women's size 10. Therefore, it is apparently the size of the toe box on my men's boots which results in the slight disconnect with the fit.
The combination of the Pro-step frame (with a longer, lower rise) and durable decking, has resulted in a nice level of flotation, helpful on those outing where I am breaking trail. The articulation of the pin connector and binding allow for my foot to stay in a comfortable, ergonomically efficient position while moving uphill, downhill, or on traverses.
The heel lift is a great assist on steep uphill climbs; it is easily put into position, and then released, by using the end of my pole grip. I do not think I would ever again snowshoe without heel lifts, as they really do relieve the leg stress, and increase efficiency, on steep climbs.
The toe and heel position crampons on this snowshoe provide real confidence; they are aggressive, and have proved to keep me feeling secure in all snow conditions. The toe crampon (the Anaconda) has 8 aggressive teeth, and really hold the shoe in position on steep climbs.
The heel crampon (the Python) is positioned under the heel, with 3 side teeth on each side, and a large rear tooth on each side; this gives good traction, grip, and braking on descents. There are no traction side rails on this shoe, but the combination of a good strong frame, and the toe and heel crampons make it reliable on tricky traverses.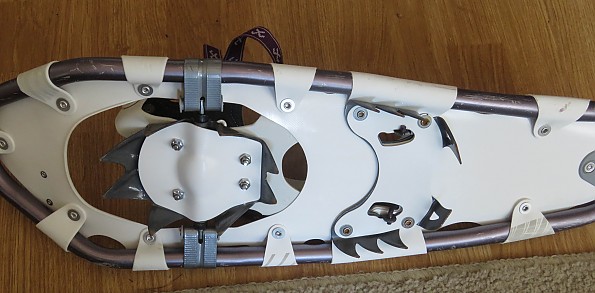 The women's model has white decking, with grey and purple subtle graphics. The binding straps are purple, as is the aluminum frame. This would not be my first color choice, but they actually look spiffy as they work up the trail! The white decking material under my boot area has faded/discolored a bit, but that in no way affects the performance of these fine snowshoes.
They have picked up a few minor dings and scratches over the course of an active season, but again, this is only a cosmetic effect. I expect that these snowshoes, much as my other Tubbs snowshoes, with last for many years, and many adventures!
Disclosure: These snowshoes were provided to me as a member of the TUBBS Snowshoe Ambassador Team. 
Source: tested or reviewed it for the manufacturer (Kept them!)

The author of this review is a Tubbs Snowshoe Ambassador.
The Tubbs Moutaineer 36s are lightweight snowshoes that have incredible traction on steep hills and packed snow, while also excelling in softer snow due to their surface area. The bindings are comfortable, secure, and offer quick entry and exit.
Pros
Traction
Flotation
Bindings
Cons
Deck graphics, I'd prefer plain
Could have better downhill traction
Front straps could have longer tag ends for use with gloves
Last winter when I broke my Tubbs Wilderness 36 snowshoes, I needed to get another pair within a week in order to be ready for a weekend of snowshoeing I'd planned with some friends. I decided on the Tubbs Mountaineer 36s because I wanted to get further out in the backcountry during the winter of 2014-15. But, nobody had them locally, and none of the online retailers that did have them could guarantee I'd get them in time.
I finally found them on the website of a small outdoor gear and farm store in VT, and for a very reasonable price was able to get them shipped 2nd day. (I'd also ordered a different brand of backcountry/mountaineering snowshoes from amazon.com, just in case — no way was I missing this trip! They both arrived in time.)
My first time on the Mountaineers was the day I got them — I quickly changed out of my street clothes and into my snowshoeing gear. I'm lucky to live where I can put them on in my yard and in 5 minutes be in the woods, or on the power lines and snowmobile trails. I headed for the woods to try them out on the steep streambeds and huge glacial erratics before hitting the power lines.
I couldn't believe the traction of the toe crampons — I could basically walk right up inclines that would have required heavy use of my poles with my Wilderness 36s. And just like the Wilderness 36s, the Mountaineers 36s were surprisingly maneuverable in the woods considering their size. I think it's because both bindings are very secure and allow for excellent control of the 'shoes.
Once I got out on the open ground of the power lines and snowmobile trails, travel was easy because of the excellent flotation provided by the wide, long snowshoes. They're not so wide that you have to walk with an exaggerated stance or end up stepping on them, though.
The power lines run over rolling hills, and some of them are steep enough that I'd flip up the ActiveLift heel lifts on my Wilderness 36s in order to let the toe crampons dig in at a better angle. With the Mountaineer 36s that wasn't necessary, though it did make it easier on my calves. 
The ActiveFit bindings deserve their own section — they're that good. The do take a little longer to get into or out of than the 180Pro on the Wilderness models, but they're also more secure. They have the same locking heel strap of the 180Pro bindings, but the forefoot is secured in a kind of socket with 4 straps and a padded top that positions your foot for optimum traction.
You do have to loosen and tighten the heel strap upon exit and entry, though, since your foot has to enter the socket from the rear. Push your boot as far forward as it'll go, tighten the heel strap, then pull down on the 2 front straps. There are small posts on the binding strap pivots to secure the free ends on the straps, and they actually stay on there pretty well.
The padding on the top of the binding does a great job of providing some cushioning over your lace hardware so it doesn't get pressed into your feet. They don't loosen up on you unless you want them to, and the control wings pretty much encapsulate your boots in a rigid enclosure. 
Now for the bad. The heel crampons don't provide the best traction on downhills in wet snow, and if you're not careful you might find yourself on an unplanned gliss. I prefer the heel crampons from the Tubbs Xpeditions, they're a lot better for downhill braking. The Xpeditions are on the left, Mountaineers on the right.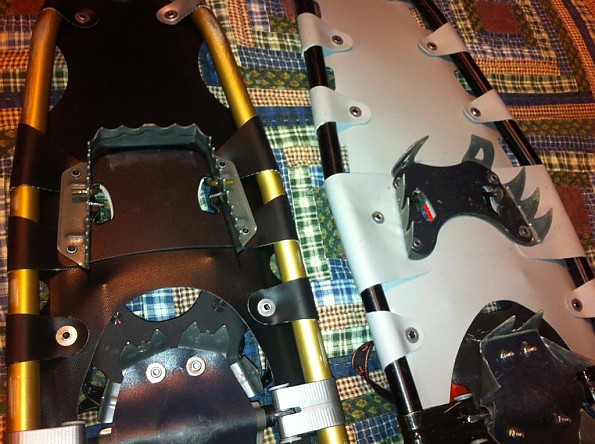 But you should be careful on descents anyway, and I've only noticed it on late-season wet snow. A slight weight transfer forward to load the toe crampons and taking some of your weight with the poles are all it takes to stay on your feet in any case.
These snowshoes can do it all, they're equally at home in the backcountry or on groomed trails where you're taking a new convert to the sport on their first trip. It's better to have awesome traction and not need it, than to need it and not have it!
Source: bought it new
Price Paid: $234

We are a Forestry Consultant in the middle of BC. We wear these misery slippers from Dec-April, 5 days a week, 6-8 hours daily. Tubbs shit the bed in the last couple years with the production of the new Mountaineers. For you weekend warriors, this will probably be the last snowshoe you will ever buy. It's tough, good traction, flotation, only have to do the bindings up once. Overall, has held up the toughest by far.

For the pro, the first thing to go will be where they fused the frame together. Real sneaky, right under the decking fold. Usually don't notice until taking them off at the end of the day or when they start making a "clicking" noise. There is no fix. Second might be the gray washers used to keep the bindings on. Not a chance of fixing yourself.
Pros
Gription
Bindings
Floatation
Cons
FRAME, GRAY WASHERS on the bindings.
why put more holes in the decking with a Tubbs Badge
unfixable
Soooo, after years of using these shoes, warranty was honored until this last year. One of my dealers cancelled his Tubbs order and sent all their stuff back due to this. Which  leaves me with a pile of useless junk, oh well I guess.
The other dealer was accidentally sent a couple of MOUNTAINEER XD HUNTER, which I wasn't even aware existed. WHY ARE THEY ONLY SOLD IN Denmark or Europe ? From what I could figure out in the writeup is that they are a little tougher and says the US Special Forces use them. Then why can't I buy these????? 
Source: bought it new

I have the women's 25 snowshoe, and with this being the first snowshoes I have owned I am very pleased with them. 
I did a good bit of research when deciding which snowshoes to invest in, I wanted something that would be of good enough quality to tackle deep powder in the backcountry as well as flat land in the prairie.
These shoes definitely live up to my expectations, the straps are sound, I have never had a problem with them loosening up during the hike and the large base was sufficient for my 150 pound weight. The extra crampons on the bottoms make for a firm footing with very minimal sliding on hillsides and uneven terrain. 
My only gripe about the shoes is that the plastic decking has developed a small gash after just one season of use.  I was definitely not gentle on the snowshoes but I was not overly harsh either and I feel that such a crack should not have happened through routine use. 
Price Paid: $175

Consulting foresters in New England. Paid $250 for these shoes at EMS. Wore these one winter season (Jan 2018 - March 2018) and then four days in November 2018. Then the binding had a catastrophic failure in the the field a result of plain hard wear and tear—not a specific trauma.

Poor design. Glad I was not mountaineering.
Pros
It looks like a snowshoe.
Cons
Binding undercarriage design; your safety depends on some flimsy plastic washer pieces in key wear locations.
What more information do you need?  Back to MSR's. At least we can repair those.
Background
40th year working New England winters on snowshoes. Can't remember ever getting such poor performance for such a high price.
Source: bought it new
Price Paid: $250+/-

Your Review
Where to Buy
Help support this site by making your next gear purchase through one of the links above. Click a link, buy what you need, and the seller will contribute a portion of the purchase price to support Trailspace's independent gear reviews.
You May Like
Specs
Men's
Price
MSRP: $249.95
Current Retail: $279.95
Historic Range: $51.98-$312.00
Reviewers Paid: $234.00-$250.00

Women's
Price
MSRP: $249.95
Current Retail: $185.66-$279.95
Historic Range: $125.00-$279.95
Reviewers Paid: $175.00

Recently on Trailspace