UCO 6-Piece Mess Kit

UCO's 6-Piece Mess Kit packs all the tools needed for campsite dining into an easy to carry package. A bowl with tight fitting lid carries a collapsible cup inside. Outside the tether holding the lid onto the bowl secures UCO's 2-piece Switch Spork set. Great for front country use, but worth carrying on back country trips for folks who like to eat well in the wilderness.
Pros
Tethered kit maintains organization
Switch Spork very functional
Easy to clean surfaces
Sharing opportunities for minimalist eaters
Cons
Weight in pack
Volume in pack
No cup lid
Spork discoloration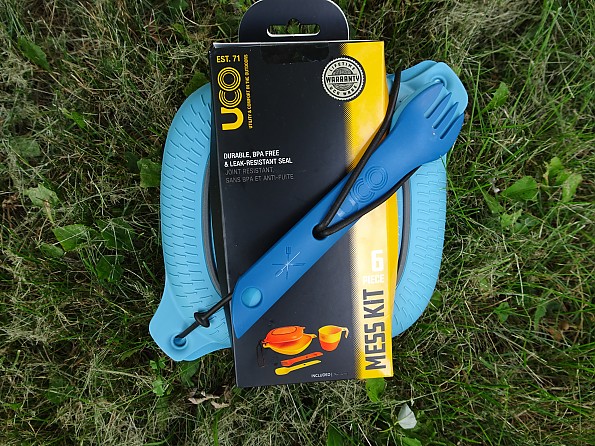 UCO continues to rethink and engineer outdoor gear with their 6-Piece Mess Kit. With their 2-piece Switch Spork tethered to the tight sealing lid and a collapsible cup inside there is everything a person needs to eat a civilized meal even if they are in an uncivilized setting. It comes in three different color schemes which can be nice to help families keep things in order. They also offer a simpler 4 Piece Mess Kit which uses a one-piece spork and lacks the cup found in this kit.
Specifications (from UCO website):
Material: Polypropylene, Nylon, and TPE 
Volume: Bowl: 23.3 fl oz. (690 ml) Lid: 19 fl oz. (561 ml)
Camp Cup Volume: 12 fl. oz. (355ml)
Weight: 10.08 oz. (310 grams) 11.2oz/316g on my scale
Dimensions: (LxWxH) 8 x 8 x 3 in (17.1 x 17.1 x 5.7 cm)
Features: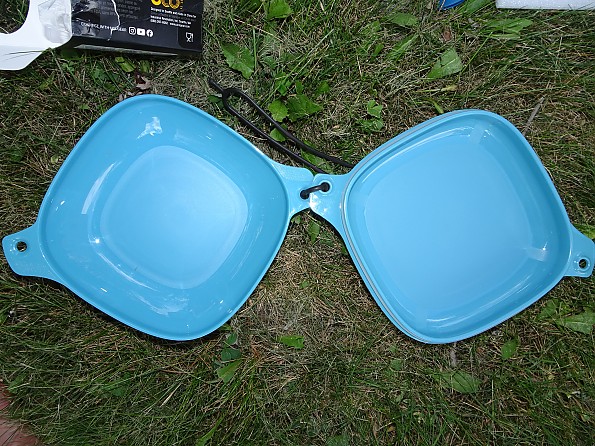 The kit starts with a squarish bowl about 7 inches across at its widest point and about 2 inches deep in the center. Attached by the tether is a tightly fitting lid with a leakproof seal around the edge. Great for keeping the bugs out or for times when campers need to carry their meal from cooking area to eating area. The lid can also be used as a plate.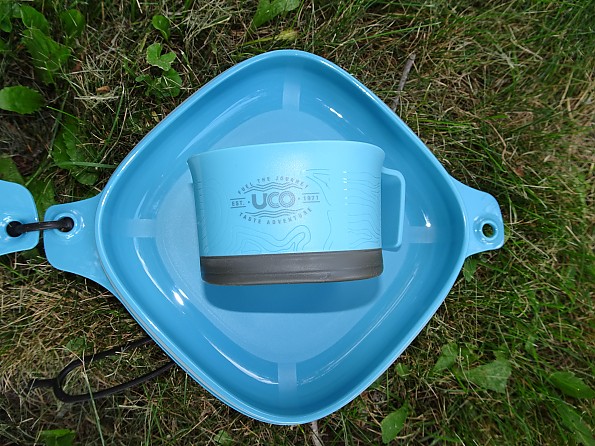 With a collapsible nylon bottom the 12-oz cup tucks inside the bowl and lid with room to spare. We used that space to carry extra sporks, but it could be used for napkins, bags of spices, or other small items.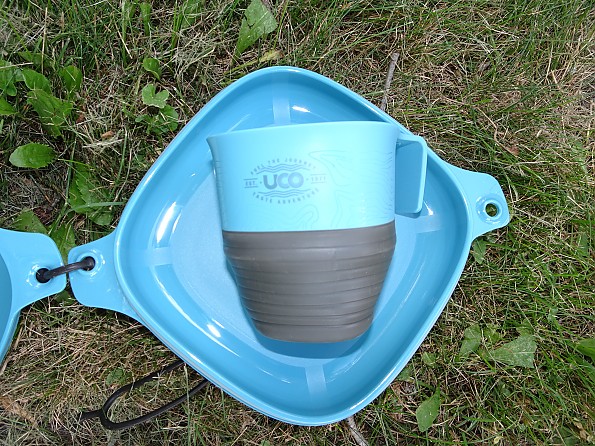 With the base extended the cup had a low center of gravity as the base material is heavier than the top. This made the cup relatively stable on tilted or uneven surfaces. The cup did not have a lid, but it does have measuring marks on the interior.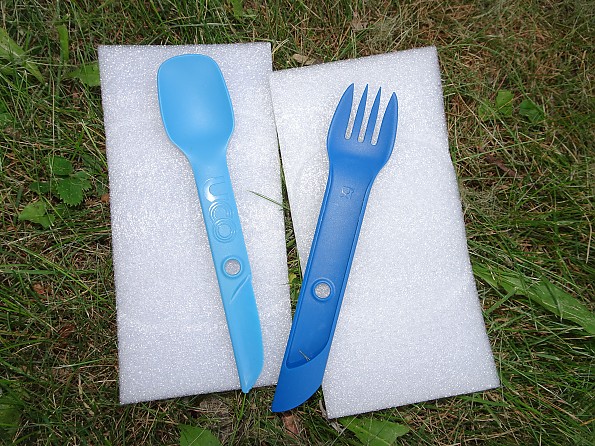 While a traditional spork tries to do everything with a single tool, the Switch Spork uses two that snap together when packed up. The base is a dedicated fork, though it does have a bit of spoon shape to it. The other component has a knife on one end and a spoon on the other. While you can't play knifey spoony with it, you can use a fork and knife at the same time to cut meat or other foods worth cutting.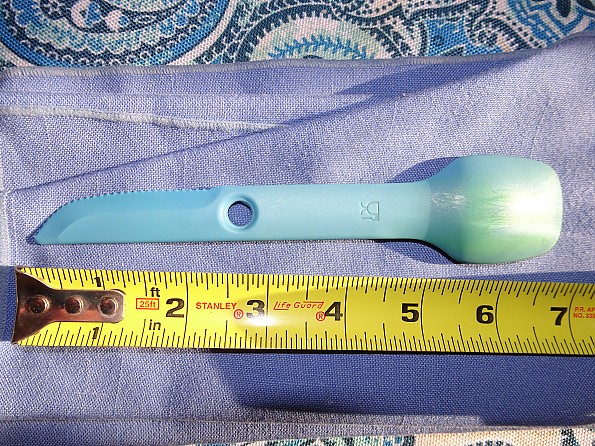 Unlike most sporks that give you a bit of a serrated edge on the spoon or fork, the Switch Spork has a dedicated knife edge opposite the spoon. This gives both a nice cutting edge, but enough length to give leverage to apply some force.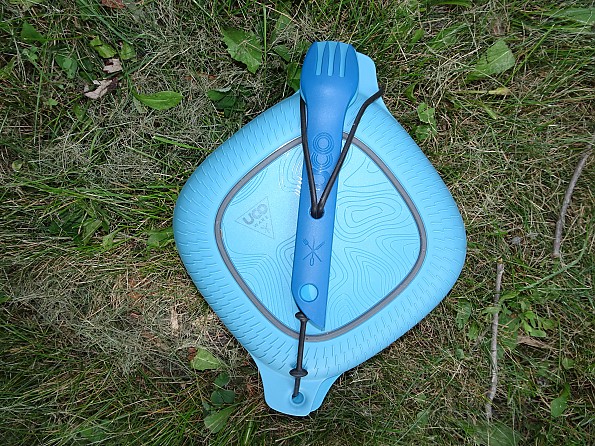 The sixth piece in the 6-Piece Mess Kit is the tether that holds it all together when it is time to pack up and move out. In the car or in the pack it keeps all the pieces together and easy to find when you need them again.
Ease of Use: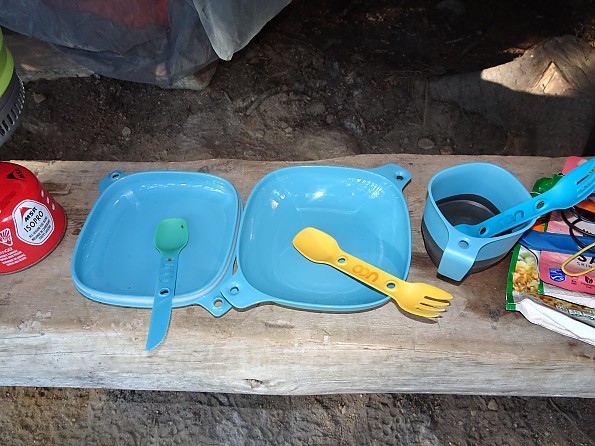 Unpacking and packing the kit was very easy. The tether could be completely removed which was nice. My testing partner, Mini Stranger, was able to unpack and pack the kit intuitively. Without instructions or prompting she was able to figure it out on her own without much effort. Maybe faster than I was able to figure it out heh.
Cleanup was easy as there weren't corners or crevices for food to hide in. The shape of the bowl and lid is curved exactly the same as both the UCO Switch Spork and UCO Utility Spork which makes it easy to use a spork to clean the bowl. There was some discoloration to the Switch Spork caused by a packaged chicken and rice meal that clearly had too much artificial coloring in it.
Construction:
UCO made the kit BPA- and Phthalate-free using Polypropylene, Nylon, and TPE. Molded materials are all defect-free and smooth surfaced. They say the materials are safe for both microwave and dishwasher, though we carried neither of those on our test trips.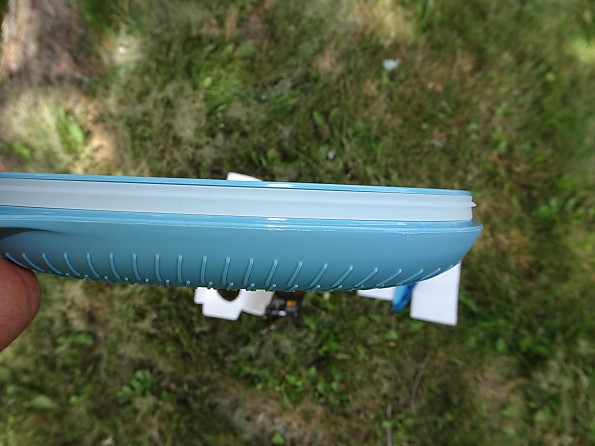 In the pic above you can see the seal UCO put around the edge of the lid. It is tight enough to keep the lid from falling off, but is not totally waterproof. Filling the bowl with water and tipping it on its side produced a steady drip. It is enough to keep you from losing your stew on the way to the table, but you wouldn't want to try carrying a bowl of stew in your pack heh.
Testing Conditions:
We had intended to send Mini Stranger off to Girl Scout Camp with this kit for a few weeks of destructive testing. Unfortunately camp was cancelled this year so we came up with an alternative testing program.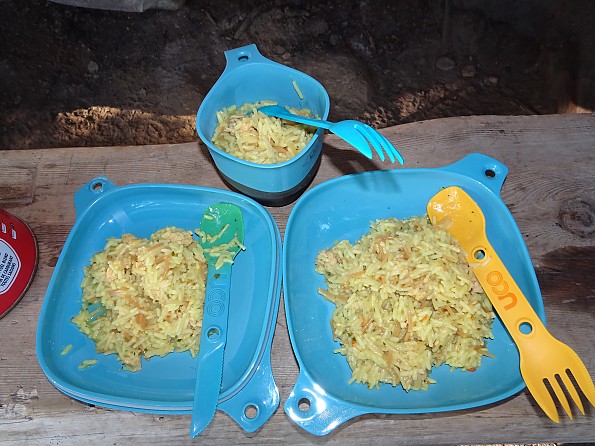 We found that if we added a couple more sporks we had a family mess kit. The UCO Utility Sporks seen above are actually designed to work with UCO's bowls so we had no problems cleaning our bowl, plate or cup. Field cleanup was done with small amounts of water and a dab of dish soap.
In addition to eating pot cooked meals we also used the bowl, plate, and cup to support freezer bag meals when eating rehydrated dinners.
Conclusions:
Given the size and weight, the UCO 6-piece Mess Kit is probably better used front country for car camping or upta camp scenarios. At around 11 ounces in weight and over 1.5 liters in volume, packing it into the back country would make sense for folks who eat well out there or folks like us sharing the kit between three people. Folks counting every gram are probably not eating the sort of food you need a mess kit for anyway.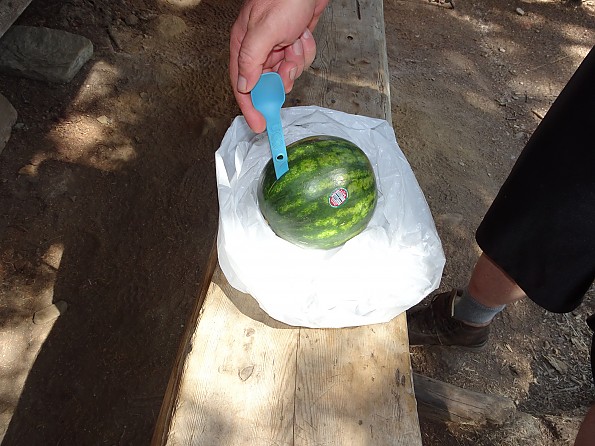 The Switch Spork, which can be purchased separately, is definitely a useful tool. The knife/spoon combo is actually a real spoon and a real knife, though not both at once unless you want to get your fingers dirty. As you can see above, I was able to stab a watermelon with it when I accidentally left the real knife back at the car.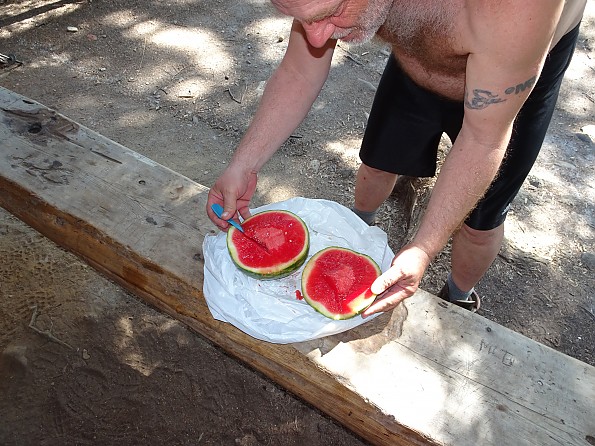 On day five when I realized I had carried the melon all that way, but forgotten the knife, I was pleasantly surprised to find out just how functional the knife of the UCO Switch Spork was. Much easier than hiking out to get the knife or trying to smash the melon open with a rock heh.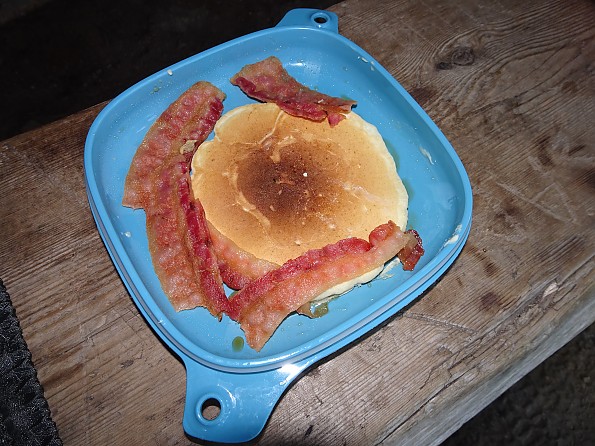 Other than a little discoloration on the sporks there are no signs of wear. Cutting pancakes left no scratches nor did clean up. Unless you step on it or run it over this kit would likely last for a very long time.
Again, at 11 ounces, this is not UL gear. This is a great kit if you don't have to carry it far, but for long hauls probably a bit much for a single user unless you are a serious back country gourmand. Shared between three though the weight-and-size-to-benefit ratio falls into a reasonable range I'd say. We certainly found it worked for us camped next to the car or on a weeklong wilderness adventure. Others  might find it useful on road trips or even as an office lunch kit at work.
Background
I own several GSI pot/mess kit combos and have used a variety of sporks over the years.
Source: received for testing via the Trailspace Review Corps (Sample for testing and review provided by UCO)

Your Review
Where to Buy
Help support this site by making your next gear purchase through one of the links above. Click a link, buy what you need, and the seller will contribute a portion of the purchase price to support Trailspace's independent gear reviews.
You May Like
Specs
Price
MSRP: $25.99
Current Retail: $27.99
Historic Range: $17.93-$27.99

Weight
10.08 oz / 310 g

Material
Polypropylene, Nylon, TPE

Bowl Volume
23.3 fl oz / 690 ml

Lid Volume
19 fl oz / 561 ml

Camp Cup Volume
12 fl oz / 355 ml

Dimensions
8 x 8 x 3 in / 17.1 x 17.1 x 5.7 cm

Includes
plate, bowl, Camp Cup, Switch Spork, tether

Recently on Trailspace