UCO A-45 Comfort-Fit Headlamp

Top 50 in Headlamps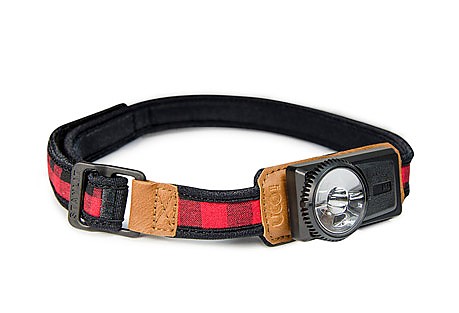 Specs
Price
MSRP: $29.99
Historic Range: $12.73-$24.99

Reviews
1

review

5-star:

0

4-star:

1

3-star:

0

2-star:

0

1-star:

0
Light and comfortable on the head with an easily adjustable output, the UCO A-45 works well for in-camp lighting, though few would find it bright enough for night hiking. Super easy to use, making it great for children or others that may have dexterity issues. Good battery life even on the brightest setting means you won't have to be changing them all the time when the kids forget to turn the lamp off.
Pros
Light and comfortable
Two lightweight CR2032 batteries included
Good battery life
Brightest setting is a safer for the eye 11 lumens
Cons
Only IPX4 water resistance
No lock out mechanism
This review was done in conjunction with the UCO A-120 which is the A-45's higher powered companion in UCO's headlamp lineup. The A-45 was tested and is reviewed here primarily from a perspective of use by a child, though this headlamp could be used by anyone needing short range, low intensity light.

Product Specifications: (from UCO's web site)
    BATTERY TYPE (included): 2x CR2032 Lithium ion
    BULB TYPE: CREE XP-D LED
    HIGHLY WATER RESISTANT: IPX4
    LAMP DIMENSIONS: 0.65" x 2.3" x 1.4" (1.7 cm x 5.9 cm x 3.5 cm)
    WEIGHT (w/ batteries): 1.6 oz/45g  Actual weight of 1.8oz/52g on my scale
    MSRP: $29.99



Simple and functional are the first words that come to mind in describing the UCO A-45 Comfort-Fit headlamp.  Nothing complex, just an easy to use lamp that rides comfortably on a headband that is easy to get on and off.
Ease of Use:
It really would be hard to make it any easier to use. The headband adjusts quickly to a full range of head sizes from child to normal sized adult. Once you have it dialed in it just slides on and off with enough stretch to make it easy to position with one hand.
Light is controlled via a single, large and textured wheel which clicks counter clockwise to turn on the red LED or rotates clockwise to turn on the primary, white LED and adjust the brightness. The light can be regulated smoothly to any desired level via what UCO refers to as infinite adjustability. The lamp module can be tilted down to about 45° from perpendicular with the headstrap. It moves easily with a single finger and stays where you leave it even when active.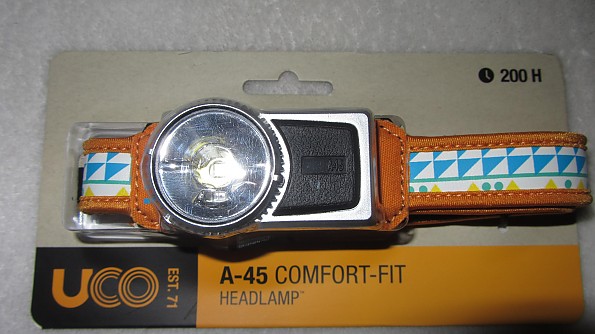 The minimal packaging made it easy to get to see what you were getting even before you opened it up. The lack of waste is nice, but this style of packaging also let you feel how light the unit is and the softness of the headband.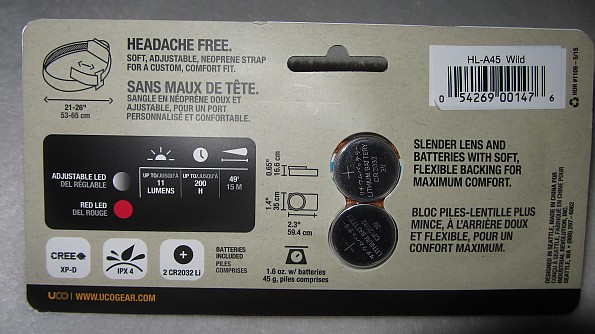 Documentation is limited to printing on the back of the card, again reducing waste. The simple, intuitive features really don't require instructions to use, so I was glad not to find a three page manual printed in six languages I'd just have to toss into the recycling bin.

Features and Construction: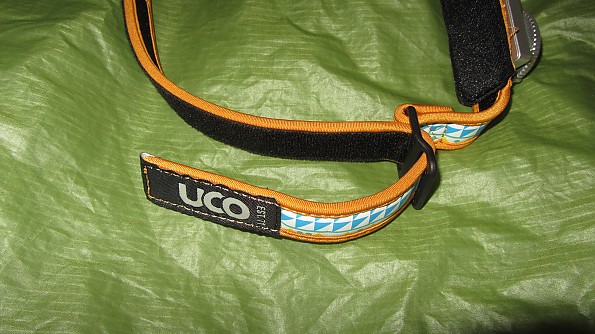 A single, adjustable, neoprene strap holds a combined lamp and battery module in the front. There is a neoprene cushion built into the headband where the lamp is located which remains comfortable and helps hold the lamp in place when there is rain or sweat making things a bit wet.

The CREE XP-D LED is not blindingly bright at full power which makes it safer for everyone, but especially kids who don't always watch where they are pointing the light. UCO made a great choice in using this LED, not just for its output, but for its energy efficiency which I was impressed with. The easy access spin control allows fluid brightness control from barely on to full power which UCO lists as being up to 11 lumens.
The secondary, red, LED is access by turning the dial the opposite direction and is not level adjustable.

Power Source: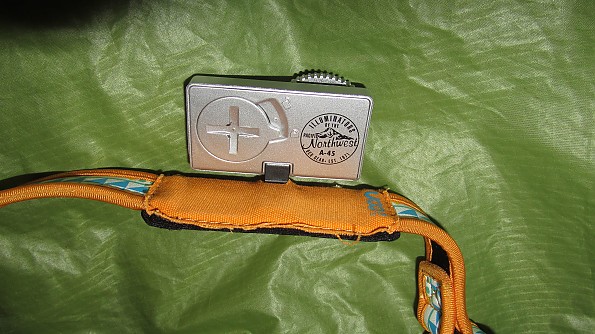 Close view of the back of the unit where the well secured battery compartment can be accessed. A coin or blade can be used to turn the locking cap or the protruding tab can be pulled with a nail making opening a snap.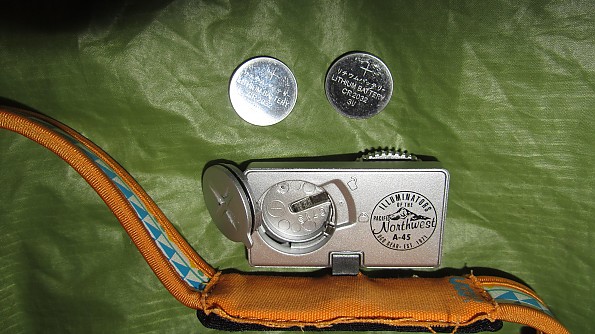 Inside view of where the two CR 2032s ride. Note the rubber gasket running around the edge of the cap to help keep water out of the battery compartment.

Beam, Brightness and Range:
The primary, white LED created a focused beam with some extended diffusion at the edge. At a 3' distance the primary beam measures roughly 7". Beyond that distance the focus fades rapidly. With a very low intensity of 11 lumens at maximum power the listed range of 49' is reachable, but there is little function to the light at that range.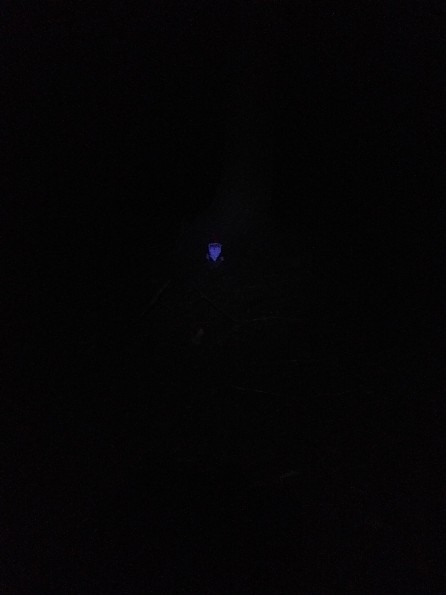 Using the same gnome in the woods behind my house as a target that I used in the A-120 review, this is the view at 5' of horizontal distance. The camera was only able to capture the reflected light from the gnome's beard. In person there was a wide area of very diffuse light, but at such a low level that the camera could not capture it.
The secondary, red LED was again quite bright while lighting up a wide area at close range. Perfect for in tent tasks or finding your way back there.

Burn Time:
Considering the low output of the LED I opted not to attempt to run down the batteries to test burn time. UCO claims up to 200 hours and considering the nature of this lamp doesn't lend itself to mission critical applications I'm comfortable with the assumption it will last a darn long time on one set of batteries without knowing exactly how long that is.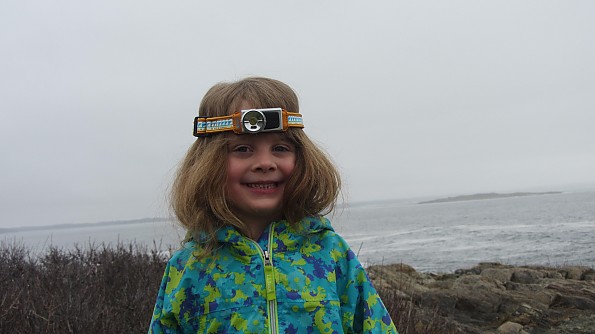 Testing Conditions:
Testing was done partially by myself along with my testing of the A-120. My five-year-old daughter helped with the remainder of the testing to provide some perspective on how the A-45 worked for her.

Conclusions:
The A-45 looks a bit like the A-120, but they really are very different tools for very different jobs. This headlamp would be a poor choice for night hiking or any other activity that required lighting up things at a distance, but its low level output makes it a great light in camp so long as you don't require high intensity light. It also functioned well as a reading light in the tent.
The controls couldn't be any easier, which is why this headlamp really lends itself to use by children. My daughter had the thing in her hands for just a few minutes before she had the hang of turning it on and off. She can get the lamp on her head by herself pretty easily, though getting it pointing forward is a bit harder heh. Still I feel comfortable that she could use the A-45 without help or supervision.
One concern I have is the A-45 is only rated to IPX4 water resistance. In terms of water resistance, IPX4 means an item can take serious splashing, but is not meant for submersion or being exposed to pouring water. I'm not sure how it will hold up in a downpour and am even more concerned about my daughter dropping it in a pond or brook.
The other negative point to be made about the A-45 is the lack of a lock-out mechanism. I used the similarly built A-120 for several months of use on many multi night excursions and have only had the lamp turn on once by accident inside a pack. Still that is enough to demonstrate it is possible and that is enough to raise some concern.
This headlamp is not going to be powerful enough for me to rely on it for my backcountry excursions. The low intensity, short range light isn't going to meet my needs there, but I really see this being a useful tool in many other situations. As a family we do more gentle backpacking trips and some car camping, both situations where the A-45 would make a good light in camp.
I also really liked it as a child's headlamp. The low intensity LED was safe enough to leave in my daughter's hands without fear that she'd blind herself or me. The ability to fiddle with it herself gave her a chance to feel like a big girl and as any parent who camps with children will tell you; anything they can do for themselves is one less thing you have to do for them.
Based on our testing experience I'm comfortable recommending the UCO A-45 for children for sure, but I've also seen how it would work well for anyone as a tent light, around the campsite, or even in the back yard. It isn't for tasks that require high intensity light and I wouldn't want to risk night hiking with it, but for casual use it is a light, comfortable, and affordable option to consider.
Source: received for testing via the Trailspace Review Corps (Sample provided by UCO for testing and review)

You May Like
Recently on Trailspace