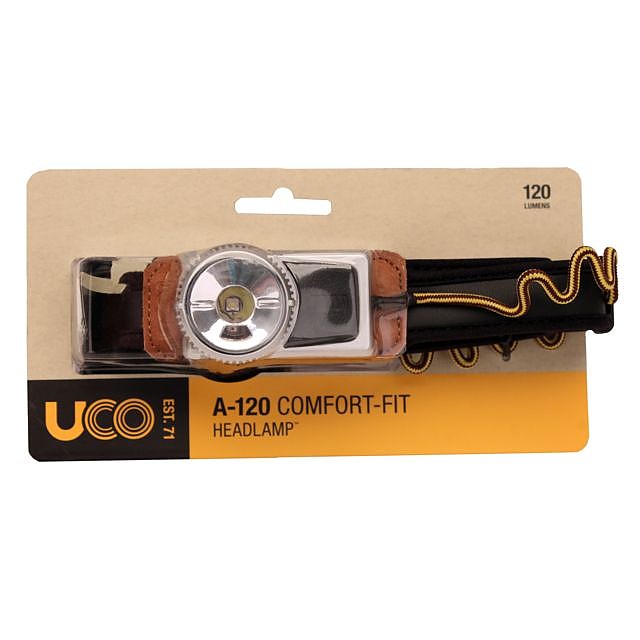 Specs
Price
MSRP: $39.99
Historic Range: $19.73-$33.49

Weight
3.7 oz / 104 g (with batteries)

Lumens
120

Batteries
3 AAA

Reviews
3

reviews

5-star:

0

4-star:

1

3-star:

2

2-star:

0

1-star:

0
Light and comfortable on the head with an easily adjustable output, the UCO A-120 works well for in-camp lighting or after dark activity both on- and off-trail. Good battery life even on the brightest setting makes this lamp especially good for those who night hike or do other activities that require long periods of use, even if it is just reading in your tent.
Pros
Light and comfortable
Remote battery pack allows position adjustment
Good battery life
Brightest setting is indeed very bright
Cons
Some issues for folks with a very large head
Only IPX4 Water Resistance
No lockout mechanism
Product Specifications From Vendor:
    BATTERY TYPE (included): 3x 1.5v AAA in external pack
    BULB TYPE: CREE XP-E LED
    HIGHLY WATER RESISTANT: IPX4
    LAMP DIMENSIONS: 0.65" x 2.3" x 1.4" (1.7 cm x 5.9 cm x 3.5 cm)
    WEIGHT (w/ batteries): 3.7 oz. (104 g) Test model comes in at 3.1 oz (89g) on my scale with batteries.


MSRP: $39.99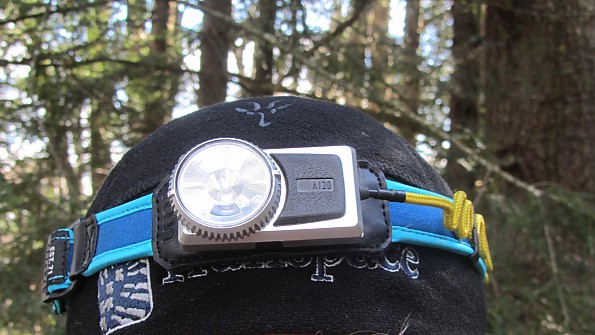 Simple and functional are the first words that come to mind in describing the UCO A-120 Comfort Fit headlamp.  No complex programming or numerous modes to manage. Just an easy to use lamp that rides comfortably even when worn for hours.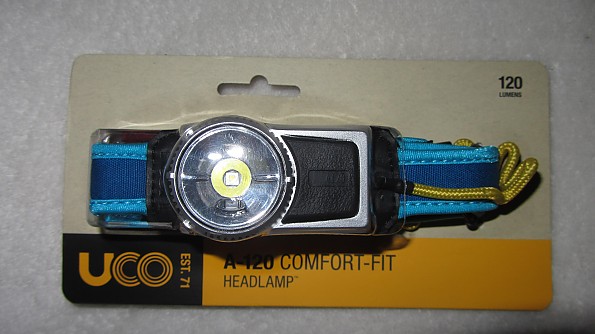 The simplicity started with the packaging which was minimal. Compared to other headlamps I've purchased UCO didn't include a lot of extra materials, skipping a box and using just a small plastic shell to protect the lens and hold the product to the card stock.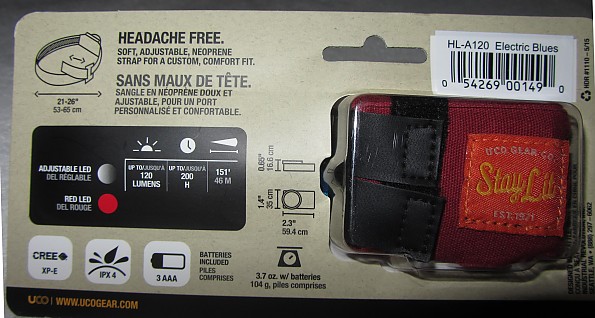 Documentation is limited to printing on the back of the card, again reducing waste. The simple, intuitive features really don't require instructions to use, so I was glad not to find a three-page manual printed in six languages I'd just have to toss into the recycling bin.

Features and Construction: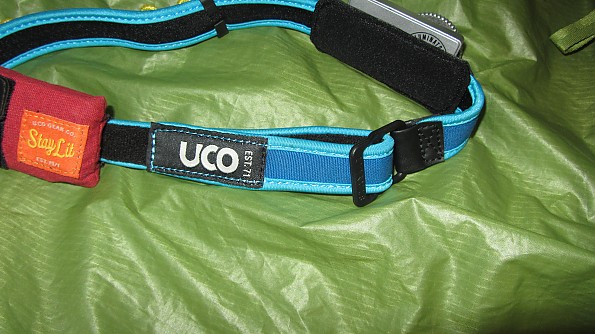 A single, adjustable, neoprene strap holds a lamp module in the front and a remote battery pack that can be moved to where the user finds it most comfortable along the side or even towards the back of their head. There is a neoprene cushion built into the headband where the lamp is located which remains comfortable and helps hold the lamp in place when there is rain or sweat making things a bit wet.
The CREE XP-E LED is blindingly bright at full power so you'll want to be careful where you point it. UCO made a great choice in using this LED, not just for its output, but for its energy efficiency which I was impressed with. The easy access spin control allows fluid brightness control from barely on to full power which UCO lists as being up to 120 lumens.
The secondary, red, LED is accessed by turning the dial the opposite direction and is not level adjustable.

Power Source: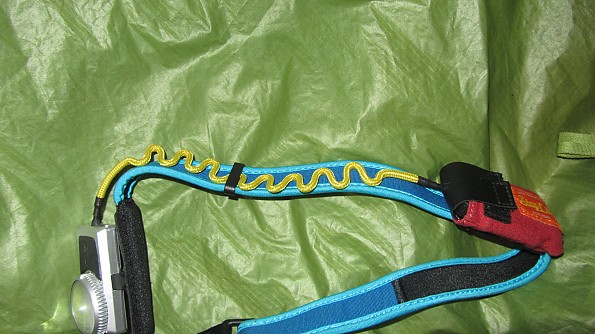 The remote power pack connects to the lamp module via a flexible cable which allows you to position the power pack anywhere along the headband. With the batteries removed the lamp module feels almost weightless, yet the battery pack rode comfortably either at the side or in the rear.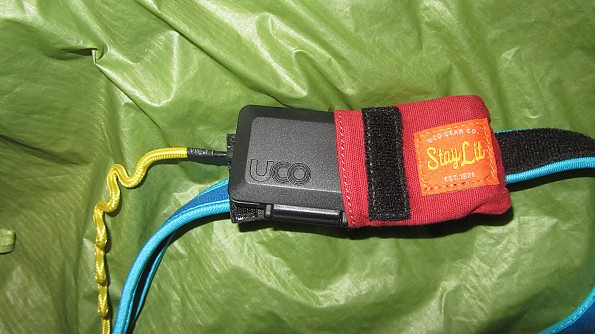 Inside the stylish UCO branded external pouch the actual battery pack is a compact plastic box with a secure clasp. There doesn't seem to be any seal to hold out water, but use in the rain showed no moisture entering.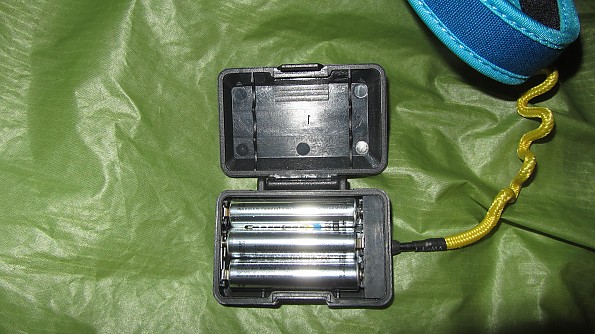 Three AAA batteries lay flat keeping the pack small enough to lay comfortably against the head. Swapping them out requires no tools and only moderate dexterity so even in cold weather changing batteries should be a quick task.

Beam, Brightness and Range:
The primary, white LED created a focused beam with some extended diffusion at the edge. At a 3' distance the primary beam measures roughly 7", at a 20' distance the primary beam measures roughly 30" in both cases there is a wide area of diffusion beyond the well defined beam itself. While the beam will reach well beyond 100' the light becomes diffuse at the far reaches of its range so what exactly is being illuminated becomes harder to discern.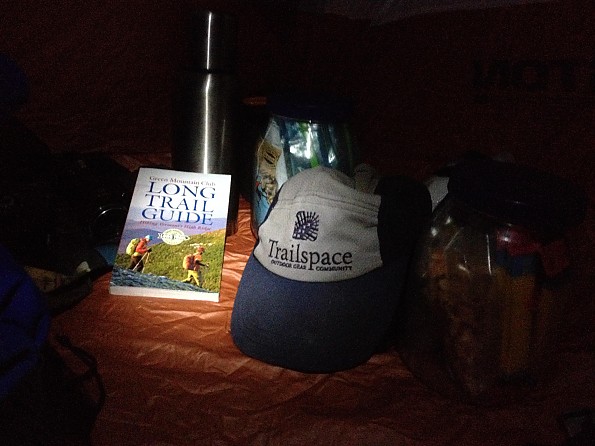 At approximately half power the A-120 gave off good light for tasks inside on a winter outing to the White Mountains in N.H.


At full power the reflected light filled the tent and the focused beam was enough to read by for hours with no eye strain.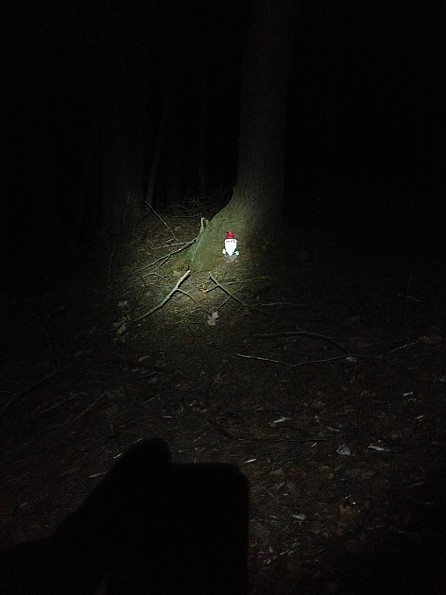 Using this gnome in the woods behind my house as a target this is the view at 5' of horizontal distance. The focused beam highlights details with an extended area of diffuse light.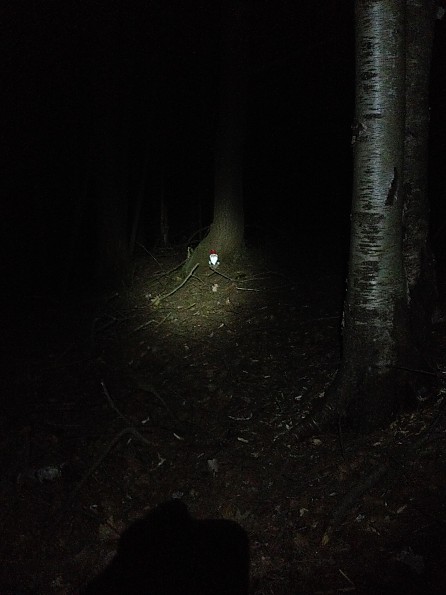 At 10' the beam is still well focused and brings out details.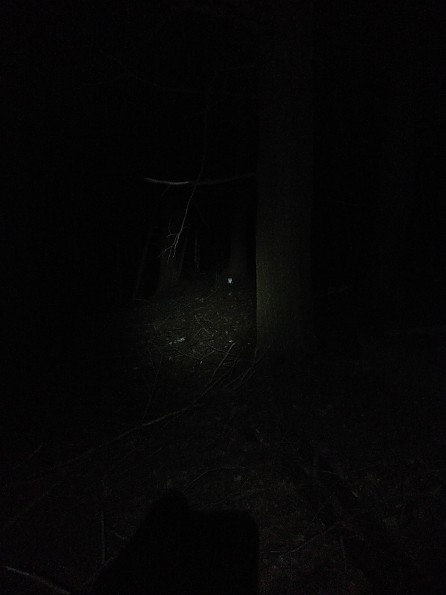 At the 30' distance the gnome's beard reflects well, but details are hard to make out, better than what the camera could record, but not a lot more detailed than what can be seen here.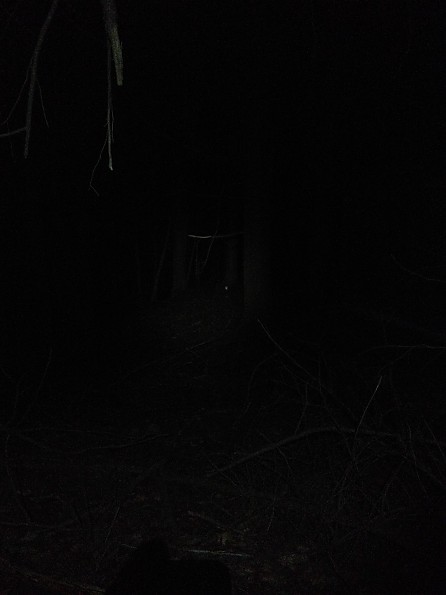 At 60' the camera is only able to pick up the light reflected by the gnome's beard and the naked eye was only able to see a bit more. Large objects like trees can be spotted at this range, but small objects are hard to spot unless they have good reflectivity.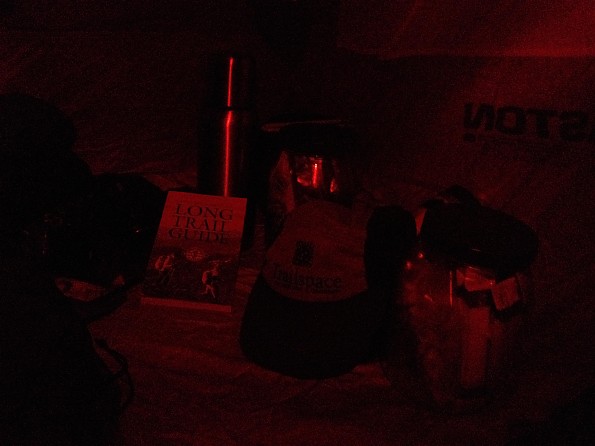 The secondary, red LED worked better than the red LED on other lamps I've owned, notably the Black Diamond Storm. It is both bright and well diffused which is what you want for doing tasks without resorting to using the primary light. For finding a midnight snack without destroying your view of the stars or for sneaking out of a shared shelter for a late night nature call without disturbing your neighbors I found it very functional.

Burn Time:
I tested burn time with the alkaline batteries that were included with the UCO A-120. All testing was done via extended periods of use at full brightness. The shortest period of use was of 4 hours in duration while the longest period was 7 hours. Cumulative burn time of 31.25 hours was reached over a total of 6 test sessions.
While there was some dimming of maximum output over the course of this testing the light remained quite bright until it began to fade rapidly at the very end. There was still power remaining in the batteries, in fact the red lamp was still pretty functional, but not enough to safely night hike so I considered that the end of the test.

Ease of Use:
No complicated buttons to program or invisible spots to squeeze or tap. The UCO A-120 has two major moving parts and neither requires any special skills to operate. Light is controlled via a single, large and textured wheel which clicks counter clockwise to turn on the red LED or rotates clockwise to turn on the primary, white LED and adjust the brightness. The lamp module can be tilted down to about 45° from parallel with the headstrap. It moves easily with a single finger and stays where you leave it even when active.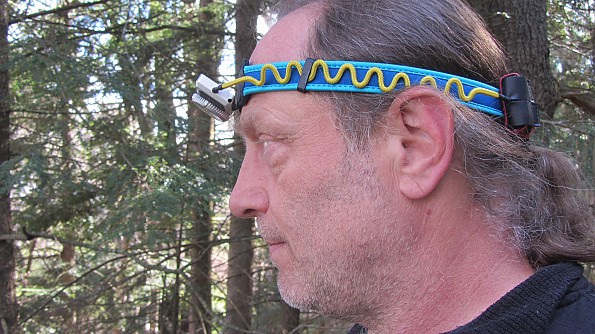 Testing Conditions:
The first set of batteries were run down in extended periods of use at home and reading in my tent on trail. After that the headlamp was used normally on winter and spring backpacking trips as well as during some back yard testing and for some chores around the house. Night hike testing was done on a winter backpacking trip, some local night hikes and numerous 2 a.m. nature calls while on trail.

Conclusions:
I was first struck by the styling of the A-120 even before I unpacked it. It looked pretty and that always makes me suspicious of how functional an item will be. Then I noticed the minimal packaging which made me happy. Since working in a college recycling center back in the '80s I've always been a fan of using less in the first place so you don't have as much to worry about recycling later.
Once I put my hands on the lamp I noticed that they were able to figure out everything they need to know about how to use this lamp in seconds. It really is an example of simple, intuitive controls done right. Even in cold weather, I mean sub zero, winter camping type cold weather, it was easy to make this lamp do what you needed, with or without gloves.
After spending a few months using this headlamp in various ways I've come to really like it other than a few issues, one of which won't impact most folks.
I have what scientists call a ginormous head, roughly 25", so the listed limit of 26" on the A-120 is pretty much used up just wrapping around my head. Extending it as far as it will go allows me to squeeze it over a very thin hat, but I'm not able to seat it well on my winter head pieces. Thankfully I'm comfortable hiking with a headlamp around my neck rather than my head, so I could resort to that if I needed to.
Again, most folks will not have any problem with this, but I wanted to mention it in case there were any other big headed folks out there. As a point of reference a U.S. Men's sizing lists a 25.25" head as a size 8 or XXXL. If you're head is smaller than that you should be fine.
One other concern I have and I admit it is only a concern at this point, is the A-120 is only rated to IPX4 water resistance. I've hiked with it in light rain without issue, but compared with something like the Black Diamond Storm which is rated IPX7, this headlamp is really not made for falling in the river.
In terms of water resistance, IPX4 means an item can take serious splashing, but is not meant for submersion or being exposed to pouring water. With the weather we have up here in New England rain can pass beyond splashing into pouring at times so while I don't want to do destructive testing, I do wonder about how it will hold up if used in a downpour.
The final negative point to be made about the A-120 is the lack of a lock out mechanism. In several months of use on many multi night excursions I have only had the lamp turn on once by accident inside a pack. Still that is enough to demonstrate it is possible and that is enough to raise some concern. The fact that it was only once is good, but I'm left wondering if I should carry an extra set of batteries on trips that don't really require them just to be safe.
On the positive side of my experience I found this headlamp to be really comfortable, which is not something I think I've ever said about a headlamp before. The neoprene strap stretches while staying in place so the head doesn't feel bound, but the lamp does not move around. The added neoprene pad is a great touch, so there was no forehead abrasion and in rain or when sweating the lamp didn't slide around.
It is a really bright LED when fully cranked up and the warning about not looking at it directly should be heeded. I know that because I blinded myself one time with it and was seeing spots for at least ten minutes after. Thankfully the tilt mechanism works really well, holding the lamp in the position you set it it so there's no excuse for not pointing it down a bit to avoid blinding your companions.
Battery life seemed long enough to me considering the testing was done at full light output and some of it was in cold temperatures. With over 30 hours of high intensity light I'd feel comfortable doing multiple nights of hiking and still expect to have enough power for some camp use if such was ever required. Used as I normally would around camp or reading in my tent I'd expect and have gotten many trips out of a set of batteries spread over the last four months.
Over all I'd say I'm a fan of what UCO has done here in terms of comfort and function. I'm left wanting a little more so I can't rate the A-120 with a full five stars, but I'd have no problem recommending it to just about anyone after pointing out the potential negative issues. Those who are active at night and need high intensity light for long periods will find this headlamp useful on both accounts. It fits comfortably enough to wear for hours at a time and despite putting out really good light doesn't soak up the batteries on just one all nighter.
Personally I found the A-120 really nice as a reading light in my tent. Winter nights are long and I love to read trail guides and other books to pass some time before putting down my eye flaps. Not worrying that I'd use up my batteries let me read for hours every night even though the lamp was bright enough to avoid any eye strain.
UCO has a wide array of interesting candle lanterns and other products, but just makes two headlamps; the A-120 and the A-45 which I tested and reviewed separately with a focus on its use as a child's headlamp. I like some of their design ideas and I'm hoping they continue to work on this line of headlamps.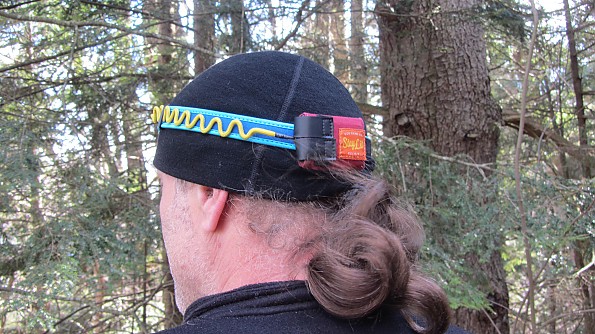 View of the battery pack rotated fully to the rear.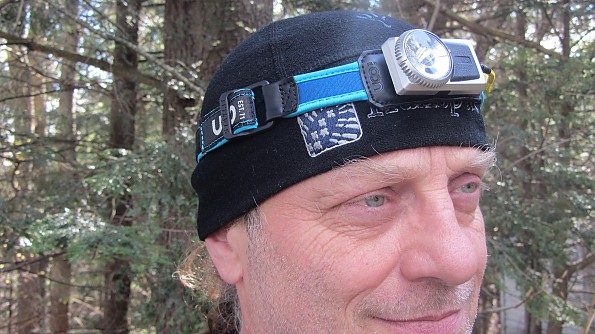 Adjusted as wide as possible it stretches over my giant head and the ibex Meru beanie, but it just isn't going to work with my Mad Bomber.
Source: received for testing via the Trailspace Review Corps (Sample provided by UCO for testing and review)

UCO has created a nice, decent headlamp. The Cree LED lighting is quite bright. The "Infinity Dial" is an excellent innovation. The drawbacks in this headlamp have kept me from loving it as much as other lights I have used over the years.
Pros
Adjustable lighting
Cree XP-E LED is quite bright
Red LED is actually usable
Long battery life (I have yet to replace them.)
Battery pack can be moved for comfort
AAA batteries are easy to find and cheap to replace
Cons
Several marketing claims fall short.
Neoprene strap stiff and not very comfortable.
Limited water resistance
No lock out switch
I received the A-120 as part of a prize package for being the May 2106 Reviewer of the Month. The light was tested on several overnight trips since that time. It was also tested once on an early morning run, when my regular running light could not be found (rotten kids!). While most of my headlamp reviews include testing in caves, the A-120 is clearly not built for caving and was not tested for that use. 
Pictured below is the A-120. The light unit in the front is connected to the battery pack in the back via the yellow cord (running to the right of the head strap). With the batteries, the unit weighed in at 3.5oz (99g).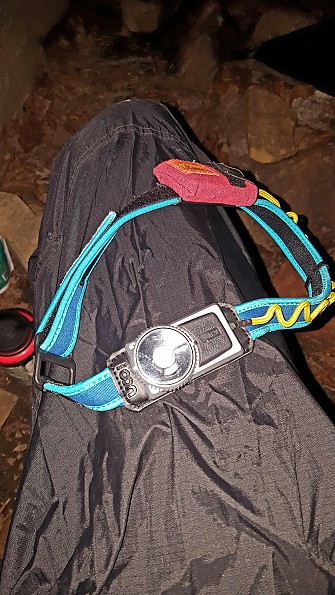 And here is the unit being worn.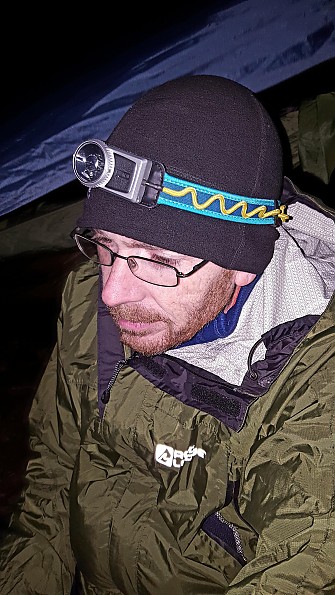 THE GOOD STUFF
COOL FEATURE #1: Adjustable battery pack
Although the battery pack is meant to sit at the back of the head, a really nice feature is that it can slide along the neoprene strap to the side of the head. Below is a picture of me lying back in my hammock while reading a book.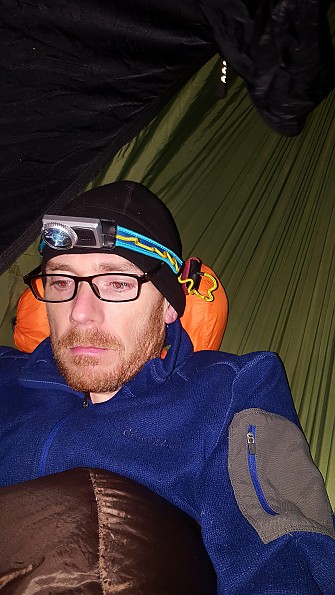 COOL FEATURE #2: The Infinity Dial
The round part of the head lamp is called an "Infinity Dial." With it, the headlamp can be quickly dialed to the brightness you prefer. There is no need to cycle through a limited number of pre-set levels. This is definitely the best feature of this lamp, and certainly outperforms the competition in this regard.  
Pictured below is the brightest setting (120 Lumens) shining on my tarp as I lie in my hammock.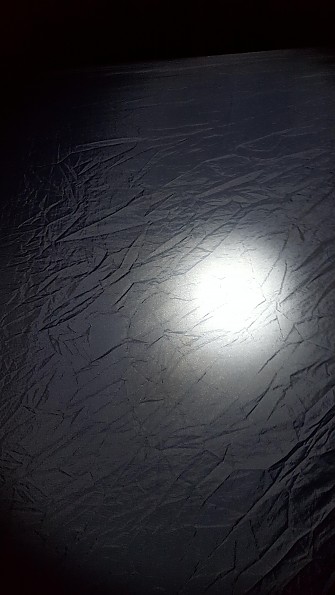 Here is the lowest setting taken from the same position. It is bright enough to read by or dig around in a stuff sack.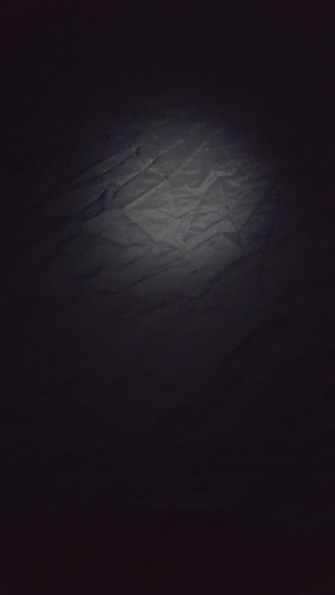 And here is the A-120 on its brightest setting as I walked to a stream to get water. The lamp is certainly bright enough to hike by. I'm not a fan of the "hot spot" the light throws out, preferring a more evenly diffused lighting. But that is a subjective opinion.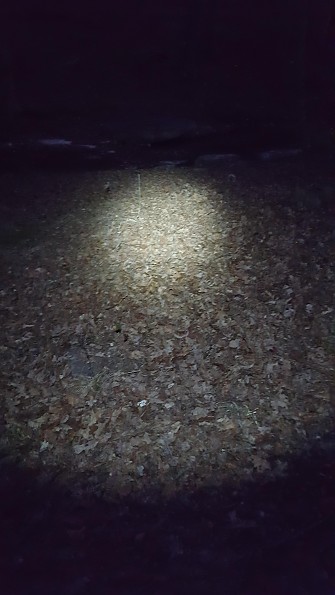 COOL FEATURE #3: The red light
In addition to the adjustable lumens, the dial can be turned to a non-adjustable red setting. I have used lights where the red lamp is basically a useless feature. As seen below, this is bright enough to write in my hiking journal at the end of a long day.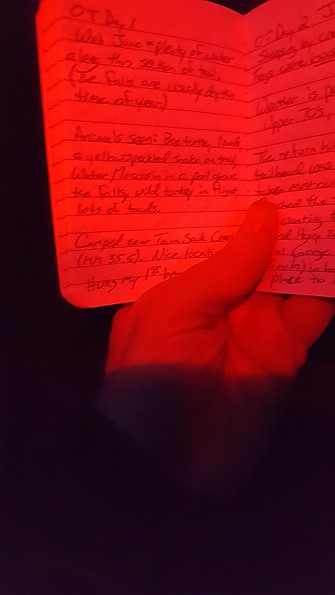 THE NOT-SO-GOOD STUFF
Con #1: Without a lock out on the Infinity Switch the light can come on unexpectedly. The very first time I threw it into my pack, I noticed it had come on. I grabbed my phone and snapped a picture of it (below). I will note that this has been the only time that occurred. 
UCO's marketing department has this to say about the headband:
Say, "hey there!" to a comfortable, lightweight headlamp so easy to wear that you'll forget you're sporting a light on your head. UCO'S A-120 headlamp is streamlined and simple: no bulky, hard hinges to irritate your head; a soft, adjustable neoprene strap for a comfortable custom fit...
and this:
No more painful elastic straps. UCO's Comfort-Fit Headlamp's soft neoprene strap with hook/loop closure easily adjusts to fit your head, with or without a hat.
and this:
The headlamp strap is soft, flexible neoprene. It is extremely lightweight, comfortable and easy on your skin.
Except this is really not what I experienced with this light. I found the headband to be far less comfortable than a traditional elastic strap. I found that if I wanted to switch from a beanie to my bare head, I needed to take more time to readjust it than with a traditional strap. 
I also found this headband to be stiff and always noticeable on my head. The picture below best demonstrates my point. When I'm in my hammock, I usually girth hitch my headlight to my hammock's ridge line to cast more light around me. Trying to girth hitch the A-120 shows just how stiff the headband truly is: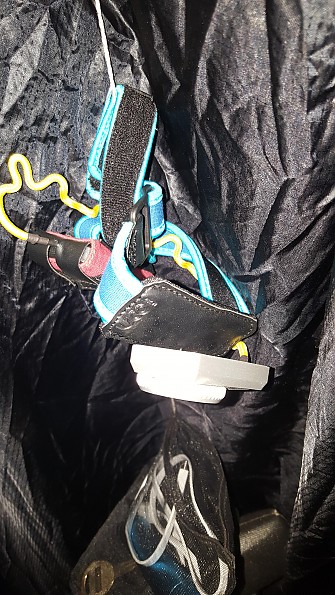 Con #3: Another marketing claim
Say goodbye to bulky, front-heavy headlamps that never fit or feel quite right. Say, "hey there!" to a comfortable, lightweight headlamp so easy to wear that you'll forget you're sporting a light on your head. 
After one of my kids misplaced my running light, I grabbed the A-120 for a pre-dawn 10K run. I will not do that again! It bounced. It felt weighty. It was very uncomfortable. I finished the run holding the lamp in one of my hands. 
Now, I realize this is not marketed as a running light. However, those "bulky, front-heavy headlamps" with the elastic straps feel much better. If you are going to disparage the competition, make sure you can back it up.
Con #4: Water Resistance
UCO claims a IPX 4 resistance to water. Looking at the IPX Ratings, this amounts to a few minutes of light rain. This is not the lamp you want in a spring storm.
Final Word
I have had this headlamp for roughly ten months and have used it often. Just last week I spent six nights on the Ozark Trail in Missouri. As I packed for the trip, I picked up this lamp and another unit. Weight and battery life were comparable. The other lamp only offered a high and low setting. Still, I took the other lamp. As much as I like the "Infinity Dial" the decision came down to which headband was more comfortable and easier to adjust. 
Source: received it as a sample, freebie, or prize (Trailspace Reviewer of the Month prize)

This is a very basic but good headlamp that has a little bit of a funky look and feel to it, but does the job and is very simple to use.
Pros
Extremely simple to operate
Simple and useful brightness adjustment
Comfortable headband
Funky colors and design
Cons
No way to lock out the on switch to prevent from being turned on in your pack.
Not as easy to attach to a climbing helmet as elastic band based headlamps
Let me first say that I received this headlamp as a gift for being a past Reviewer of the Month here at Trailspace.
I almost didn't write a review of this headlamp as there are already two excellent reviews that cover the design of this headlamp in great detail, but in the end I thought I would provide a brief review and share my thoughts on a couple of points that differentiate this headlamp from others currently available.
First off, from my perspective this is kind of a funky and different design that I have really grown to like in the six months I have owned it. The colors and materials UCO utilized in the UCO-A120 headlamp are very different when compared to most other headlamps currently being sold today, but I personally have found very appealing.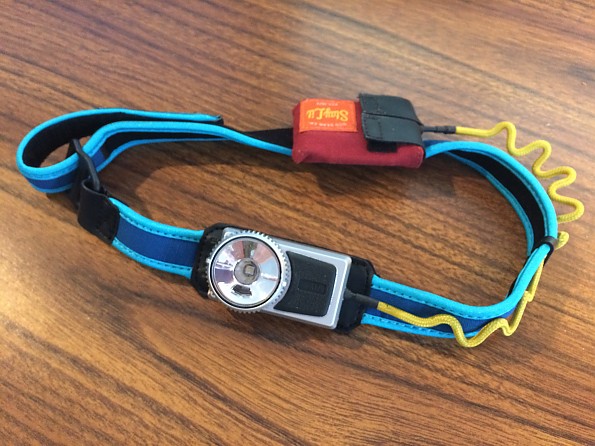 One of the first differences most people will notice is that the UCO-A120 does not use an elastic band, but instead uses a sewn band made from soft cushioning materials that don't have a lot of stretch. When I adjusted the headband on this headlamp, I adjusted it to fit like a baseball cap, which I have found to be much more comfortable for long periods of time compared to a standard headlamp with an elastic strap.
I also like that the headlamp and battery compartment are separate as I find having the weight of the headlamp distributed between the front and back of my head more comfortable then having it all concentrated to the front where many headlamps integrate the batteries in the the main lamp housing.
Another real nice feature of the UCO-A120 is the extremely simple way you operate the lamp. To turn on the headlamp you simply rotate the rim of the lens of the headlamp in the clockwise direction and the further you rotate the lens the brighter the light will be.
The headlamp also has a red light available and that is turned on by simply rotating the rim of the lens in the counter clockwise direction. The red light has just has an on/off mode. The simplicity of this design is really great in my mind and is in a lot of ways much better then other headlamps I own from the bigger headlamp manufactures (Petzl and Black Diamond) that operate by pushing buttons to turn the headlamp on and off and to get to more modes then you'll every use or need, and at times drive me nuts as I just keep pushing buttons until I finally get in the right mode.
Shortly after I received this headlamp I had to do some work in the crawlspace under my house that was going to take several days and this became my headlamp of choice because it was so comfortable to wear and easy to operate when I was working under my house for six hours at a time.
The one real downfall of the UCO-A120 headlamp design that will keep it out of my pack is the lack of a lock-out switch or function. For any headlamp I would take in my pack I need to know that it won't get accidentally turned on and then when I really need to use it, find it dead. While I always carry spare batteries, it just not worth the risk of having the headlamp get turned on while its ridding around in your pack.
The other negative feature about this design is if you wear a climbing helmet. The thick head band used in this design, while comfortable, doesn't fit well into the features that exist on the climbing helmets I own compared to the elastic bands used on most other headlamp designs.
Overall, while I wouldn't recommend this headlamp to someone who would be carrying this in their pack for several days due to the lack of a lock-out feature, I wouldn't hesitate to recommend the UCO-A120 headlamp to anyone looking for a very simple to operate headlamp, with a nice adjustable brightness feature, and that is comfortable to wear for extended periods.
The UCO-A120 will be my go-to headlamp when I am working around the house or on my car as I like the design and find it the most comfortable of all my headlamps to wear.
Source: received it as a sample, freebie, or prize (Trailspace Reviewer of the Month prize)

You May Like
Recently on Trailspace