Black Diamond Storm

Top 25 in Headlamps
The Storm has been discontinued. It was replaced by the Black Diamond Storm 450.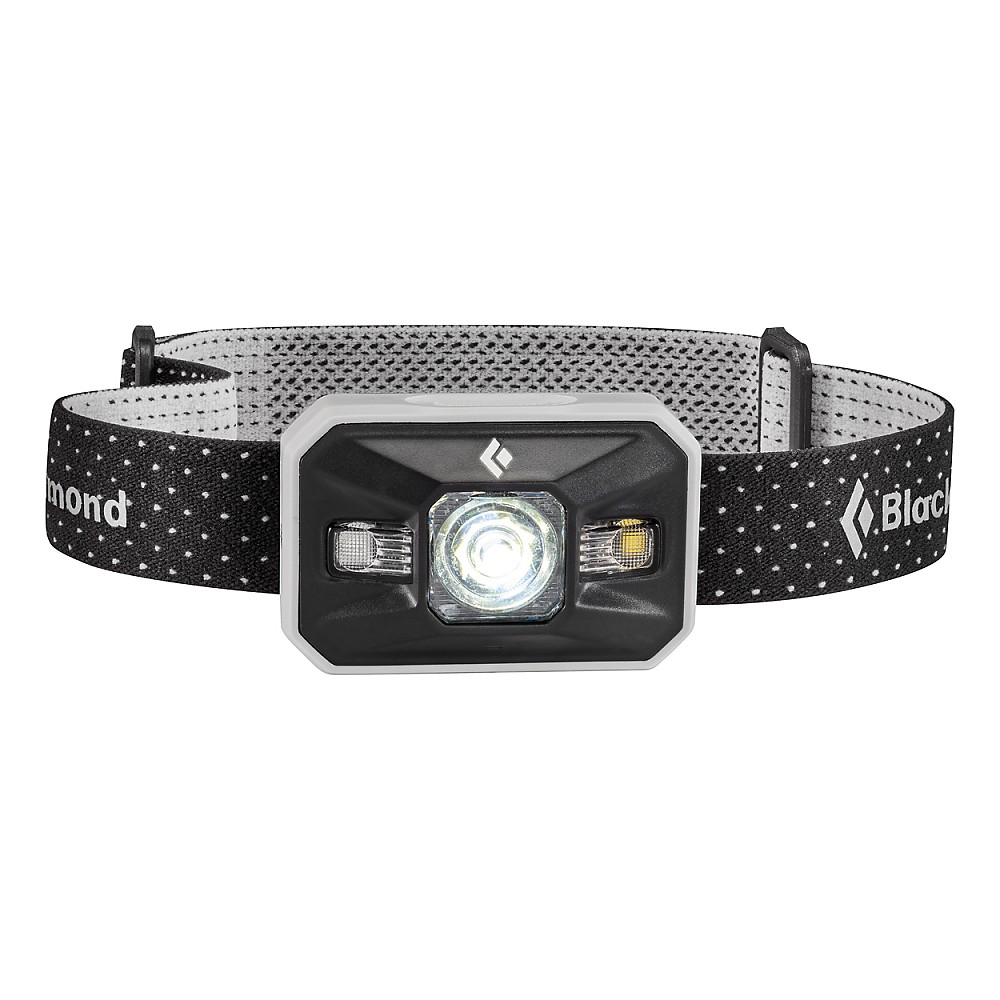 The Black Diamond Storm headlamp is a waterproof, medium sized lamp that is loaded with features: High power, waterproof, dimmable, lockable, and touch sensitive.
Pros
Waterproof
Dimmable
PowerTap feature
Powerful output
Cons
Uses 4 AAA batteries
Can be confusing
At first glance, the Black Diamond Storm headlamp looks pretty much like any other lamp available on the market, but upon further inspection, you'll notice it has a couple of interesting features not yet available on many other lamps.
The Storm is rated at a whopping 160 lumens on full power, with the capability to throw a beam 70 meters (230 feet) with a burn time of 70 minutes. On low power, its output drops to 4 lumens, casting a beam out to three meters (10 feet) and a burn time of 200 hours.

The Storm has three sets of lamps, a main central spot, two small white LEDs, and two small red LEDs. The central spot is used when you need those 160 lumens, such as hiking at night, trying to find that belay point, or like I did, exploring abandoned gold mines in Death Valley National Park. On high power, the Storm really lights up the night.
The two small, white LEDs are perfect around camp or in your tent where you don't need full power. The two red LEDs are great for night time photography when you don't want to ruin your night vision, or, perhaps, when you are crammed into an Appalachian Trail community trail hut and don't want to disturb fellow hikers.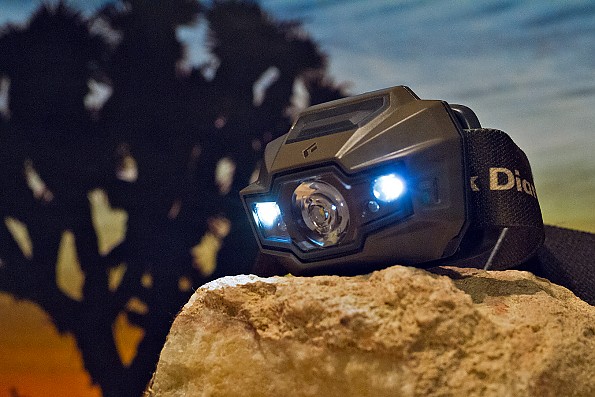 The two outer small, white LED lamps
All three sets of lamps are dimmable, simply by holding down the single button located on top of the lamp. And it's here that one of those new features really comes into play.
The Black Diamond Storm has the ability to switch from full power to any preselected dimmed position with the touch of a finger. It's called "PowerTap." Simply touch a factory determined spot on the right side of the headlamp with your finger and the lamp will switch back and forth from bright to dim.
It works great, though I did find myself fiddling around looking for the exact spot. I was surprised to notice that this feature even works through thin gloves, such as liners. It did not, however, work through heavy winter gloves or gloves that had a lot of extra room in the fingers. Still, I found this feature quite handy when I needed a bit more light for a few moments.
Another nice feature of the Storm is the ability to lock it in the off position, which will keep it from accidently turning on while it stuffed in your backpack.  With the lamp turned off, hold the power button down for six seconds. A blue lamp, located on the left side will flash.
Located in the same spot as the lock lamp is the battery meter lamp. When the Storm is turned on the small light will glow green, orange, or red for three seconds, depending on battery life.
The Storm is also completely waterproof to IPX7 standards to a depth of one meter for 30 minutes. While I didn't test this, I did do a bathroom sink test for about 15 minutes with no ill effects.
All-in-all, I found the Black Diamond Storm headlamp to be one of the best headlamps I've used. While it's not the lightest headlamp I own — it weighs 4.2 ounces / 118 grams with four AAA batteries installed — it doesn't feel heavy on my head.
The battery life is pretty good, especially if using the dimmer and/or the smaller LEDs. In fact, using the headlamp extensively in Death Valley for a week of mine exploration and camping, I noticed no discernibly reduction in light output. I did find the power button a bit stiff and cycling through the modes confusing at first, but I quickly learned the sequence and had no further issues.
The Storm would be a great all-round headlamp for anyone — backpackers, bikers, campers, thru-hikers — needing a reliable, well built headlamp.
Source: received for testing via the Trailspace Review Corps (Sample provided by Black Diamond for testing and review)

A waterproof, lightweight headlamp that you can easily bring with you on any adventure.
Pros
Waterproof
Multiple lighting options, including night vision
Power meter
Lightweight
Cons
Uses 4 AAA batteries
Short battery life when used on max power
I presently live in a cabin off the grid with no consistent source of electric, so this headlamp gets a lot of use indoors and out! I've enjoyed the sleek, lightweight design, as I'm able to carry it with me wherever I go. I also appreciate the variety of lighting options: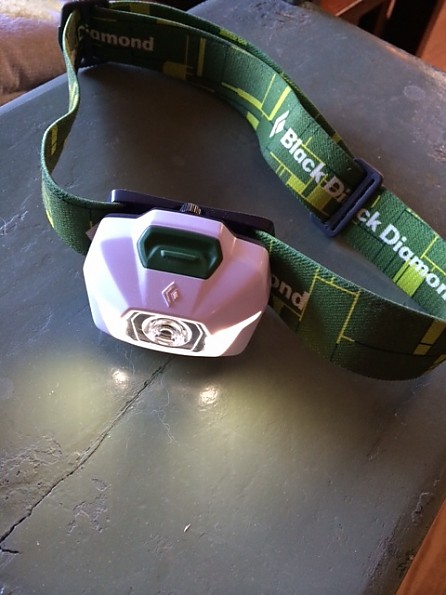 Proximity lighting from 2 SinglePower LEDs
Distance lighting from 1 TriplePower LED
Night vision from 2 SinglePower red LEDs

I love being able to switch between lighting depending upon my activity. There is a dimming option as well, which improves battery life. The one downfall I have found is that the Storm uses 4 AAA batteries. As I use this headlamp quite often, I tend to go through batteries pretty quickly unless I'm careful to use the dimmer when I can. However, the power meter is a nice feature. It lets you know what your remaining battery life is so that you can plan ahead and avoid being suddenly stuck in the dark. 
I bought the Storm this winter, and therefore haven't had the opportunity to use it in the water. However, I'm really looking forward to taking advantage of the waterproof feature for kayaking and paddle boarding this summer. Moonlit paddles without the risk of not being seen by boaters will be all the more relaxing!
With 100 lumen output, the Storm generally provides sufficient lighting. There are certainly brighter options out there, but they are likely to be larger and more expensive. For some reason, the strap has a tendency to stretch out when I wear it for long periods of time. This may be operator error. However, if you plan to use it on longer excursions, you may want to test it out to be sure the strap is fitting securely. 
Overall, this is a headlamp that has worked well for multiple uses ranging from lighting the pages of a book to illuminating a hiking trail at night. 
Source: bought it new
Price Paid: $50

A really good headlamp, but don't forget your patience...
Pros
Floodlight
Dimmable
Affordable
Bright spot
Waterproof
Colored floods
Cons
Difficult to use
Tap function awkward
Instructions will drive you mad
See number one above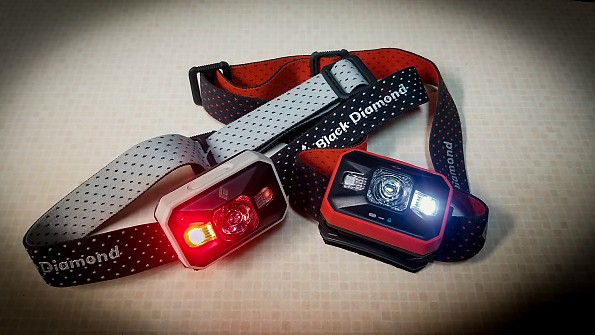 I purchased one of these headlamps brand new about a year and a half ago and received a second one as part of a prize package about two months later.  I liked the one I already had enough that I kept the second one as a backup and for loaning to that one person at the campsite with the most annoyingly bright headlamp. They both have similar time on them so this review covers them both as I have found no differences between them.
Black Diamond is a global retailer dedicated to Skiing, Climbing, and Hiking. They sell their own brand of apparel, hardware, tents, etc. to help make your adventure enjoyable and successful. 
The Storm was originally available as a 160 lumen headlight. That model is no longer available. This review is for the Storm 350 which is still available.  There are also two other current models, the Storm 375 and the Storm 400.  
The Storm 350 uses four readily available AAA batteries. It came with Duracells and they perform well, though I do notice a marked reduction in full output after a couple hours of use. That said, for general purpose lighting around camp and walking around in the dark I rarely use it full on anyway.
It's not the smallest, lightest, or brightest. It's also not insanely expensive and is in fact quite a bargain. It comes in what I'd call a medium size and weight package and I find it compact, versatile and bright enough for my needs. The headband is easy to adjust and fairly comfortable. The light itself tilts using a stepped mount that works well and has continued to do so with extended use.  It's supposed to be waterproof and being an avid kayaker both of mine have been tested and I'm happy to report no problems in that regard. Though I haven't actually held them under; they have been dunked and doused.
So now that we've gotten through what it is, let's talk about what it does. First off, there are five different lights in there and all of them are dimmable. There is an indication in the form of a flash whenever you hit fully dim or full bright while dimming any of them. Whatever the setting was when it was last on, is retained when you turn it off, for the next time you turn it on. Finally, all of the lights except for the spotlight can be set to blink.
So that brings us to that spotlight. I find it throws a sufficient enough beam to easily make out detail 50 feet away. Way bright enough for me, your mileage may vary... like I said, I rarely use it that bright myself. At 50 feet the beam center is probably 9 feet across and the bleed another 7 or 8 on either side of that. So it's not going to replace your tactical flashlight but it's enough to see what that noise was over there.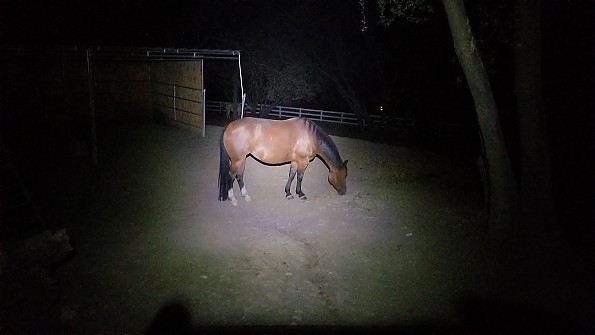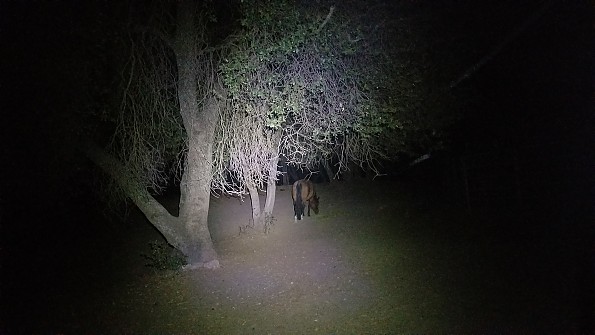 To one side of the spotlight is a flood light.  When working in the dark I find this light more useful than the spot. It throws a nice even light in your general area and this one too, I rarely use full bright. The flood and spot can also be turned on together if desired.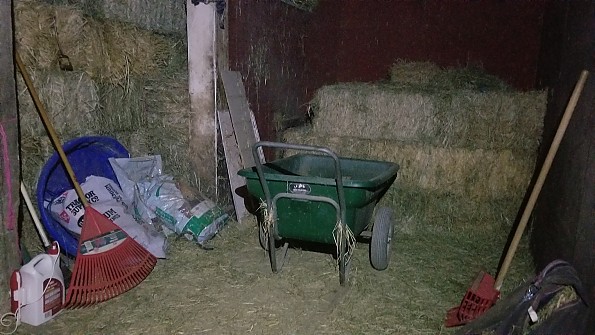 Finally to the other side of the spotlight is an RGB LED light. It functions as a flood and can be changed from red to green or blue. Red, set very low, is my favorite light for just living around camp as it doesn't blind my campmates or ruin my night vision. The blue and green are primarily for viewing topographical maps and they do enhance that experience. All three can be turned up brighter than almost anyone would ever need and you can only have one color on at any one time.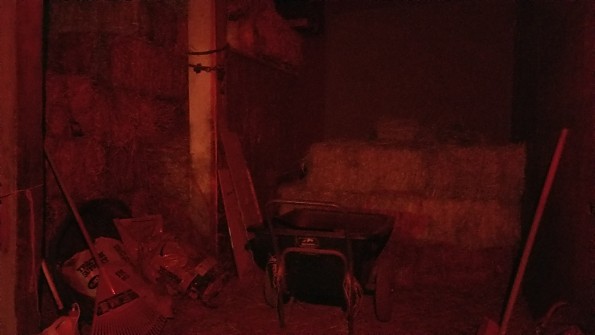 This thing seems awesome, so why only four stars? Because it's kind of a pain to use. If you can believe this.. it has only one button to control some 15 or 20 functions. Crazy. As you can imagine there's all kinds of combinations of clicks and holds to make this possible. Reading the instructions and trying to remember how it works is maddening. To add insult to injury you can lock it out so an accidental tap of the button doesn't turn it on and drain your battery while in storage; lots of fun figuring out how to get it to turn back on when you need it and it's locked ;-).  There is also a touch to full bright feature (on the side) that sometimes doesn't work when you want it to and sometimes does when you don't, so there's that too.
So now you're probably wondering why 4 stars and not like 2. Well, in reality you can usually get it to do what you want pretty quick by just fidgeting with it, so no need to memorize all those instructions. Initially I brought the instructions along with me but found I didn't really need them. Two buttons; one to toggle between lights and another to dim / toggle between the functions could solve everything, but it is what it is. I don't find it all that big a deal, but it is definitely  worth deducting a star over. Some that I've loaned it to were completely frustrated by it and others were more like me. Take it for what's it's worth, you obviously know yourself better than I do, since I don't know you at all.
So in the end, this is a feature rich headlight at a fantastic price point that's probably brighter than most people will ever need. Both of mine have proven to be quite durable albeit a little difficult to use. I use them as a work light, a camp light, an astronomy light, and a nighttime photography light. I'm sure some of you can fine even more uses for this versatile little headlamp; just be sure to bring along your patience.
Experience
I'm just a guy who loves the outdoors. Light hiking, long distance kayaking, kayak camping, camping in general, and just being outside. I also tend to do my own repairs and these lights have come in handy for that as well on many occasions.
Source: bought it new
Price Paid: $40

Very nice and bright light with a great deal of control over light output. The brightness and variety of functions this light has makes it well worth the extra weight.
Pros
Bright Triple Power LED
2 Red LED Lights
Adjustable Triple Power and Single Power White LEDs
Waterproof
Lockable Power Switch
Low Battery Indicator
Large On/Off Switch
Plastic adjustment clip on headband serves as screwdriver that opens and closes battery compartment
Cons
Heavy
Requires 4 AAA batteries
No adhesive mounting option for helmets
Among the headlamps designed for backpacking and climbing purposes this seems to be one of the brighter ones that I have tried. Black Diamond claims that it has an output of up to 100 lumens and a range of up to 70 meters and I have no reason to doubt these claims.
This headlamp has three different styles of lights, most of which have multiple functions and an adjustable output.  The style of lights are as follows:
1 Triple Power White LED: Adjustable light output
2 Single Power White LEDs: Adjustable light output, flashing mode

2 Single Power Red LEDs

The light output on the triple power LED is amazing; I have been able to easily spot trail blazes on trees that have probably been well over 50 meters away. This light is located in the center of the headlamp and has a lens that creates a focused beam.
The triple power LED is the first light that comes on when headlamp is turned on (unless it was previously turned off when the red LEDs were the last lights to be used, then the red LEDs turn on first). The triple LED's light output can be adjusted by holding down the on/off switch; this slowly dims the light, allowing you do pick the exact amount of brightness that you desire.
Increasing the light output is done in the same manner by continuing to press the on/off switch—the light will decrease to its lowest output and then will begin to gradually increase its output.
The two single power white LEDs create a good deal of diffuse light that is great doing chores around camp, setting up a tent in the dark, or illuminating a trail for nighttime hiking. These two white single power LEDs are the second light that is cycled to when the on/off button is pressed. Like the triple power LED, the two white single power LEDs have an adjustable output. Additionally they have a blinking mode that is activated when the on/off switch is quickly double tapped when the single power white LEDs are already on.
Finally there are two single power red LEDs that are the third and final light that can be cycled to by pressing the on/off switch. These red LEDs provide a diffuse light and do not have an adjustable light output; however, they do have a blinking mode that can be activated in the same manner as the blinking mode for the single power white LEDs.
This light is very easy to operate, even with gloved cold hands. There is only one button that operates the entire headlamp, and it is large and easy to access. One of the best features on this light is that it can be locked in the off mode by simply holding down the on/off switch. This prevents the light from accidentally turning on in your pack.
The only minor drawback is that it is sometimes hard to get the light to switch into the blinking modes because the double-clicking the on/off switch needs to be pretty fast.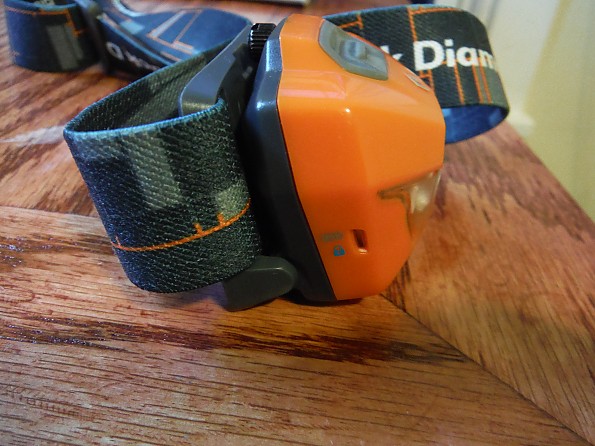 The headlamp has a single headband that is very adjustable. It is large enough to fit around a bike or climbing helmet. The one thing that I wish Black Diamond would do with their headlamps would be to provide a helmet mount that could be used to attach the headlamp to a helmet without the use of the headband, similar to the adhesive mounts that Petzl makes for some of its headlamps (e.g., Petzl Tikka 2 Adapt Kit).
I frequently commute on a bike at night and attach this lamp to my bike helmet (Giro Surface) using the elastic headband, but an adhesive mount would be much more secure.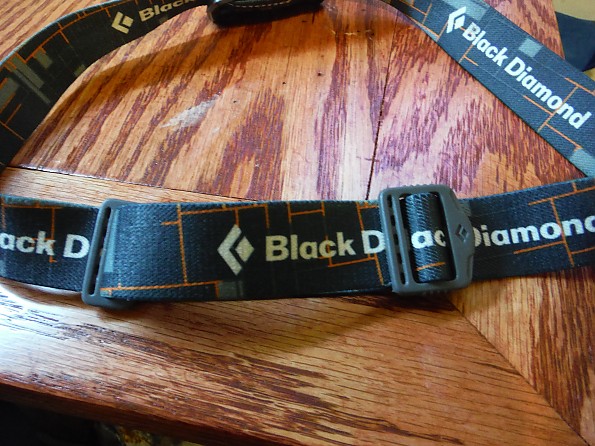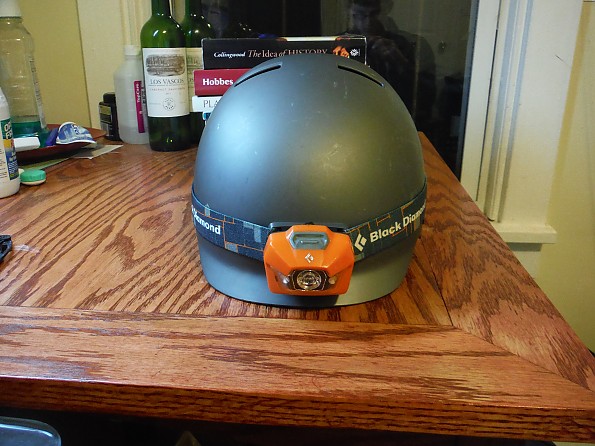 The headlamp's angle can be adjusted down a considerable amount via a hinged connection that is very similar to Petzl Tikka models. However, it does not allow for as wide a range of angle adjustments as lights like Princeton Tec's Byte headlamp.

This headlamp is well built and I expect it to last a long time. The plastics used in this headlamp feel solid and the waterproof housing looks like it will keep water out even after extended use. There are no obvious areas for water to leak through and the opening to the battery compartment is sealed with a gasket and held securely shut with a screw that can be tightened and loosened with the end of the plastic clip on the headband.
I have used it in heavy downpours while hiking and biking and it not failed. This headlamp is much more durable than the last headlamp I owned (Princeton Tec's Byte), which failed on me after a few weekend backpacking trips.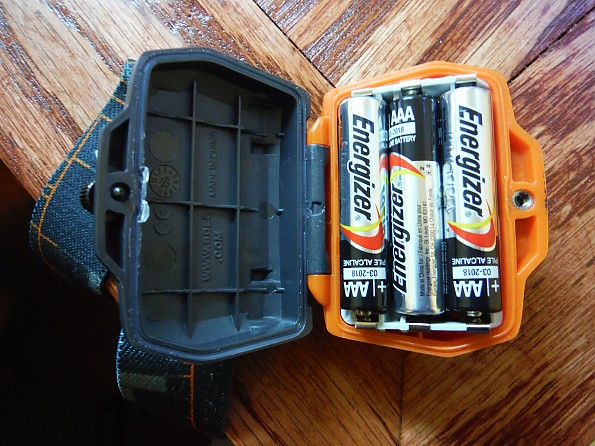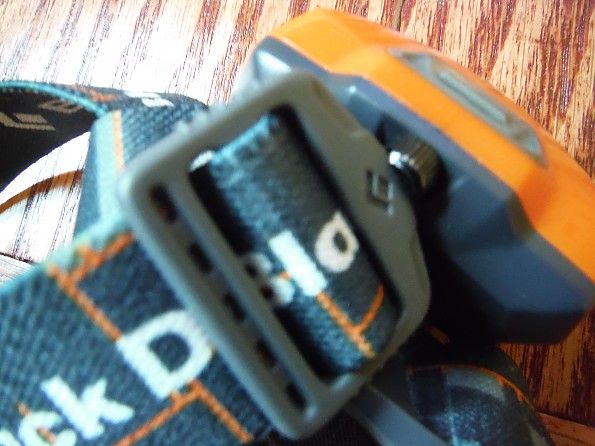 Given the variety of different lights and adjustable outputs this headlamp has, it is well suited for a variety of activities. It is great for nighttime hiking and backpacking because of its ability to illuminate trails and identify distant trail markings.
It's also great for mounting on a bike helmet—if possible—to be used to make yourself more visible on the road and to help supplement other bike lights. If this headlamp is to be used for biking, I would recommend using additional lights mounted to your bike for enhanced visibility of the road surface.
Source: bought it new
Price Paid: $50

Nice quality, very bright, and well made. This is a great light that's a bit on the heavy side but has a good burn time. Controls aren't very intuitive, but easy enough to figure out with some time.
Pros
Brightness
Build quality
Long burn time
Cons
Heavy
Overly complicated controls
This is a review for the newest version of the Black Diamond Storm, purchased in spring 2017. I was looking for a heavy duty light that uses commonly available batteries, throws a bright beam, and has a long battery life. This fits the bill.
It's fairly heavy. I have a much smaller and lighter headlamp that works well for small tasks around camp, but the Black Diamond Storm is bright enough to use as a supplemental light to my bike light for nighttime mountain biking. I use a generic bike light from ebay or, for commuting, I'll sometimes use my Cygolite Metro.
Here's my Storm in the bag I store it in, and out of the bag. This gets thrown in a stuff sack with some other essentials, like a first aid kit and lighter.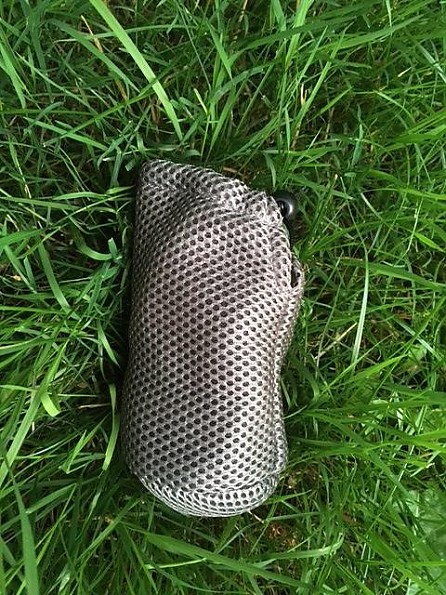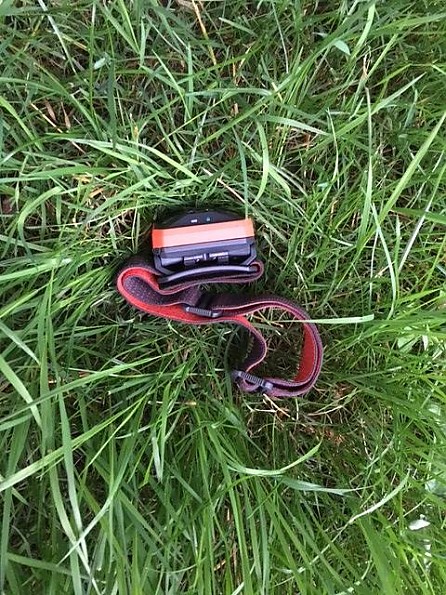 I like that it has red and green LEDs in addition to the white. Comfort is adequate, but not as good as a lamp that weighs half as much simply due to the tightness required in the band to keep this heavy light secured to your forehead.  Here it is on my head.  Plenty comfy, but heavier and more noticeable than my old Petzl Zipka.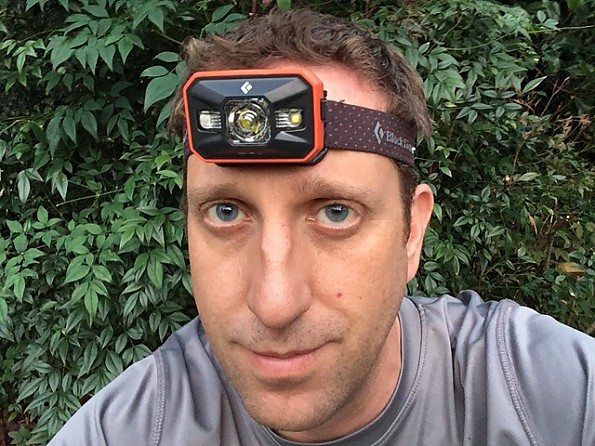 The controls really are much more complicated than they need to be. I'd prefer a simple on/off switch with another that cycles through the modes. But this has multiple functions in two controls. One is a silicon covered switch that does different things depending on if you press it once or if you double press it, or how long you press it. There's also another switch on the side that controls brightness.
I think this works off electrostatic charge or something like that (like a touch lamp that turns on or off when you touch your finger anywhere on the metal base), so there's not "click" when you use it and it doesn't work with gloves. It also doesn't work very well even if you don't have gloves on.
I have had this lamp for about three months and I still just need to hit random buttons multiple times or for varying durations until, by luck, it does what I want it to. I've been stuck in red LED mode for three minutes before trying all kinds of combinations until I got lucky and the main light turned back on.
Overall, nice light. But you'll need patience to deal with the controls. It's well made, very bright when needed, and I'm confident it will last even through some rough handling and moisture.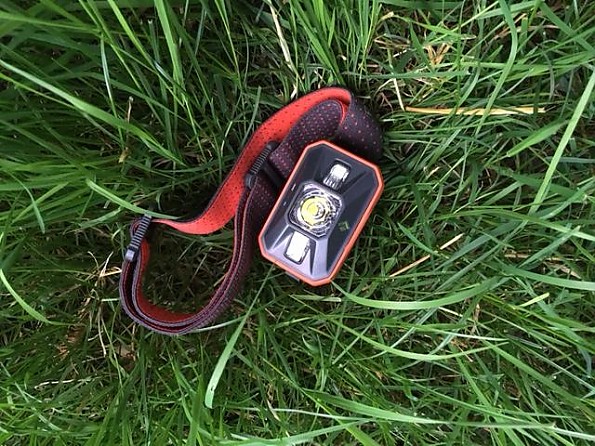 Source: bought it new
Price Paid: $38

A great balance of weight, brightness, and burn time.
Pros
Good balance of weight, brightness, and burn time
Range of colours
Equipped with "lock" to prevent accidental operation
Lots of functions
Good range of brightness
Dimmer with memory
One touch "powertap" returns it to full power setting
Cons
Functions take a bit of practice to activate
Four AAA batteries make it weigh a bit more than some other models
Takes a bit of practice to find the switch while wearing
BD seems to make a headlamp for everyone's taste and requirements. I'm very impressed with my Storm. The fact that it has a very bright lamp I can dim to any setting, and then have full bright with a touch, is a very helpful function.
Remembering how to activate the various settings might take a bit of practice.
Relatively lightweight considering the burn time, and good range of brightness. Happy it's waterproof, although I haven't tested that yet.
125-200 hr burn time is excellent
I haven't used it for bike riding yet, but for skiing and hiking it is more than bright enough.
Construction appears to be rock solid.
I find it to be a very good balance of weight brightness and burn time.
Source: bought it new
Price Paid: 65 CDN

Yup, this is the one I bought too.
Pros
The dimmer
Good price
Durable
Good strong light
Batteries are holding up nice
Easy to use the dimmer
Cons
Not sure. Further testing will tell.
At first i was going to buy a Petzl Tikka 2. Then the girls in the store told me that they all had this one. The dimmer is what sold them. So I thought, how could they be wrong.
And sure enough, they were right. The dimmer makes this lamp. And it's 30 dollars cheaper. It looks and feel durable and the batteries, I think there are 4, are holding up nicely.
Source: bought it new
Price Paid: 50 bucks

Good spot distance, variable output, solid retail pricing.
Pros
Variable output
Able to be locked from turning on
Comfortable headband
Cons
Flood is too dim
Uses 4 AAAs
I cannot complain about this headlamp. It's comfortable, offers the selection of its entire range of brightness in both spot and proximity modes, and has good coloration.
The ability to lock the headlamp from turning on — accomplished by holding the power button for several seconds — is a great plus. I believe in bringing extra batteries, but one should never go into their backup based on accident or stupidity.
The only drawbacks I've found are it being 4 AAAs, which is nitpicking, and having slightly too soft proximity lighting. That being said, the proximity lighting is usable for chores and cooking.
Source: bought it new
Price Paid: $50

Good all-around, all-weather choice.
Pros
Brightness
Good in all weather conditions
Cons
A bit pricey
Weight is not the "lightest" out there
Have used this headlamp for several years with no problems. Held up well to abuse. Put out good light, good range of options/modes including a fairly bright red output. Nicely sealed against wet weather. 
Source: bought it new
Price Paid: $40

Great headlamp for all things.
Pros
Adjustable beam
Bright
Sturdy
Durable
I bought this after many reviews of other headlamps and all I can say is this thing is a great piece of gear to have for any backpacker, hiker, camper, etc. I have used it on numerous backpacking trips and I must say that the red lights for night vision are great, didn't wake anyone at all....The main beam is so bright but you can turn it down so you don't kill the batteries since it does take four (comes with 4 though).
When I'm not using it for backpacking I just use it to read a book in my bed at night which the two led's turned down are perfect for. I think its a great product for [$] more from the Spot plus it's water resistant. What more could you ask for!
Source: bought it new
Price Paid: 34.99 USD

Best headlamp i've ever had.. super bright!!
Pros
Bright
Nice colors
Red light
Waterproof
This Black Diamond headlamp is really bright.. with 100 lumens you get what you buy.
Has a strobe mode, red light and a powerful distance illumination.
Source: bought via a "pro deal"
Price Paid: $35

This is a great all-weather headlamp with variable output, dual beam shape, and red-light function. Good for hiking and up-close work in camp or around the house. Also, good for a cycling light.
Pros
Variable output
Flash setting
Red light
IPX-7 rating
Spread or focused beam
Cons
Requires 4 batteries
No BD brand compatible rechargeable battery
I've used this lamp a few times and I love it! I started with the Black Diamond Spot (a solid lamp itself), but for $10 more, the Storm offers an IPX-7 (vs. IPX-4) rating and 100 lumens of output (vs. 90).
The Storm performs very well in all conditions. Even in 20 degrees and winter rain, the lamp stood up and stayed on (on my head and turned on). The precise variable output is a must for me now. The ability to go from long-distance spotting on night hikes to reading in the tent at night with the push-and-hold of a button is awesome, and something I won't be able to live without. The one-button design is easy to use and switching between modes only takes a push or hold of the button.
The lock-out feature (hold the button for 6 seconds) is also invaluable: I'll never have to open my stuff sack to find an illuminated and half-drained headlamp again! I've had the same set of AAA batteries in the lamp since purchasing it in fall 2011 with intermittent use since, and the output is still great.
The casing is plastic and seems pretty hefty, but I haven't been too rough on it yet, so no comment on the durability quite yet. The gasket-sealed battery casing is held shut with a small hand-tighten or flat-head screw and feels very secure. The screw receiver is plastic, so I am worried about the threading eventually stripping. The headband is elastic and comfortable so far and stays tight over hats, beanies, or directly on the head.
I have used the lamp for cycling to/from work at night in Dallas, and it performed wonderfully. I was able to rig it to the front of my bike using the strap and it was great!
Overall, it's a great headlamp that I would recommend to anyone looking for a good value, mid-high output lamp for all-weather use.
I purchased the lamp from Whole Earth Provision Co., where I work. This review is in no way affiliated with Whole Earth Provision Co. and my opinion of the product does not reflect that of Whole Earth Provision Co.
Source: bought it new
Price Paid: $50

Your Review
Where to Buy
Help support this site by making your next gear purchase through one of the links above. Click a link, buy what you need, and the seller will contribute a portion of the purchase price to support Trailspace's independent gear reviews.
You May Like
Specs
QuadPower LED
DoublePower LED
SinglePower LED
Price
MSRP: $49.95
Current Retail: $20.00-$22.50
Historic Range: $18.73-$49.99
Reviewers Paid: $34.99-$50.00

Weight With Batteries
110 g / 3.9 oz

Lumens
350

Max Distances
80 m
10 m
-
Max Burn Time
150 H
-
80 H
IPX Rating
67

LED Type
1 QuadPower, 2 DoublePower

Batteries
4 AAA

Recently on Trailspace