Congratulations to Mike Mineart of of Mill Creek, Wash., our newest Reviewer of the Month!
Mike is a hiker, climber, fly-fisherman, industrious DIY-er, and member of Snohomish County Volunteer Search and Rescue and Everett Mountain Rescue. Some of his outdoor gear Mike recently reviewed included his Patagonia Foamback Mountain Jacket, REI Dash 2 tent, REI Down Vest, and Sawyer MINI water filter.
Members like Mike are essential to the Trailspace community. In thanks for his contributions, he wins a 10 Essentials prize pack worth more than $300.
Mike, and every 2016 Reviewer of the Month, will receive examples of each of the 10 Essentials of outdoor gear, thanks to Adventure Medical Kits, Arc'teryx, Brunton, Good To-Go, Light My Fire, Mountaineers Books, Potable Aqua, Sawyer, The TentLab, UCO, and Ultimate Survival Technologies (check out the prizes below or see "The Year of Essential Outdoor Gear").
---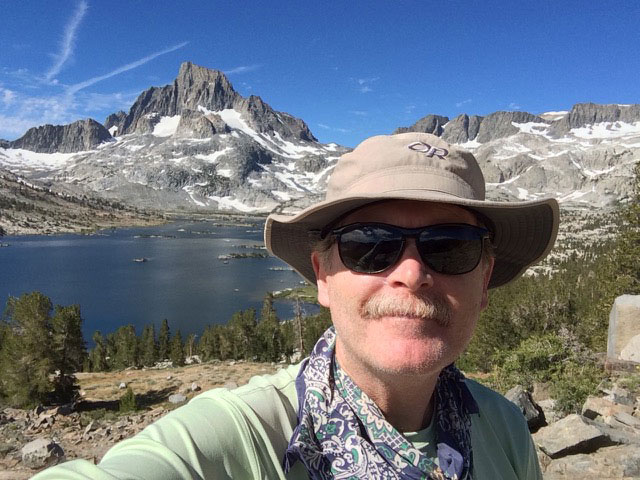 Please tell us a little about yourself.
I retired about a year and a half ago at the age of 57 after working for Boeing where I was a flight controls engineering manger. I now spend the majority of my time doing what I enjoy, which is a little bit of everything.
I get out hiking year round and also try to get a number of fly-fishing trips in each year in addition to spending a significant amount of time tinkering around in my shop and working on a variety of projects, including rebuilding several older motorcycles.
What do you like to do outdoors?
Currently I mostly enjoy doing day hikes in the Cascades in an area northeast of where I live known as the Mountain Loop Highway. Now that I am retired and have the time, I am also focused on doing longer backpacking trips down in the Sierras on the John Muir Trail, and I would also like to complete the Tahoe-Yosemite Trail.
I also enjoy getting out fly-fishing both in local creeks and out of state at places like Rock Creek in Montana and areas in northern California like the Fall River, Ash Creek, and a number of creeks down in the Yosemite region.
Describe your happiest moment outdoors.
While I enjoy all my time outdoors, I think my happiest moments outdoors will always be back in the '70s and early '80s when I was climbing and spending time in places like Camp 4 in Yosemite, Lovers Leap up near Lake Tahoe, and bouldering at Indian Rock in Berkeley.
It was a special time with respect to the simple atmosphere and easygoing people you would meet compared with the environment today where you have to deal with permits, traffic, crowded trailheads, etc.
Some of my happiest moments in more recent times have been while hiking down in the Sierras and fly-fishing in scenic areas like Rock Creek in Montana or on the Lyell fork down in Tuolumne Meadows.
Describe your ideal day outdoors.
I really enjoy my solo hikes down in the Sierras as the mixture of ideal weather, high alpine environment, and outstanding scenery can't be beat.
What would be your dream outdoor adventure?
I think it would be a big road trip through most of the western states with my wife where we could get in a number of hikes, see and visit several new areas, and get in some quality fly-fishing.
Who or what has been the biggest outdoor influence on your life?
I think it was growing up in the San Francisco Bay Area back in the '70s as backpacking and climbing were becoming very popular and most of the equipment was still being made locally by people involved with the sport. So it seemed much more like a community of people who really loved to climb and backpack, which is very different from the more commercialized environment we have today.
I also think there was a sense of adventure that has really stayed with me from the first few times I ventured into the backcountry with just a map and compass for navigation and no way to contact the outside world or starting up a climb where the only info you had was a few sentences from Steve Roper's climbing guide to Yosemite.
From a gear perspective I can still remember going down to the Sierra Designs store/factory where they sold fabric scraps and thread from their factory for next to nothing to people who wanted to make their own gear and buying fabric and designing and sewing my first tent.
I was able to dig up a photo of that tent I made back in the '70s. The photo below was from a camp we made on a climb of Mt. Hood in Oregon back in that same timeframe. The tent also has a fly and, while it's not clear in the picture, it has a tunnel entrance.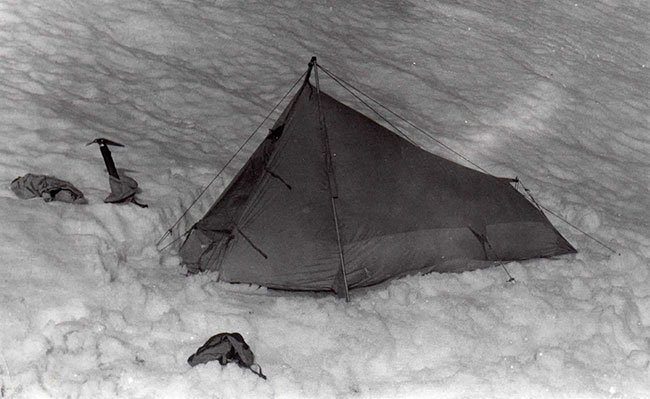 What's your most essential piece of outdoor gear? Why?
I think it's two items actually, my boots and my parka. Western Washington has one of the highest concentrations of outdoor activities compared to almost any other area in the U.S. (my opinion…), but for the majority of the year you need to accept that you're going to get wet and it will most likely be cold, so exposure is a concern and having good waterproof boots and a parka is important.
The hiking boot I wear most often is the Asolo Neutron Gore-Tex boot and I go through about a pair a year. The boots really do hold up in wet conditions and are available in wide widths, which I need, and the last of the Asolo boots have always fit my feet well.
For a parka I have an Arc'teryx Mountain Guide Jacket and an Outdoor Research parka that is several years old (I don't recall the model), but both parkas perform great in our wet climate.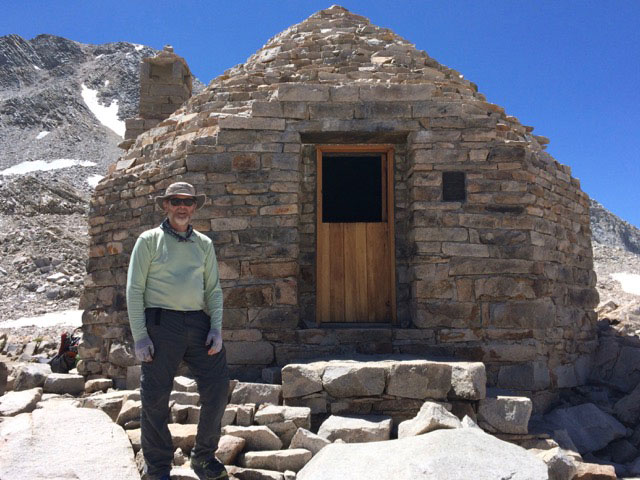 What's your favorite piece of outdoor gear? Why?
From a sentimental standpoint probably a lot of my older Chouinard climbing gear from when I first started climbing, due to all the great memories they bring back from way back when.
I pulled out some of my older Chouinard climbing gear (picture at right). While I don't get out climbing all that much anymore, I still have the larger hexes in the picture on my current rack that is composed of newer gear, and I still use the ice axe from time to time.
I also included at the top of the picture a pair of my old EB climbing shoes and, to the right of the shoes, my Forrest leg loops and Swami Belt, which was one of the very first sewn climbing harnesses available at the time.
In the center of the photo with the yellow webbing is a climbing cam I bought back in about 1973 called the "split cam" and it was manufactured by Lowe Alpine Systems and was one of the first cam type of devices available to climbers and proceeded Friends, which really kicked off the use of cams in climbing.
With my present gear I have grown to really like my inReach SE from Delorme. I initially picked it up so I would have a way to stay in touch with my wife when I was away on multi-day hikes, but I find that I bring it along now on almost every hike I go on and even when I go fishing on a creek that's back up at the end of some old logging road.
It's a nice feeling to know that when you are out of cell phone range that you have a reliable way to communicate with your family and also emergency services if required. I've had the device for about a year and plan on writing a review in the near future, but overall I am very happy with its performance.
Got any good, bad, funny, or epic gear stories?
Back in the '70s North Face used to have a small service entrance at their manufacturing facility in lower Berkeley where you could bring your North Face gear and they would replace broken zippers, patch holes in day packs that you hauled on climbs, and they would usually do it for free!
Well, they also offered a service where they would clean your down sleeping bags for a very nominal fee. I had a North Face Chamois down bag that I had been using for a couple of years that needed to be cleaned, so I brought it in and dropped it off.
I came back a week or so later to pick up my bag and when the girl went to get my sleeping bag she came back with one of their latest brand new down bags and started to apologize and told me the new bag was mine.
She explained that after they had cleaned my bag the loft was less then what it should have been and that the loft was guaranteed for life, so it was my lucky day.
I was happy to take the new bag and after talking to the girl for a few minutes the real story came out. The girl in question had plans for my old bag, which was still in great shape. Back then most people who worked at North Face, Sierra Designs, etc. were active in the outdoors and this girl had a trip planned where she needed an expedition weight down sleeping bag, so she was getting my old sleeping bag for free and she indicated she was planning on overstuffing it with down from the factory that she would also get for free.
It was a win-win for me and that girl and also most likely for North Face because I was a rock solid customer for a number of years after that exchange.
What's in your backpack right now?
My primary pack is a Gregory Stout 65 that I purchased from Sierra Trading Post and this time of year I keep it packed to support my wintertime search and rescue activities. My pack will have my Arc'teryx Mountain Guide Jacket, fleece, an older 2L Camelbak water bladder, North Face Gore-tex pants, Black Diamond Spot headlamp and Half Dome helmet, a fairly complete first aid kit, multiple pairs of gloves, a Patagonia Synchilla Alpine hat, food for two days, compass, the ten essentials, a tarp, a climbing harness, etc., but I basically have everything I may need to spend a night or two out in our local environment.
What's the best outdoor or gear advice you've been given or heard?
I think it has been to keep things as simple as you can, and that the most expensive gear really doesn't perform that much better than lower priced gear.
Can you tell us about your search and rescue roles?
I have been involved with Everett Mountain Rescue Unit (EMRU) and Snohomish County Volunteer Search and Rescue (SCVSAR) since 1993. Search and Rescue has been a very important part of my life and each organization I belong to is made up of a lot great people who volunteer a significant amount of time and effort helping people in need in the outdoors.
Western Washington is a wonderful area where within an hour's drive you can fish, hike, climb, ski, hunt, etc. year round to your heart's content. The easy access combined with a lot of hazardous terrain and a significant population results in a number of lost people and backcountry accidents.
EMRU and SCVSAR, working under the Snohomish County Sheriff, provide search and rescue services within Snohomish County where I live and elsewhere in the state when requested.
Due to my climbing background I joined EMRU in 1993 after moving to Washington from California and also joined SCVSAR with which EMRU is affiliated. I have been involved in a number of missions over the years looking for lost hikers and packing out people with injuries, and I spent about twelve years being a member of our helicopter rescue team.
I also have provided support on some more significant events, such as the Oso Landslide in 2014, and back in 2003, I and others from our organization, supported a FEMA request and spent time down in Texas providing navigation support to teams searching the backcountry of Texas for debris from the Space Shuttle Columbia disaster.
Being involved with search and rescue has been very fulfilling due to the people you help, but also due to the relationships developed with the other volunteers, and I would encourage others with outdoor backgrounds to become involved with their local search and rescue organizations.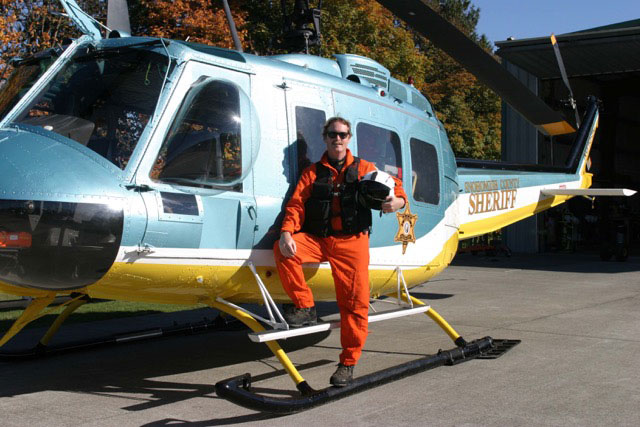 What's your favorite book?
I don't know if I have a favorite, but I have enjoyed reading the following:
What would Trailspace members be surprised to learn about you?
That I am really cheap. I will go to great lengths to avoid having to pay anyone to do anything, so I do all the work on our cars, I built the majority of our second home we have up on Camano Island, and I'll fix just about anything we own if it breaks.
I have always enjoyed working with my hands and tools and get great pleasure working on just about anything. Following along on the theme of being "cheap" I am also a follower of Mr. Money Mustache and would encourage others to check out his website.
I always enjoyed making gear and it may not have always been pretty, but it was functional and allowed me to have gear I wouldn't have been able to afford otherwise.
While digging some of my older Chouinard climbing gear out of the attic, I pulled down some of the other items I had also sewn at the time. Going clockwise around the picture below, starting from the left is a simple haul bag, a dark blue climbing pack (my favorite piece of gear that I made next to my tent), a pair of super gaiters, a belay seat, and a sleeping bag cover/bivi sack.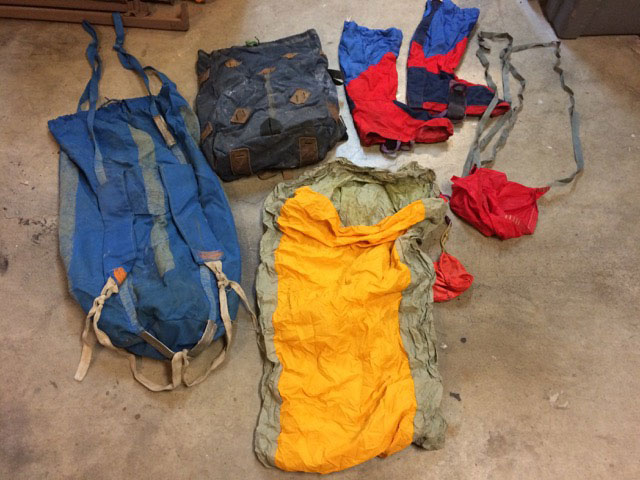 Going along with being cheap, I am also a pack rat and tend to never to throw anything away, which is why I still have all of this stuff, but they bring back a lot of good memories, so I probably won't ever get rid of them.
Anything else you'd like to share with the Trailspace community?
I would encourage everyone to get out and do the things you enjoy doing and not to put things off until another day. Time really does fly by as you get older!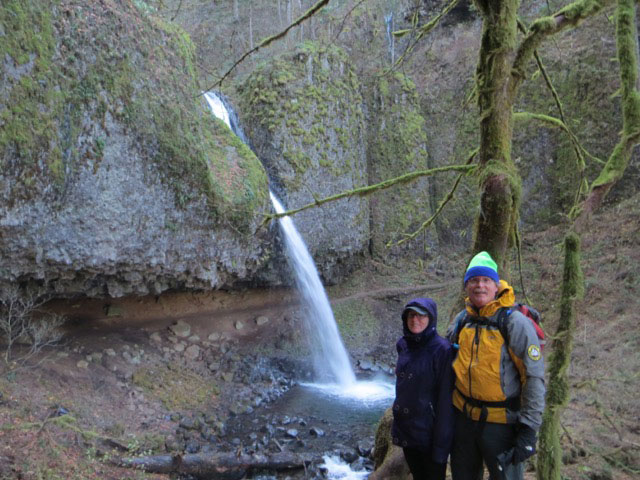 Wide Photo Captions Above:
Top: Mike at Thousand Island Lake during a hike on the John Muir Trail from Tuolumne Meadows to Red's Meadow this past July.
Tent: On Mt. Hood, 1970s tent Mike made with Sierra Designs materials.
Hut: Mike at the Muir Hut at Muir Pass on the John Muir Trail during a hike on the North Lake to South Lake loop trail this past August.
Helicopter: Mike around 2003 when he was a member of the helicopter response team in Snohomish County. ("our helicopter has been painted with new colors since then," he says).
Packs: Gear made by Mike, including a haul bag, dark blue climbing pack, pair of super gaiters, belay seat, and a sleeping bag cover/bivi sack.
Waterfall: Mike and his wife Michelle on a hike to Ponytail Falls in the Columbia Gorge east of Portland, Ore., in November of 2015.
---
The Year of Essential Gear
To celebrate the classic 10 Essentials of outdoor gear, we're giving all of our 2016 Reviewers of the Month, like Mike, the following prize pack ($300+ value). For more on the 10 Essential prizes read "The Year of Essential Outdoor Gear.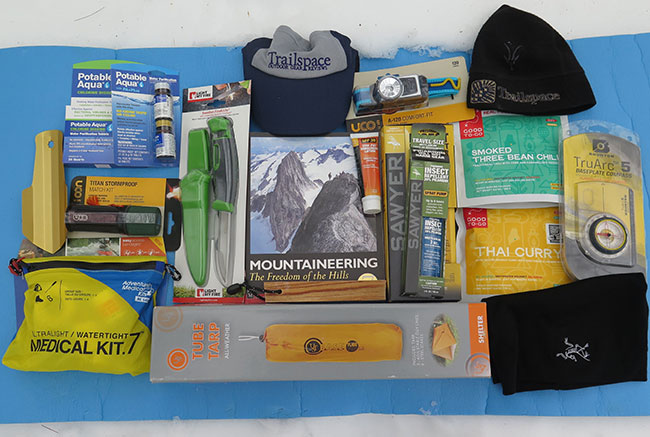 #1 Navigation


#2 Sun (and Bug) Protection


#3 Insulation

#4 Illumination


#5 First-Aid Supplies


#6 Fire

#7 Repair Kit and Tools

#8 Nutrition


#9 Hydration


#10 Emergency Shelter


#11 Know-How