Brunton TruArc 5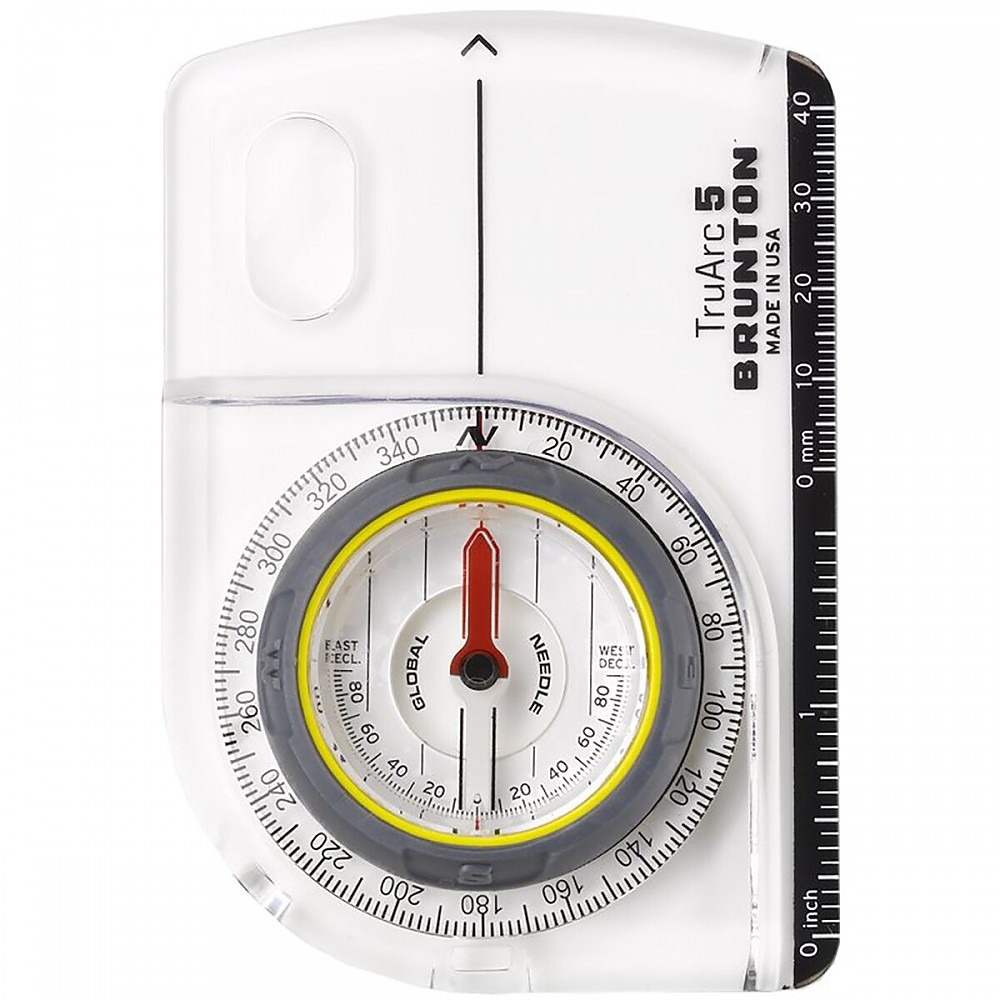 This is a nice well made compass with the basic set of features you should have if you intend to use it for navigation. I wouldn't hesitate to recommend this compass to anyone looking for a compass to use while backpacking, hunting, etc.
Pros
Quality construction
Rare earth magnet on needle
Cool Topo Buddy Scale Cards
Cons
Declination adjustment is a challenge
First off, I want to say that I received this compass as a gift for being a past Reviewer of the Month here at Trailspace.
I think it might be helpful to give you an overview of my background with respect to navigation skills so that you can put my review in perspective with how you might intend to use this compass. For the last 30 years or so I have always carried a map and compass for any areas where I go hiking and consider it one of the ten essentials that I always carry in my pack. While I don't consider myself an expert by any means on navigation, I do feel I have solid skills with respect to being able to use a map, compass, and altimeter to figure out my way home.
The picture below is what is included in the package when you purchase the compass and it includes the compass, a lanyard and cord lock, Topo Buddy Scale Cards, and an instruction sheet.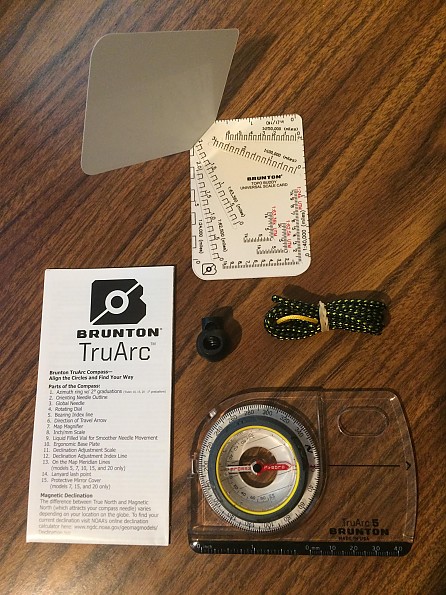 Focusing on just the compass itself it is a nice clean design that includes a liquid filled compass, the ability to set the declination angle for the area you would be using the compass, a line to sight along which to take bearings, a standard and metric scale, and a magnifying glass, along with an opening on the left edge in the picture below to attach the lanyard.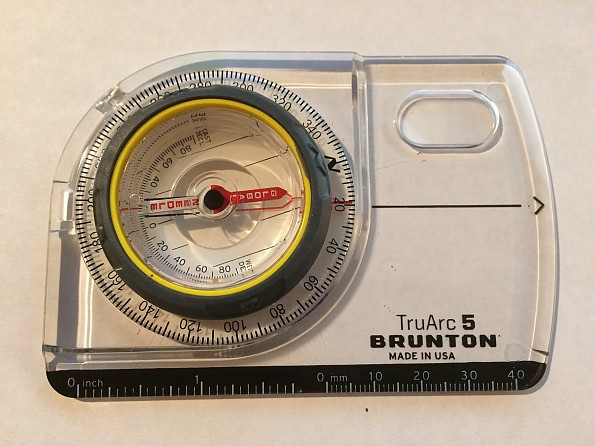 The compass is a little under three inches wide and about four inches long and weighs about 1.7 ounces alone and about 2.2 ounces with the lanyard, cord lock, and buddy scales.
The main compass dial has a nice raised ring with a rubber material that makes it easy to grasp with your finger tips to adjust the compass.
One of the key features that I find important with this compass is the ability to set the declination angle for the area where you would be using the compass. I don't want to go into the details on declination as it is beyond the scope of this review, but if you are looking to carry a compass and actually use it for navigation, you should invest the time to understand what it is and how you account for it when using a compass. I will say that when you are shopping for a compass always select one that allows you to adjust the declination angle and also has a way to fix or lock it in place so that it won't shift while it bounces around in your pack.
With the Brunton TruArc 5, friction is used to hold the adjustment of declination angle within the main ring of the compass. Once you adjust the declination angle the design does a very good job keeping it fixed in that position, but adjusting the declination angle can be very frustrating as the process requires pinching the center of the compass from the top and bottom between your thumb and finger to generate enough friction to hold that stationary and then turning the outer dial until you get to the desired angle set. Luckily you don't have to adjust the declination angle all that often and it's not a reason to avoid purchasing this compass, but don't be deterred if it takes a couple of tries to get the declination angle set.
If you want to know what the declination angle is for where you will be using your compass one good source is at the following url: https://www.ngdc.noaa.gov/geomag-web/#declination
One unique feature of this compass is the TruArc Global Needle which is different then your run of the mill compass in that Brunton actually uses rare earth magnetic material in the construction of the needle instead of just magnetizing a simple steel needle. Their claim, which I have no reason to doubt, is that the rare earth magnetic material will maintain its magnetic properties significantly longer than a simple magnetized steel compass needle, so the basic function of the compass should be more reliable.
With respect to the other features on the compass, the lower edge with the scales is nice and straight and about four inches long and is helpful when working to take bearings on a map. It's also worth pointing out that three of the edges of the compass are beveled from both sides which makes it easy to pick up the compass off of a flat surface like a map.
The body of the compass is plastic and is what I would call "water clear" so it is very easy to read features off the map through the body of the compass. The compass also has a built-in magnifier which is helpful for someone like me who is a little old and can't always focus on the small features on a map. The magnifier is also handy for helping to see and remover a splinter or maybe even start a fire using the sun in a pinch.
The compass also has a large radius on one corner that I have found makes it easy to hold in your left hand and overall I like the feel of the width and length of the compass when I am using it.
I have included a couple of pictures below on using the compass with gloves on and I have found that the width makes it easier for me to hold and the rubberized adjustment ring also makes it a breeze to adjust the compass with just about any type of glove material. When I took these pictures I found the thickest fleece gloves I owned and I had no problem adjusting or holding the compass.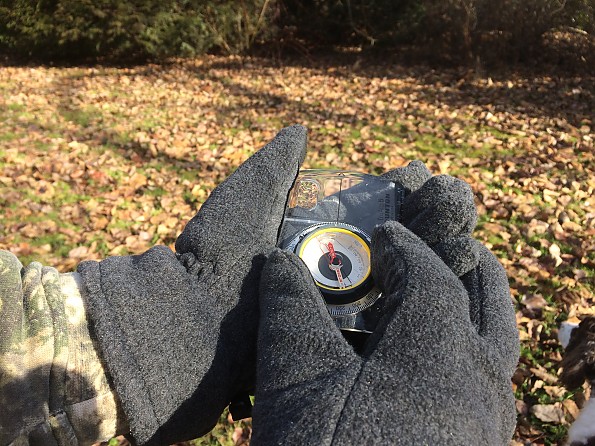 I also had my wife who has fairly small hands hold and adjust the compass and she had no problem with the Columbia gloves she was wearing.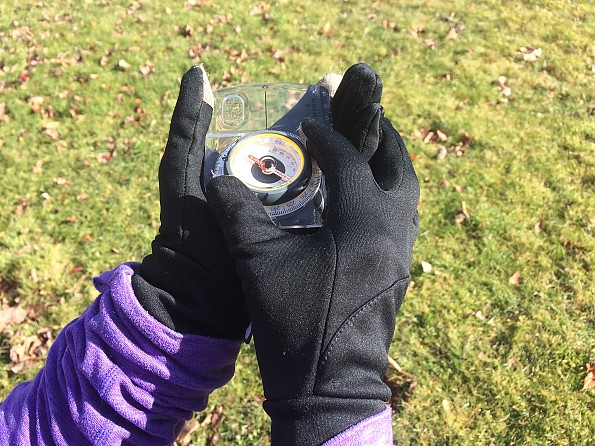 The other item that came along with the compass is a set of cards called Topo Buddy Universal Scale Cards which are the size of a credit card and come riveted together. There are two cards, one metric/km and the other in miles and each of the cards has all the common map scales with the common UTM scales split between the two cards.  They are clear and would be handy if you do a lot of map work.
Here are a few pictures of the cards.
The set of cards: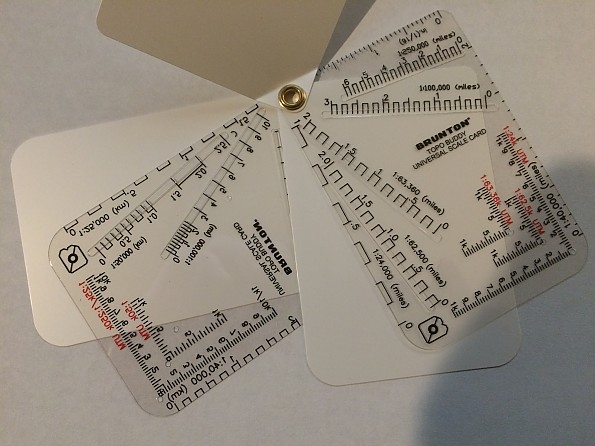 Standard/Miles card: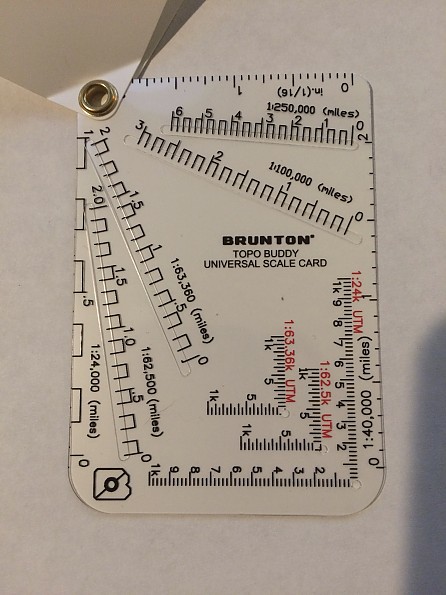 Metric/Kilometer card: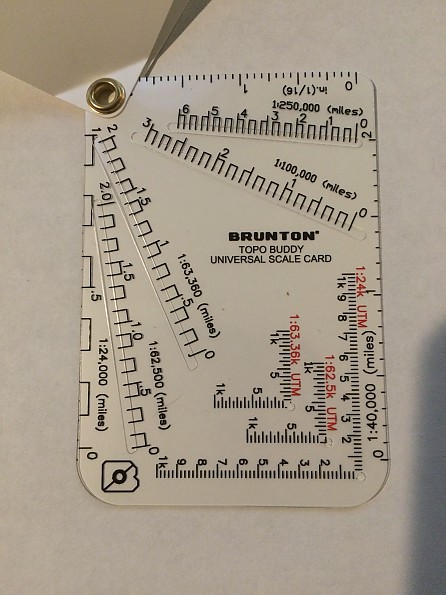 Overall I really like this compass and it will probably replace my Silva which I have had for the last twenty years. I also like that the compass is made in the USA and they advertise a great return policy. I spent some time on their website and while I haven't used their products in the past, it's nice to run across a small focused company that from my limited experience provides quality products.
As a side note, I like to make sure I know what in my pack may impact my compass reading as altering the needle a few degrees can have a big impact if you are truly navigating with your compass, so I like to pass things by my compass to see if they move the needle so I can make sure and keep those objects away from the compass when I am using it.
I made a short video showing a few things that impacted and didn't impact both the TruArc 5 and my older Silva compass. I would recommend you do the same and you might be surprised at what you find out.
Source: received it as a sample, freebie, or prize (Trailspace Reviewer of the Month prize)

Great backup compass, With today's GPS, compass and maps are lost art. I use this as my backup, a just-in-case tool. But I find using it simple and reliable. I use it all the time.

Precision artillery, NO. Finding my way home, YES!
Source: bought it new
Price Paid: $20

Pros
Value
Quality
Ease of use
Cons
Poor directions on setting magnetic declination
Nice compass and great value. I use it for astronomy, so I needed an adjustable magnetic declination. Brunton's instructions on setting the mag dec leave something to be desired, so here's a vid:
Overall, still a 5 rating to me for value and quality. 
Air bubbles at low temp. Unsure about durability of decal.
Pros
Simple and easy to use
Good construction
Cons
Air bubbles at low temperature
Declination adjustment is a pain
Declination measurements are decals rather than etched into plastic
I purchased 12 of these for our Scout Troop. We have found that large air bubbles form in each of them when at low temperatures. Once they warm back up to room temperature the bubbles go away.
Have reached out to Brunton support, and depending on their response we may return them to the store we purchased them at and go with the Silva Explorer Pro.
Source: bought it new
Price Paid: $24

Your Review
Where to Buy
Help support this site by making your next gear purchase through one of the links above. Click a link, buy what you need, and the seller will contribute a portion of the purchase price to support Trailspace's independent gear reviews.
You May Like
Specs
Price
MSRP: $19.95
Historic Range: $19.99-$39.95
Reviewers Paid: $20.00-$24.00

Weight
1.8 oz / 51 g

Dimensions
2.9 x 4.2 x 0.6 in / 7.4 x 10.6 x 1.5 cm