Arc'teryx Rho LTW Neck Gaiter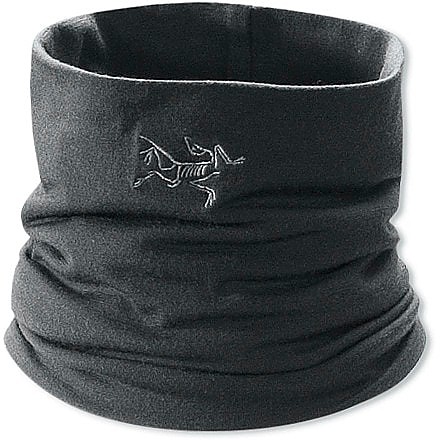 The Arc'teryx Rho LTW neck gaiter is an extremely long name for a very simple product. Essentially it's just a tube of fabric (in this case 95% wool and 5% elastane) with unlimited uses. While its primary intended use is around the neck, to keep the cold snow out and the warmth in, I've found it handy for many other applications.

I feel like it's an upgrade on my old synthetic gaiter for a couple reasons—the comfort and quality of the wool, the stretch, it's stink inhibiting, and the thickness. Those reasons helped me grin and bear the price tag, which I feel is the only negative.
Pros
Warmth-to-weight ratio
Versatility
Breathability
No itch, no stink
Temperature regulation
Flame resistant
Stretchy
Intro
I've found this to be one of the most versatile pieces of gear I own, and one of very few that doesn't leave my pack year round. When I saw that Trailspace would be including it in the monthly giveaways I felt inclined to write a quick review of how, and why, I choose this gaiter. Although this is certainly not my first gaiter, it will be my last.
Fit and Comfort
I'm a big fan of wool, but a bit of a wimp when it comes to itch factor. Arc'teryx doesn't list the microns of the wool used and just says it's a MAPP Merino wool, not sure what the MAPP means. After a little digging this is all I could find for an explanation (borrowed from Arc'teryx's site):
Eon / Rho LTW / Wool Base Layers

Lightweight and itch-free Superfine Merino wool base layer garments provide warmth and comfort in variable conditions. Merino wool is soft next-to-skin and naturally adjusts its thermal properties in changing atmospheric conditions, maintaining a comfortable equilibrium. The fabric achieves this by absorbing moisture, from cool, damp environments, and releasing a small but perceptible amount of heat through 'heat of sorption', a chemical reaction that occurs when water vapor binds to the chemical structure of the MAPP TECH Merino Wool inner core. This process acts to prevent the chilling of the wearer. Wool is the original 'intelligent' fiber.
To me that's just a fancy description of the properties of merino wool. Basically that it has a hollow inner core that can absorb water (sweat) to keep the user dry and help regulate your temperature, but theirs sounds way more marketable, I digress.
The wool used is very soft and my best guess would be that it's somewhere in the 18.5 micron range. I'm basing that solely off feel and comparing it to other wool products I use (Smartwool socks, shirt, hoody, Ibex toques and Woolpower socks, shirt and long johns). Being that the majority of time this is around my neck (one of the more sensitive areas), it makes me even more impressed with the comfort and softness.
The gaiter measures roughly 8 by 10 inches but can stretch out to almost double that size without a problem. I've actually had to double check the specs a couple times. I thought the percentage of spandex would have to be much higher to get this level of stretch. Merino wool has a lot of crimping, which inherently gives it some stretch, but the gaiter also hasn't gotten saggy, which wool is prone to. It just seems to pop right back into shape without a problem.
The comfortable size range makes it so much more versatile. With older synthetic gaiters I've had they've either stretched to the size of my head (when worn like a headband or toque) and been too loose around the neck to adequately trap heat, or been tight around the neck but felt uncomfortably tight on my head. I've got a long neck (think human brontosaurus) and I've found the 10 inches long enough to cover my neck and still bring up to cover both my mouth and nose when the cold wind gets howling.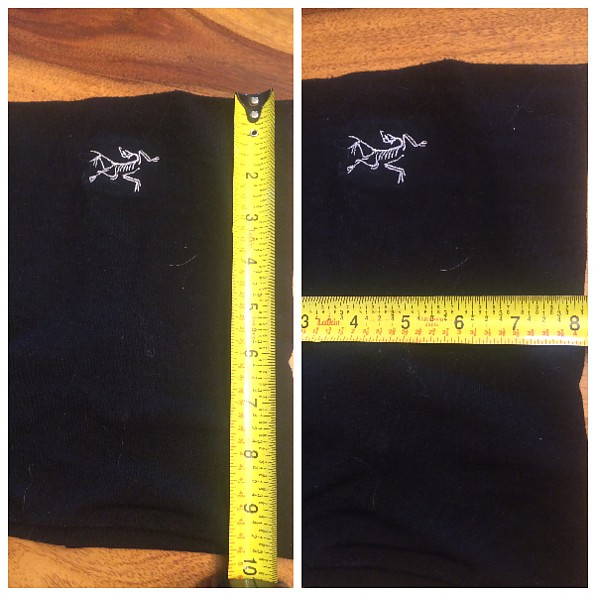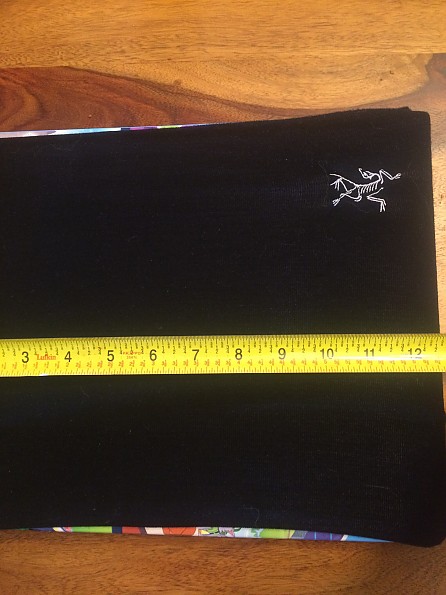 (Stretched out from 8' to 12' pretty easily)
The seams are all stitched beautifully (there's only two, but still), something I've come to expect from Arc'teryx. There's no exposed threads and it's all stitched flat so there's no rubbing or chaffing.
Versatility/ Adjustability
Here is where the ideal combination of the wool and the stretch come into play. Obviously any neck gaiter is one of the most versatile pieces of gear in my opinion, the wool just adds to that. Here's some of the many ways I use mine.
The first couple are the more obvious, and intended uses…
neck gaiter

neck gaiter with mouth and nose covered

toque

headband (easy to vent a lot of heat out through the top of your head without removing it)
But I've also found it useful for…
to hold the hot handles on my pot

supplemental warmth when sleeping (I've found with a toque and your neck covered you can sometimes get by with a lighter bag)

inside a kangaroo pocket for extra warmth for my hands

used to hold freezing gas pump handles

I've used it to wrap item in my pack that I don't watch to get scratched (camera lenses, glasses)

I also wrap my hot water bottle in it if I'm not sleeping with it on

eye mask when you need a little extra sleep

wrapped around your pillow for a little softer luxury
When you pair a gaiter with a toque there are so many variations and tweaks you can make to account for temperature changes, big and small. Having the ability to dump (or add) a lot of heat while on the move, without rummaging through your pack, makes a gaiter more than worth it.
The carotid arteries are major blood vessels in the neck that supply blood to the brain, neck, and face and studies have shown that you can affect your core temperature as much as 1.1 degree Celsius just through the carotid artery alone. Obviously that is an extreme amount (a half a degree temperature swing within the body is big), but when you pair a gaiter with a toque and can have both your head and neck covered or uncovered within seconds, it allows you make those temperature adjustments while on the move.
Breathability/ Warmth
Wool is one of the more naturally breathable options available. I've found it exceptionally breathable, much more so than my previous neck gaiter (Polartec Wind Pro fabric). I find it even more impressive because this one is thicker, and warmer than my previous one. Only the highest exertion levels will make you pull it down. Given the fact that it is wool though, it will hold moisture on the outer layer, and in really cold temperatures, freeze. That can make breathing through it tough.
On a climb of Mt.Washington last winter I had a balaclava on and the gaiter layered on overtop of that, pulled right up to the base of my goggles. Temps nearing the summit approached -50° with wind gusts nearing the 100 mph mark, I was huffing hard (I think the guides wanted the group off the summit as quick as possible!), but was able to rotate the gaiter intermittently to keep the airflow.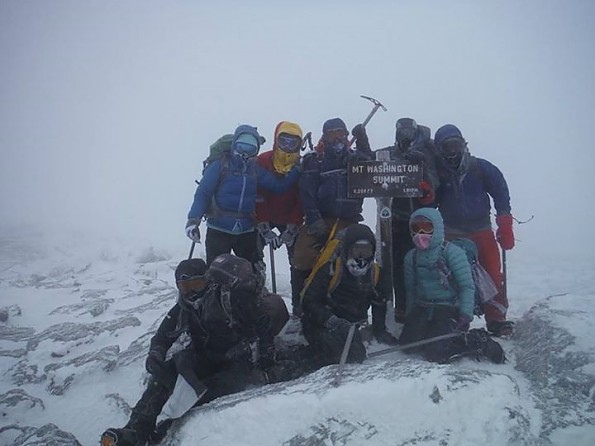 (Can't really see the gaiter too well, but I'm the one right behind the sign)
Wool naturally draws the moisture away from your skin and can hold up to 30% of its weight in water, so while your skin feels nice and dry it can take a while for the gaiter to dry. The good part is that you don't have to be too weary about it around a heat source, wool is also flame resistant, so don't toss it in the fire, but no reason to not hang it up over top.
It also fights off stink really well, and will eventually start to just smell like a campfire. I try to avoid washing mine, but have had to on a couple occasions. I threw it in the washer, like I would with any wool product, gentle cycle and a mild detergent and hang to dry. No problems yet, at most maybe some light fading of the colour.
Price
I feel a neck gaiter is a truly valuable multi-use tool. If you have/ already use one then you know the value of them and may want to look into upgrading to one made with premium materials, albeit at a premium price. I paid $40 (Cdn) for mine, which is no doubt steep, but I would purchase one again, without question, should something happen to mine. The wool fabric, and subsequent workmanship, don't come cheap. If I knew my way around a sewing machine I may attempt to make my own (doesn't look overly difficult from a design standpoint), but I don't. That's why I just hand over the card, smile and nod.
Testing
I've had mine for over two years now and use it all four seasons. It's so tiny there is no reason to leave it at home. So whether it's a summer backpacking trip, ice climbing in the winter, or just recess duty at work, it's either in my pack or on me at all times.
Source: bought it new
Price Paid: $40 Cdn

A versatile piece of headwear, which may serve not only as a neck warmer, but also as a lightweight hat. Very comfortable to wear, and compact in folded state, but not very warm.
Pros
Extremely versatile
Quite good protection from moderate cold and wind
May be taken on and off on the go
Very lightweight and compact in folded state
Cons
Not warm enough for temperatures below -10°C (15 °F)
Woolen fabric may not fit to everybody
I received this gaiter as a part of my Reviewer of the Month prize, and it's one of the most useful items in this kit, to my opinion. I use it really often and it appears on most of my photos during the cold season (none of which were staged in this review). It's made of 95% merino wool and 5% elastane, so it stretches easily enough to be put on even while wearing the glasses.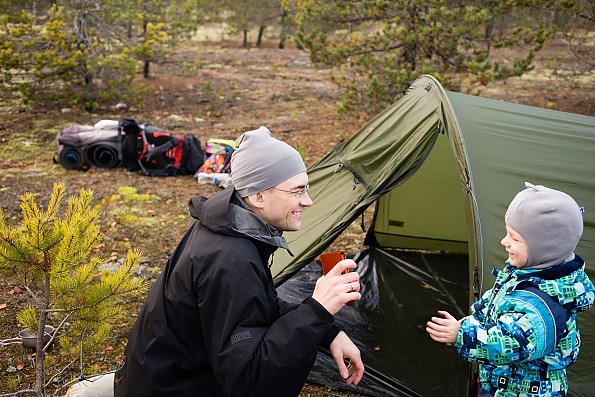 In mild weather the gaiter serves as a hat
During the last nine years I was using a thick fleece collar covering the neck and upper part of the chest. I really liked it in comparison to a regular scarf, but there were two major weaknesses:
The collar wrapped around the neck is VERY bulky, especially at the back, where it has huge Velcro patches for size adjustment and easy detachment. With some of my jackets I couldn't zip the jacket completely in the upper part because of thick collar.
It's really difficult to put on the collar while wearing the jacket. In most cases I had to remove my backpack, then my jacket, and only then I could take on the collar.
Pushing the 30 kg (60 lbs) stroller really hard on a steep hill 
Nevertheless the fleece collar is really warm, and I liked it. My wife has some mixed feelings about this collar (actually we have two of them) as it has the tendency to knot her hair with these Velcro patches.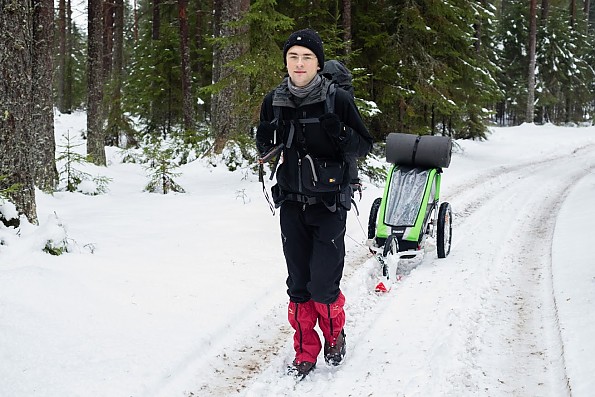 Wearing the gaiter on the neck in cold weather

But after receiving my Arc'teryx Gaiter I started wearing it almost at all times while the temperature is below +10°C (50°F). It's very compact in folded state and lightweight, so even in warm weather it finds the place in my pocket. Because of compactness, it can be put on in seconds literally on the go, without the need of removing the jacket (but you'll need to remove the hat instead).
It's also very versatile: it can be used for warming the neck (most useful feature), or the upper or the bottom part of the head. I don't use it for covering the nose and mouth, as I wear the glasses which tend to fog up in such case.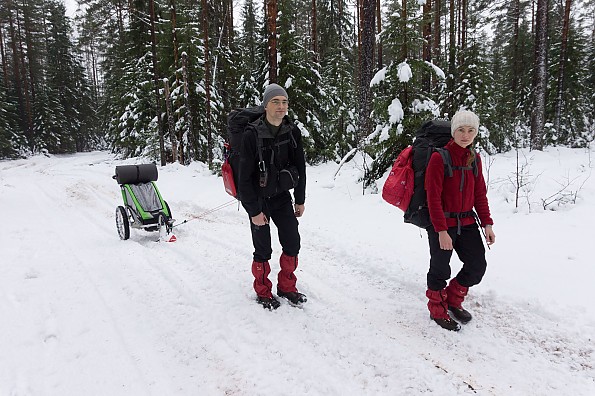 After getting warm enough you can position the gaiter in place of a hat in a few seconds

In my hiking trips around the freezing temperature I start with this gaiter on the neck and a warm woolen hat with Windstopper band inside — on my head. After 1-2 miles I get warm enough to remove the hat and reposition the gaiter on my head. If it gets colder, I repeat the process in reverse order — and everything is done without lowering the pace! It's very convenient. In multi-day winter trips I also use this gaiter as a hat at nights, so I don't need to have a dedicated headwear for sleeping.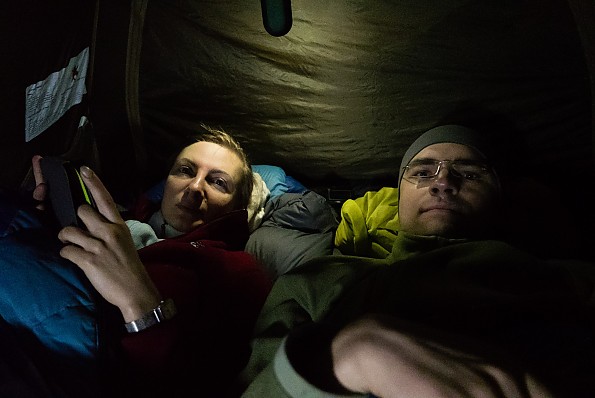 A winter night in our Fjallraven Abisko Lite 3 tent

All in all, it's an excellent piece of headwear. It's not extremely warm, so in really cold weather I continue using the old fleece collar. But in majority of cases the Arc'teryx Rho LTW Neck Gaiter performs its task very well.
Source: received it as a sample, freebie, or prize (Trailspace Reviewer of the Month prize package)

A very soft, wool neck gaiter that take up very little room in my pack. I find myself wearing this in many circumstances (biking, hiking, camping, hunting, walking to work even) during the colder winter months.
Pros
Soft on skin
Adequate stretch
Small/packable/stashable
Good coverage
Cons
Tight when pulled up over nose and mouth
Conditions:
I've used the Arc'Teryx Rho LTW Neck Gaiter for three years now, mostly in the wintertime, in temps ranging from -20°F to 35°F (-29°C to 2°C). I've worn it hiking, camping, hunting, biking, and for everyday uses when the weather calls for it.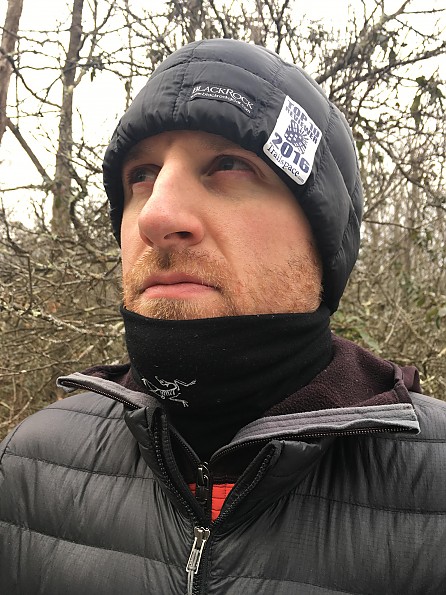 Materials and Size:
Built with 95% soft merino wool and 5% elastane, the neck gaiter is tube of comfort. The elastane allows for a nice stretch when sliding it over my head, but is a little too tight for me when trying to wear it to cover my nose and mouth (more in Fit section). Purely as a neck gaiter though, it fits nice and snug (but not restricting) and is long enough to cover my entire neck, with no drafty spot.
Packed away, it takes up very little room (about the size of a tennis ball), which makes stashing it in a jacket pocket or a pack really easy. In fact, this winter I started stashing the gaiter in a side pocket of the bag I take to work everyday, allowing me to wear it on my walk when the wind picks up or the temps drop. I don't even notice the room it takes up in my bag, and it's nice to know it is always with me.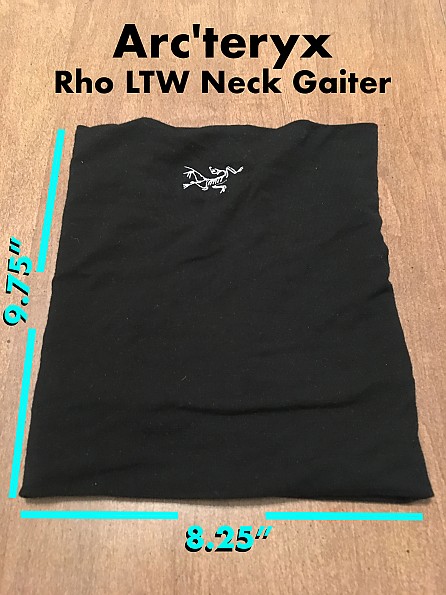 Fit and Comfort:
The Arc'teryx Rho LTW Neck Gaiter is the softest and stretchiest gaiter I've ever worn. There is no scratchiness or stiffness, allowing me to wear it for hours on-end, if need be. The merino wool has a great next-to-skin feel. The construction is two-layered, which means it is more substantive (and warmer) than a just single layer of wool. Pulling the gaiter up to cover my mouth and nose makes the gaiter a little too tight for me, but I do have a pretty big nose, so that may be part of the problem.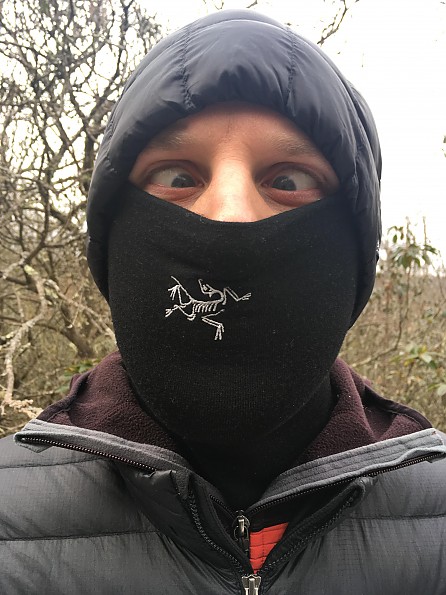 Layering and Warmth:
The merino wool really does a nice job at keeping the neck and face warm and cozy. It's not great at blocking stiff, cold winds, but that is a minor drawback that can be resolved with a good cold-weather jacket. Due to its minimal bulkiness, the gaiter is incredibly easy to layer with. In really cold temps, especially while hunting, I sometimes wear this gaiter underneath a homemade fleece neck gaiter, which keeps me really warm.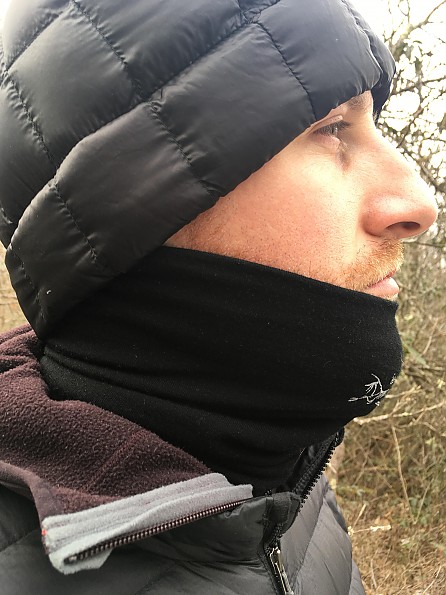 AND MOST IMPORTANTLY, how does it hold up as a snot rag:
I know, it's kind of gross, but when it is soooo cold outside that my nose simply won't stop running, pulling this up to my nose to clear away its ooey-gooey contents is so convenient, not to mention very soft and gentle on the nose. We've all been there. It's not ideal, but works well in a pinch. 
Experience
Winter is one of my favorite times of year to be outside, but with it comes the need to layer and protect myself from the elements. Neck gaiters and balaclavas have been in my winter gear arsenal since I was a young kid playing in the snow. Today, I typically wear a gaiter or balaclava while hunting, occasionally while camping, and when it's really cold (below 0°F) while hiking.
Source: received it as a sample, freebie, or prize (Trailspace Reviewer of the Month prize)

Warm, comfortable, and comforting—these are three words I would use to describe the Arc'teryx Rho LTW Neck Gaiter. Combined with a comfy wool beanie, the Rho LTW replaces (sort of) the balaclava normally in my pack.
Pros
Warm
Comfortable
Does not itch
Doesn't retain nasty odors
Cons
Pricey
How do you pronounce it????
Okay, first off, can someone tell me how to even say Arc'teryx? My best guess is Ark-tur-ex. 
Anyway, I received the Rho LTW Neck Gaiter as part of the prize package for being a Reviewer of the Month in 2016. The gaiter arrived post-winter and sat in a box until October just waiting for me to use it. The wait was well worth it.
I DESPISE being cold, and during the winter I feel I'm always cold. The Rho LTW significantly changes this equation. With it on, cold wind is not running down the back of my neck. 
A friend who trains in cave rescues has explained to me one of the ways to keep a person/victim warm is to keep the carotid arteries—the arteries running through your neck—warm. [In reverse logic, that's why you put a cool towel on the neck of someone suffering heat exhaustion.] In that regard, the Rho LTW delivers well.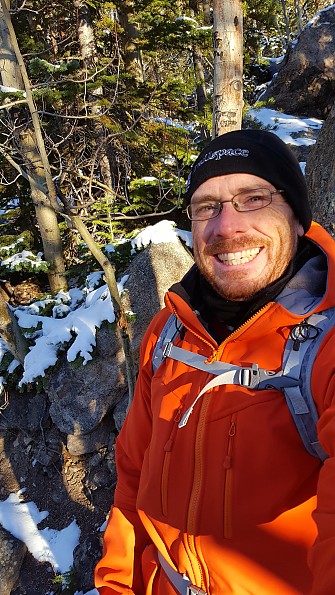 Cold morning at Rocky Mountain National Park.
Comfortable:
This itch-free merino wool neck gaiter is snug without being constricting. Think of it as a portable turtle neck. I've hiked multiple days comfortably wearing it.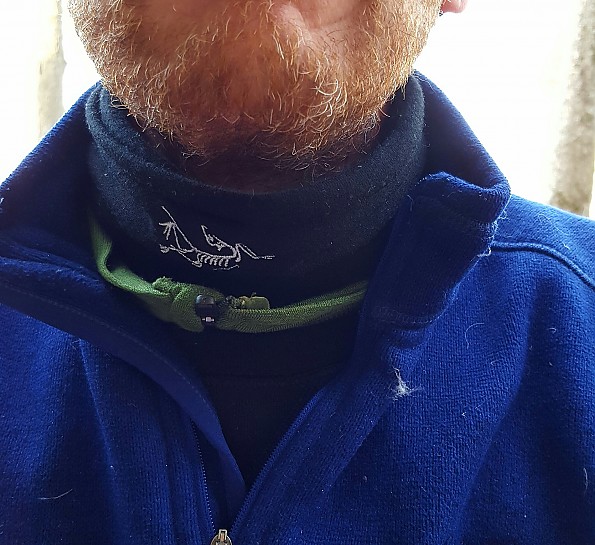 Comforting:
I've already mentioned how I hate being cold. Pulling on the Rho LTW has a psychological comforting effecting on me—like putting on a pair of jean right out of the dryer, or slipping on a warm pair of clean socks. There is just something "nice" about donning this article of clothing. 
Cousin Eddy would happily wear this neck gaiter!
Quasi Balaclava:
Marathon training in the winter means a lot of cold, pre-dawn runs. A true balaclava doesn't work for me, because you quickly go from cold to hot to cold as my route turns in and out of the wind. The hat goes on, the hat goes off, the hood comes up, the hood goes down. The Rho LTW is a nice piece to quickly cover or vent my face.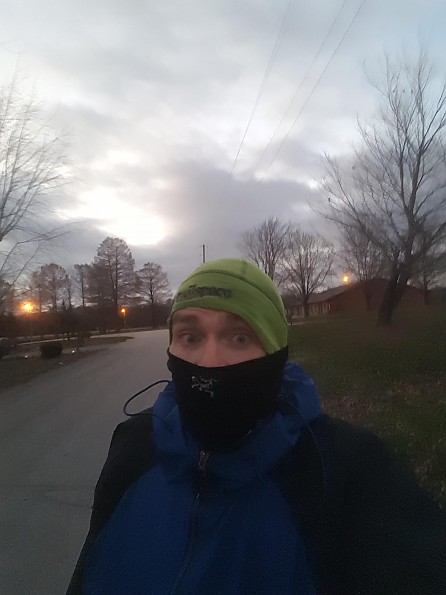 And it doesn't stink after a sweaty run!
The Reviewer of the Month prize package had a lot of great gear. This was one of my two favorite pieces (review coming). I'm so glad I have this neck gaiter! 
Source: received it as a sample, freebie, or prize (Trailspace Review of the Month prize package)

A great accessory—soft and warm with all the advantages of Merino wool.
Pros
Soft and not itching
Warm
Versatile
Usually when you go for Merino wool you can't go wrong. It's light, soft, wicking, and has great thermal regulation. This product is no different. It's even softer than most Merino wool products I've tested.
It's very versatile. You can wear it around your neck, cover your nose and mouth, or even use it as a cap.
It delivers great warmth, especially in ratio to its thickness and weight.
I'm using it every day during the winter and I haven't seen any abnormal wear to it.
Overall a great product!
Source: received it as a sample, freebie, or prize (Trailspace Reviewer of the Month prize package)

This is a lightweight and very warm gaiter. I have brought it on my last three trips snowshoeing.
This gaiter is comfy and fits perfectly (one size fits all). It is breathable material and also did not make me sweat. It kept me warm when I needed it and was easy to take off and store in coat pocket when I did not need it. 
Source: received it as a sample, freebie, or prize (Trailspace Reviewer of the Month prize)

I've got an athletic neck, which means it's small. Been wearing the neck gaiter a few time now and it's warm and not itchy.
Fit is the primary thing why I bought this article. It feels great, stretches perfectly and is not itchy. The only thing that could be improved is the price!
Source: bought it new
Price Paid: 28 cad

Your Review
Where to Buy
Help support this site by making your next gear purchase through one of the links above. Click a link, buy what you need, and the seller will contribute a portion of the purchase price to support Trailspace's independent gear reviews.
You May Like
Specs
Price
MSRP: $39.00
Historic Range: $14.97-$39.00

Weight
55 g / 1.9 oz

Materials
MAPP Merino Wool, Spandex

Fit
One-size-fits-all

Activity
All Round

Recently on Trailspace