Congratulations to Vladimir Gorbunov, our newest Reviewer of the Month!
Vladimir is a technical writer and bikepacker and lives in Saint Petersburg, Russia, with his wife and son. He's reviewed his Fjallraven Abisko Lite 3 tent, Garmin GPSMap 64s, Hilleberg Kaitum 3 tent, and Petzl Noctilight, among other outdoor gear.
Members like Vladimir are essential to the Trailspace community. In thanks for his contributions, he wins a 10 Essentials prize pack worth more than $350. Vladimir, and every 2017 Reviewer of the Month, will receive examples of each of the 10 Essentials of outdoor gear, thanks to Adventure Medical Kits, Arc'teryx, Brunton, Good To-Go, Mountaineers Books, Potable Aqua, Sawyer, SOL, The TentLab, UCO, and Victorinox.
Check out the 2017 prizes below or see "Essential Gear for our 2017 Reviewers of the Month."
---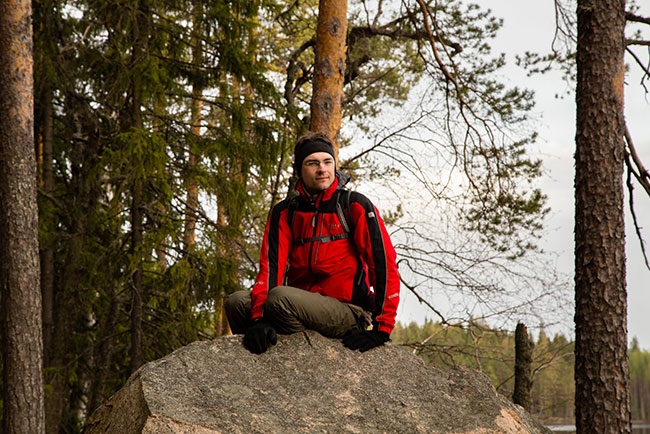 Please introduce yourself.
My name is Vladimir Gorbunov (aka VORON). I live and work in the city of Saint Petersburg, Russia, along with my wife, Liubov, and 2-year-old son, Oleg.
I am a technical writer employed in developing and producing the traffic enforcement equipment (police speedcams and so on). After establishing myself as professional writer I continued writing as a hobby, for example, trip reports and articles about outdoor equipment. My devotion to photography helps me in getting right illustrations.
Since childhood I liked cycling. The vast increase of my outdoor activity happened in late 2006, when I began participating in bicycle trips and events by "VeloPiter" Cycling Club. In 2008 I met my wife-to-be Liubov in a knee-deep Karelian swamp, and soon we formed inseparable team, participating in numerous bicycle trips.
Our 2012 Iceland trip won the National Bicycle Trip Contest (veloway.su) as "Best plain bicycle trip" and "Best trip report." After three successful Iceland trips in 2011, 2012, and 2014 I compiled A Guide To Cycling In Iceland for fellow Russian bicyclers.
What led you to start reviewing your gear on Trailspace?
While searching for information about Hilleberg tents, I found a nice bunch of reviews at Trailspace, which helped me in choosing my Kaitum. Some time later there was a contest for a Hilleberg Akto. I couldn't win it (as I am not an American), but it led me into writing my own gear reviews here.
I understood that writing in English instead of Russian will expand my audience greatly. Initially I was translating and bringing up to date my old reviews, but after getting more and more positive feedback I started writing unique content for Trailspace.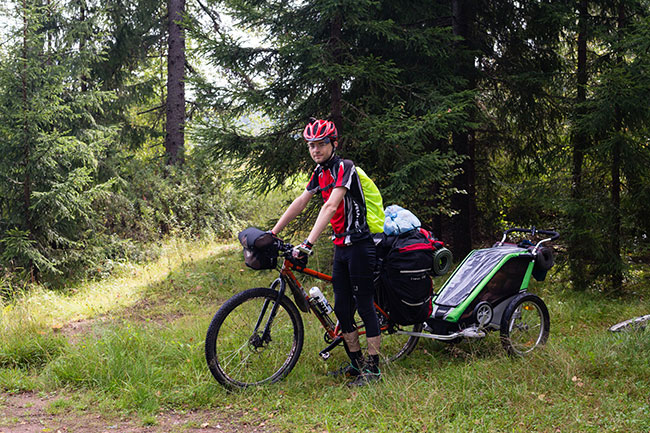 How do you spend your time outdoors?
I am a fan of MTB touring, which includes two key elements: mostly unpaved roads and sleeping in the tent. The cycling may be easily substituted by backpacking, if conditions require so. I dislike the style of touring common in Europe, with long-range riding on major asphalt roads and overnight stops at hotels and extremely busy campsites—that's what I try to avoid in my trips. The privacy and wilderness are very important for us.
We prefer somewhat cold climate in our trip destinations—riding under rain is easier than in extremely hot weather. Luckily we live in just right place—Northern Russia, Nordic countries, and Iceland are perfect places for spending our time.
After our child was born, we take him to our outdoor adventures using the Thule Chariot Cheetah bike trailer, which may be easily converted into off-road stroller. I've even made some modifications to boost its off-road capabilities.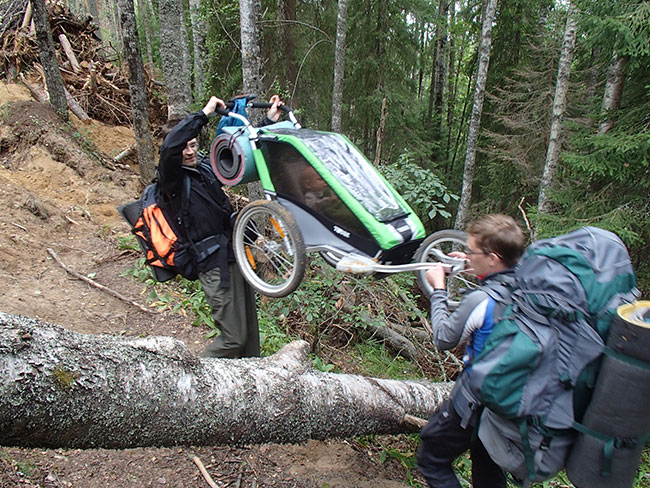 What's a typical outing for you?
I prefer year-round two-day bicycle (and sometimes backpacking) tours to St. Petersburg surroundings, especially to the north of the city. These are easily accessible using the suburban trains. We prefer riding on tertiary roads and unpaved tracks to avoid the excess traffic. Ideally the entire route will be unpaved but quite smooth. But sometimes we may experience a really muddy road.
We make our camp on a beautiful lake, river, or stream in a pine tree forest. Usually I don't make the campfire, except for a real need. The total route length is somewhere between 80 and 180 kilometers (50 to 100 miles).
The appearance of our child has altered this pattern. Now we spend much less time on riding and more time on resting and playing. Also we started avoiding the harsh weather, extreme cold, and bumpy roads which may discomfort our son. But mostly it remained the same.
Who has influenced your outdoor life?
During the last nine years the absolute majority of my outdoor activities are accompanied by my wife (and in last two years my son), and I'm really fond of finding such a loyal and dependable partner! She invented the ideas for visiting the most interesting places in my life, such as Iceland, Armenia, and Sakhalin island.
When our child was born, our outdoor activities became much more difficult in all aspects, say the total weight of our equipment, including bikes and child trailer, has jumped to 100 kilograms (200 pounds) in full-scale trips. Nevertheless we don't give up our desire for wilderness.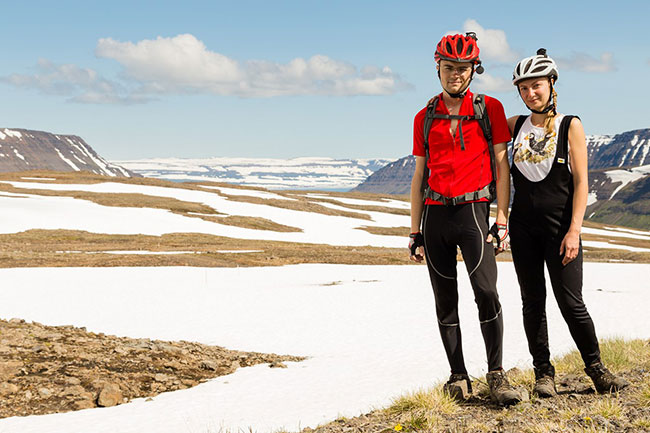 What's your favorite outdoor place?
I really love Iceland, all of it, including volcanoes, deserts, waterfalls, Puffins, freezing-cold fords, and terrible weather. The climate and road quality are much like my home region of Russia, but the surroundings are beautiful!
I also love the Karelian Isthmus near our home. Here you will find beautiful lakes, rivers, waterfalls, and lots of nice tracks—only within 100 kilometers of a five-million-person city! It's a perfect place for weekend trips of all sorts.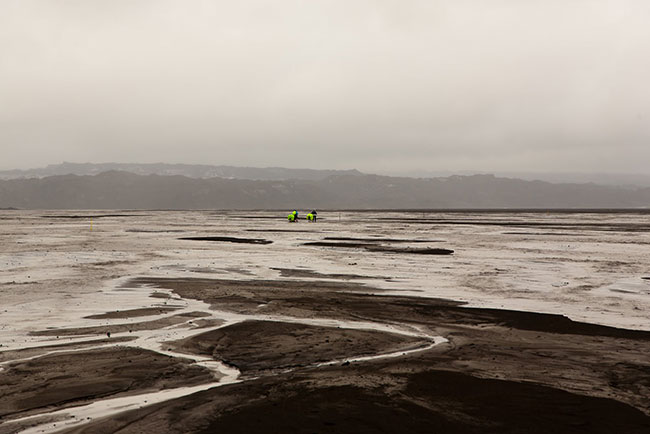 Describe your scariest moment outdoors.
It happened in Iceland, 2012, when me, my wife, and our lady friend were crossing the country through the deserts and under the glaciers. Our previous day under the Vatnajokull glacier was very difficult (and cold, down to +2°C/35°F), when we experienced HOURS of pushing the bikes on barely-rideable sand, ankle-deep freezing water flooding the road (see photos above and below), and mountain track covered by large boulders.
We finally descended away from glacier, and the things (including road quality and weather) went better. There were many freezing fords running from glaciers, but we'd got used to them by that time.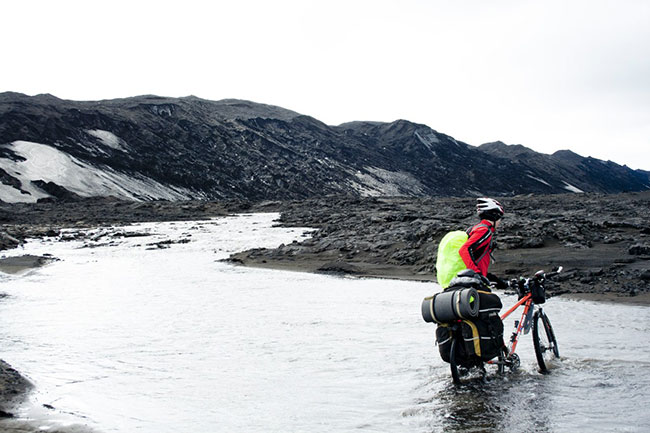 So, the umpteenth ford in that trip, a stream from Tungnafelljokull glacier, appeared a bit faster and wider than usual, and I decided to cross it off the road in the narrowest place. I stepped into the water with my bicycle loaded with 25 kilograms (60 pounds) of gear, and suddenly I realized that the water is already knee-deep and VERY fast!
I could not turn around with my bike, so I decided to go forth. With every step the bottom lowered, and after two to three steps I was fighting for survival of my bike and luggage. The water flow lifted it from the ground, and the only thing preventing the bike from flowing away was my right hand holding the seatpost. And I started to lose feeling in my ankles and knees in that cold.
I realized that I'm going to lose the bike and all of my gear. I shouted for help to the girls. They ran to me and with six hands we managed to take the bike to another side of that ford. Afterwards we were soaking wet waist-high! Later we found a safer place to cross, where it still required two people to carry each bike through the ford (see the picture below).
After five years I still feel that coldness of water, trying to flush me downstream.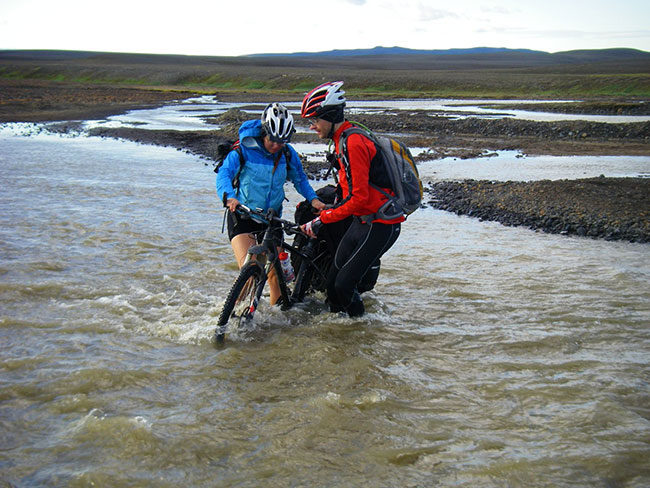 What is your dream outdoor adventure?
A bicycle trip in Southern Hemisphere, somewhere below 40°S (where the climate is cold enough for us). It is very expensive and hard-to-reach from here. Also I'm dreaming about hiking in Greenland and Svalbard, but it's much closer to us.
Any plans on your horizon?
I'm looking forward for future possibility of combining the demanding bicycle trips with taking time with my child. I have plans of visiting Norway and, once more, Iceland. Also there are some interesting locations in North of Russia, which are also worth visiting.
This month we'll be going to Turku Archipelago, Finland, for two-week bicycle trip. We're still developing our skills regarding riding with our child, and we'll put them on the test in that trip.
Do you have any outdoor regrets?
I have many friends in outdoor community, but I rarely meet most of them and almost never make the outdoor trips together. I regret that circumstances don't allow spending more time and going outdoors with them. Especially in case of my good friend Ekaterina, as she lost her life in mountains in 2014.
What would you like others to know about outdoor recreation in Russia?
The outdoor recreation is very popular here in Russia, but it has differences from that in Western countries. I really love hiking (in Russia it shall be called "backpacking," as far as I understand English terminology), cycling, and tenting in Russian wilderness.
In Russia you cannot rely on backcountry infrastructure, such as marked and cleaned-up trails, campsites, prepared routes, and so on. On leaving the civilization you become on your own with nature. The very important difference is that the wild camping is possible and widely practiced almost everywhere. Access to most lakes and rivers is open. Unfortunately many car drivers abuse this degree of freedom.
The major roads, which sadly are often chosen by foreign bike tourists, are extremely busy and shall be avoided. Instead you get numerous tertiary roads (both paved and gravel), tracks and trails, which may put your off-road skills to the test, including pulling and carrying the bike in knee-deep mud or swamp.
Most Russian bike tourists use single-unit П-shaped pannier bags (we call them "bicycle pants"), which allow for quick switching between riding on bike rack and carrying as a backpack. It's also useful for hopping into the train.
The fiercest enemy of any cyclist here is a typical Russian reckless car driver. The less cars around you, the safer you are. Speaking of people-related issues, the things are not bad in most regions. I know some girls who used to travel alone in Russian wilderness. Having an experienced local tourist in your team puts the possible issues to minimum. And in the most distant regions of Russia, such as Far North, the local people will do their best to help you no matter the odds.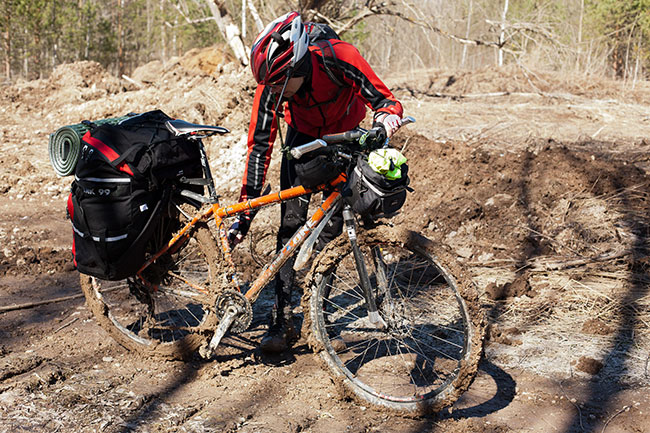 Do you have a piece of outdoor gear you consider essential? What? Why?
Twelve years ago I had unpleasant experience, when I decided to ride from our summer cottage to nearby lake for making some pictures of sunset. Despite not having any navigation equipment (I left everything at home, because I planned to return in 30 minutes) I decided to try a new track for returning back, riding through the forest.
Soon it became dark. I spotted a pedestrian on the track and asked him, "is there a roadway ahead?" He replied that there is no such roadway. I realized that I'm next to become lost, and turned back. Later at home I saw on map that my forest track led me in absolutely wrong direction. Since then I never step into the wilderness without a map or GPS device.
Do you have a favorite piece of outdoor gear? What? Why?
The new addition to my gear collection, which I can call my favorite, is a pair of 850 fill power down sleeping bags "Vezha -1", made by Russian company Sivera. "Vezha" means a teepee in Old Slavic. Each one weighs slightly more than 500 grams (1 lb 2 oz) and has great EN13537 rating—T-llmit at ­minus 1°C (30°F).
Also I'm very fond of both of my four-season tents—Hilleberg Kaitum 3 and Fjallraven Abisko Lite 3. While being not freestanding, they offer an excellent blend of roominess, weight, and strength.
But MSR Hoop tent is like a first love. It was my first experience of using the top-quality branded tent, well-thought, lightweight, and very roomy.
What advice would you give other gear reviewers?
There is no such thing as a perfect piece of equipment—don't hesitate to point out the weaknesses! Reading an overly positive review is like reading the product description on a manufacturer's website.
Also some questions, suggestions, and controversy in comments to my reviews would make them only better.
What advice would you give other outdoor enthusiasts?
Always keep in mind that some people are waiting for your return. Have a generous margin of safety at all times and in all places.
What's your favorite book?
I love documentary books, both outdoor-related (Into Thin Air, The Climb, and others) and not.
In recent time I became a fan of George Martin's A Song of Ice and Fire. I'm rereading it in English right now, though it is not my native language.
How would others describe you?
I heard numerous times that I prefer the "instructional tone" in my written communications with friends. Probably it is the trace of my employment, as my primary task during the last seven years is writing the instruction manuals.
What would Trailspace members be surprised to learn about you?
I've made my son hooked on My Little Pony TV series. :-)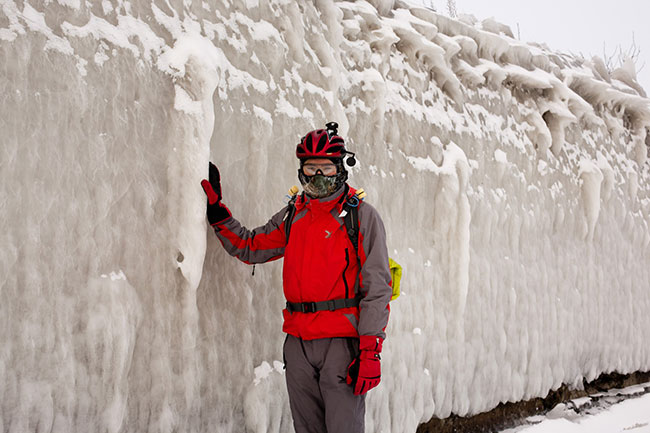 Wide Photo Captions (from top):
Vladimir in Repovesi National Park, Finland
Bike touring on a trip in Finland with his son in the trailer
Off-road strolling and backpacking with his son and friends on the Karelian Isthmus to the north of St. Petersburg
With his wife, Liubov, in the Westfjords of Iceland
On the flooded F910 track in the middle of Iceland
Fording a stream in the middle of Iceland
Helping a friend to cross the "infamous stream" from the Tungnafelljokull glacier in Iceland after almost being flushed downstream.
Biking on a muddy road to the south of St. Petersburg
Exploring the fort on an island in the Gulf of Finland during a ride in the extreme cold (-24°С / -11°F)
---
Essential Gear for 2017 Reviewers of the Month
To thank them for their essential contributions, we're giving Vladimir and every 2017 Reviewer of the Month the following prize pack, thanks to these generous brands. Worth more than $350, it's filled with examples of what to carry into the backcountry. For more on the 10 Essential prizes read "Essential Gear for our 2017 Reviewers of the Month."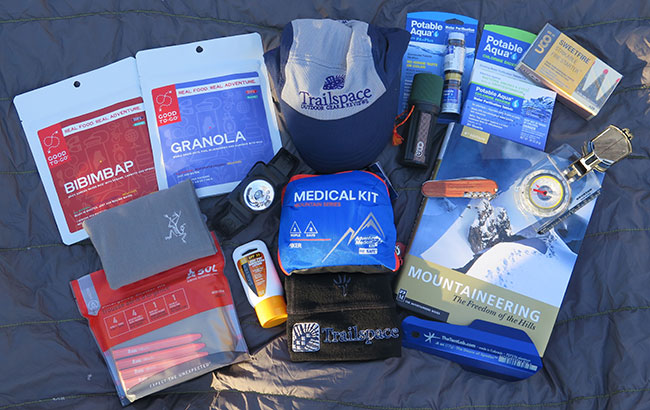 #1 Navigation


#2 Sun Protection


#3 Insulation

#4 Illumination


#5 First-Aid Supplies


#6 Fire

#7 Repair Kit and Tools

#8 Nutrition


#9 Hydration


#10 Emergency Shelter


#11 Know-How

Note: Noticed more than one Reviewer of the Month in the same month? Wondering if we can count? Despite the publishing schedule, there still will be 12 Reviewers of the Month in 2017.