Under Armour CoolSwitch Trail Short Sleeve Tee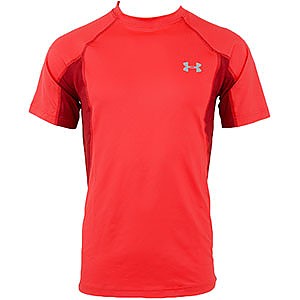 A shirt that holds up well to the rigors of the hot summer hiking trails, but may not be quite as revolutionary as the marketing materials suggest.
Pros
Breathable
Comfortable fit
UPF-50
Odor resistant
Off the should seams
Cons
Back of neck collar bulges
No noticed cool sensation as marketed
Conditions:
I've worn this CoolSwitch Trail Short Sleeve Tee repeatedly for three months during a rather hot and humid summer with temps regularly above 90°F (32°C) and humidity levels northward of 80%. I've hiked (at least 40 miles/64km), mountain biked, climbed, and even played basketball in this shirt in order to test its breathability, comfort, and wicking abilities. I also wore this shirt as a baselayer during a trip to New Zealand while day hiking in the cooler weather of NZ's winter season.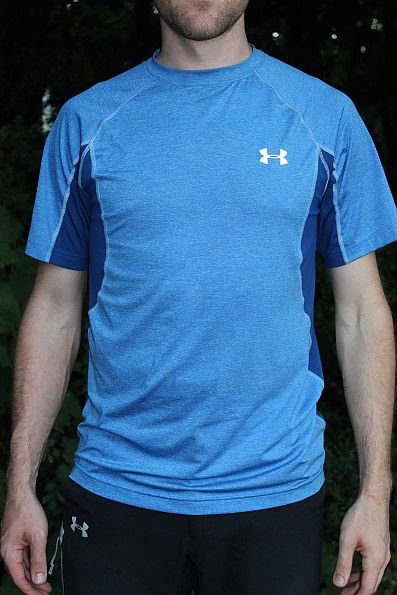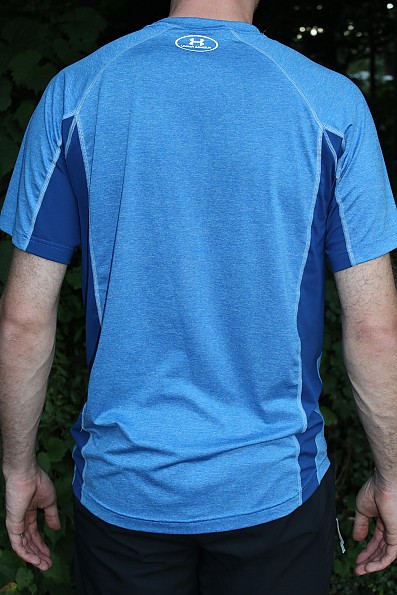 Claims:
Under Armour has deemed this shirt a "game-changer" due to its innovative CoolSwitch technology that chills the body. After three months of extensive use in hot weather, I think this is a high quality shirt with a lot of positive attributes, but not necessaryily a game changer.
UA claims that it has a crystal-like pattern "inside the shirt activates, drawing heat away from the body and cooling the skin at the same time." In this process, sweat is also wicked away, leaving the shirt dry.
After numerous hot weather activities, this shirt does keep the body dryer than many shirts I own, but a "cooling sensation" has never been noticed. As someone whose body runs hot, I'd love it if there was a cooling sensation, but sadly I noticed no such thing. 
There's two important components to that last paragraph:
The shirt is not as revolutionary as the company may claim.  

The shirt is however better in terms of breathability, cooling, and wicking, than nearly all adventure or athletic shirts I own.
So putting the claims aside for a minute, let's focus on the shirt's performance.
Breathability and Moisture:
The polyester and elastane shirt has generous side panels (dark blue areas) which run the entire length of the sides and underarms, that are built for breathability and do a good job during activity. Hiking alone, I wore this shirt more than 40 miles (64km), and it breathed very well. Wet pits were minimal.
Oddly though, I wore this shirt during a 14-hour flight from the U.S. to New Zealand and I was noticeably and somewhat uncomfortably wet under the arms during the flight. I can't really explain it other than perhaps because my arms were stationary for long periods of time the ventilation was blocked. It seems as though the ventilation is more effective when active.
Fit & Comfort: 
This UA shirt is slightly tighter in the chest and arms, and an extra half-inch or so in length compared to most other active shirts I own. I've found this to be the case with other UA shirts I own and is one reason I particularly enjoy their fit. To me, at 6'2" (1.88m) and fairly thin, this more active styling is perfect for outdoor activities. The men's medium fits me wonderfully and has been comfortable in all scenarios, adventure-related or casual wearing.
No, I don't bike in sandals and a ball cap. Here I was loading my bike onto the vehicle but never got a photo during riding. The shirt performed well during rides.
One area that could be improved is the back of the neck collar. I certainly don't have a large or muscular neck, and maybe that has something to do with it, but the rear of the collar tends to bunch up and even roll in on itself at times. There is no tag weighing the collar down, so I think the problem occurs because of the intersection of the seams. Too much stitching has caused a bulge in the fabric. The bulge doesn't itch or scratch, but it is noticeable to the touch and slightly annoying nonetheless.
Notice the "bump" just below the rear collar and above the logo, believed to be caused by the intersection of the seams.  
Dry Time Test:
I took three shirts, each of which I routinely wear during warm weather activities, soaked them in bucket of water, hand rung each of them, and hung to dry side-by-side in the shade on a slightly breezy afternoon. Here were the dry time results:
Blue shirt: Under Armour CoolSwitch Trail SS Tee, Dry in 3:10

Black shirt ($10 on sale): 100% polyester, Dry in 2:40

Red shirt ($22): 55% organic cotton, 42% bamboo viscose, 3% lycra, Dry in 4:25
Features: 
The shirt is designed with UPF-50. It's pretty tough for this amateur hiker to test these claims, so I'll take UA's word for it. It's done well in the sun, but I tend to try to avoid direct sunlight anyways. 
As well, this shirt is embedded with ArmourBlock technology, which "neutralizes the microbes that cause odor" so that the shirt doesn't stink as fast. That's important for many of us hikers (males especially, but maybe some of you females too) who like to take as few clothes as possible thinking it will lighten our load, save space in our pack, etc.
I don't have a great sniffer to begin with, so my wife reluctantly volunteered (or was it voluntold?) to test this claim for me. The conversation went something like this:
Me: Hey honey, can you smell this shirt for me, especially the arm pits?
Lovely wife: No way! That was the shirt you hiked in all morning. 
Me: C'mon sweetie! The Trailspace community REALLY needs you to smell this for me. 
Lovely wife: Okay, but you owe me. 
(Note: She ended up with a full growler of her favorite brew for this). 
In the end, she noticed no bad smells and I had just finished a 4-hour hike.
Construction & Durability:
Some polyester-based shirts I've owned either begin to pill in impact areas (e.g. shoulders, collars, pits) and/or to fray at the seams over time. Neither issue has arose with this shirt. I've washed it 10-12 times over the course of the testing period to no ill effect.
Sturdy, off the shoulder seams make carrying a pack more comfortable.
Reflective logo on front left chest
Conclusion:
This shirt has a lot of positives that make it a shirt that I am quick to reach for when hiking or climbing in the warm weather. These positives include breathability, great fit, comfort, odor resistance, and UPF rating.
However, there are a couple areas in which it could be improved upon, namely the back of the neck collar and its dry-time performance. Also, I'd like to see UA clarify the marketing claims of a "cooling sensation" which I did not notice while wearing.
Acknowledgment: 
Many thanks to both Trailspace and Under Armour for the opportunity to test this shirt.
Strolling through eastern U.S. forests mid-summer along with Under Armour ArmourVent Trail Shorts.
Source: received for testing via the Trailspace Review Corps (Sample provided by Under Armour for testing and review)

Your Review
Where to Buy
Help support this site by making your next gear purchase through one of the links above. Click a link, buy what you need, and the seller will contribute a portion of the purchase price to support Trailspace's independent gear reviews.
You May Like
Specs
Men's
Price
Historic Range: $22.99-$29.99

Women's
Price
Historic Range: $22.99-$39.95

Recently on Trailspace