Under Armour ArmourVent Trail Short

The ArmourVent Trail Short has been discontinued. If you're looking for something new, check out the best hiking shorts for 2023.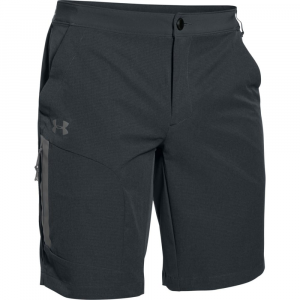 These shorts excel as the temps rise, with no riding, no chafing, and no cause for excessive sweating. The hybrid waistband stands out as simple technology that makes these shorts not only highly comfortable, but also highly practical.
Pros
Highly breathable
Flexible hybrid waistband (for comfort, but not for looks)
Length is ideal for movability and comfort
Versatile
Cons
Butt labeling
Water-resistance is slightly misleading
Conditions:
I've worn these shorts repeatedly for three months during a rather hot and humid summer with temps regularly above 90°F (32°C) and humidity levels northward of 80%. I've hiked, paddled, swam, mountain biked, climbed, and even played a pick-up game of basketball in these shorts. I also took them on a trip to New Zealand and did various cool weather day hikes in them (NZ's winter season).
Fit, Comfort and Adjustability:
Being fairly long-legged at 6'2" (1.88m), most shorts are typically a little "shorter" on me than most. With an inseam just north of 10" (25.4cm), these shorts are nearly perfect for me in terms of length. Anything shorter might look like rugby shorts and anything longer belongs on the basketball court. Great fit overall.
UA has these listed as "loose" fitting on their three-point scale of loose, fitted, and compression fit. I'd say that is a fairly limited fitting scale, and hard to know what "loose" truly means. In my own terms, I'd say these are mildly loose. They certainly aren't baggy as there isn't much extra or excessive fabric.
No adjustability to the shorts, but with the stretchy hybrid waistband, they can effectively fit a larger range of waist sizes than a non-stretch waist. With a 31-inch waist (78.7cm), I wear a size medium and they fit well, although if I were to guess, they could likely fit between a 30-33 (76.2-83.8cm) pretty easily due to the firm stretch in the hybrid waistband.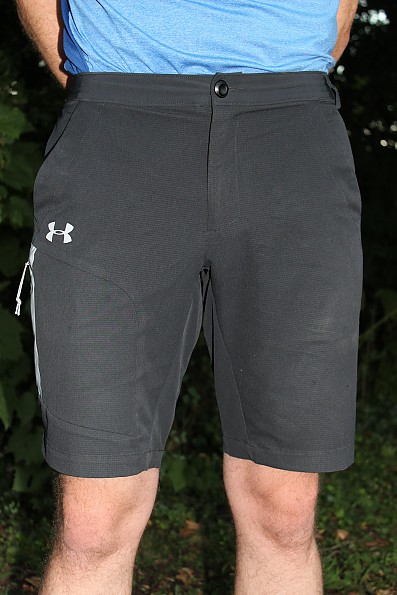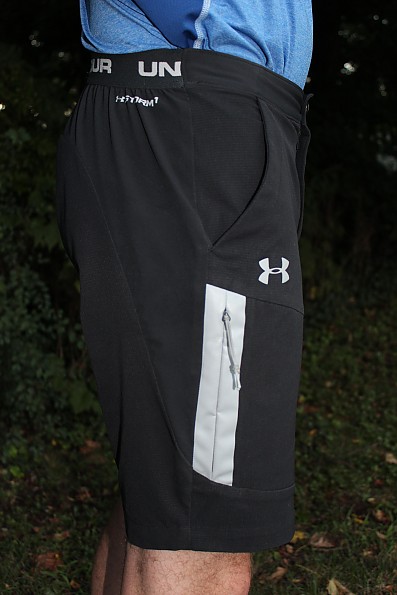 Breathability:
From my perspective, breathability is what these shorts are built for. They have some other positive aspects, but the breathability is what truly stands out for me. In the hot and humid summer weather, breathable garments are crucial to comfort and health and safety. Of course, underwear also play an important role in the equation. I typically wear ExOfficio Give-n-Go Boxer Briefs with them, or a similar lightweight, synthetic, performance underwear that aid in the breathability.
If you look closely, the fabric on the inner thighs are actually a different material than the rest of the garment. This micro-mesh-like area is where the increased ventilation occurs. If you hold the shorts up to the light, you can see light penetrating through them like old-school mesh gym shorts. This doesn't mean strangers will be able to see through your shorts though (they can't, I asked my wife to make sure).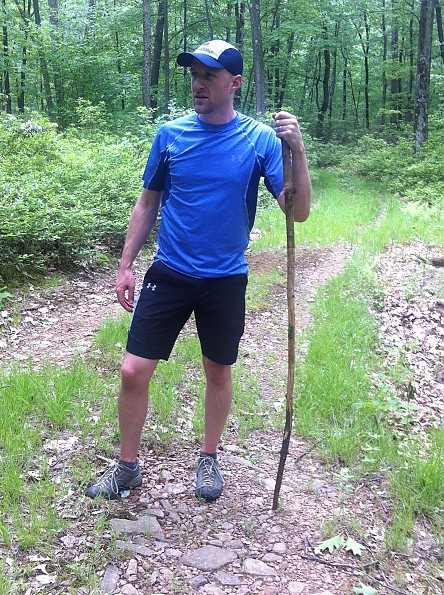 Strolling through eastern U.S. forests mid-summer along with UA CoolSwitch Trail SS Tee.
Water Resistance:
UA Storm is Under Armour's proprietary water repellant technology, which is incorporated into these shorts. It has been somewhat difficult for me to grasp the water repellency of the shorts. I was sprayed with a hose while wearing the shorts and I was soaked throughout. I was caught in a downpour rain, same outcome.
I then tested the water repellency with a less vigorous splash of water. The water didn't soak in immediately, but eventually I felt the water through the shorts. When paddling, and getting splashed with water, same outcome. The claim of water repellant technology is somewhat misguided, especially with the term UA Storm printed on the butt of the shorts.
These are not able to fend off any kind of rainstorm, but water does take longer to penetrate than say a pair of cotton shorts.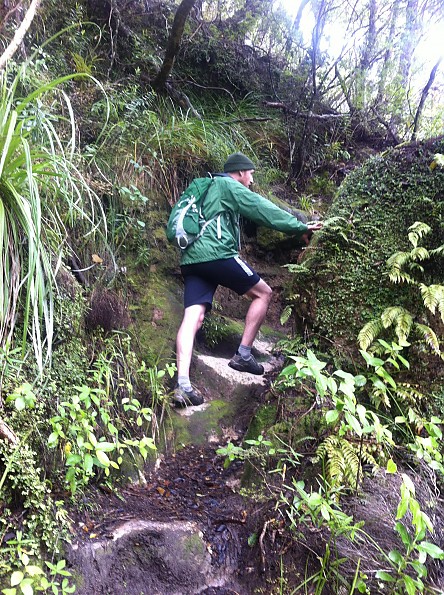 Wet and cool weather hiking in New Zealand during their winter season. 
Abrasion/Durability:
After three months of consistent use, there is one small snag and this occurred during a hike in which we had to access an overgrown side trail and semi-bushwhack our way to the main trail. I actually anticipated more snags and visible wear based on the lightweight material of the shorts, but am pleasantly surprised by how they have held up and handle tough environments.
All seams, zipper, button, pockets, etc. are all in great shape after three months of excessive use. 
Update 2022 —The elastic on these shorts have completely worn out and and become non-functional. Unfortunately, the shorts had to be thrown away, even though the rest of the shorts were perfectly fine, but the worn elastic rendered them useless.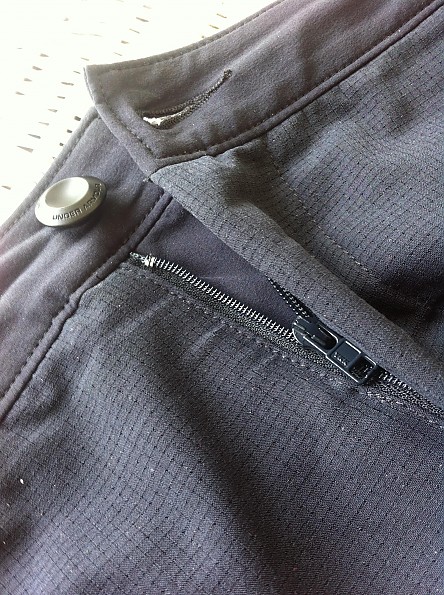 Butt Labels: 
What irks me are the labels on the butt of the shorts. The hybrid waistband has the company name stretched across it, not all too dissimilar to a pair of men's underwear, and there is another mark, much smaller, below the waistband that says "UA Storm".
Mind you, these can be covered up by simply untucking one's shirt. But with a tucked in shirt, the wearer's butt becomes advertising. I'm not a huge fan of manufacturer's plastering their logos all over their products, but I do recognize there is a need to put logos in places to help advance the brand's recognition. I just wish UA kept their logo to front of the shorts and that was it.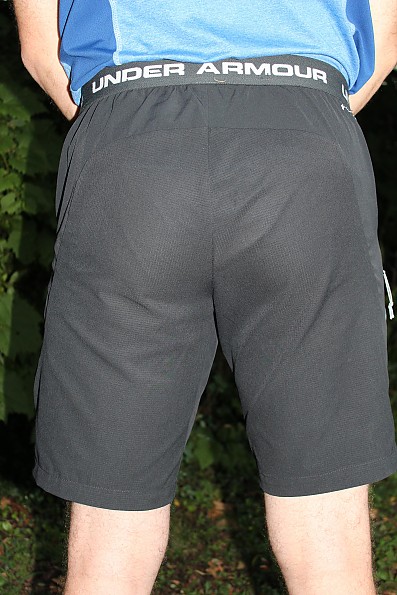 Three big tests:
1) Half-day high ropes course facilitation:
I wore these shorts on an 85°F (29°C) hot and humid day in which I was helping facilitate a high ropes course. With a climbing harness on overtop the shorts during this 5-hour window, I knew it would test the comfort, mobility, and moisture control of the shorts. All were handled with no concerns. On days like this, I always bring a spare change on shorts for the ride home due to sweat buildup. This time, no change was necessary.
2) 12-mile hike in various terrain:
In 95°F (35°C) heat with very high humidity levels, I hiked 12 miles (19.3km) through a mixture of cleared, exposed, and overgrown trail conditions (it was kinda miserable if I'm honest). The hike was tiresome, but the shorts noticeably performed well amidst the hike.
One point near the end (which included a treacherous uphill on an overgrown side trail, I stopped and asked my hiking partner how he was feeling. He looked at me and said, "I'm sweating my butt off." I laughed and said, "oh, I'm actually pretty dry." Of course, I had been sweating, especially since I tend to run hot anyways, but I was noticeably less sweaty than normal.
One snag did occur to the shorts during this hike while bushwhacking the trail back.
3) 9-mile mountain bike trail ride:
Warm and wet while riding, I was looking to see how the shorts would handle the excessive moisture from puddles, on-again-off-again rain, and the body moisture that is inevitable while riding. I was wet, head to toe, and didn't notice any outright water repellency, but the comfort and breathability never declined. The shorts were slightly short on my legs once I was perched on my saddle and exposed my bare legs to the elements. Not as good as mountain bike-specific shorts, but certainly serviceable for riding. 
Conclusion:
I haven't come across many circumstances in which the Under Armour ArmourVent Trail Shorts aren't a great choice. Whether it's hiking, biking, swimming, or just about any other hot-weather activity, they serve as a highly breathable and comfortable option.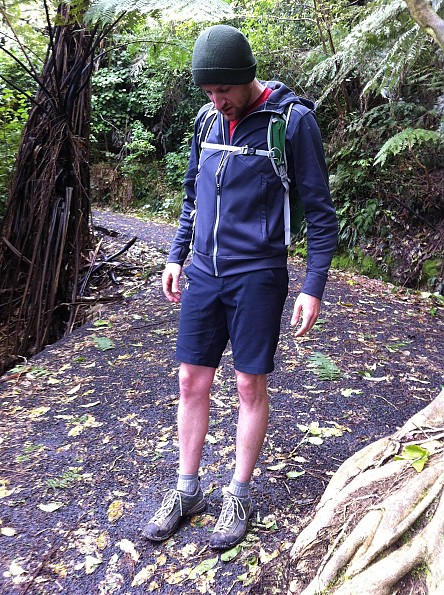 Works just as well in cool weather or warm weather, as was the case when I took them to New Zealand during their winter season and temps ranged from 45-70°F (7-12°C).
Acknowledgment: 
Many thanks to both Trailspace and Under Armour for the opportunity to test these shorts.
Update 2022 —The elastic on these shorts have completely worn out and and become non-functional. Unfortunately, the shorts had to be thrown away, even though the rest of the shorts were perfectly fine, but the worn elastic rendered them useless. 
Source: received for testing via the Trailspace Review Corps (Sample provided by Under Armour for testing and review)

Your Review
You May Like
Specs
Price
MSRP: $69.99
Historic Range: $35.00-$69.99