UnTapped Gels

Untapped All Natural Athletic Fuel (which I will call "UnTapped" for the remainder of this review) might be one of the simplest energy supplements out there. It is a small foil pouch of pure maple syrup. That means 26 grams of carbs in one small, easy-to-consume shot.

If you like the taste of maple syrup and can handle the super-sweet taste, they are a worthy addition to your arsenal.
Pros
Compact
Tasty
Nice packaging
High carbohydrate content
Cons
Expensive
Very sweet
Tear-off top could litter the trails
INTRODUCTION
UnTapped is an elegantly simple energy supplement  — it is a one-ounce foil packet of pure, organic, Vermont maple syrup. For those of you who are into your syrup, it's Grade A amber rich. That is a very popular grade for table use with pancakes, waffles, etc.  
DETAILS
Each foil pouch of UnTapped fits in the palm of your hand. Literally.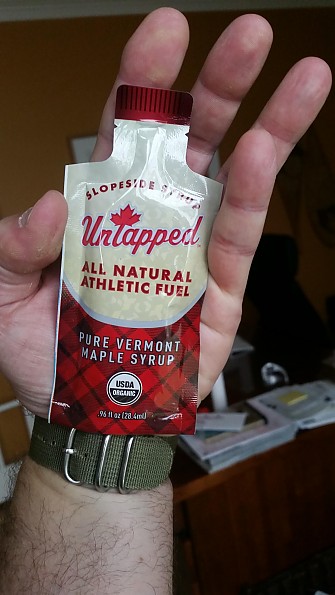 Within that almost weightless packet are about 100 calories, 26 grams of carbohydrates. Maple syrup also has small amounts of potassium and meaningful amounts of riboflavin and manganese. Full nutritional details below.
If you compare this to other energy gel supplements (I'll use Gu and Stinger Gold, which is mostly honey, for the sake of comparison), it's about the same carbohydrate content as Stinger, slightly more carbs than Gu, and they all have small amounts of various vitamins and/or minerals. (UnTapped has an unusually large amount of manganese, but I'm not sure what benefit that might have).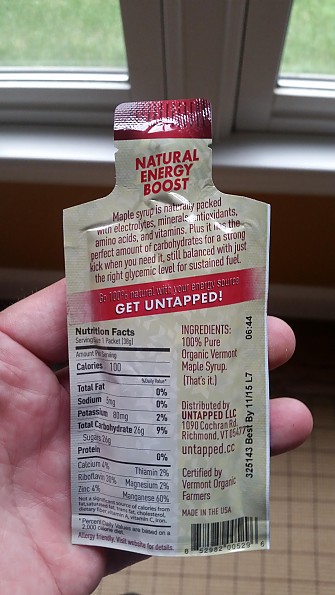 I used UnTapped during hikes and cycling outings; I did not use it over oatmeal or pancakes. It would be great for trail pancakes for breakfast, whereas it might be too much syrup for one bowl of oatmeal. The small size and flat profile make them extremely easy to carry, as they will fit in any hip belt pocket, stash location, or small cycling container.  
Use your teeth to tear open the top, squeeze, and drink. It's that simple. Because we're talking about pure (and organic) maple syrup, they are very sweet, and I learned they work best if you follow them with a healthy amount of water and/or a banana. (They combine really well as an energy supplement with Clif Organic Energy Food, which I tested earlier for Trailspace).  
It's worth carrying a small baggie for your empties so the sticky remnants don't leak, though thoroughly squeezing the foil pack mostly avoids that. Also, be careful about the little tabs, because they will most likely tear free of the packaging, and they are small and easy to drop. Another reason for that baggie.  
COST
A box of 20 UnTapped costs $34.95 full retail. That's about $1.75 per packet. That is comparable to the full retail price of a 24 packet box of Gu and somewhat more expensive than a 24 packet box of Stinger. However, both Gu and Stinger are readily available at significant discounts, for a larger number of gel packets.  
UnTapped is, in real terms, quite a bit more expensive than some of its competitors for now. Some retailers are already starting to discount UnTapped, though, so I expect the price delta will shrink over time.  
TASTE
This is important for me and one of the main reasons most energy gels don't excite me. Other than pure honey, the gel flavors have not appealed to me. In this respect, I like UnTapped as an occasional supplement. I don't think I could use it as my only supplement because I like variety, but I like them enough to add them to the arsenal.  
TAKEAWAYS
I don't think it's humanly possible to distinguish one workout energy source from another, and I'm not one who is prone to bonking, most of the time anyway. If you want supplement that is all-natural, that's compact, that is a change of pace from other energy gel supplements, and that offers a great pure source of carbs, give these a try.
Source: received for testing via the Trailspace Review Corps (Samples provided by UnTapped for testing and review)

Your Review
Where to Buy
Help support this site by making your next gear purchase through one of the links above. Click a link, buy what you need, and the seller will contribute a portion of the purchase price to support Trailspace's independent gear reviews.
You May Like
Specs
maple
coffee
salted cocoa
salted raspberry
Price
MSRP: $9.95
Current Retail: $1.99-$36.95

Ingredients
organic maple syrup
organic maple syrup, coffee
organic maple syrup, organic cocoa, sea salt
organic maple syrup, organic raspberry juice, sea salt
-
Calories
100

Carbohydrates
26 g

Caffeine
-
27 mg
-
-
-
Sodium
-
-
60 mg
60mg
-