UST Survival Blanket 2.0

#2 in Emergency Shelters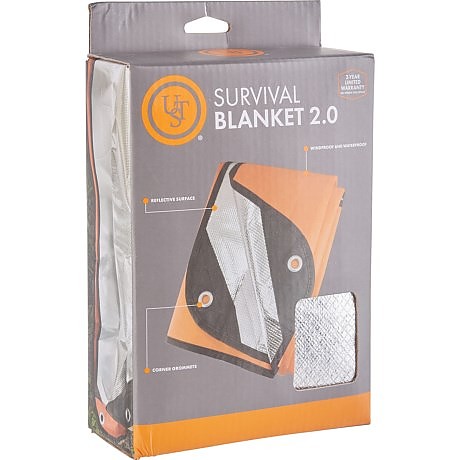 This emergency blanket/tarp is the best bang for your buck, hands down. Tough and durable at a price that anyone can afford.
Pros
Durable material
Mylar side is fireproof
Grommeted for use as a tarp
Blaze orange for high visibility
Mylar side is fireproof
Extremely economical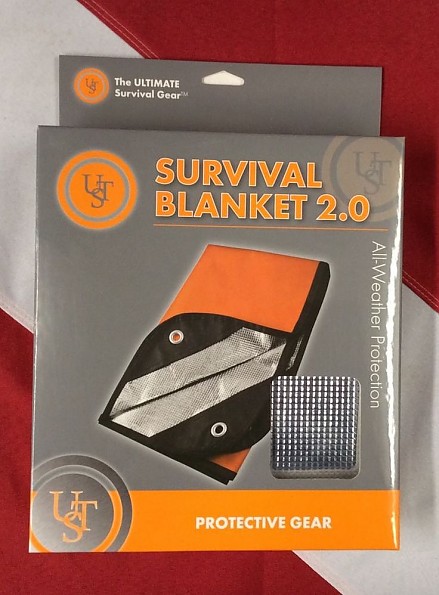 The UST Survival Blanket is one piece of equipment that is a must have for anyone. I have purchased several of these to keep in the emergency kits in our vehicles, a BOB at home, and I have two of them in my pack when I am out in the woods.
I am not a typical backpacker, making long treks cross country. I typically go in and set up a base camp and then spend the next few days hunting and fishing for my food. These UST blankets have been a part of my gear for a couple of years now.
First of all, the price is unmatched. I paid $12 for these at Walmart and I have used the other premium brands and I can assure you, this one will stand against any of them. The blanket has grommets in all four corners for tying it up as an emergency shelter. The mylar side works great as a fire reflector. I had one inside a debris shelter above my fire and even with flames touching it on occasion, it never melted or burned through.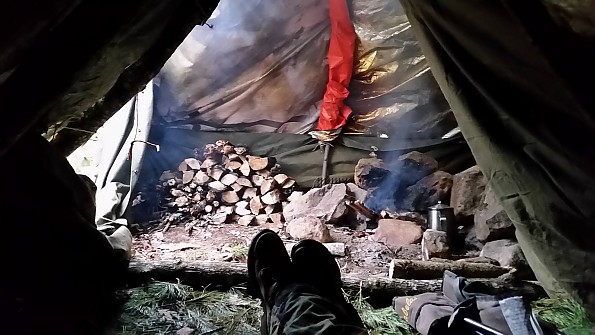 It worked extremely well for keeping the heat off of my roof and reflecting it back into  my sleeping area. The most impressive thing for me was that even with the fire under it for the entire night, the tarp never got hot enough to even melt the orange backing on the other side.
I carry two of them with me when I am out anywhere in case I decide to stay a night and I don't have all my gear with me. Using one on the ground and one as a roof/fire reflector, I can stay very warm on even super cold nights.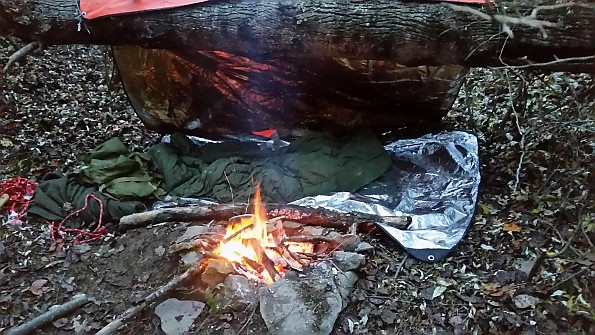 I keep emergency bags in our vehicles and each one has one of these blankets in it. They can be used for signaling for help or wrap someone up in them to help retain body heat. An important thing to remember is that it will not create heat for someone already suffering from hypothermia. They will only retain what heat is present.
Here are a few of the uses I have personally used these for:
Emergency shelter
Rain catcher
Fire reflector
Signaling device
Hang upside down to reflect sun and create cool shade
Can be cut into strips for emergency cordage
These are only a handful of the many uses for these blankets. If you don't have one in your pack, I highly recommend getting one. For $12, the peace of mind that comes along with it makes it worth more than almost any piece of gear in my arsenal.
Source: bought it new
Price Paid: $12

I too have used this product and love it for an entirely different reason, but basically the same functionality with a twist.
Pros
Versatility
Strength
Thermal protection
Durability
This is a very good light but heavy duty tarp that I use as a floor liner in my tent when I camp with my two dogs.  One of my dogs is a Dalmatian that is a total wimp about staying warm, the other is a Border Collie.  This blanket helped keep the tent much warmer than without it AND protected the floor from two dogs' toenails that I forget to keep very short.
They have a foam pad and sleeping bag for themselves and I usually end up putting a lighter weight bag over them when it gets cold (into the low 40's or 30's overnight). And I was on an non-insulated inflatable that ended up punctured from a toenail that weekend and my Outdoor Vitals down bag.
Our last camping trip when they woke up they wanted to go out and I just laughed and said you aren't going to like it out there yet as the sun hasn't warmed things up yet (low 30's). I let them out and they shot out and peed and leaped bag into the tent so fast I was laughing at the look on their little doggie faces of shock. And if they track a bunch of mud and debris in the tent I can easily fold it up and take it out and shake it off and replace it in a few minutes. 
We car camp from a Jeep so although space is at a premium at least we aren't packing everything in. This would be too bulky for that unless using as the shelter itself as others have done.
Anyway I think this is a very versatile piece of equipment that I'm glad I have in my gear. Now if only I could remember to trim dognails regularly!  Oh and it fits wonderfully in my Eureka Mountain Pass 3XT. I should review that tent as it is THE BOMB for a 3-PLUS season tent which are hard to find!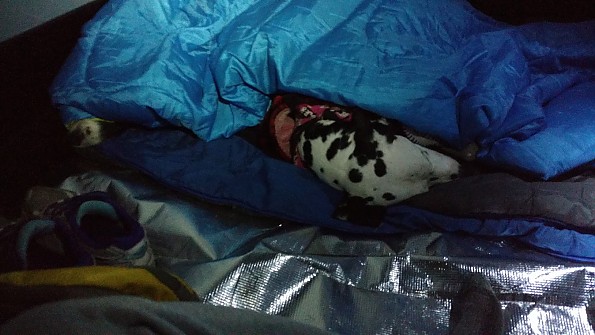 Source: bought it new
Price Paid: $12

Excellent to have, multiple uses.
Pros
Useful for many things
INEXPENSIVE
I have also used these for similar functions. In the South, they can keep your tent from becoming a radiant heat oven if you rig one or two as tarps to provide very effective shade from the afternoon sun. These are far more effective as sun shades than the usual "camping tarps" that sell for a lot more money.
There are tarp poles on the market that are very good. Going desert camping, take a couple of those along to expand your options for using these. We rigged up a combination sun shade for our tent and sheltered food prep/eating area and our weekend was much more enjoyable than trying to find shade in the late afternoon in the desert.
Source: bought it new
Price Paid: $11.99+tax

Your Review
You May Like
Specs
Price
Historic Range: $9.99-$14.99
Reviewers Paid: $11.99-$12.00

Weight
13.6 oz / 385 g

Recently on Trailspace