USWE Pow 16

#2 in unisex Winter Packs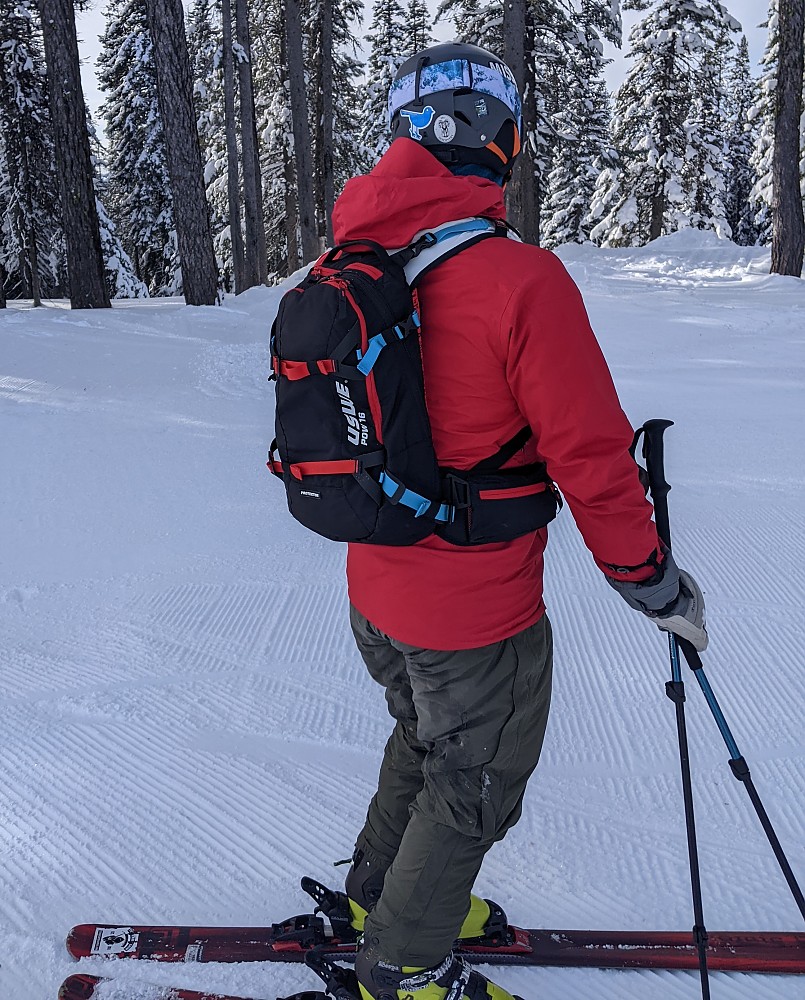 The Pow 16 is a specialized winter alpine pack for skiers/snowboarders. It is designed to hold avalanche gear, skis/board and features a CE-Certified full back protector. The pack uses the magic of Swedish engineering to keep your drinking tube thawed in sub-zero temps.

The USWE POW makes bold claims and lives up to them all. Your new best ski partner. I'll save you the reading and say this; buy this pack.
Pros
Keeps the pack snug during vigorous skiing
Hydration bladder keeps water thawed using an innovative Thermo Cell pocket
Storage specifically designed for snowsports, including avy gear
Multi-impact CE-certified spinal armor
No more "dancing monkey" on your back while skiing
Cons
The zipper to the goggle pouch might scratch your lenses if you aren't careful
You'll probably end up wanting the rest of their bounce-free packs for running/biking/motorbiking
Do you ski or snowboard in front or side country? Need to carry your plank(s) uphill occasionally? Want the peace of mind of dedicated, quick access pockets for avy gear? How about multi-impact rated, CE-certified spine protection? How about a hydration system that actually keeps your water thawed in sub-freezing temps?  Well, here you go!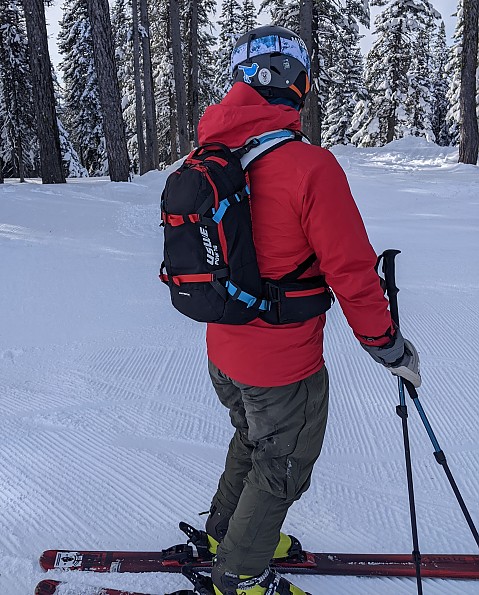 The unisex USWE POW 16 (pronounced YOU-SWEE) fixes many of the frustrations faced by winter sports enthusiasts when it comes to their backpacks. Usually in the winter having a hydration bladder is a no-go because you just know that the tube will freeze.  The result is that you resort to a heavy, insulated thermos that require you to stop to drink. No fun!
Another frustration is that many packs use the EXACT same hardware that summer packs use, which means that you need to de-glove to interact with it.  Another frustration is that, when you finish the climb and get to the fun part—the downhill—the pack flops around on your back like, as USWE puts it, a dancing monkey.
The POW addresses these issues and, based on my testing, solves these problems while providing storage for your gear and spine protection. 
Before you freak out that it is a unisex pack and assume that, therefore, it is, "one size fits none," fear not. The magic of Swedish engineering has made the POW probably the easiest pack ever to fit. Once the torso is adjusted, just pull the single adjustment pull to snug the elastic "Snug-Me" harness and the combined shoulder/chest straps hug your torso in a flexible grip that just feels like love.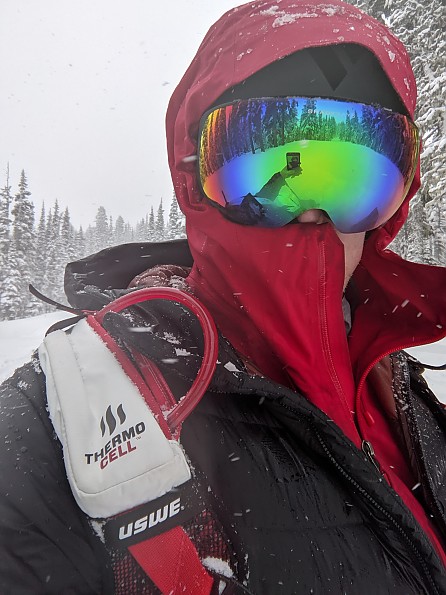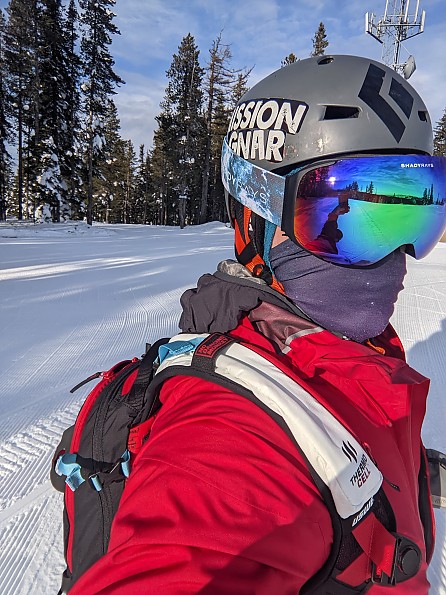 Testing conditions:
I wore this pack between 15-30°F on several trips, skinning uphill and skiing down in the side-country and on lift-served ski hills. I reached speeds, according to my cellphone, of 45mph, which is a bit much for someone my age and ability (don't tell my wife). I crashed a few times and the pack stayed exactly where it was supposed to, no "yard sales."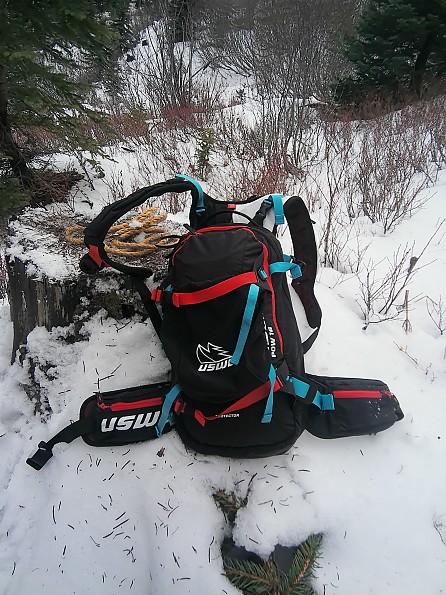 Features:
This pack is ALL features!  There are so many that I might accidentally omit a few.
The first thing a ski pack needs to do is carry your skis or snowboard while you're hiking. The POW has options for both. Skis are securely held in the A-frame style carry and only require one buckle each to remove.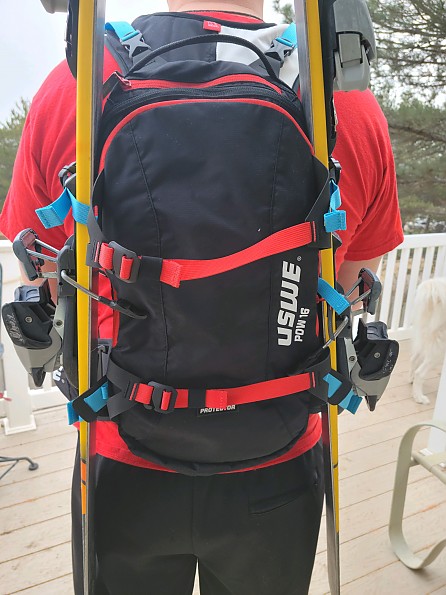 During the uphill the pack also has a dedicated external helmet pouch that rides where a snowboard would. If you carry a snowboard, the helmet pouch might not work for you, you may just need to wear the thing. You can carry skis diagonally too, but then you'd lose the place where the helmet pod goes.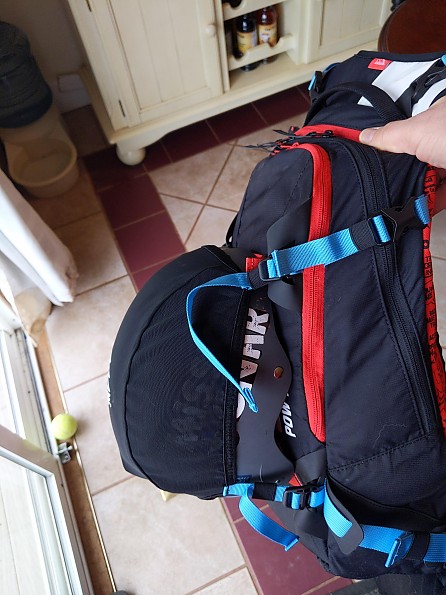 The next thing a ski pack needs to do is store your crap. 16 liters is just enough space for avy gear, lunch, a puffy coat, a couple beers, goggles, the three-liter hydration bladder that is made for this pack and a few other random items. Even after being filled, it is still small enough to manage on a lift, while skinning up, or bombing down slopes.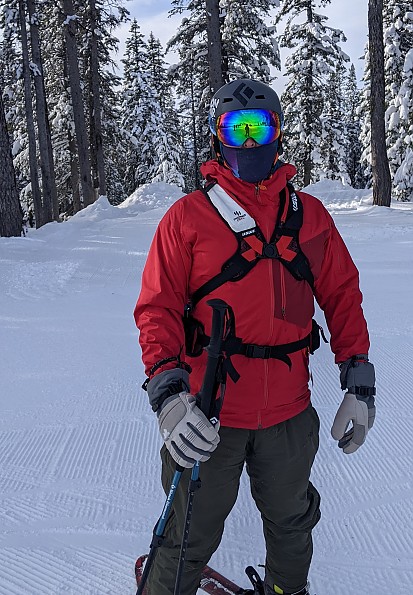 If you need more room there is a 25-liter Pow option, and there is also a POW jr. (14 liters) for torso sizes 14-18 inches.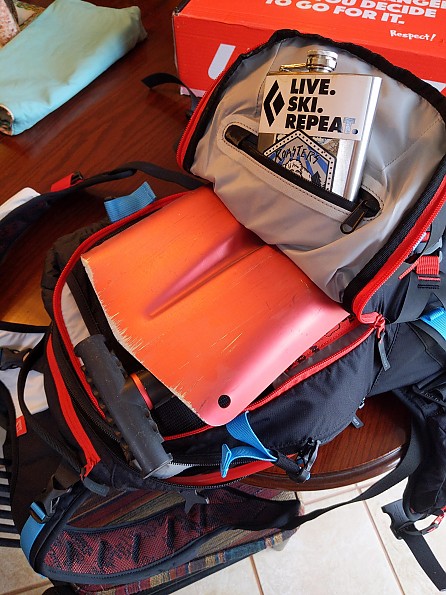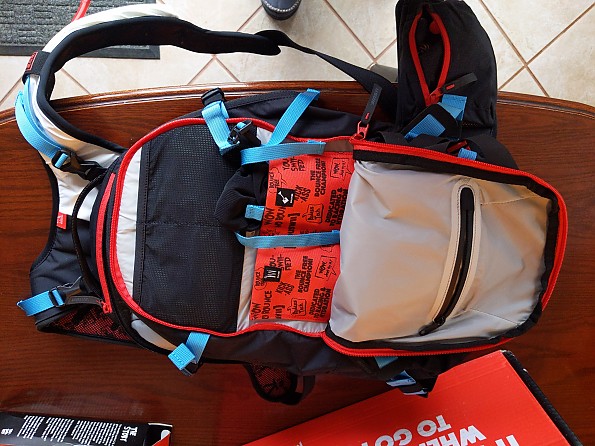 The goggle pouch is fleece lined to protect the micron-thin coating on your goggles and even includes a microfiber rag to clean them off.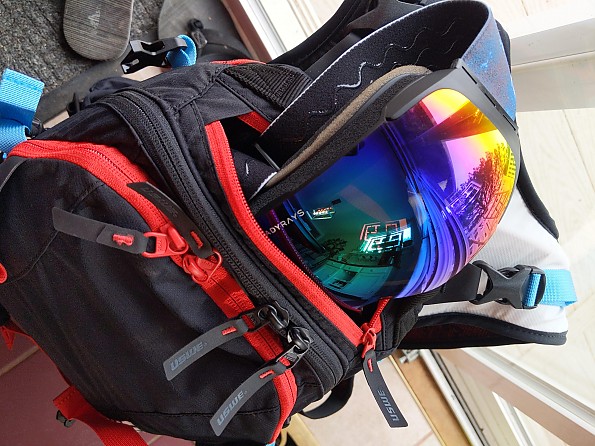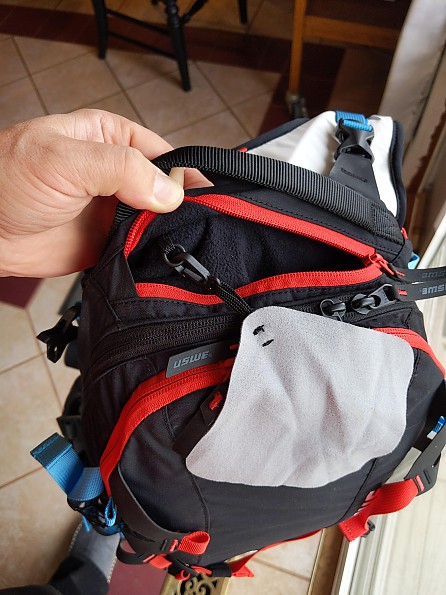 To keep your hydration hose ice-free the POW has an innovative method to keep it thawed that uses your body heat to maintain your water in the liquid phase. In my experience it worked well into the mid-teens during an entire day of skinning up and side-country skiing, but I suspect it would work in even colder temps, especially if you started the day with warm water. USWE states that it has been tested successfully to -15°F.
The hydration pack mouthpiece rests in a zippered pouch to keep it thawed till you need it and has a positive shutoff valve that absolutely stops any leakage. On the opposite chest strap there is another pocket that fits a few energy bars or other snacks.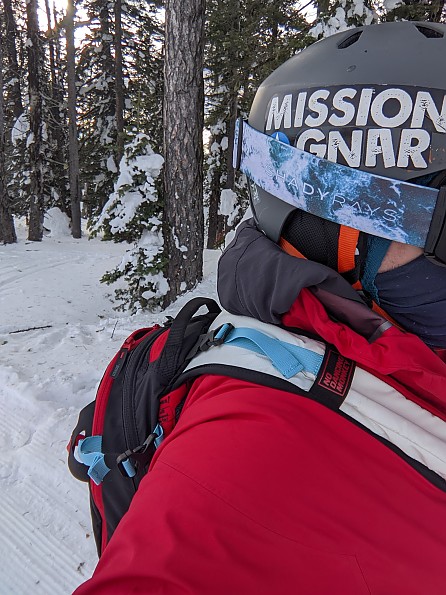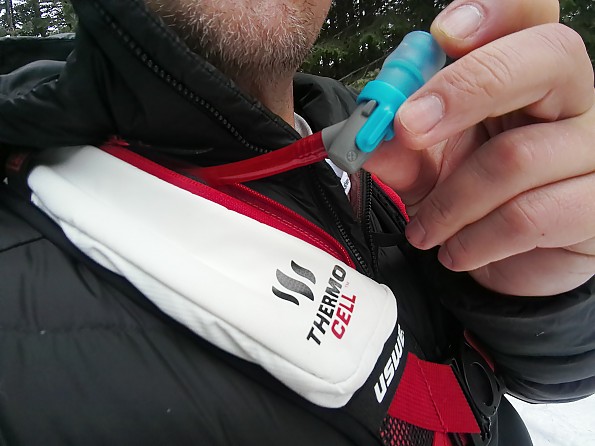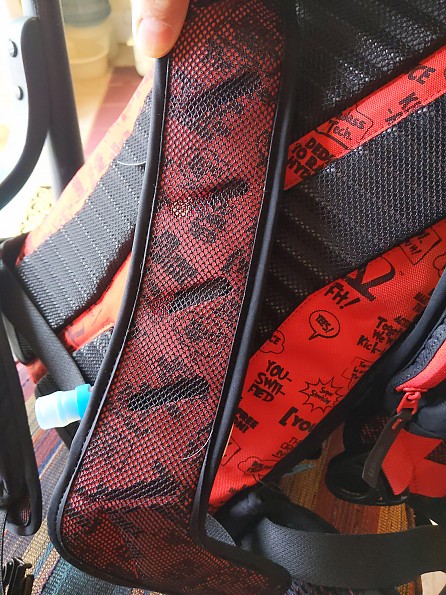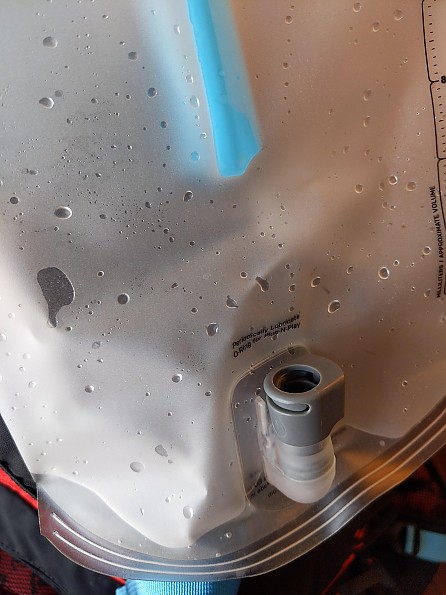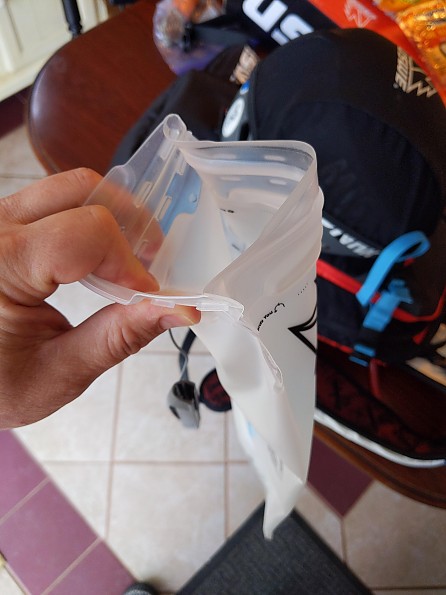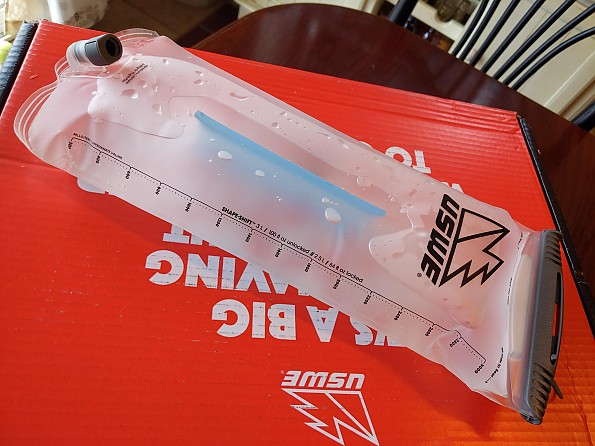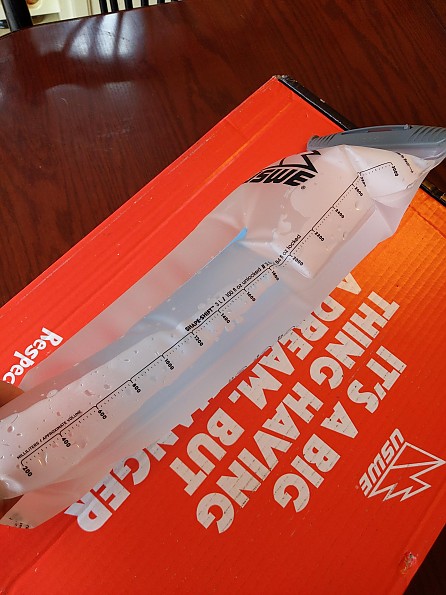 The harness is an X-shaped, cross your heart style with elastic straps that holds the pack snugly while skiing downhill. You could seriously run in the POW. The elastic straps hold the pack close to you but also allow you to breathe and move so it's not like having an anaconda wrapped around you. 
The coolest feature is the massive round button that you can operate with gloved hands to buckle the shoulder/chest straps in place. The waistbelt completes the system and locks it to your torso in a flexible, secure unit.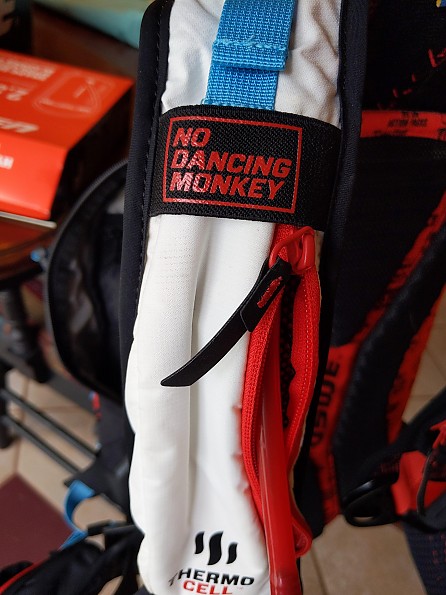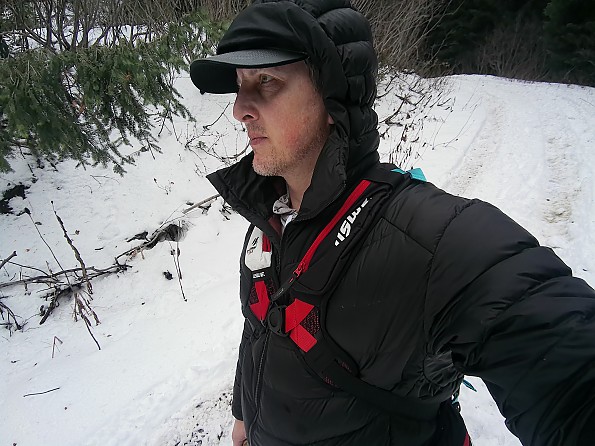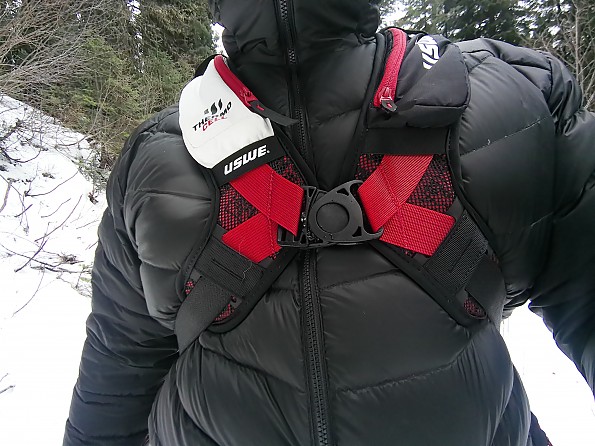 There ought to be a law that requires all packs to have belt pouches. The POW belt pouches (2) hold things like a spare beanie, lip balm, liner gloves, cell phone or medicine.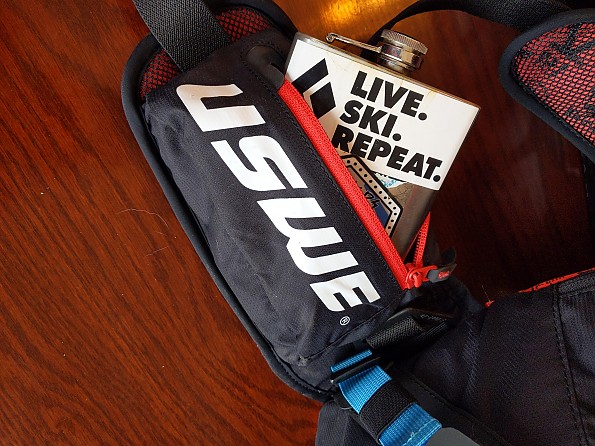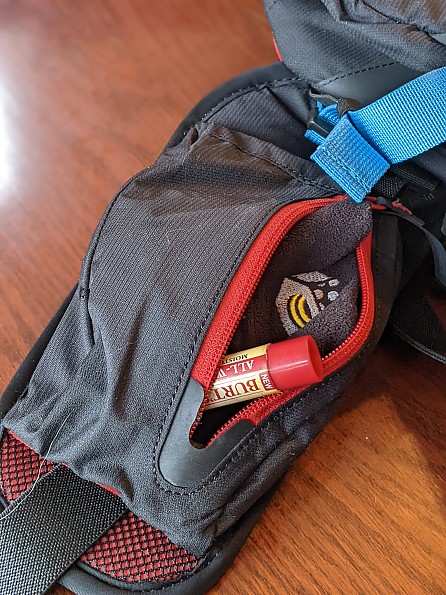 The back panel adjusts to fit a variety of torsos. It is numbered from 1-10. I'm 5' 10" and I felt best with the torso set to the 5 setting. USWE states that the unisex POW fits torso lengths 17-22 inches. Mine is 19 inches.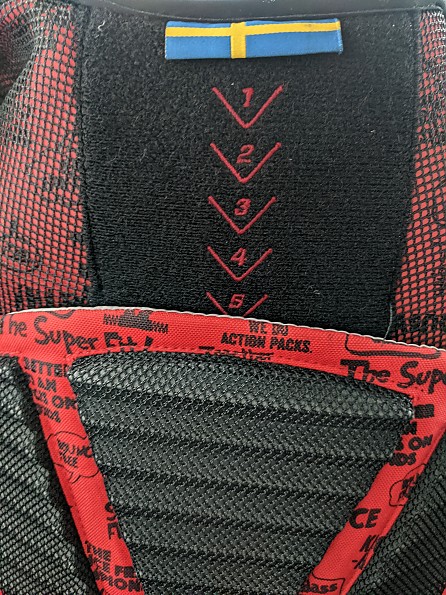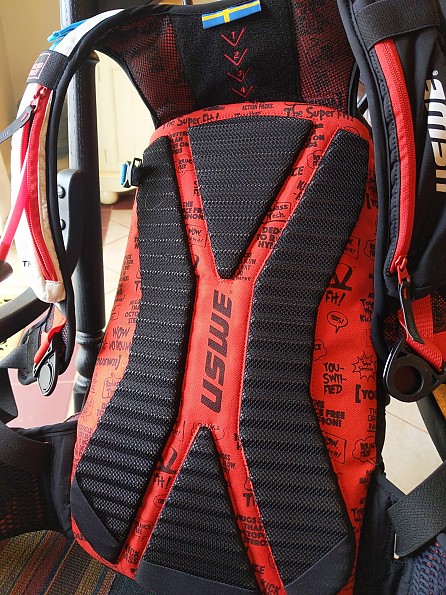 If you ski like me, you'll probably appreciate the CE-certified removable spinal armor that can withstand multiple impacts and still return to its original shape.  I know my dependents are happy knowing that basically the same armor I wear on my motorcycle protects my spine while skiing.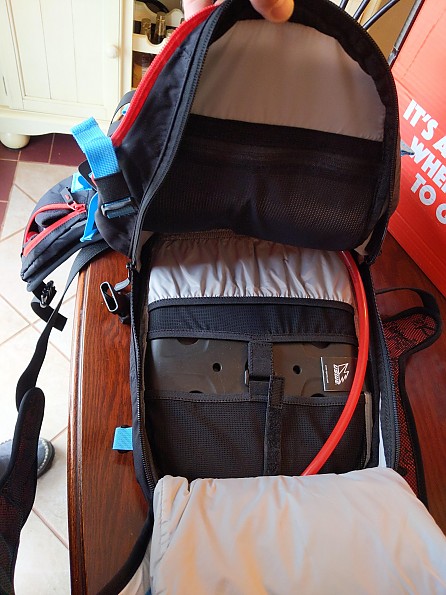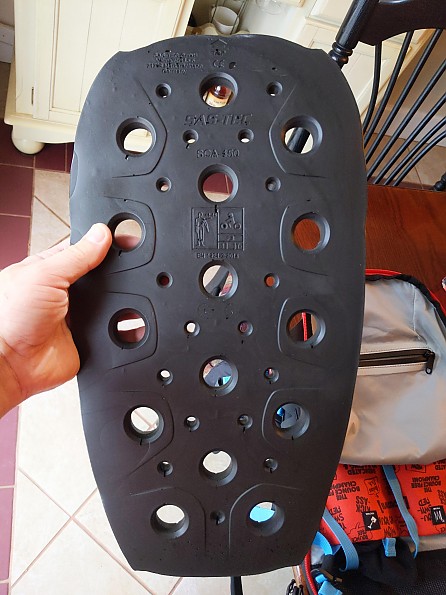 Styling:
This pack looks like a skiing pack. You can't look at the POW without seeing some sort of branding. From the moment you open the box you are presented with slogans, fun taglines and boasts about the project printed all over. It would be a little much if they weren't all 100% true but they are. This pack is badass, and they know it. For being a Swedish company, they seem to have translated their trash talking slogans into English pretty well; no obvious, cringy Google Translate faux pas. 
Would I wear this pack as a campus bookbag? Absolutely not! This a ski-only pack, where gear is often meant to make a statement. The POW looks cool, without being too obnoxious. 
Durability:
The POW will probably fare better than you would through several avalanches.  I haven't seen any place yet where this pack is starting to fail, nor can I predict any. The stitching is reinforced, and the straps work together to protect the zippers from tension. 
The zippers also have great rubbery pulls to make gloved use a breeze.
Regrets:
I could see backcountry skiers lamenting the lack of an airbag or built in avalung for avy survival. A RECCO device might also be a good addition. 
I'm so impressed with the bounce-free aspect of the USWE pack that I'll probably end up looking into their running and biking packs as well. If they're like the POW I'll probably end up sending them more money.
Best use:
This pack is for winter sports—skiing, snowboarding, and winter motorsports. The features are very specialized. If you are looking for a hiking daypack that can SORTA also go skiing, then you've come to the wrong place.
Are you a hard-charging downhill skier/snowboarder in the front or side-country? Will you be skinning, riding, and repeating all day? Here is your pack.
Experience
I'm a moderate resort skier, occasional side/backcountry skier, and sometimes ski mountaineer.
Source: received for testing via the Trailspace Review Corps (Sample for testing and review provided by USWE)

Your Review
Where to Buy
Help support this site by making your next gear purchase through one of the links above. Click a link, buy what you need, and the seller will contribute a portion of the purchase price to support Trailspace's independent gear reviews.
You May Like
Specs
Price
MSRP: $229.99
Current Retail: $199.99
Historic Range: $139.98-$199.99

Pack type
Winter Protector Backpack

Activity
Alpine Skiing

Pack Weight
1210g (*excl. protector)

Dimensions
50 x 25 x 18 cm

Total Volume
16L

Hydration Capacity
3,0L / 100 oz (Not Included)

Harness System
NDM 2.0 + Snug-Me System

Chest Fit Range
43 - 55 cm / 17 - 22 in

Recently on Trailspace