Vargo Titanium Sierra 750

The Titanium Sierra 750 has been discontinued. It last appeared in Vargo's 2009 product line. If you're looking for something new, check out the best cups and mugs for 2023.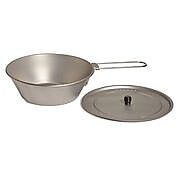 I walk to work each morning with a pack, containing a change of clothes for work, and enough kitchen to make breakfast along the way.
The sierra cup is light in weight, can serve as a good drinking cup that is less likely than most metal cups to burn your lips. Where it really shines for me, is that after I cook and eat my oatmeal from my pot, I want to have a source of warm water to clean up the pot with, especially during freezing weather. I have reversed the handle on the cup so that it comes up and over the center of the cup. Then when I put it on my pot stand over a alcohol burning stove, the handle doesn't burn my fingers and the cup is well balanced on the pot stand. That cup of water is just enough to clean up the pot. It also makes a reasonable light weight measuring cup and of course makes a great drinking cup.
In an emergency, I think the cup is well balanced enough with the handle reversed, that I could use a boot lace tied to the end of the handle then up to a stick to boil water over an open wood fire. I'll keep that in mind the next time I head out on a day hike and don't want to carry a lot of emergency equipment.
Price Paid: $20.99

I like the size of the cup and it does boil water very well. You cannot cook in it. Everything sticks to it and I've yet to find a stove that can burn cool enough to be able to cook an egg.

No, I would not buy this product again. I believe I would buy one of the same size, if it was stainless steel.
Pros
Easy to carry
Room to store items in
Cons
Gets too hot and can't cook in it.
I'd like to do more than boil water.
Source: bought it new

I bought this cup after a great deal of searching for something that was: a) Light weight; and b) Good for measuring boiling water into freeze-dried food packs. Anything fulfilling those two requirements would also work fine as a regular drinking cup.
I finally decided on the Vargo Sierra Cup for several reasons: The size of the cup itself is "One Cup" in order to eliminate the additional cost of stamping a fill mark. The folding handle is cleanly designed and has a sliding retainer band which prevents the cup body from pulling free of the handle when full of liquid. Overall workmanship is excellent and the price - $15.95 - is nearly half of other titanium cups. This was achieved by making the cup smaller, but for me it serves its purpose beautifully. At 1.2 ounces it also weighs less than other titanium cups... another plus.
Price Paid: $15.95

Packs down and stores with less space. Shapes helps to heat water faster.
Pros
Just the right size
Takes up little space
When I first saw this extra large Sierra cup I was skeptical about how well it would work. Now not everyone cooks the same way, but boiling water seems to be a common method to cook food on the trail. This pot does the job and I would say better than the standard cup style pot. The angled side allow the flames to go up the side and water heats up much faster.
I like the way this pot packs away. It takes up little space and I am able to store a alcohol stove, wind screen, inside it with no problem. The lid fits well and has drain holes if needed.
I would like to see a mark on the side so you know how much water you are adding to it, but half a pint eye balled is about all I ever need.
I am sold on this as my cooking pot and would recommend others to get one.
Source: bought it new
Price Paid: $37.95

Pot weighs 79 grams.
It only holds 700 ml.
The usable volume is 500 ml (2 cups).
I won't be using the lid.
I have not cooked with it yet.
Price Paid: $26

Your Review
You May Like
Specs
Price
Historic Range: $15.95-$49.95
Reviewers Paid: $15.95-$37.95

Recently on Trailspace