Vargo Triad XE

The Triad XE has been discontinued. It was replaced by the Vargo Triad Multi-Fuel Stove.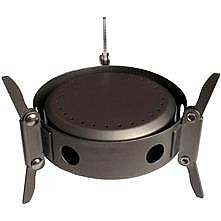 Why pay $30 for something you can make out of an empty soda can and a penny? Here's why.
I wanted to give this stove a chance. After all, the titanium makes it just about the lightest thing out there, plus it's cool enough to pick up ten seconds after you blow it out.
The legs are incredibly convenient, and add about 0.2 ounces, and so I wanted to compare it to my trusty old penny stove that has already proven itself.
In order to keep this review as short as possible, I will omit all the advantages and disadvantages common to all alcohol stoves, namely their susceptibility to wind. You can also use a solid fuel tablet just as easily in the bottom of a penny stove, so that advantage, while nice, is canceled out. Make a shield with a long piece of foil folded over twice and taped at the ends, or buy one from MSR for $15.
The test involved using both stoves inside in a controlled environment and then outside just to see if they could boil water in 40 degree weather. Both could.
As for the controlled test, I wanted to see how long it took both stoves to get one pint of water from room temperature to a rolling boil with exactly one ounce of pure methanol. I use ethanol on the trail, but for the test I wanted to stretch out the times a little bit by using methanol (less BTUs). Also, I wanted to see how long the stoves burned on the fuel provided, because sometimes you want to make some rice and then throw in some veggies and meat and simmer for a bit longer.
The outcome:
Before I give actual numbers, I want to remind the reader that the Triad stove was sturdier and the tripod was extremely convenient. The wire pot stand I built for my penny stove is as far from sturdy as can be. If I step on any part of the penny stove I'll be eating granola for the rest of my trip. I'm not a huge fan of titanium cookware, but this stove was a rock. You could almost use it to hammer in stakes.
As far as lighting goes, the penny stove was a little easier to prime, since you pretty much just pour the fuel in and light it. The Triad has a small hole in the bottom where the alcohol is supposed to drain, but it does so slowly so if you don't pay attention you waste some of the fuel as it pours over the side. I actually did this almost every time, and so counted this as part of the 1 oz. of fuel used. If you pour fuel onto the counter of your kitchen, how are you going to do it right on a rock in the woods? With two or three practices this is down to a minimum, and priming is just as easy as the penny, which is still way easier than a petrol stove. And now for the numbers:
The penny brought the water to a rolling boil in about 5 minutes. The Triad took about 9. BUT, the penny stove burned out in about 9 minutes, while the Triad continued to burn for a solid 22 minutes. I do have a simmer ring for the penny stove, but even if you tossed it on just after the water started to boil in order to cook some veggies or meat, you still couldn't milk 22 minutes out of it.
So, in conclusion, both stoves have their benefits. The Triad is lighter, sturdier, and the built-in potholder is a huge plus. The penny stove boils water (slightly) faster, but is flimsy and doesn't burn for nearly as long. So, depending on your style of cooking, I could recommend either stove.
You could easily boil a nalgene-load of water with the Triad, so if you are cooking for two to four people I might consider the Triad. Personally, I usually just boil water and stir in freeze-dried dinner, so I will probably stick with my penny stove. For a 1 oz object the size of a hockey puck, however, I might consider taking both on a few multi-day trips, so I can cook some veggies or packages of pre-cooked chicken on a few nights. THE END.
Price Paid: $30

This stove works as advertised. It'll heat enough water for your meal and a hot drink. But there are issues.
Pros
Reasonably light, but there are lighter stoves
Dual fuel design
Being titanium it's strong
Burns fairly hot
Cons
Big pain to fill/refill
Odd sized stand for my particular pot
I've used this stove perhaps 40 times in the past year or so. And while it's not a bad stove, it's not a great one either. My biggest issue is filling and refilling the stove. The fuel "capsule" cap is removed from the stand and taken apart. Filled to approximately 1oz and the cap replaced. Every freaking time.
Other alcohol stoves that have an open top are much easier to cook longer because of the easier refilling procedures. Ultimately, that's the main reason I choose to replace the stove with another alcohol stove. That review will come later when I've used it a few more times.
Source: bought it new
Price Paid: Don't remember for sure. Less than $30/35 perhaps.

It is dual fuel meths and hexamine tablets. It is very light. Once you have learned to fill and light it correctly it is a great stove!
Pros
the weight and that it is made of titanium
the dual fuel capability
Cons
tricky to fill with meths correctly. you have to be careful when filling it so you do not spill any the meths inside, as if that happens it severely decreases the burn time
fuel tank not large enough to boil 500 mil of water
OK, the first two times i tried to use this Vargo Triad XE i messed up with the filling and got a burn time of 8min.34 so it did not boil the 350 mil of cold water in my Snow Peak 600 bowl.
On the third attempt i used the bowl set from my Mini Trangia i lifted the central container/burner out of the main area opened it up placed the lower half into the main container poured the meths in then put the lid on the middle burner (then a couple of drops of meths to lite it!). i got a burn time of 16min 45 secs, it boiled the 500mil of cold water in my mini trangi at about 12min.37 and kept it boiling until about 16min.15sec the temp was 11.deg c
i used the Vargo windscreen around the pot. the mini trangia pot on the foldout brackets on the vargo. i have tried the vargo triad xe stove clipped to the bottom of the Vargo Hexagon wood stove. i was impressed but i spilt the fuel so i need to try that again. now i know now where i went wrong.
I do not think i would boil more than 500 mil of cold water with it but then again i am not catering for 2 dozen hungry hikers on it.
all in all i'm pleased. plus it is a titanium stove and i love titanium.
ok after more testing  i think the stove is not pwerfull enough to boil 500 mil of water the pot stand is too unstable all in all do not waste your time with it
Source: bought it new
Price Paid: £23.99

While making your own cat can stove may be the inexpensive way to go I needed something I could expect to last a long long time and be efficient. The Vargo Triad XE endured the Eastern Continental Trail journey for 339 days and is still in use. It is ultralight and tough.
Pros
Durable
Ultralight - titanium
Efficient
Cons
One leg wouldn't cooperate all the time, minor.
I needed a stove to depend on. Something light, durable and efficient. This stove had all three plus is designed for solid fuel if necessary, though I had no problem obtaining liquid fuel. Once I determined the burn time I was very satisfied with the temperature available and the duration.
The stove folded up conveniently complete with wind screen and lighter into my Vargo titanium travel mug. I will be using the same stove for the next journey lasting seven months.
Source: bought it new
Price Paid: $30

Right now I'm going with 2.5 stars only because I haven't used the stove outdoors yet. I have boiled 2 cups of water, indoors at 66 F, in 5 minutes flat. One of the legs did not fold down as much as the other two but some careful bending took care of that.
It lights easily and extinguishes easily. Because the fuel is contained in a separate cup pouring the alcohol back into a bottle seems easier than on the older Vargo where you had to use a leg as a pour spout. Easier to use than the two Pepsi can stoves I have made.
At the end of May I am going to hike the eastern half of the Pictured Rocks National Lakeshore as a shakedown for Isle Royale. Depending on the weather next weekend I may give my Henry Shires tent and my new Mont Bell bag a test so look for updates.
Price Paid: $34.95

When I first got my Vargo Triad EX I saw that the alcohol container was too small for a long cook time so I called the company. I spoke to Mr. Vargo, the owner/designer and he said he'd fix it. And fix it he did and sent me a new, larger container that just barely fits inside the stove base. (See picture above.)
How's THAT for customer service? Well, anyway, I found later that I preferred using the XE's base for ESBIT/FireLite fuel tabs instead of alcohol. Hotter, lighter fuel weight, and less fussy. Two fuel tabs work for any meal I've ever cooked - not just boiling water but actual cooking.
So I'm unable to compare the alky stove to many others but as a base for fuel tabs it's first rate. The secret is that it can hold two fuel tabs.
Eric
Price Paid: $32

Your Review
You May Like
Specs
Price
MSRP: $32.95
Historic Range: $22.36-$35.95
Reviewers Paid: $30.00-$34.95

Fuel
alcohol, solid fuel tabs

Weight
1.5 oz