Vasque Breeze 2.0 GTX

The Breeze 2.0 GTX has been discontinued. It was replaced by the Vasque Breeze III GTX.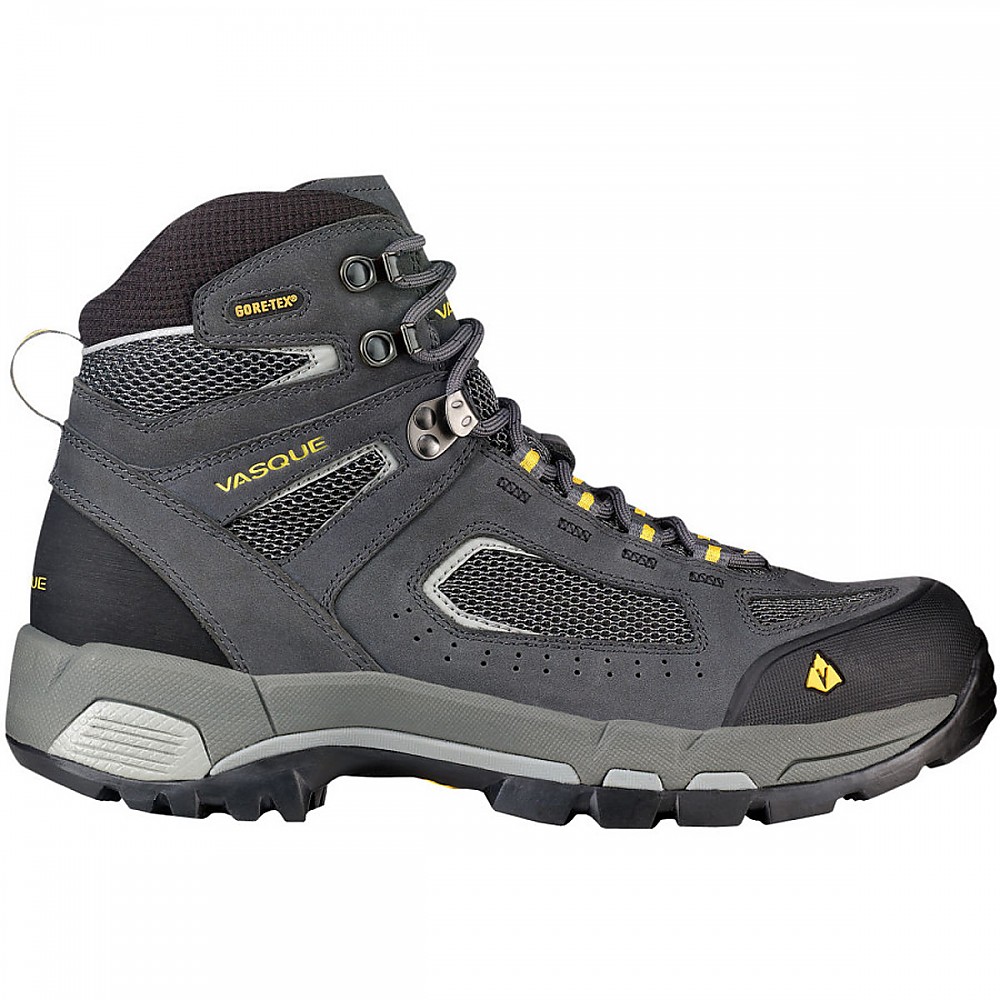 Specs
Men's
Price
Historic Range: $33.98-$169.99
Reviewers Paid: $89.99-$170.00

Women's
Price
Historic Range: $33.98-$169.99

Kids'
Price
Historic Range: $59.99

Reviews
11

reviews

5-star:

4

4-star:

4

3-star:

3

2-star:

0

1-star:

0
Great shoe for hiking or backpacking! The Gore-tex is a great feature of this product, making it waterproof. Strong sole, which is great for hiking with 30-lb plus packs. Protected my feet against blisters. Very good ankle support.
Pros
Gore-tex for waterproofing
Strong sole
Great ankle support
Cons
Ventilation
Traction in snow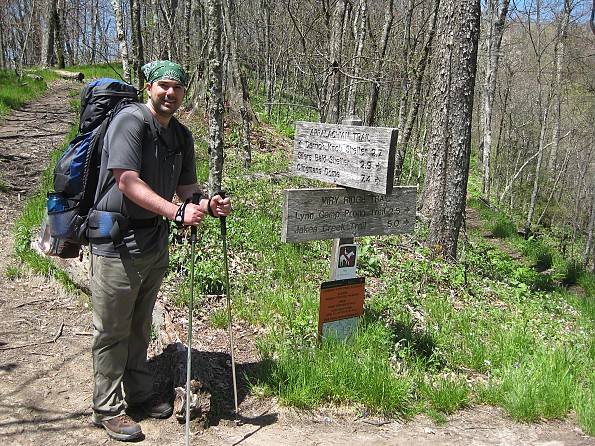 I purchased the Vasque Breeze 2.0 in April for my May trip to the Smokey Mountains. I purchased them at my local REI store. The shoe salesman told me that I needed a heavier boot for my trip to support the weight of my pack and also because of the environment I would be hiking in. I had been using very lightweight Merrells for 5 years and I got blisters every trip I went on.  
After backpacking for 6 days in the Smokies, I didn't get a single blister with the Vasques. The Gore-tex waterproofing was a plus as you can ford through small streams without getting your feet soaked. However, if the water is over your ankles then your feet are getting soaked and it is a pain to get your boots dry.  
They provide great ankle support so it is very hard to roll your ankle while wearing these. You do need to break in these boots before going on a trip.  Your feet will thank you for it.  
Some cons to be aware of are the traction in snowy conditions. They performed ok, but I didn't get the grip I expected from them. However, I have worn them a lot this winter as the Gore-tex does a nice job of keeping your feet dry from the snow.
Lastly, the ventilation is not bad, but your feet don't breathe as much with this shoe as compared with a non Gore-tex shoe. It basically comes down to which is more important to you: A shoe that protects your feet from getting wet, or a shoe that allows your feat to breathe.
Overall, I feel that the pro's out weigh the cons and that you should go out and buy the Vasque Breeze 2.0 hiking/backpacking boots for your next trip.
Source: bought it new
Price Paid: $140 (lower price because I used my REI dividend

Good backpacking boot.
Pros
Comfortable
Easily available
Come in wide sizes
I had my Vasque Breeze 2.0's for about 6 months. I wore them on a 170-mile hike on the River to River Trail in Southern Illinois in May of 2015, and put about 200 miles on them prior to that hike on trails that were in much better condition. Several days into my River to River walk, the seam failed where the toe kick meets the suede, and when I was done with the hike I returned them.
These boots were very comfortable, and, as others have said, required very little break-in time. I purchased them to use on a mostly unimproved horse trail with long stretches of muck and steep hills that had been eroded by horse and illegal ATV use. The traction and support of the boots was good.
I was glad I wore these instead of running style shoes. Conditions on the hike would have pulled most of the hiking shoes I own now off my feet! I may have pushed them passed their limits, though. I think the hours slogging through the muck may have caused the seams to separate: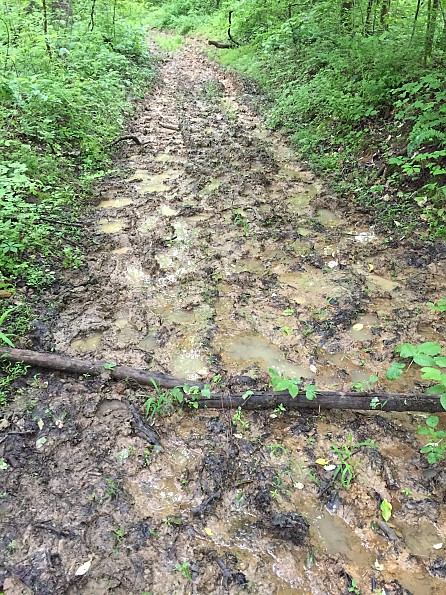 By day 2 they were wet through and through, and stayed wet, despite trying my best to dry them out: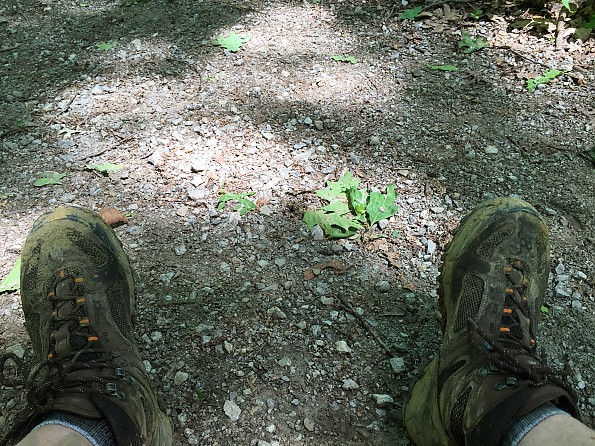 That said, I didn't get any blisters, no toe problems, no foot problems at all, and I can't say that for other varieties of hiking footwear I've tried and own. These would be a good winter or fall boot for here in the Midwest if the weather and conditions were fairly dry. Even with the seam failure I'd recommend them for overnight or weekend use, if you're interested in a boot style. The folks at the REI said they hadn't seen this problem with this boot before, and I believe them.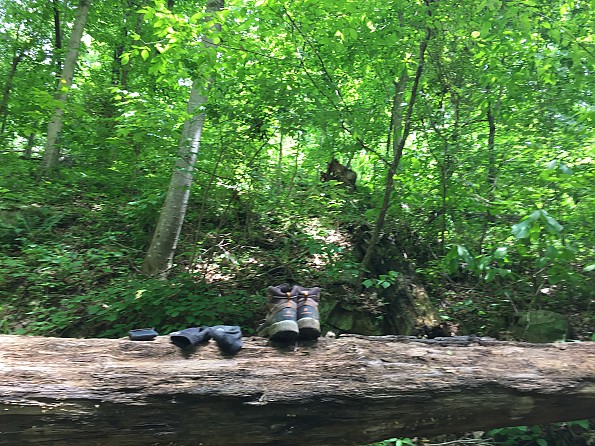 Source: bought it new
Price Paid: $136 USD

These are a great pair of lightweight hiking boots, super comfortable and waterproof (Gore Tex) to boot! These boots are very supportive for your ankles, and are amazingly comfortable mile after mile in varying conditions.

The break-in period seemed very short compared to other boots, my feet felt great after the first hike and every hike there after. These boots are best for someone seeking ankle support, comfort, and durability.

I would definitely recommend these boots to anyone!
Pros
Comfort
Durability
Ankle support
Waterproof
Cons
Not for small volume feet
Insides dry slow if wet
These boots fit my feet very well, and the break-in period was almost nonexistent. Plenty of toe room, great ankle support, and my ankle stays locked in.
My feet are on the small side for volume, and the laces are pulled tight so much that the loops are almost touching! This does not affect the fit for me, they are still really comfortable... they just seem to be more for a larger volume foot.  
Unlike most other boots I have tried, the break-in period for the Vasque Breeze was, well, a breeze. Usually my feet are sore after the first couple of hikes, but these boots left my feet feeling great right from the start. I have never experienced any chaffing or blisters from these boots, either. Nor have I experienced any pebbles or dirt entering the boot during a hike, even while wearing shorts.
I haven't tested the waterproof abilities for these boots since I live in a dry climate, but I have stomped through some mud with no issues whatsoever. The tread has no  issues gripping any surface I throw at it including scrambling across rock slide areas. The Gore Tex lining also breathes well, and with sock liners my feet stay dry even in the hottest temps.
These boots are easily my favorite piece of hiking gear, they are reliable, tough, and comfortable. They live up to my every expectation. They are made by Redwing, and I have owned several of there shoes and boots and like the others they don't disappoint and last, last, last.  
Source: bought it new
Price Paid: $115 on sale at REI

This is a very comfortable boot. The boot is well constructed and durable. A nice light boot with a great vibram sole.
Pros
Durable
Comfortable
Light
water proof.
I purchased a pair of these boots 8 years ago to hike some trails in Cape Breton NS.  When these were purchased there was no need for working these boots in.  The were very comfortable and handled steep muddy surfaces, rocky creek beds and long hikes.  I also used these for hunting and they were so light and comfortable on my feet.  Never had wet feet.  I finally had to throw them out after 8 years as I had wore them out.  I don't know how I can ever purchase a different hiking boot since I was so completely satisfied with these.
Source: bought it new
Price Paid: It was 8 years ago but I think I got them on sale for $130.00

An outstanding boot for the money! Seems to last forever.
Pros
Long lasting
Custom insole fits well
A good looking boot
Adequate ankle support
Cons
Not as well made since production move to China
Outsole appears to be weaker than past Vasque boots
In the late 1990s, I purchased a pair of Vasque Sundowner boots. These boots blew me away! I owned them for 11 years, without a single issue. Absolutely amazing. I finally got rid of them because they got ratty looking and the outsoles were completely worn down.
My next pair was a pair of Vasque Breeze GTX 2.0s. I was a little hesitant at first because of the price, but my wife convinced me that after the last Vasques, these would be worth it in the long run. I have been very happy with these boots, and they have served me well since 2007. Although the quality is not the same as when the boots were made in Italy (some of the decorative stitching came loose within the first year), they are still an outstanding boot for the casual to moderate hiker, and quite comfortable.
They may not be up to the standards of an Asolo, but they also don't cost nearly as much! Overall a great boot for the money! If you're looking for a decent boot, check these out.
Source: bought it new
Price Paid: $118 on sale

I love these boots for several reasons. The #1 reason would have to be the ankle support. The #2 would have to be the suction like grip on the luggy soles.
Pros
Killer ankle support
Great luggy grip in the soles
Excellent cushion
Cons
Seems to run about half a size small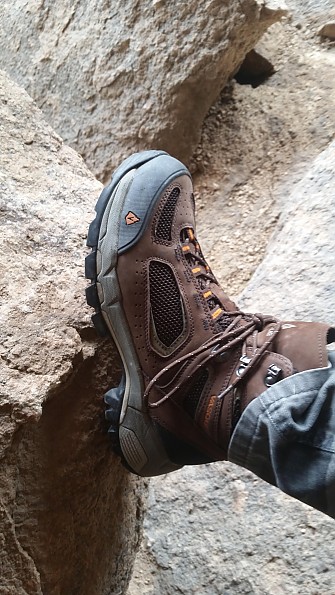 Let me start off by saying that these are the first hikers I've purchased since I broke my ankle in February '15. Anyone out there that has had the unfortunate experience of a severe ankle injury knows... once you heal, ankle support is a huge deal. And the support in these boots is excellent.
I broke three bones, and tore a tendon on top of it. So, even the occasional small rock that angles my foot to the slightest degree would stop me in my tracks. But the support I get with these dogs buffers that more so than any shoes I currently wear. 
If that's not the perfect reason to give em shot, you gotta dig the lugs on these grippy boots. Especially for those of us that love to rock scramble in the canyon lands. Wear did Vasque come up with these soles? Spiderman? They grip like the kraken. 
Although I will say that they run like a half size small. And though most of my trips in these have been on the arid dry side out west; I did do a bit of rock hopping across Sipsey River. And they did take a dunk in the water. And the Goretex lived up to expectations. As it should. 
Overall, I'd have to say they are by far my favorite hikers to date. Way to go, Vasque! 
Source: bought it new
Price Paid: $149

Good fit for smaller feet, waterproof, sturdy and lightweight. No break-in required. Used them on many 10 milers with Scout Troop.
Pros
Lightweight
Waterproof
Comfortable
Have used same pair for 5 years with many miles on them by hiking and daily wear. Tried other brands but for me I will stick with Vasque.
Source: bought it new
Price Paid: $125

Great any-season boots that fit well.
Pros
Waterproof
Ankle support
Light
Cons
Can get hot on your feet
Treads don't always self clean
Fit: I have oddly sized feet and these boots accommodate my feet extremely well, no chaffing or blisters. A common issue for most however is that the toe box is too narrow.
Comfort: These boots wore well from the first time I put them on and have not suffered from prolonged use.
Support: I like to have a boot with lots of ankle support and this boot offers such without chaffing as I am accustomed to.
Water Resistance: The only time my feet have gotten wet from these boots was when water was deeper than the cuff, for which there is no easy solution.
Traction: Great traction; however, traction can be lost with mud build up on a wet hike.
Temp Control: Probably best described as a three-season boot, it does a passable job with keeping your feet warm but can get hot with vigorous action.
Ease of Use: I have not encountered any issues with these boots, but there is a occasional issue of separation between sole and upper in early models.
Durability: I have not had any issues with this pair of boots and have been hiking in them for almost a year.
Source: received it as a personal gift

Unsurpassed comfort and quality. That's what I look for in a serious backpacking boot and Vasque delivers. They are so comfortable I wear them for my 30 min. training hill climbs barefoot! Without even a rub.

With my old boots, on that same daily hill climb when it's wet, I would be slipping all over the place. With my new Vasque Breeze boots I go up at almost full speed. And they're light as a breeze! Best for medium to moderate (40 lbs.) backpacking on any trails.
Pros
Comfort
Quality
Workmanship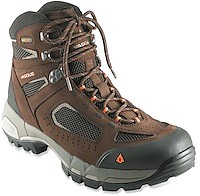 Wow. I fell in love with this boot the first time I wore them. I wasn't used to such a lively boot — it felt like I had springs strapped on. They are so technical and yet so well crafted — and light! My first hill climb they provided great traction even though the surface was wet (springtime Oregon coast rain!). They kept my feet dry in the heaviest rain and they felt exactly the same going downhill as they did going up - and they weren't even cinched up. 
They are so comfortable I can wear them barefoot (at least for half an hour). I have fat pad atrophy in my feet so I thought I would need sport gel insoles. Naah! These insoles are already jellin'. 
I wore them for a ten-mile hike through Silver Falls State Park. So comfortable I didn't even think about them. Rain, waterfall mist and puddles, forget it. They kept my feet nice and dry all day. I purposely left my sticks at home to see if I would come back with "hammer toe". No worries. These boots fit like a glove, going uphill or down. All this at only 2 lb. 9 oz.!
The engineering is spectacular. The combination of Gore-tex liners and Vibram soles is just the start. The nubuck leather and the nylon mesh are the real marriage. The tongue is padded to protect you from the lacing pressure. The footbeds and mid-soles are built to absorb shock and return energy back to your feet. Embedded plastic plates provide stability. Man they sure have learned a lot about making boots at Vasque.
What else can I say. These boots are headed for Yosemite!
Source: bought it new
Price Paid: $170

Good boot for waterproofing and heavier hiking or backpacking.
Pros
Waterproof
Aggressive tread
These are great boots if you are looking for a heavier boot for longer trips in which you will use a heavy backpack. I know NOLS recommends these for their backpacking courses which are usually 30 days or longer  and the packs weigh into the 40s and 50s. I bought these for my Philmont trip in July and have using them on my shakedown hikes to get ready.
They feature Vibram soles which means they will both last for many miles and have a good grip. They also feature an insole which is based on trail running shoes so they are comfortable from right out of the box. After a 2 hour rainstorm in the day and an all night storm my feet were still able to keep dry in them.
I would not recommend them if you are going to be using them with packs that weigh less than about 25 lbs or if the average temperatures are going to be in the high 90s or 100s.
Source: bought it new
Price Paid: $150

A comfortable, good looking, waterproof boot that is great to wear day in and day out. Did I mention well priced? It's come a ways from its 1.0 version but has continually been just as comfortable. I would recommend wearing thick socks because the boot's main flaw is no padding in the tongue which is slightly bothersome. Additionally the new laces on this version magically slide apart and unless double knotted will come undone. Overall a good boot for the money. [Please read detailed review for more information].
Pros
Waterproof
Comfotrable
Apperance
Cons
No padding in shoe's tongue
Laces come undone unless double knotted
I was originally introduced to the Vasque Men's Breeze '1.0' version, and after a 15 months of daily use the boot had significantly worn away; including failure to the Gortex lining due to repetitive motion at certain points which overtime pulled and ultimately failed the stitching. Additionally the rubber sole was wearing away and failed to stay intact with the main frame of the boot. Overall though, I enjoyed the 1.0 version so an upgrade to the Vasque Men's Breeze 2.0 Mid GTX was a must.
First off, appearance... This boot looks much better than its original go around. The darker shades make this boot blend in better with any clothing and give it a more sophisticated look. I wasn't as embarrassed to wear this around despite whether I was on the trail or in the grocery store.
Comfort, 9 out of 10. Like the shoe before, the level of comfort is excellent. Firm but comfortable support even after wearing up to 12 hours a day. No pinch points or blisters from this boot. Good support for the ankle as well.
My only critique would be the 2.0 version has made the 'tongue' of the shoe with nothing more than a flimsy piece of cloth. I preferred the older boot that actually filled the tongue with some material to give it cushioning when you laced up tightly. It sometimes feels like there is nothing between the laces and the front of my ankle...
Additionally, the smooth laces that come with this boot come undone unless you double knot them. Frustrating if you're in a rush or have a pack on and forgot to double knot them in the morning.
Overall a good looking, comfortable, fair priced boot I will continue to wear unless a higher end boot ends up going on sale.
Source: bought it new
Price Paid: $89.99

You May Like
Recently on Trailspace