Vasque Breeze GTX XCR

The Breeze GTX XCR has been discontinued. It was replaced by the Vasque Breeze III GTX.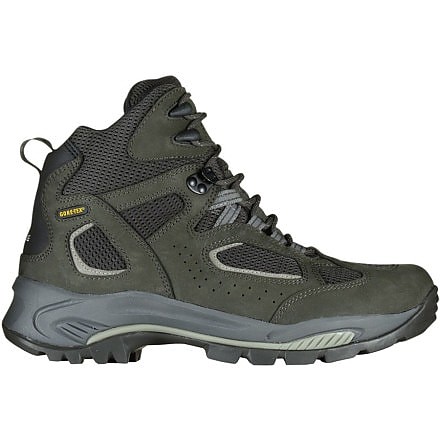 Specs
Men's
Price
Historic Range: $39.83-$160.00
Reviewers Paid: $89.00-$170.00

Women's
Price
Historic Range: $39.83-$160.00
Reviewers Paid: $4.83-$147.00

Reviews
39

reviews

5-star:

7

4-star:

14

3-star:

7

2-star:

7

1-star:

4
For how much support these shoes provide, they are super comfortable, very breathable, and surprisingly lightweight. Would def recommend these for backpacking or for a hiking novice who isn't sure what they want from a hiking shoe yet.
Pros
lightweight
breathable
comfortable
lots of support in sole
Bought these gently used at an REI garage sale. I'd had my eye on them, but since I'm not much of a boot person, was hesitant about paying full price. For how much support these shoes provide, they are super comfortable, very breathable, and surprisingly lightweight. Would def recommend these, even at full price, they are worth it. 
I'm an average sized woman, size 10, but 10.5 in boots. I've taken them out on a few backpacking trips in the Catskills, N.Y. One of those trips we had a pretty crazy river crossing, and my boot ended up under the water and water rushed over the top of my foot. Feet stayed 100% dry, and the fabric on the boots dried surprisingly quick.
Since I bought them used, I can't speak as much about the break-in time, since they were already pre-broken in a little. My understanding of the boot, however, is that the break-in time is quite reasonable because the uppers are so soft and pliable out of the box.
All in all, a great boot, that I absolutely recommend, even if you have to pay full price for them!
Source: bought it used
Price Paid: $4.83

I've got the Vasque Breeze GTX XCR (narrow) and found it to be a very reliable boot. Narrow is pretty snug at first, but eventually stretches to a more comfortable fit. I hike in some very wet areas in Western Massachusetts and unless I am actually standing in a puddle that covers the boot or exposed for an extended time to wet areas, the boot keeps my feet dry.
Great for all season comfort. I go through a pair/year. I don't know if it's the norm with hiking boots like this model, but I tend to get a lot of pebbles kicked up into the boot at the heel. Laces that come with the boot break quickly due to the friction of loops/hooks when lacing. Have experienced a small section of the toe starting to come unglued, but this is after almost 1 year of daily, year round use.
Once the sole wears out, they begin to make a chirping/squeaking sound when walking. For me, the innersole is completely worn out at the 1 year mark. Can almost stick my finger through it. I highly recommend periodic conditioning product be applied to the exterior or else the leather will dry out and fray, especially at the toe.
My Vasques take a beating and do a very good job standing up to the abuse.
Use: Short Hikes, Varying Terrain, Wet areas / all season
Break-in Period: 1 or 2 months
Price Paid: $131 (Jan '08)

Thanks to these shoes, I fractured my tailbone and was a huge liability to my fellow travellers. Absolutely no traction on wet rock, wet limestone, and mossy inclines, which makes this basically useless when I was travelling during the rainy season in Nepal's hills, mountains, and caves. Feet slip no matter how tightly laced, leading to bruising under my toenails.

I could have done better with my sneakers. That's how bad my experience was.
Pros
Fancy design and marketing
Fair walking shoes. Pathetic wet ground traction.
Low water resistance.
Fair fit. Lacing system feels tight, but not enough for feet not to slip. Bruising of toes.
Good ankle support.
Used on parts of the Annapurna Circuit, Bandipur and Taplejung hills of Nepal. 
Source: bought it new
Price Paid: $170

Great for short hikes in all weather and terrain. Long lasting...have had mine for well over eight years!
Pros
Reliable
Waterproof
Comfy
Long lasting
Cons
Laced always came undone
Arch support
These were the first hiking boots I have ever bought. They were on sale at REI for $100, and at that price figured I couldn't go wrong. It has been almost 8+ years now and I still use them for my hikes. I started hiking straight out of the box with no need for breaking them in.
I have large toe box and high arches, so it is hard to find good boots that fit. Through the years, I have been pleasantly surprised with the durability, ankle support, and waterproof interior. I have hiked jungles and mountains of Panama (re: wet, muddy, hot), Smokies, Rockies, Vermont, and most of the time I use them on trails in Missouri and Illinois — so a pretty diverse range of hiking conditions (except desert). I have done a lot of scrambles, boulders, tricky steep trails...and they have always been sturdy, stable, and don't slip much. They only seem to not hand wet cement very well..
Also, I used to wear them as my "winter" snow boots as well to hiking (I live in Missouri, so we don't get a lot of snow, but we do get a lot of ice storms), because they just keep my feet so dry and warm with thick enough socks and felt really stable with the sole grips on slippery surfaces - but had to upgrade to snow boots this year as they weren't keeping my feet that warm anymore.
My only complaints over the years, I have planter facisitis, so I need inserts and if I am not careful, my arch support isn't that great in these - so as a result, I wouldn't recommend long, several day hikes if you have finicky feet like me. Short, day hikes would be the ideal use of these boots. Also, I have never, ever been happy with how they lace...my laces always seem to get undone at some point. That said, I am still using the original laces that came with the boots.
So I am finally retiring these boots and will probably get another pair of Vasque Breeze GTX XCR. I would be too nervous to try anything else after the amazing amount of years and usage I got out of these great boots!!! The current reviews say they narrowed the insoles, so that would be the only reason I wouldn't buy them again. Not bad considering I bought them without any research and on sale!
Source: bought it new

Excellent ventilation. Great support. Superior traction.
Pros
Ventilation
Cushion
Comfort
I purchased the Vasque Breeze GTX XCR boots mostly for the ventilation feature, but was overall impressed with everything including support, traction and cushion comfort that I did not expect with a ventilated hiking boot. Since ventilation is the most important feature for my feet, I would highly recommend this boot to anyone who also rates ventilation as top priority.
Source: bought it new
Price Paid: $89

Very comfy, light weight.
First, I really enjoy these boots. They have a high ankle support which I really need and they aren't bulky. I wore them around for several hours around town and house to see if I liked them. When I first put them on I thought the arch in the right boot would be a problem, it wasn't. So I took them to the mountain.
Usually half way up my legs start getting tired from my old boots, but not with these. There was good breathability, stability, comfort and grip. Although I could feel the rocks under the soles, I didn't feel like anything was going to come through the bottoms, very flexable. They stayed tied tight the entire way and down and kept my ankle in line. I also wore normal socks you would wear with tennis shoes, so I can't say which hiking socks work best.
I am only giving it a 4 star because I haven't tested them over long term yet. That being said, I probably will give them 5 stars in a couple of months if they continue to be this great.
I normally wear a 10, but with boots a 9 1/2 is needed to keep my foot from sliding.
Source: bought it new
Price Paid: $99

The Vasque is a lightweight boot with sufficient mesh for ventilation. It is comfortable out of the box but the flexibility provided by the mesh is the source of its main weakness....The boot has too much side to side movement for my likes and seems to have stretched out about a half to a full size in 6 months of wear.
Pros
Great flexibility
Good ventilation
No break-in required
Cons
Not enough side-to-side movement for me
Not waterproof
Low durability
The Vasque men's Breeze GTX is almost the most comfortable boot up I have ever put on from an out of the box standpoint. I have a wide foot and many brands just do not accommodate it well. This pair was purchased as a replacement for a pair of Keen Targahees.
I wore the boots off and on over grassy rolling hill hikes as well as through the eastern and western bluffs of Devils Lake in South Central Wisconsin. They performed well with the easy hills but did not seem to be up to the task of the bluffs.
If you don't require much in the way of support they might be the most comfortable boots you ever get.
Source: bought it new
Price Paid: $165

A close friend of mine bought this boot and after testing it for a couple months on all kinds of terrain. She raved about the grip of the vibram soles and the great ankle support it provided as I struggled to stay stable on some slippery rocks on one of our short day hikes.
I went out and bought the boot shortly thereafter and attempted to break them in on a slow moving treadmill at the gym. Unfortunately, my foot is shaped in a way that left just enough wiggle room near the heal such that the constant rubbing caused the thin-skinned inward curves above my heals to blister in less than an hour.
It's a great shoe but I wasn't it's Cinderella; good fit is important. Luckily, I had bought the boots from a place that allowed me to return them.
Source: bought it new
Price Paid: $128 ($160 with 20% off coupon) from REI

The most important thing to know about these boots are that the are comfortable, but they need breaking in like any boots.
Pros
Comfortable
Dry
Easy to put on
Cons
Heavy
Weaker outside
Come untied often
I used these boots to hike 60 miles with my scout troop in July. It was a long hot 5 days but my feet held out because the boots where broken in and ready to go. We hiked a valley in Northern Michigan that had steep hills, creek and river crossings, and thick brush. 
This set of boots kept my feet comfortable and dry. Now I wear them to school every day and the outside is looking ruff, but they still work great.
Source: bought it new
Price Paid: Unknown

I bought these in exchange for another brand of boot that failed, and I've never been in love with them. They're just OK.
Cons
Squeak, squeak, squeak.
Squeak, squeak.
Squeak.
Now the hard plastic middle layers of the soles which are gray in color have developed cracks and they make a very loud squeaking noise on every step that I have been unable to solve. It's so noisy that it's very annoying and I don't want to wear them anymore. I would not buy another pair of these.
Source: bought it new
Price Paid: $140

Terrible traction.
I bought these boots bases on the recommendation of a local outdoor outfitter. They felt great walking around the store.  They were very light and the gave good support to my ankles and arches. The pros stop here.
My first hike with these was short and I quickly found that my foot moved around a bit  no matter how tight I laced them.  This could have been a size issue but my foot was measured at the store and there is not a lot if room in the toebox.  I replaced the insoles with pair of custom made orthotix from my work boots and this helped a bit.
What can't be helped is the traction.  It was unpredictable!  Once wet, forget about it.  They lose traction while pushing off. Wet or dry. Looking at the tread pattern you can see lack of lugs near the ball of the foot.
I work construction so I pretty much wear boots for a living.  12+ hour days and I never had these issues with my "work" boots. I even wore a pair of them for 20 miles on the AT and had less issues then these "hiking" boots.
Don't waste your money.  Since I already did, I plan on keeping these just to mow the lawn.  If they can't perform good enough for that, they are going in the trash.
Source: bought it new
Price Paid: $120

This is an update of my earlier review. I am changing my rating to 5 stars. After two years of heavy use these boots have held up well. They are durable, comfortable on long hikes, and have never let my feet get wet.
I only rate these boots a 4 because I have not backpacked in them yet. I have hiked several times in the Vasque Breeze.
These boots are waterproof. I had to carry my wife across a submerged foot-bridge (she was wearing trail runners) and the top of my foot was under water. I did not have any water in either boot. The boots are waterproof. We walked through high wet grass for 3/4 mile and my feet were completely dry.
On another trip I climbed and descended two peaks (about 1800 feet elevation total) with rocky trails and had no slippage of heel or toe (no black toenails) and good support from the boot. I was carrying a fifteen pound pack.
I bought these boots for backpacking trips to the Bigelow Range and Whites this summer. I am getting old and tired of the weight of heavy traditional backpacking boots. They feel like they could handle a 25-30 pound load. We will see.
Source: bought it new
Price Paid: $149

This boot is definitely comfortable, but durability is the worst. I bought a pair, was not sure if it fits, so as the seller told I took it home to wear indoor for a day just to test.
Guess what? 10 min on parquet, no rain, no sun, no rock, it got a big scratch. I got it back, they refuse to give my money back. Lots of headache.
Not a good experience.
Price Paid: 300Au$

I just bought these boots today so I am not ready to give an in-depth review. But I spent a great deal of time at REI trying on several brands and discussing them with the sales consultants who were very knowledgeable. I am only posting this today because several of the reviews posted here are very suspect (one is Stephanie rating a man's boots one star????). If you are basing your purchase on these reviews, beware.
I was looking for light-weight backpacking boots with good ankle support, toe protection and soles that grip wet rocks. My backpacking usually consists of 2-5 day hikes in the CA and AZ deserts so they need to breathe in the heat. I was planning to buy the much more expensive Asolo's based on the hundreds of reviews and consumer reports I read. I had made up my mind that they were the best. But after trying them on at REI, I discovered that Asolo boots are too wide for me. That was also true of several other brands. So I was steered into the less expensive Vasque boots because my feet are narrower than most. Unlike most people, I also have elevated (normal) arches. So if you have wide and/or flat feet or your toes splay broadly, these boots probably won't fit.
I will return and give an in-depth review of these boots after I have used them but for now, they fit great and I have no doubt that they meet my needs. The only unknown is how my legs will feel after 20-30 miles of hiking in them. Impossible to predict with hiking boots because they don't fit or feel like regular boots or shoes. And I don't believe any footwear is comfortable right out of the box. They all need breaking in.
My recommendation to those looking for advice is to make sure you are looking for boots that are suitable to your needs. It has been my experience that although Gore Tex can be waterproof and breathable for some applications like rain wear, that is not so with hiking boots where you might often be in ankle-deep water. The Breeze GTX is a light-weight backpacking boot designed to breathe. I see nothing in the materials that came in the box that claim that they are water-proof. The sales staff told me specifically that they are not. Waterproof or breathability. Pick one. You can't have both.
I gave four stars only because I haven't hiked in them yet. But I am very impressed with the fit, construction and quality of materials. Unless they morph out of shape or prove to be murder on my legs, I expect I will upgrade my rating later. Check again in 2-3 weeks.
Materials: Gore Tex
Use: Mostly 20-30 mile rough desert trail hikes
Price Paid: $140

I went from the Hi-tec Altitude boots to these and in my opinion the Hi-Tec boots are a better boot and a better value. These boots are supposed to be waterproof with GoreTex. I went for a short walk in a field and my feet were soaking wet within 10-15 min and the boots were only a few months old at the time.
The boots have lasted me a long time (3 years), but so did my Altitude's and the only reason I purchased these was because I had poison ivy all over the Altitude's and kept getting it again when putting on the boots. They are comfortable lightweight hikers that fit well, but I feel the Altitudes a more comfortable and have just purchased a new pair of them. Save 50-60% and buy the Hi-Tec Altitude IV instead.
Materials: Leather, Mesh, Gore-Tex, Rubber
Use: everyday and trail hiking
Break-in Period: None
Weight: light
Price Paid: $150

A really nice light boot for day trips in dry conditions with a day pack. Horrible and extremely dangerous boot for wet rocks, with moss or not. For that reason I will stop using these boots for anything but a guaranteed dry hike.
Also, the boots are relatively soft and really don't offer much impact protection. They are comfortable for me, as I have a narrow foot, and you can jog with them.
Break-in Period: short
Weight: 155
Price Paid: $129

I found these boots to be waterproof, as advertised. Some claim they are not waterproof but it makes me wonder if they were allowing water in through the top somehow. They grip rocks VERY well. I found, unlike some other reviewers, that they grip wet rocks well, too. If the boots are muddy they don't grip because the tread isn't in contact with the rock. However, they are VERY dangerous on wood, especially wet wood.
Price Paid: $140

I found these boots very comfortable and sturdy. It took some time to get used to the 'rocking motion' created with this style, but apparently this is very good for the foot.
The only problem I had with these boots was the incredible slipperiness on metal grates, rocks and wet wood. Not practical for west coast hikes unfortunately, so I have switched from the Vibram soled boots to Salomon Exit Peak hikers and I love them!
I love these boots. Thru-hiked the Appalachian Trail in 08 with these. Blew one pair out at 1200 mile, bought a new pair and finished the trail, could prob. get about 400 more miles on them. There's no break-in period.
They do slide on wet rocks and roots tho. For now I'm sticking with them.
Materials: leather/mesh goretex
Use: Thru-hike AT
Break-in Period: nada
Weight: 150 + 35-40lb pack
Price Paid: $145

I bought these shoes for a through hike of the Buffalo River National Forest. I wanted something comfortable, waterproof, with good shank support, and good for 40lb loads. These shoes lived up to what I needed.
They were quick to break in and were still comfortable even after a week on the trails. Traction was good on dry ground but fared poorly on river crossings with algae covered rock. Waterproofing was good and they supported my loads with no problem.
I am unsure of the long term durability of these shoes but as of now am very happy with them and would recommend them.

Use: long rough trails with heavy pack
Break-in Period: 3 miles
Price Paid: $160

Rate as lightweight hiking boot, gives way too much, and as others have noted only a little water resistant. 8 months of casual wear and in the trash.
Price Paid: $160

My wife and I both have the women's model boot, her's a size 8 while I take an 8.5. After a 5 day hike over the famous chilkoot trail we could not be happier with our footwear, not one blister or wet cold feet. Love them.
Materials: gore-tex
Use: multi day trail backpack
Break-in Period: average
Weight: boots or person?
Price Paid: $80 & 20

I have difficult to fit feet, and in regards to fit I loved these boots. If you have high volume feet that are also very wide, these boots are great. Also, there is pretty much no break in period- just put them on and go.
But if you plan on hiking more than 5 miles in them, well just make sure you bring another pair of boots for when your Vasques fall apart. Both myself and my dad had what could at best be described as a catastrophic seam failure. After a summer of moderate hiking, our boots were trashed.
I managed to have mine salvaged by "Dr Shoe", but now I'm not sure why. The boots leak like a sieve. They take on water when the trail is muddy at worst.
The quality of the boots is about comparable to the quality of boots at Walmart, the main difference being that I could have bought 8 pairs of boots from Walmart for what I paid for these despicable pieces of leather and rubber. The fabric pieces allow your foot to breathe, yes, but they also give the boot one more place to take on water (as if the holes you'll get in the seams aren't enough).
Basically, if you want to hike 5 miles or less on a bone dry trail, buy these boots. Otherwise, don't waste your time. These boots are guaranteed to disappoint.

Break-in Period: none
Price Paid: $160-ish

This is the by far the worst boot I have ever owned. I read all the reviews and against my better judgment i went ahead and bought a pair on the brand recommendation from several people I know.
Right off the bat the toe box is tight. They are no where near Gore-tex, at best they hold up to a light dew. I've only put about 40 miles on them and they have a rip in the mesh netting where the boot flexes (from normal wear not damage) and to top it off the sole is separating on one of the boots.
As for the comments about them being slippery on wet surfaces, it's worse than being on wet ice. I'm buying something different because I can't afford a header with a three year old on my back.
The only good thing I can say is they are light and aside from a tight toe box comfortable.
Price Paid: $150

Moral of the story..these boots are amazingly comfortable, but not waterproof at all. That's why I rated so low.
I returned them to REI for a pair of Asolo. I spent 4 days in Rocky Mountain National Park with wet feet. They would not dry over night and I had no choice. Glad I brought along that 3rd pair of socks!
Price Paid: $140

Light and comfortable fit. Good traction on dry surfaces. EXTREMELY poor on wet rock. Very disappointed in wet traction. Dangerous on wet rock and roots.
Materials: gore-tex
Use: dayhikes
Break-in Period: quick
Weight: light
Price Paid: $120

I just bought these boots last week at EMS. They are amazing! I wanted a boot with a really good grip, and it had to be waterproof. I got the best of both worlds with this boot- AND they are incredibly comfortable.
I broke them in last week, although they really didn't need much breaking in. I just did it for precautionary measure since I had an upcoming hike.
During my hike I splashed in puddles and walked through streams and mud without a single drop soaking through (and I did not waterproof them before this hike). I walked up and down steep vertical rocks with no problem. And I had NO blisters, no hot spots, no problems. These boots give good ankle support without any stiffness. I jumped around in them quite a bit- on and off of rocks- and they did not loosen.
The Vibram soles offer great gripping power and the heel provides reliable braking action.
I am very pleased with this purchase and glad that I decided to go with these boots. My feet were warm, dry, and comfortable for my entire hike. I bought some Microspikes that fit perfectly over these boots, and I will try out the combination of the two this weekend on an icy peak. Will update.
Materials: gore-tex, airmesh, leather
Use: dayhikes, varied terrain
Break-in Period: Very short-Immediate
Price Paid: $147

The boots are very comfortable but I have to say I expected a little more durability for what you pay for. I recently bought a pair a couple of months ago. I wore them around the house for the break in period and then on a elk hunt to New Mexico. I don't know exactly how far I walked, approx 20-30 miles, and now the back of the soles are coming unglued and peeling back on both boots. I could understand having one boot go bad, but two? COME ON!!!
Materials: leather, mesh, goretex
Use: hikng/hunting
Break-in Period: 1-2 months
Weight: 1lb
Price Paid: $155

Spent a week in Alaska with soaking rains almost everyday. NOT very waterproof. Feet were wet all the time. Boots don't come with any sort of waterproofing. "wetted out" first time I wore them in the rain. Shoe lace also ripped somehow within the first month of wearing them. Would recomend spraying them down with something.
Otherwise pretty comfortable, lightweight, and breath easily. They don't take long to break in either. I would also recommend replacing the insoles with a higher quality one like "Superfeet".
Materials: mesh, leather, fore-tex
Use: dayhikes, light packs
Break-in Period: few days to a week
Price Paid: $150

I have had a very hard time finding boots that fit me well; I need a wide toe box and a narrow toe and when my Hi-Tecs (I didn't like them either) completely disintegrated after only 800 miles (my local store sent them back and I received a total refund!). I was desperately seeking a 'great' boot with a perfect fit and sadly, I ended up just buying these Vasque boots as an interim boot.
I have had them for about 8 months and have probably hiked about 800 miles since I live in the mountains and can hike 4 days a week. I bought them in the fall and hiked in all weather conditions with gaiters and even with the heaviest Smartwool trekking socks my feet were cold and breezy as they are probably best in the summer, but luckily I have found Alicos and Asolos to replace them for the upcoming summer and I doubt I will be wearing these soft slippers many more times. They have very little support in rough terrain and a couple times my feet have even started to ache because of too much flexibility in the sole and my ankles have bent in them many times. The sole is already starting to separate and the stitching is coming undone in a couple places and the netting is torn (but I expected torn netting).
They are very light, soft and comfortable, like a soft-cloud hiking boot, and they were comfortable right out of the box. They are not very waterproof and even the simplest hiking through a marshy area will encourage seepage, even before they started to fall apart. Probably these boots would be great for infrequent hikes on smooth trails on nice days.
Materials: Gore-tex
Use: regular treks
Break-in Period: immediate
Price Paid: can't remember

Sturdy outsole for rock scrambling. Very comfortable. Big drawback are the plastic/nylon lacing hooks. They are not up the pounding of rock scrambling, though they did survive Old Rag. They eventually snapped simply walking around my house. Once snapped they are not repairable. So either you luckily purchased from REI or some other location with a generous return policy, or you have a useless pair of boots to trash. Definitely don't use on any more than day hikes nor scrambling trails like you find in the Appalachia, for you chance with jerry-rigging your boots to come home.
Price Paid: $119

These boots have been my one and only's for nearly a year now and they are little to show the many miles they have walked. The only complaint I have is the suceptibility to damage the mesh shows. Otherwise, a wonderful boot--super light, keeps you dry, always comfortable. Super.
Price Paid: $160

When looking for a lightweight boot for dayhiking, I couldn't decide between these and a similarly priced pair of Merrells, so I got both.
I have found these boots to be phenomenal for hiking over very hard, uneven surfaces. I've bagged Mt. Mansfield in Vermont with these (on my break-in hike!), and have logged about 100 miles with them in Utah's canyon country. The rigid plastic insole means you won't even feel rocks and really eliminates foot fatigue. The soles give phenomenal traction for complete confidence on dry slickrock, but slip a bit on wet surfaces (that's why they call it slickrock, I guess).
Comfortably snug for a wide foot, my feet didn't move at all on steep ascents or descents. The lightweight, breathable fabric remains cool even on hot days with thick socks. I had one severe ankle turn that would have knocked me out of commission with a low top, shook it off with these.
On the downside, I think the insert can actually cause more fatigue on earthen or soft trails.
Overall, I am extremely pleased with the performance of these boots on rocks and would highly recommend them.
Materials: leather, Gore-tex
Use: Rocky, hot day hiking trails
Break-in Period: minimal
Price Paid: $120

These are the most comfortable boots I have ever owned. I have put in 16-mile fishing trips with the boots being completely submerged within the 1st hour and did not get a blister. I would almost liken wearing these boots as sex with your feet. They also have a nice short break-in time as is the case with most composite boots.
However, durability-wise these boots are lacking. I was able to destroy them from hunting and fishing in them in less than six months. Also, these boots are advertised under the guise of being waterproof but during my first real trip with them I crossed an extremely shallow stream and proceeded to feel my sock absorbing said stream.
Materials: leather and Gore-tex
Use: hunting, fishing, shed hunting, wandering
Break-in Period: a week
Price Paid: $130

I bought these boots and returned them soon after. This boot wears like a pair of basketball hi-tops (flimsy). Get the Vasque Catalyst Low GTX XCR instead. The Catalysts are low cut but will have more ankle support, a more solid sole (better shank), and super sticky stealth rubber (great dampening and good tread life). The ankle support on the Breeze seems superficial (no matter how tight you lace them) and the mesh makes them stretch a bit too much.
Materials: vibram outsole, nubuck
Use: hiking, packing
Break-in Period: 0. These are soft shoes.
Weight: Very Light
Price Paid: ~$140 US

I have well over two years worth of travels in these now and they were great from the moment I put 'em on and reached the top of Half Dome. I highly recommend these and I have tried on and tried many others.
Materials: Gore-tex
Use: short dayhikes, weekend backpacking, long day hikes
Break-in Period: none!

Awesome hiking boots with very little break-in. Not one blister. I've worn them on about six 9-12 mile day hikes over varied terrain, including a few with lots of elvation changes and scrambling in Red Rocks Canyon, NV. Also worn them as ascent shoes while cragging. Plenty of ankle support for me, but still let you move fast (can almost jog in them). I haven't gotten them wet so can't comment on that. Still lok like new. I have a 8.5 narrow foot and the size 8.5 fits me well with heavy hiking socks.
Materials: Leather, mesh, Gore-tex
Use: day hikes, ascent
Break-in Period: alomost none
Weight: 140 lbs
Price Paid: $140

Purchased this pair in spring '04 and enjoyed many hikes throughout the year. The footbed of the boot is hard up to the ball and gives way to a softer toe. A bit different, but it helps you keep forward momentum and the extra flexability in the toe was nice for inclines. On the backpacking trip in the U.P., the boots remained comfortable under a load, stayed dry in streams, and the harder part of the foot bed (heel and arch) kept the roots from taking too much of a toll on my feet.
Tried every boot I could get my hands on, and this pair fit the best. I don't remember exactly what I paid for them, but, paired with a couple of good smartwool socks, I have not had to spend any money on athletic tape, mole skin, or any time in the woods thinking how my feet hurt, rather than enjoying the hike. I have hiked with people who have had poor fitting boots, and I am sure, if asked, they would have quickly forked over $50 to make the pain stop.
Materials: Nubuck, Gortex
Use: day hikes, 3 day backpaking
Break-in Period: very short
Weight: 2lbs 9oz
Price Paid: $140 ?

Great boot, usually prone to twist an ankle but not yet in these. Been on several weekends in the Smokies with no noticeable wear.
Materials: Gore-tex lined
Use: Day hikes 8-10 miles. , Weekend hikes 15- 25 miles
Break-in Period: none needed
Weight: 2 lbs
Price Paid: $119.99

You May Like
Recently on Trailspace