Vasque Women's Breeze GTX XCR

The Women's Breeze GTX XCR has been discontinued. It was replaced by the Vasque Breeze III GTX.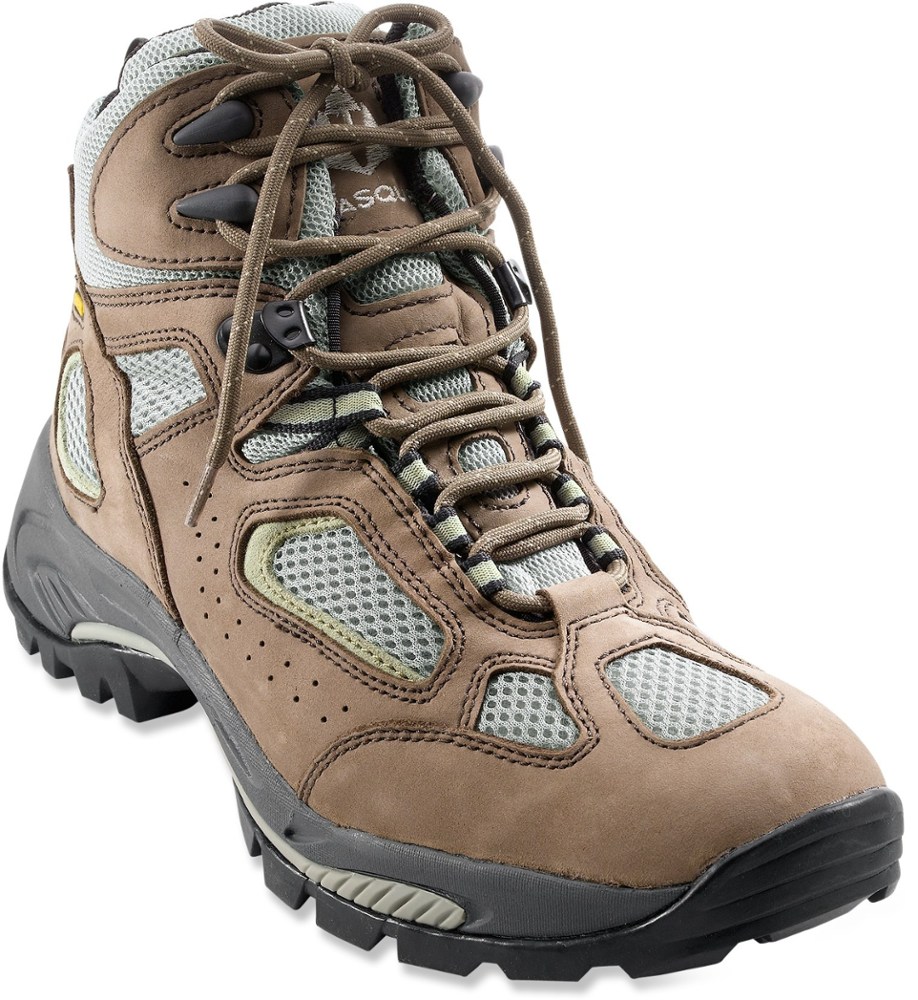 Specs
Price
Historic Range: $39.83-$160.00
Reviewers Paid: $4.83-$147.00

Reviews
8

reviews

5-star:

2

4-star:

3

3-star:

2

2-star:

1

1-star:

0
For how much support these shoes provide, they are super comfortable, very breathable, and surprisingly lightweight. Would def recommend these for backpacking or for a hiking novice who isn't sure what they want from a hiking shoe yet.
Pros
lightweight
breathable
comfortable
lots of support in sole
Bought these gently used at an REI garage sale. I'd had my eye on them, but since I'm not much of a boot person, was hesitant about paying full price. For how much support these shoes provide, they are super comfortable, very breathable, and surprisingly lightweight. Would def recommend these, even at full price, they are worth it. 
I'm an average sized woman, size 10, but 10.5 in boots. I've taken them out on a few backpacking trips in the Catskills, N.Y. One of those trips we had a pretty crazy river crossing, and my boot ended up under the water and water rushed over the top of my foot. Feet stayed 100% dry, and the fabric on the boots dried surprisingly quick.
Since I bought them used, I can't speak as much about the break-in time, since they were already pre-broken in a little. My understanding of the boot, however, is that the break-in time is quite reasonable because the uppers are so soft and pliable out of the box.
All in all, a great boot, that I absolutely recommend, even if you have to pay full price for them!
Source: bought it used
Price Paid: $4.83

Great for short hikes in all weather and terrain. Long lasting...have had mine for well over eight years!
Pros
Reliable
Waterproof
Comfy
Long lasting
Cons
Laced always came undone
Arch support
These were the first hiking boots I have ever bought. They were on sale at REI for $100, and at that price figured I couldn't go wrong. It has been almost 8+ years now and I still use them for my hikes. I started hiking straight out of the box with no need for breaking them in.
I have large toe box and high arches, so it is hard to find good boots that fit. Through the years, I have been pleasantly surprised with the durability, ankle support, and waterproof interior. I have hiked jungles and mountains of Panama (re: wet, muddy, hot), Smokies, Rockies, Vermont, and most of the time I use them on trails in Missouri and Illinois — so a pretty diverse range of hiking conditions (except desert). I have done a lot of scrambles, boulders, tricky steep trails...and they have always been sturdy, stable, and don't slip much. They only seem to not hand wet cement very well..
Also, I used to wear them as my "winter" snow boots as well to hiking (I live in Missouri, so we don't get a lot of snow, but we do get a lot of ice storms), because they just keep my feet so dry and warm with thick enough socks and felt really stable with the sole grips on slippery surfaces - but had to upgrade to snow boots this year as they weren't keeping my feet that warm anymore.
My only complaints over the years, I have planter facisitis, so I need inserts and if I am not careful, my arch support isn't that great in these - so as a result, I wouldn't recommend long, several day hikes if you have finicky feet like me. Short, day hikes would be the ideal use of these boots. Also, I have never, ever been happy with how they lace...my laces always seem to get undone at some point. That said, I am still using the original laces that came with the boots.
So I am finally retiring these boots and will probably get another pair of Vasque Breeze GTX XCR. I would be too nervous to try anything else after the amazing amount of years and usage I got out of these great boots!!! The current reviews say they narrowed the insoles, so that would be the only reason I wouldn't buy them again. Not bad considering I bought them without any research and on sale!
Source: bought it new

Very comfy, light weight.
First, I really enjoy these boots. They have a high ankle support which I really need and they aren't bulky. I wore them around for several hours around town and house to see if I liked them. When I first put them on I thought the arch in the right boot would be a problem, it wasn't. So I took them to the mountain.
Usually half way up my legs start getting tired from my old boots, but not with these. There was good breathability, stability, comfort and grip. Although I could feel the rocks under the soles, I didn't feel like anything was going to come through the bottoms, very flexable. They stayed tied tight the entire way and down and kept my ankle in line. I also wore normal socks you would wear with tennis shoes, so I can't say which hiking socks work best.
I am only giving it a 4 star because I haven't tested them over long term yet. That being said, I probably will give them 5 stars in a couple of months if they continue to be this great.
I normally wear a 10, but with boots a 9 1/2 is needed to keep my foot from sliding.
Source: bought it new
Price Paid: $99

A close friend of mine bought this boot and after testing it for a couple months on all kinds of terrain. She raved about the grip of the vibram soles and the great ankle support it provided as I struggled to stay stable on some slippery rocks on one of our short day hikes.
I went out and bought the boot shortly thereafter and attempted to break them in on a slow moving treadmill at the gym. Unfortunately, my foot is shaped in a way that left just enough wiggle room near the heal such that the constant rubbing caused the thin-skinned inward curves above my heals to blister in less than an hour.
It's a great shoe but I wasn't it's Cinderella; good fit is important. Luckily, I had bought the boots from a place that allowed me to return them.
Source: bought it new
Price Paid: $128 ($160 with 20% off coupon) from REI

I found these boots very comfortable and sturdy. It took some time to get used to the 'rocking motion' created with this style, but apparently this is very good for the foot.
The only problem I had with these boots was the incredible slipperiness on metal grates, rocks and wet wood. Not practical for west coast hikes unfortunately, so I have switched from the Vibram soled boots to Salomon Exit Peak hikers and I love them!
My wife and I both have the women's model boot, her's a size 8 while I take an 8.5. After a 5 day hike over the famous chilkoot trail we could not be happier with our footwear, not one blister or wet cold feet. Love them.
Materials: gore-tex
Use: multi day trail backpack
Break-in Period: average
Weight: boots or person?
Price Paid: $80 & 20

I just bought these boots last week at EMS. They are amazing! I wanted a boot with a really good grip, and it had to be waterproof. I got the best of both worlds with this boot- AND they are incredibly comfortable.
I broke them in last week, although they really didn't need much breaking in. I just did it for precautionary measure since I had an upcoming hike.
During my hike I splashed in puddles and walked through streams and mud without a single drop soaking through (and I did not waterproof them before this hike). I walked up and down steep vertical rocks with no problem. And I had NO blisters, no hot spots, no problems. These boots give good ankle support without any stiffness. I jumped around in them quite a bit- on and off of rocks- and they did not loosen.
The Vibram soles offer great gripping power and the heel provides reliable braking action.
I am very pleased with this purchase and glad that I decided to go with these boots. My feet were warm, dry, and comfortable for my entire hike. I bought some Microspikes that fit perfectly over these boots, and I will try out the combination of the two this weekend on an icy peak. Will update.
Materials: gore-tex, airmesh, leather
Use: dayhikes, varied terrain
Break-in Period: Very short-Immediate
Price Paid: $147

I have had a very hard time finding boots that fit me well; I need a wide toe box and a narrow toe and when my Hi-Tecs (I didn't like them either) completely disintegrated after only 800 miles (my local store sent them back and I received a total refund!). I was desperately seeking a 'great' boot with a perfect fit and sadly, I ended up just buying these Vasque boots as an interim boot.
I have had them for about 8 months and have probably hiked about 800 miles since I live in the mountains and can hike 4 days a week. I bought them in the fall and hiked in all weather conditions with gaiters and even with the heaviest Smartwool trekking socks my feet were cold and breezy as they are probably best in the summer, but luckily I have found Alicos and Asolos to replace them for the upcoming summer and I doubt I will be wearing these soft slippers many more times. They have very little support in rough terrain and a couple times my feet have even started to ache because of too much flexibility in the sole and my ankles have bent in them many times. The sole is already starting to separate and the stitching is coming undone in a couple places and the netting is torn (but I expected torn netting).
They are very light, soft and comfortable, like a soft-cloud hiking boot, and they were comfortable right out of the box. They are not very waterproof and even the simplest hiking through a marshy area will encourage seepage, even before they started to fall apart. Probably these boots would be great for infrequent hikes on smooth trails on nice days.
Materials: Gore-tex
Use: regular treks
Break-in Period: immediate
Price Paid: can't remember


All Breeze GTX XCR versions
In addition to the 8 women's reviews above, there are 31 reviews for other versions of the Breeze GTX XCR. Read all reviews »
You May Like
Recently on Trailspace