Vasque Scree 2.0 Low UltraDry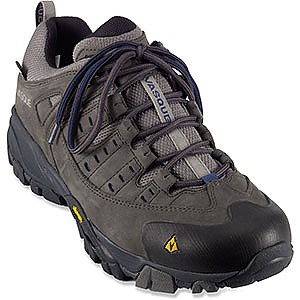 The Vasque Scree 2.0 Low UltraDry hiking shoe is a great shoe for anyone who prefers a low-cut hiking shoe yet wants the sturdiness and protection of a heavier boot underfoot. These shoes, an exclusive to REI, feature "UltraDry membrane" to provide breathability while keeping water out.

I rated them 4 1/2 stars due to their durability and protection of the feet once broken in, subtracting the half point for the toe box design and lengthy break-in period.
Pros
Durable
Sturdy mid-sole provides solid footing and protects the feet
Comfortable once broken in
Water stays out (only nominal sweat occurs)
Cons
Lengthy break-in
Angled (confining) toe box
BACKGROUND INFO & TESTING CONDITIONS
I am a ~175-180# male some decades into adult life. I do primarily hiking and backpacking, with my trips ranging from day hikes, to weekend overnighters, to an occasional longer trip. My longest trip to date, and the reason for purchasing these shoes, was a John Muir Trail (JMT) thru-hike over a 30-day period in 2012. I've since used the shoes for a half dozen or so weekend and "long weekend" trips. All of the trips with these shoes have been in the Sierra Nevada of California (and one 4-day trip to the Trinity Alps in northern California).
In the past I've used a variety of different kinds of hiking shoes and boots — ranging from full leather boots back in the "olden days", to heavy GoreTex boots, to light hiking shoes. I bought the Scree 2.0 "low cut" because I liked the durable feel and solid footing of the shoes, and preferred a low cut style to minimize heat build-up in summer use. Due to the sturdy construction and solid insole, these low cut shoes weigh about the same as my Keen Targhee mid-cut boots (which have lighter construction). With the stock insoles, these shoes weigh in at 43 oz for the pair.
I have carried pack weight (pack, contents, food, water, photography gear, etc) ranging from low-mid 30 pounds to the upper 40's using these shoes. While of course more comfortable with the lower weights, they have stood up well to the heaver weights as well.
The Vasque Scree 2.0 comes in "low" and a "mid" height styles. This review describes the low style which I used.
It is also important to note that all of my usage of these shoes has been with Superfeet Orange insoles. I have not used the original Vasque insoles.
FIT, COMFORT, & TEMP CONTROL
I will start off this section by mentioning that there's something I don't understand about most shoes designed today. For some reason shoes and boots tend to have pointy toe sections. /Why/ is entirely unclear to me, because this shape in no way reflects the shape of human feet.
Maybe I'm an oddity, but my feet are longest on the edge by the big toe, and the toes gradually angle back from there. However most shoes and boots are long at the toe edge, but angle sharply back. The result, unless one buys shoes that are much too large (to provide extra length in the toe section), is severely cramped toes. The results range from minor discomfort to bruises and the loss of toenails.
That out of the way, I'll comment on the Vasque Scree 2.0. These have a typical "pointy" toe configuration, but I bought them anyway due to other factors to be described here. As a result I bought a half size larger than usual.  I also want to point out that I'm not picking on Vasque.  I've noted many, if not most, shoes & boots have the angled shape.  It seems that few (like Keen) use a wider toe box shape.
The image below illustrates this. On the far left is another boot, a Keen Targhee 2.0 Mid. The other shoe is the Vasque Scree 2.0. Then there's my foot ... the lower two images show the difference in how my foot aligns with the Keen boot with the roomy box toe as compared with the sharply angled Vasque Scree.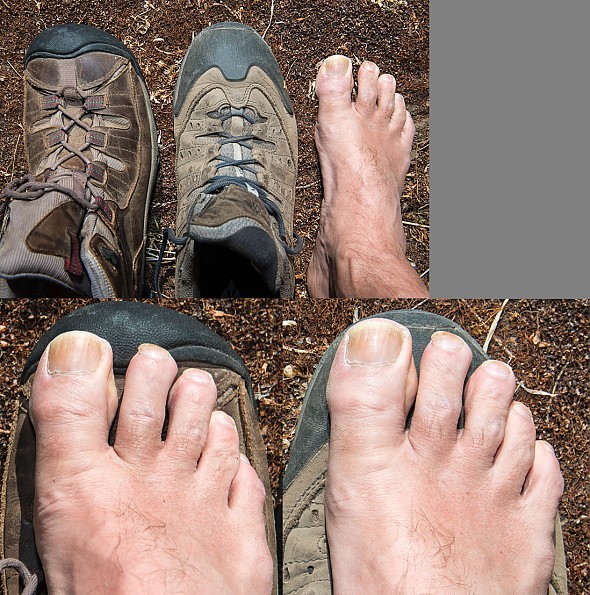 I used these shoes on a 4-day backpacking trip and some day hikes before embarking on the 200+ mile JMT trip. On these prep trips the shoes felt fine, with minor (and expected) soreness in the toe section. Once on the JMT, for the first 10 days or so of hiking all day, day after day, I ran into more significant issues — all related to the pointy-toed shape of the shoes. Since my toes were squashed together on the repeated ups and downs of the terrain along the trail, my toes (as you'd expect) took some abuse. I ran into issues with toenails cutting into adjacent toes, and some minor blisters. None of this was nearly as bad as some of the "JMT blister" photos I've seen online, but still, had the shoes been shaped properly, it probably would have been a non-issue.
After the first 10 days or so on the trail, the shoes (and my feet) had pretty-much come to a mutual understanding and there weren't any significant further issues relating to the shoes. In fact at times, especially later in the trip, I even noticed that they felt comfortable.
I say "at times" because these shoes (by design) have a fairly hard step, even with the Superfeet insoles installed. This has pros and cons. The pro (which I feel outweighs the con) is that the feet are protected from granite protrusions underfoot. The con is each step feels "hard". In my opinion, the hard step (within reason) is less tiring than my feet being constantly poked by sharp objects on the trail.
Here are the shoes sporting shiny new Dirty Girl gaiters, purchased at Muir Trail Ranch mid-way thru the 2012 JMT trip.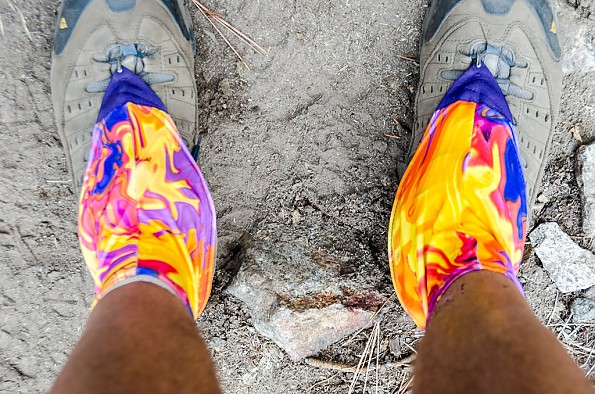 In terms of temperature control, I have been satisfied with these shoes. I am a strong believer in two layers of socks (a thin liner with a more cushiony outer sock). As a result my feet tend to run warm when hiking. While my feet got damp in the Scree 2.0's, they never got overly wet. Except when hiking in the hottest weather, when my feet would have been hot in any shoe, these shoes kept my feet comfortable. This is in contrast to when I used to wear leather boots, when my socks would be sopping wet (from sweat) at the end of a day's hiking.
SUPPORT
One of the main reasons I bought these shoes is because they have a very solid insole. I've worn other shoes and boots which were softer, and for very short hikes more comfortable, but where my feet got very sore due to the constant stepping on pebbles and other protrusions which impacted my feet. I prefer a solid footing which protects my feet, albeit with a bit of sacrifice in overall comfort.
The bottom line is I feel these shoes are comfortable, hard step notwithstanding. The solid footing protects against protrusions underfoot, and the upper, even though a low cut, provides reasonable support (far better than, say, a trail runner).
WATER RESISTANCE
As mentioned earlier, the Scree 2.0 utilizes what Vasque calls "Breathable, waterproof, UltraDry membranes". I assume, but have no way to confirm, that this is a proprietary equivalent of the other big-name breathable membrane fabrics on the market. While many eschew "waterproof" footwear due to it being sweaty, I didn't really have this issue, at least not any more than with any other shoes, waterproof or otherwise.
Before leaving on my trip I treated the Nubuck leather uppers with a shoe waterproofing. What I found in real-world use is that the shoes stayed dry (and repelled water, just forming droplets on the outside) during minor wettings. A quick step into a creek (not over the top), walking thru wet grass, a light rain shower, all left the shoes dry. However with prolonged wetting (extended hiking in rain) the shoes quickly "wetted out". Even so, although my feet got damp in such conditions, they never got sopping wet. This is similar to what I've experienced with other types of waterproof hiking shoes and boots, and I feel satisfied with their performance in this regard.
TRACTION
Traction is, of course, important in a hiking shoe. With the Scree 2.0 it was mostly good. On most terrain - dirt, small rocks, etc, they have a good grip. The one exception, which I quickly learned to watch for, was wet rock. There it was a mixed bag. Some rock surfaces, even when wet, were fine. Others became as slick as ice.
Here you can see the Vibram soles of the Scree 2.0.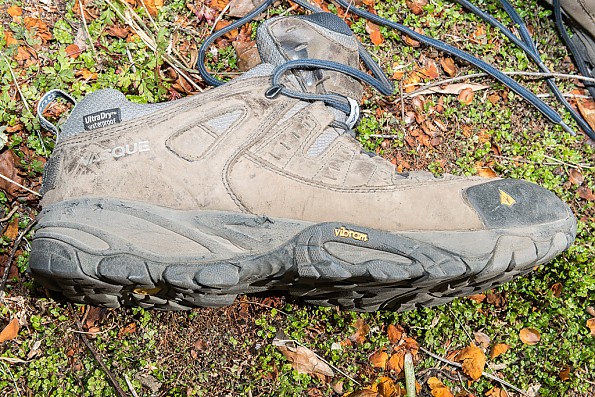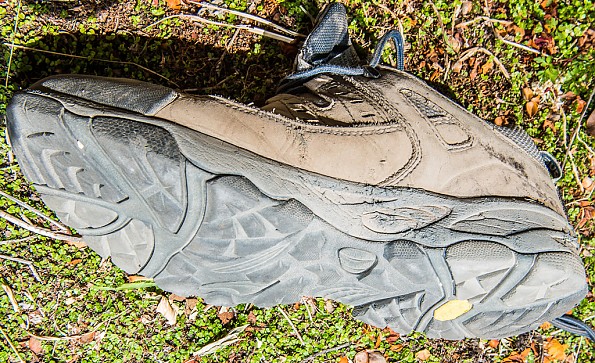 EASE OF USE
The Scree 2.0 has a traditional lace pattern with hooks with the laces running through the Nubuck leather until the very top where there are metal hooks. There is enough "pleat" to the tongue to enable it to open fairly wide so putting on and removing the shoes is easy. This is in contrast to other shoes I've had where opening them up is a struggle each time.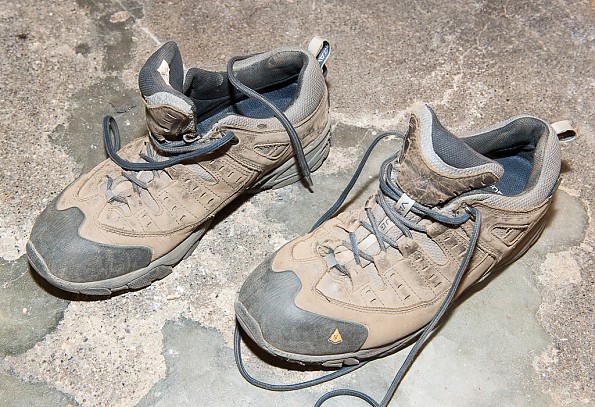 FEATURES
I will write about my view of the features as opposed to regurgitating a list of Vasque's advertising. I view the main features of these shoes to be (1) the sturdy construction, and (2) the solid insole, and (3) the relative comfort in spite of the solid insole. I also like the extra cushioning in the tongue — some shoes have less of this, resulting in the laces binding into the top of the foot (this can cause long-lasting injury). I also like that (in spite of the exterior wetting out) I can step through shallow creeks without my feet getting wet. I can also hike in steady rain without my feet getting too wet (assuming I wear gaiters).
CONSTRUCTION & DURABILITY
The durability is a strong suite of the Scree 2.0. For whatever reason, an extended thru-hike seems to stress gear more than a comparable number of days on weekend hikes. I did in excess of 220 miles (probably more like 240-250) on the JMT, plus probably 150-200 miles in subsequent trips, and aside from reduced tread depth, the shoes are still none the worse for wear. If it weren't for a "personal issue" (see footnote) I'd plan on continuing to use these shoes for many hikes to come. The only real sign of wear is a small worn spot in the collar of one shoe.
SUMMARY
The Vasque Scree 2.0 UltraDry low-cut shoes are good, solid, durable shoes. While certainly not for ultra-light packers, they are a good compromise between light weight and solidity and durability. I recommend these for anyone who prefers a low-cut hiking shoe yet who carries moderate weight.
These images show the shoes & the stock Vasque insoles.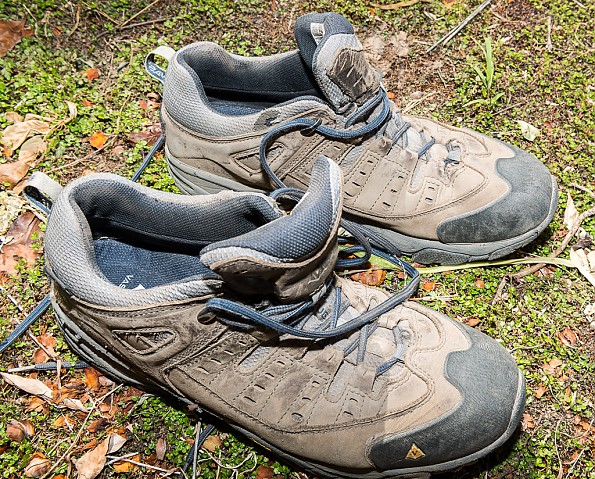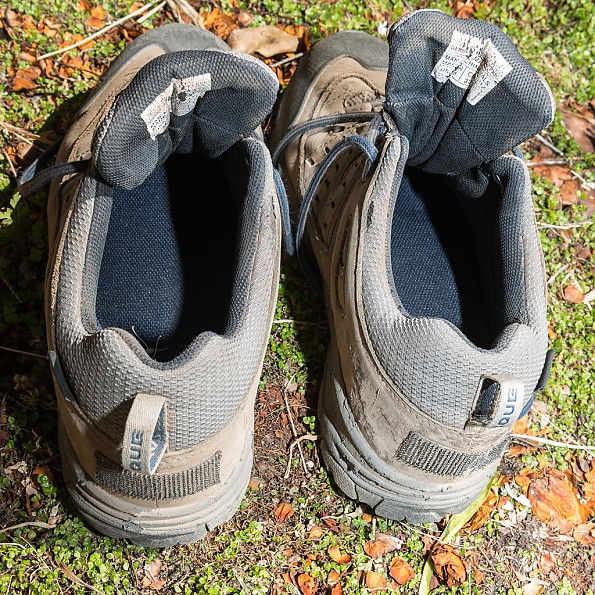 * FOOTNOTE (no pun intended!)
I saved this comment for last because it's not related to the shoes specifically. However I include it here in the interest of full disclosure in case anyone sees my posts about this elsewhere and wonders what's up with the high score in the review. I am actually replacing these shoes. The reason is that subsequent to the JMT trip my feet seem to have grown/changed shape such that I'm unable to wear these shoes anymore without damaging my toes on downhill hikes.
I will replace the shoes with one with a larger toe box. I did mention that I dislike the angled toe box of these shoes; however once my feet adapted during the JMT hike, they were OK in that regard. Now, however, the situation has gotten much worse. Clearly the shoes didn't shrink, so my feet must have grown.
YMMV, so check this out before buying these shoes. If they fit you well then I certainly recommend them for their durability and protection underfoot as I described above.
Source: bought it new
Price Paid: Approx. $130

Version reviewed: 2011
Durable, waterproof, great foot support, for variety of conditions. Model 2011.
Pros
Nice toe box protection
Wateproof for years
Durable sole, sides and front
Great foot support
Cons
This is for this particular year of production (2011)
So far, the best and most durable shoes/boots I ever had. I am a fan of Vasque in general, and, once I bought Wasatch (higher boots) for summer hikes, I left the domain of blisters for good. So, they are good, but these turned out to be more durable. Some years of Wasatch had issues with sole of the shoe handling sharp rocks, scree and talus in Colorado. Sole on Scree just goes through it all, and outlasted Wasatch.
Both these in 2011 and still have them. They are still waterproof. And I have used them in variety of environments:
mud of Mississippi in daily autumn, winter and spring walks in Tennessee (so, say, 5 to 10 miles a day for four months)

rocks of dry hills in Colorado (say, 5 miles daily for six months, ranging from dry rocks to three feet of snow, with gaiters. Yes, low shoes with gaiters)

even 14er hike with gaiters and snowshoes in winter, with three feet of snow and postholing

18-mile hikes in National Parks of CA Sierra and Arizona
So, that means quite a bit of tough mileage over years.
The only time I messed up was when I did not let them dry properly for a couple of days after snowy hikes in November, and the leather cracked.
I applied Aquaseal on the cracks, and I did all these 14er and National Parks since, as well as daily hikes. All in those six months since the cracks. That should tell you how durable they are.
I bought them because of the waterproofing, and because the toes are so well protected (and the shoe itself) from stubbing and the sharp rocks.
Sole is still without visible damage (while Wasatches disintegrated after single season, but I bought new ones because the rest was so good).
As for size and toe box, I did not have any complaints about that at any point. I usually wear size 11, and I bought these at size 12. They are not loose, and I can run in them. I tend to go for wider shoes, and these ones were fine with me. I only had to break in the side of one shoe, which was slightly cutting into side of my ankle bone, but that was sorted out within couple of walks.
I saw that some buyers complained about tightness of toe box, but those were more recent purchases. I hope that Vasque was not dumb as other manufacturers of hiking equipment, and changed something just for the sake of changing, and thus ruined their best product.
But, as you can see, everything else is as good as it gets.
So, make your judgment.
Source: bought it new
Price Paid: $140

Your Review
Where to Buy
Help support this site by making your next gear purchase through one of the links above. Click a link, buy what you need, and the seller will contribute a portion of the purchase price to support Trailspace's independent gear reviews.
You May Like
Specs
| | |
| --- | --- |
| Price | Reviewers Paid: $130.00-$140.00 |