Vasque Skywalk

The Skywalk has been discontinued. If you're looking for something new, check out the best backpacking boots for 2023.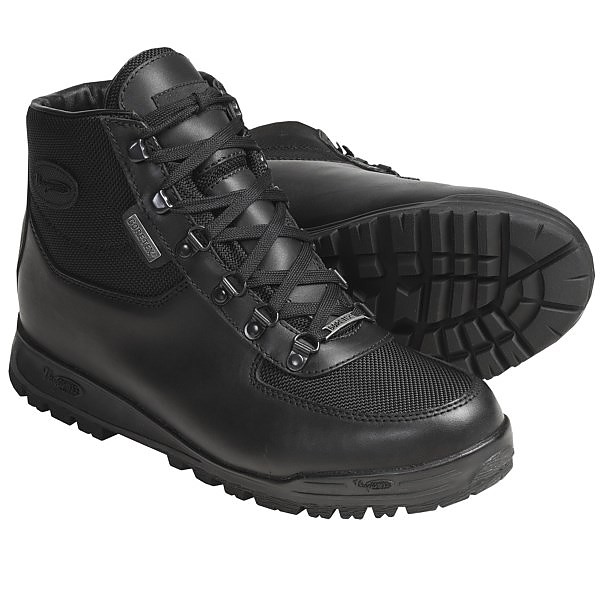 Comfortable, fantastic grip on rock on a canoe portage, even wet. Great first impression.

Pros
medium weight
looks good
waterproof!
great traction
tread sheds mud quickly
Cons
tying lugs rusty, must not be stainess steel
I've had the pleasure to find these at a Sally-anne (donated merchandise!) store! I got them for 9 bucks, I didn't know just how good a deal that was until I came on here and read reviews!  I was on the way north for a little canoe camping on a low budget. 
These boots felt great as I carried my stuff over a steep, rocky portage I was dreading because I had crocs or regular running shoes... On the way up North I paused for some other items I needed, and found these beauties, looking almost new amongst the other old chewed up shoes in the store, they caught my eye as I walked by, I thought what the heck, Gore-tex! $9.99?
I was late starting, and arrived at the portage in complete darkness. I couple of times, due to carrying loads, and no light on the trail, I managed to place my feet in up to 4" of water as I loaded or unloaded the canoe.  I was forced to stand there to make sure the load was right — not capsize the canoe, in the water longer than I liked, bracing for that sloggy wetness to happen, and it didn't!  Not a drop got in, and I was just short of having the water spill in over the boot tops!  I looked down after unloading, and watched as the water beaded right off the suede as I stepped out of the waters edge.
These made me feel very sure-footed, even on those wet, slippery rocks at the shoreline, never slipped a bit, have great bite on the tread, but also shed the mud quickly after walking through some mud.. And yes, as others have said, after continuing downstream to my campsite, setting it up, enjoying the campfire, a couple of hours later, I hardly even felt the need to take them off my feet until I was in the tent for the night. 
I can't figure out why someone would part company with these in a donation box. They must have totally got the size wrong, but, hey, my gain!
Source: bought it used
Price Paid: $9.99

Soles rot.
Pros
Looks
Support until soles fall apart
Comfortable
Cons
Laces cumbersome
Needs third set of soles—just fall apart
Soles fell off/apart after about three years of moderate use. Had soles replaced and now doing the same again. Have to revert to 43-year-old Red Wings which show no sign of sole failure and have had heavy heavy use.
The Vasques are more comfortable on the feet and have Gore Tex=dry, but the sole failure is very bad. First time it happened caught by total surprise as ankle kept trying to angle funny. Caused to inspect and had simply oxidized to crumbly failure in many places esp. in the heels.
Most of the use was in city and at school when temps became colder in the winter time. Totally unexpected. Tread was still over 80 percent, maybe 90. Vasque offered no help but to resole at half purchase price with shipping.
Bass Pro was a real Ace. They covered the resole completely. But then have spent in excess of $4,000 in one day with them.
Source: bought it new (Bass Pro)
Price Paid: $180

Want dry feet? Fits like a glove. Saved my ankles from twisting. Great all around boot.
Great boots for short or long hikes.
Source: bought it new
Price Paid: $225

I purchased my pair of Vasque Skywalk boots in 1990 while in Alaska. I paid $180 for them way back then.
I love these boots. They were expensive but worth every penny I paid for them. I still have them and I am sure they will last another 20 years.
Price Paid: $180

Strange as this might sound, I got married in these boots. My wife and I left our jobs back in '94 and got married on the Isle of Skye in Scotland. We traveled through Europe down to Africa and through the Med for ~3 months and the only foot coverings I had were my Skywalker boots and a pair of Teva's. I will admit that the Tevas got more use in Africa but my boots were comfortable enough for everyday walking as well as rigorous hiking and backpacking.
I have worn them to: hike Yosemite backcountry w/a ~60lb pack, volcanic cinder cone and craters, lava flows, snow, ice (not much help on ice but they were warm enough on short hikes,) Marin headlands on ~20 mile all day hikes and have loved every minute of it.
I had the boots resoled once since '94 (and unfortunately they wouldn't replace ½ size soles so the 11 sole they used altered the fit noticeably. I had to perform surgery on the toe of one boot when the leather got ripped from the Cordura after a lost battle with a rock but other than that they are 7 years new.
I just bought another pair of Skywalker boots this weekend and I'm planning on following all of the "care and feeding" recommendations to see how long I can enjoy this pair. I just got finished trying them on for the first time out of the store and the fit was just how I remembered it the first time around. I can't wait to get them out on the trails and see how they do under load.
The older boots are being retired (and kept in plastic bag next to the jeans my wife was wearing at our 'ceremony'.)
Happy Trails!
Materials: Leather with Cordura
Use: Rough Trail, Volcanic Rock, Yosemite back country w/60lb pack
Break-in Period: 1 week
Weight: 165
Price Paid: $120 and $140

Add my voice to the litany of praise for the Skywalk, for several reasons. First, this boot comes in different widths, just like feet. My feet are very narrow, and most boot makers seem to forget about making narrow widths.
Second, they are very light. Light enough to be my primary casual shoes. I don't feel like taking them off after even a really long hike--how many boots can you say that about?
Third, they are durable, comfortable, and waterproof, which is to say that they do what boots are supposed to do.
I have a closet full of boots that felt good in the store but not in the field. The Skywalks are so good that I'm going to buy another pair, just in case Vasque ever discontinues them or changes something.
A heavy person might want a beefier boot, but if you are my size (5' 11", 150 lbs) they have plenty of support. I have not yet had carried a really heaavy pack with them, but I have no doubt they'll be fine (of course, I sometimes backpack in running shoes. . .
My boots are women's (I'm a man, but the women's heel is said to be narrower) size 10.5 narrow.
Materials: Leather/cordura over Gortex
Use: For me, everything--going to dinner, long hikes, snowshoeing, scrambling
Break-in Period: 25 miles
Weight: 2lbs 6oz (if memory serves)
Price Paid: $186 (on sale)

I got these boots in Missouri at the Bass Pro Shops in Springfield. The style is the one with the stiff ankle (I guess you can't get them anymore in the states) not the one with the padding around the ankle. Best buy I've ever made. I've hiked the Grand Canyon all the way to the river and back out in a day with these boots and my feet were only slightly sore, no blisters though. They're even good in snow. I suggest you keep them treated to take care of them. The full grain leather holds up really well though I do have one small gash from some sharp edged rocks. The boots are two years old and probably have close to 300 miles on them and they're still in great shape. I doubt I'll ever consider buying another pair.
Materials: Leather
Use: Rough rocky trail
Break-in Period: Depends, but it can't be more than a week
Weight: ??
Price Paid: $100 on sale

I have had my vaque boots for about 2 years and I love them to death!! I would never buy any other kind of boots and I know that they will last me at least another 3 years. The price is worth it.
Materials: leather
Use: I use them for everyday walking!
Break-in Period: 2 weeks maybe
Price Paid: $195

I purchased these boots in 1992 and they've served me very well for over six years. They've been through the boggy, rainy terrain in Northern England, the rocky high altitude Andes and the Eastern and Western mountains in the US. They've held up to water very well and have been comfortable from day one. The fabric/leather has proven very resistant to abrasion and the soles have stood up well.
My hiking has typically been from 3 to 14 days with a light pack of 10 to 20 lbs. I do not know how the boots would do with more weight.
The negatives have been the tongue, which doesn't stay in place and slides to the side and the looseness of the top of the boot to my leg. It seems to give me plenty of ankle support but it should be more close fitting.
If the boots are still being made as they were in '92 I'd highly recommend them for moderate to heavy duty hiking. I don't know how they'd do for backpacking.
Materials: Leather/Fabric w/Gortex
Use: Hiking with light (15 lb) pack
Break-in Period: None
Price Paid: $140

I'm a small guy, 5' 7" and only about 140 lbs, so this boot was really great for me. I've owned them for about a year and a half now, and hiked twice in them. The first time a short day hike, and the second time a long, 3 day hike through medium terrain. I was carrying about a 40 lb pack, and my feet felt really good throughout the hike. We covered about 20 miles in those 3 days, and I came out with just some sore spots on the backs of my feet, but I attributed those to my soft feet, and a rather heavy packload for someone my weight.
My only complaint is that they're a little flimsy around the ankles, so it worries me if I decide to go on a longer hike, or with a heavier pack. I'm looking at either the Scarpa SL's or the Fabiano Rio's as my next boots (to support more arduous trips). But for the price, and for light hikes, and especially for SMALLER people, I highly recommend these boots. Stay away if you're 200 lbs or heavier.
Materials: leather with cordura
Use: light to medium hiking, medium packweight
Break-in Period: walking to the grocery store
Weight: light, not sure
Price Paid: $147 (in New York City)

My first experience with these boots. I weigh about 160Lbs and had NEVER hiked, selected a loop back trail 6mi long, got lost, rose over 3,000 feet in elevation in 4 hours, ended up walking 9 miles that day and had never (before this time) even walked to the mail box in these new boots. At the end of this long day (12:30pm - 7:30pm) I had NOT a single blister, raw place, or any other boot related problem... although my ankles were quite tired from the day's effort. In my opinion, these are the best boots I've come across, and from the reaction of others (when I relate this occurence to them) it must be an awfully rare event for a boot to function so well right out of the box.
Materials: Leather
Use: rough trail w/day pack
Break-in Period: There's a break-in period...?
Weight: 1.6Lbs (ea)
Price Paid: $169

I've worn these boots for about 3 years now. Midwest flatlands, Smokey Mtns and Downeast Maine. These boots are very comfortable but, I can't say they're a good pack boot. I'm a big man, 240lbs, and the boots have streached to the point where I dont get good lateral support from them. These replaced the old heavey leather, Vibramsoled boots that we remember from the 70's, I wish I had them back. I am going after Asolo Globalines.
Materials: Leather/Gortex
Use: Rough Trail/backpacking
Break-in Period: short
Weight: ??
Price Paid: $180

Okay a fudge on the rating, because I've only tried them on at the store. I just think they are a great looking pair of boots. I found this posting local while trying to find out about this pair of boots I bought today at GoodWill for $22.50. The price was likely high as the boots were in never- worn condition, looking pristine. They are labeled Vasque Skywalk #7535 Italy and are all leather. The boots were intriguing so tried to find some on-line, but only found some on E-bay which were new- in-the-box but weren't all leather for 149 bucks. Can't anyone tell anything about them, a like how old they might be? They look like they were made just yesterday.
I do a lot of desert hiking over long distances, but tell ya the truth these things are so nice to look at I hate to scuff them up.
Materials: leather with goretex
Use: roughtrail
Break-in Period: Haven't yet
Weight: Have no idea
Price Paid: $22.50

Your Review
You May Like
Specs
Price
Historic Range: $86.95-$122.50
Reviewers Paid: $9.99-$225.00

Recently on Trailspace