Vasque Sundowner MX2

The Sundowner MX2 has been discontinued. It was replaced by the Vasque Sundowner GTX.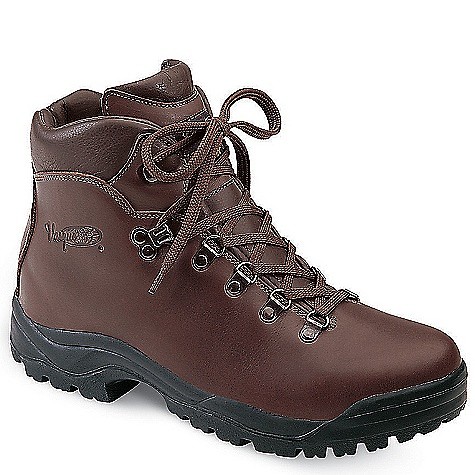 Fit is great, waterproof is great, break-in was longer than the China made Sundowners but the mx2's are far better boot. If you can find the Italian made ones buy them, they can be resoled.
Pros
stiff foot bed
good support
waterproof
good lace attachment
ankle support
arch support
great fit
Cons
they stopped making them in Italy
not a fan of the China made sundowners
if they were cheaper it wouldn't be so bad. i'd spend 75 bucks on a boot that would only last a year.(this is about the china made sundowners)
i got my last pair of these in December of 2005. not sure when they stopped making them in Italy but i think these are some of the last ones. one of the best pairs of boots i have ever owned. spent 2 years wearing them, zero complaints.
i spend a lot of time in my boots, i wore the sole out in that 2 years, not completely but enough that i didn't want to continue wearing them and ruin the inner sole so i couldn't get them resoled. i sent them out and got them resoled and they are back as good as new.
fit- great, even the China made Vasques seem to fit the same for me.
comfort- there was a slight break-in period but no blisters.
support- great, ankle, arch, achilles, and side to side. almost perfect.
traction- couldn't ask for more.
temp control- they are a full leather boot thats waterproof, choose the right sox and you'll be good.
ease of use- put your foot in and lace them up.
features- made in Italy.
construction & durability- way better than the chinas, thicker leather and a more durable sole. the stitching seems to be a lot stronger than the chinas. these are not mountaineering boots, but they are one of the best backpacking and heavy hiking boots made. i can't say enough about them.
wore them for 2 years before i got them resoled, plan on getting another 2 out of them before i get them resoled.
Source: bought it new
Price Paid: $200

Most comfortable hiking boots even after a resole. Full shank climbs over rocks and roots easily without soreness and pressure spots. Made in Italy.
Pros
Good quality leather, took a little time to break in, but oh so comfortable.
Full shank
Vibram soles
Full leather
Truly waterproof
Cons
Took longer to break in.
Before the resole the rear heel started to split.
Over 20 years of wear on weekly day-long hikes. From spring snow, granite paths with hard rough surfaces, mud, small streams, sandy trails, PNW rocky beaches.
The original sole held up well until it split at the heel due to PU breaking down at about the 15-year point. Other than a few scuffs the leather has held up well but a little stretched. Dave the Cobbler in Fremont, Wash., did an awesome job restoring it and bringing it back to life with new sole and leather treatment. 
Still wearing them today as a backup pair for shorter day hikes. Still very comfortable. Too bad this style has been discontinued. The newer Chinese made versions can't be resoled and don't last as long. The most current version of the Sundowner GTX (non MX2) uses USA tanned leather, but is made in Vietnam.  
Experience
Tried Asolo, Zamberlan, Scarpa, Merell, Timberland hiking boots, but none were as comfortable after break in.
Source: bought it new
Price Paid: $170

These boots are the best pair I have ever had. Perfect for hiking, either day or overnight. I would definitely recommend them, although I understand that they are no longer made in Italy. Too bad.
Pros
Extremely comfortable, walking over rough rock, never feel any sharpness.
Cons
Original laces tend to come untied. Just got used to double-tying the knot.
I absolutely love these boots. I always wear them when flying. I must have good footwear when traveling. Have to take them off at airport security, but I don't mind.
My hiking has lessened through the years, but I can always count on these boots. Got them in 1994, paid $209, worth every penny.
When in St. Thomas USVI in 2017, the heel blew out on our day of return home. My girlfriend tried to convince me to leave them, but I couldn't do it. Got home and found Dave the Cobbler. He did a great resoling for a very reasonable price.
Fit is excellent when wearing thick or regular socks. Scuffs in the surface disappear with a new coat of Sno-Seal. Completely waterproof. Excellent ankle support. Feel like wearing a pair of comfortable thick socks.
Experience
I wear a pair of Vasque 7114 Skywalk GTX as my working boots. Excellent for day work on jobsites. (Field Technician, Geotechnical Engineering). Also very good firm sole. This is my fourth pair of these shoes.
Source: bought it new
Price Paid: $209

I've owned both the Sundowner Classic and MX2 on many hikes along the Appalachian Trail in Georgia and in North Carolina. I totally wore-out my Sundowners and noticed a very poor fitting sundowner now made in China. I had really wished Vasque didn't switch to making the Sundowner Classics in China, the last is definitely not the same because the heel area is much wider than the last or mold when it was made in Italy. I also liked the low profile of the sundowners you could romp around the city and getaway with them with a pair of Kakis even going out to restaurants.
The MX2's are heavier than the orginal Sundowner's too, an REI employee was weighing the two boots and noticed a difference of 6 ounces. I noticed this on my last hike when my knees were beginning to hurt from the added weight of the boots. I felt like I had concrete blocks on my feet. No doubt the MX2 offers greater support than the classic sundowner, but still gets a low rating on its clunky lug sole appearance and it overall heavier weight. Perhaps they could shave a little off the sole without sacrificing the integrity of the boot.
I'm at least happy that they are using one-piece leather construction. My old Sundowners had a lot of character as they got scuffed up, they were way cool. I can only hope that Vasque comes back to their senses and creates the Sundowners the "Classic way." One last comment, I did contact several people at Vasque in the past, but I think they are sitting on their hands since nothing has changed for the better in the last year.
Materials: gore-tex lining
Use: day trip hiking, light pack
Break-in Period: one week
Weight: 3.8 lbs.
Price Paid: $210

I bought these at the last minute (due to a small but well-known cult boot outfit screwing up my order) for a 5-day high-altitude Sierra Nevada backpacking trip. To my discriminating eyes, they looked like a "real" hiking boot, they were made in Italy, and Vasque has a pretty good reputation. I wasn't real happy w/ buying a glue-on sole, but I had no choice other than to cancel the trip.
After five days of rocky, dusty trails carrying at least a 40lb pack, my companion and I were amazed that I didn't have any blisters or hot spots whatsoever. My feet were happy and dry, and the boots looked virtually new after a cleanup later. I'm still not convinced that Gore-Tex is such a great idea, but we didn't go through any water. The tongue tended to drift to the outside a bit too, but maybe I just need to play with the lacing. I also plan to replace the insole w/ something a bit beefier. I thought the rubber outsole of the MX2 seemed much more robust than the original Sundowner, which always seemed a bit thin to my taste. The three-pound weight was nice. There were several people out there hiking in running shoes, but I appreciated many times the good ankle support (and leather collar) of the MX2. I only hope it lasts more than a few years.
All in all, a very well-made leather boot in the new style. I plan to convince my wife to purchase a pair, and I think I'll keep mine. I still prefer an all-leather Norwegian welt boot, but such good service out of a brand new boot in demanding conditions deserves loyalty.
Materials: leather
Use: backpacking, various
Break-in Period: little to none
Weight: 3.0 lbs
Price Paid: $220 U.S.

i got these for $83 through Vasque's employee purchase program (had to wait 3 months, but it was worth it) and i have been pleasantly suprised by the boot. the fit and feel is almost the same as the old sundowner, but with the altered lace hook (the second one down is set in more) anchors the heel better. the midsole is softer (pu instead of resillion rubber), so more cushion and foreward foot-flex. fortunately stability isnt compromised, but i'll have to wait to see it holds up the same. the sole is the same design, just a little different contour, so there isn't much of a change there. the style is updately nicely, but still very unique (i was worried they were going to copy the asolo 535 look, but its quite different) for those who find that a factor. break in is cake, and so far with aprox. 30 miles on/off trail in wet conditions with a moderate pack (25 ilbs) performance has been nice.
overall, nice update without changing the good things about the original (a little pricey at $210, but hey). oh, and btw for those who still want the original the msrp is now $175 (according to vasque's wholesale/retail price list), so don't let EMS rip you off for $190. g-day bruce!
whot? you're name ain't bruce, that'll cause some confusion won't it?
Materials: leather gore-tex
Use: on/off trail with light to medium pack
Break-in Period: little to none
Weight: 3 ilbs for size 8.5
Price Paid: $210 msrp

I bought these boots as a replacement for my old Sundowners. All in all I like these boots. I have outlined my thoughts on the boots below:
Positives:
Good support
Good protection
Good looks
Negatives:
Long break in period (compared to Sundowners)
Minimal heal slippage unless I wear 2 pairs of socks
If the lace them tight, I will get a sore spot on the top of my foot
I did upgrade the insoles, first with a Spenco, and later with a green Superfeet insole. The addition of the Superfeet insole helped tremendously.
I should note that I have a wide forefoot and narrow heel, and opted for the EE in my size. Forefoot and toebox fit very well, but as previously noted, I do have to deal with a little heel slippage at times. I have experimented with different lacing techniques, but none seem to be much better than the others.
In summary, this is a very well made boot, and worth the money in my opinion. The fact that it comes in widths is also nice if you have fat or skinny feet.
Materials: leather, gore-tex
Use: hiking with 40+ pound pack
Break-in Period: long
Price Paid: $160

This will be my 4th pair of Vasques since 1988. My last boot was the original Sundowner which after a re-sole, I have used extensively for 12 years now! I recently bought the MX2. I have had them a few weeks and have put 80 miles or so on them.
They are clearly the best boot I have ever worn. My last few pairs were Sundownwers, but the new MX2 is pretty much the same except for a better sole and the leather is thicker and the boot is about 1" taller, so the ankle support is wonderful.
It takes a little break-in time, but if you have had Vasque's before you know it's worth the effort. Yes, $210.00 is a-lot for a boot but if they last like my old Vasque's I bought this pair now and I am 30, so I will probably buy my next pair when I am 40 or 42.
Can you say that much about your boots?
They also come in widths (one of the few companies who do this) So if you have a AA Narrow foot like mine. These shoes fit like a glove!
Materials: heavy duty leather, Gore-Tex, Vibram sole
Use: Day hikes, Backpacking, Walking
Break-in Period: 80 miles or so
Weight: 3lbs.
Price Paid: $210

I bought these after my Vasque Clarion GTX boots started wearing out (I love those boots and still use them for day hikes and light backpacks). I wanted to go to a full-leather boot and had heard great things about the original Sundowners. I've only used these boots on 2 backpacks and a few day hikes, so I can't put the final word in on them yet. The gtx liner does keep the water out 100%- I had a weekend backpack trip that did about 20 stream crossings and my feet stayed dry.
Definitely get a good fit at the store. The middle lace eyelet is a bit of a pressure/sore spot, but I'm waiting to see if it's something that will break in or not. I wish they had a rubber toe rand that came way up over the front of the boot because the leather is going to get totally chewed to hell. With little break in I did a 20 mile weekend hike with only one hot spot- I think I may have to switch to a higher volume footbed. Great traction though.
Materials: full grain leather with gore-tex liner
Use: rough trail-backpacking
Break-in Period: 50 miles?
Weight: 3 lbs
Price Paid: $210

My pair was made in Italy. I've been loving these boots since 2000 or maybe the late '90s. I got a resole from resole.com in Feb. 2013. They've always fit like a glove and have treated me well, never had a blister or a soaker, but I also treat them well.
Pros
Love on my feet for any condition
Have been offered cash for my boots
Cons
They discontinued this design.
It sucks that they discontinued this model because they hit an apex with this with the Italian version. It also sucks that they farmed out later productions to China and probably alienated their customer base with a crappy fit.
Source: bought it new
Price Paid: $150

I ordered a new pair of 'Sundowners' last summer on the name only, didn't look at a picture or reviews because I've loved and worn out two pairs before over the last ~20 years (I still wear the old ones for chores, actually). 
The new ones are not even fundamentally the same as the old ones: the collar is totally different, higher and wider; the way the lacing bib is constructed is different; the leather itself is different; the sole is thicker and more elaborate, for no obvious reason; the fit inside around the foot seems huge, while the old ones—same size—were practically form-fitting. 
It feels sloppy, and, like another reviewer wrote, 'chunky'; and not the flexible, lightweight, stylish (not faddish), durable, true Sundowner of the past.
I kept them because I needed a new pair, however if this is the Sundowner of the future I'm going to start looking for a new boot. 
Overall: they work, of course, but are disappointing.
First off... they should not call this a Sundowner anything. It's not the same boot at all. It's much bigger and chunkier than the normal Sundowner. It's not really a bad boot, it just doesn't compare or come close to the orginal Sundowner.
I found the fit to be a little off, it didn't really fit like my old Sundowners. I also had a little heel slippage in my left boot. I should add that I don't like big ass moon boots, so that's part of my problem. Some people might like those acme bricks on their feet, but I don't! It doesnt really matter now though, because Vasque has stopped production on these boots, so they're not gonna be around for much longer.
Over all... they're a better boot then the China bull s*it Sundowners they make now, but they still don't come close to the "old-school Italian Sundowner".
Price Paid: $215

The boots have been great--my feet never get wet or uncomfortable. Using liners and wool socks, I have never had any blisters or hotspots. They have been used for weekend backpack trips with the family for the last two years, meaning lower mileage, but a heavy pack. (6-year-olds don't carry much...) After the two-week break in period, they fit like a deerskin glove.
I highly recommend these boots, especially if you hike in wet conditions, such as the Northeast where I live. (The only thing that should be improved is a better scuff guard on the toe. I have to pay particular attention to this area when cleaning and protecting the boots. If this area was better, the boots would get a "5".)
Materials: Leather & Gore-Tex
Use: Varying trails with heavy backpacks
Break-in Period: 2 weeks
Weight: 3.2 lbs (size 12)
Price Paid: $180

Haven't yet taken these on the trail, as I was trying to make sure they were broken in first. (Stiff leather + long trip = hurts, too often.) I got them to replace some worn-out, rather blah boots (Asolos?) and I'm very happy.
The break-in was taking forever until I bought round laces to replace the stock flat ones...instant success! These are now ultra-comfortable, a little too warm for me even in winter in New England, a bit on the heavy side but nice and sturdy because of it. And they look nice, too!
Just added some Superfeet for support more than for comfort, so it's nice to see I'm not the only one who needed to.
Materials: leather, gore-tex
Use: I bought them for backpacking/dayhiking
Break-in Period: moderate
Weight: 3ish lbs
Price Paid: I forget, probably ~$190

Just to let all you guys know, Vasque has not quit production on the old model sundowner. The MX2 is a totaly new boot and not, as some people have suggested, a different colored SuperHiker. The SuperHiker is stiffer and taller than the Mx2 and doesn't have a Gore-Tex liner. Good news for all of you who are bitching: the old Sundowner is now around $180 retail instead of $205, and the Mx2 is a better boot, performance-wise. A word of advice to all you bone-heads who were bitching about the new boot........quit assuming, and get the facts before you start bitching and criticizing.
The MX2 took much longer to break in than my Sundowners did (3-4 day trips at least). All in all they still are a good boot. I had no problem after the break in period. I had my return trip to the Saw Tooth Mountain Range last summer and we went in about 11 miles with a 40 lb pack. I had a slight Achilles tendon strain, but that probably was not due to the boots. I also found how valuable trekking poles are. I will not hike with a heavy pack on a long trip without them now
Materials: leather
Use: moderat to heavy
Break-in Period: 3-4 day trips
Weight: 3 lbs
Price Paid: $120

I have over 500 miles on a my pair of MX2's. On my last trip I after three days of hiking trails that looked more like creeks my feet got wet the first time. The leather boot looks like it was chewed up by a bull dog they are still the most comfortable boot I have ever has on my feet I am about to order a new pair because we are heading to Rainier this July. I only wish the MX2 for men came in Nubuck rather than only dark brown.
Stan Watkins
Materials: Leather with Gore tex inner boot.
Use: long rough trails with heavy packs
Break-in Period: 3 months
Price Paid: $207

vasque went and put the super hiker in a sundowner color and called it a new boot. half the reason i get sundowners are for performance, other half is for distinctive look. certainly won't be getting these boots for reason #2. vasque has really betrayed the sundowner legacy with these things. will have to read reviews off the charts to even consider these.
Materials: leather

I owned a pair of Sundowner Classics for eight years and wore them nearly every day, They are a great boot. The MX2 on the other hand is a piece of garbage. They have begun to unravell after only nine months, and they are also uncomfortable and don't fit right. Stick to the Classic.
Use: everyday wear
Break-in Period: forever
Price Paid: $180

Best fit boots. But, they only lasted for six months. The Vibram soles parted from the midsoles after less than 60 km volcanos climb in Java island, Indonesia.
Your Review
You May Like
Specs
Men's
Price
Historic Range: $105.00-$210.00
Reviewers Paid: $120.00-$220.00

Women's
Price
Historic Range: $139.95-$149.49