Vasque Sundowner GTX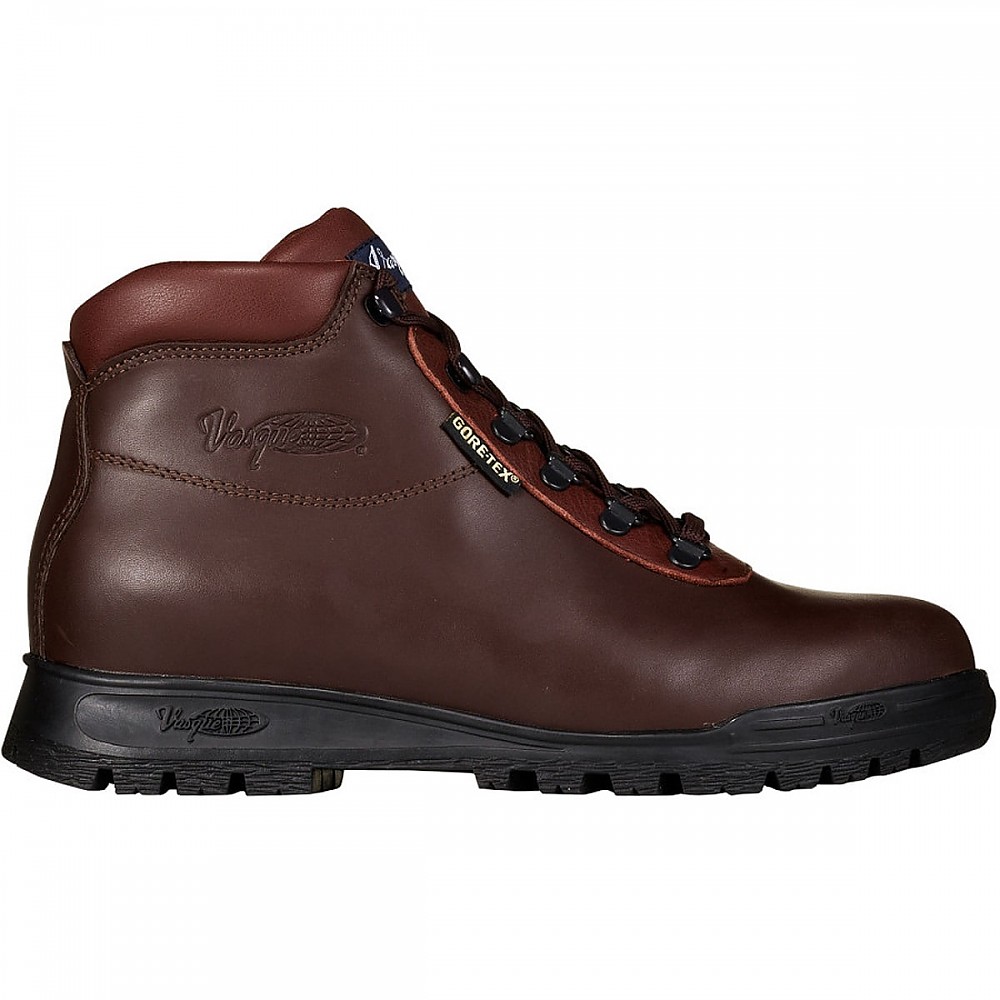 Great looking boot that performs well: this boot will do just about everything and do it well.
I've owned the Vasque Sundowners before, and loved them, but as I was preparing for a trek through northeast New Mexico (Philmont Scout Ranch, for those that know it), I learned that Vasque now had their boots made in China, and a great many reviewers had concerns about the quality. However, I did my homework, and there just isn't any other waterproof breathable boot available for this price, so I paid my money and took my chances.
I am, in short, completely pleased, and will buy another pair when these finally wear out.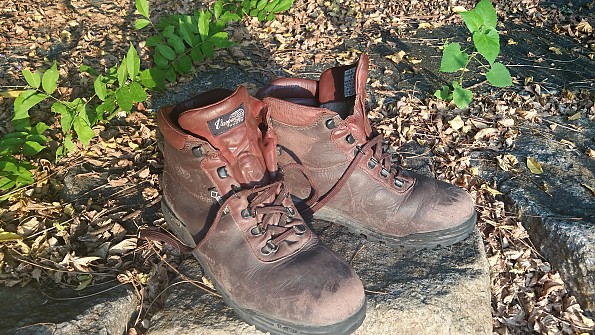 Okay, admittedly, they are closer to worn out than I would like them to be. They did some 80 miles of rugged hiking, with lots of lose rock, and the toes are scuffed. But the damage is entirely cosmetic, and with just a quick wash with saddle soap, they're looking fine again. 
So why these? Well, admittedly, I'm old school. If I'm going to be 50 miles from anywhere with 50 pounds on my back, I'm not trusting my ankles to nylon — I want the support of all-leather construction. Not everyone feels that way, but guys in lighter boots had more problems than I did on the trek for which I bought these, so... I'm sticking with my all-leather boots.
Another advantage to that was that, despite hiking in the desert, we started our trek with four straight days of rain. We slogged through mud, puddles, and in places, straight up roaring streams. On the fourth day, I got a slight leak on my right big toe. Other than that, I had no moisture issues at all.
Of course, with leather boots comes a longer break-in time, but, honestly, these needed hardly any break-in at all. I bought them online and wore them straight out of the box for some hiking. On my long trek, I did experience a small blister on each big toe, but those were each at the end of the seam in my sock liners, so I think the liners were more to blame than the boot.
The other thing one expects with leather boots is less breathing and heavier weight. These boots are heavier than a nylon hiker, but not too much, and I didn't have any issues with the breathability. 
Overall, I got a pair of waterproof, all leather boots that protected my feet from rocks and debris, supported my ankle under heavy loads, and didn't weigh too much or take a whole lot of care or break-in. They functioned flawlessly in wet and in dry, on rock, mud, sand, and dirt, and they didn't break my budget to do it. What's not to love?
Source: bought it new
Price Paid: $189

Our official boot since the 1990s. The originals were as close to indestructible as a boot can get. The Chinese model isn't quite as good, but still beats anything else out there.
Pros
Ready to wear
Durable
Waterproof
Comfortable
Could be resoled repeatedly
Cons
New Chinese model cannot be resoled and does not appear to be as well made.
As guides of backpacking trips and editors of OutpostUSA adventure travel magazine, we're on the trails a lot. We all wear Sundowners all the time year round. Yes, we religiously treat and polish them after each trip and sometimes even in mid trip. We buy a new pair, use them as dress boots in town for a year, then move them out to the trail and buy a new pair for town.
They need almost no breaking in, are comfortable, take terrible abuse over rocky scree, stream crossings, sand, mud, salt water, intense heat, bitter cold, snow, and grass (which can be just as punishing as anything else if you hike through several miles of it), and with the addition of a good insole are very supportive of arches and feet while carrying a backpack.  
My current pair, the one I have on right now as I type this, has done the Grand Canyon, Rocky Mountain, Wind Rivers, Yellowstone, the Tetons, Glacier, Big Bend, Zion, Bryce, Smoky Mountains, Cumberland Gap, Big South Fork, Red River Gorge and Mammoth Cave (the surface trails plus the cave itself), and with a good cleaning and polishing look almost new. We've had this pair resoled three times by the outfit in Colorado.
Our experience is that after about 2,000 miles the flex point along the sides between the toes and arch begins to crack and at that point they're beyond repair. But it takes most people a lot of years to hike or backpack 2,000 miles. We have had readers and students who did not ever clean, polish or resole their Sundowners and they still got several years and over 1,000 miles out of them.
Admittedly, we're not as happy with the new Chinese models. They cannot be resoled, the grommets irritate some people's feet (depending on how your upper arches are built), and the sizing is not quite the same, meaning at the edges of each size range some users find the toe box or the ankle cup slightly tight or loose. But this just means you need to buy yours new at a store where you can have it properly fitted, not online. And even the Chinese model is still good, and still better than anything else in this price range currently on the market.  
Source: bought it new
Price Paid: $200

Great leather, but the sole is pure garbage.
Pros
Light
Quick break-in
Waterproof
VERY comfortable once broken in
Cons
The sole breaks within a year
I had a pair from 1999 until 2008. They were the best boots I ever owned, but (like all boots) eventually just wore out. I wear them every day, in every condition.
I replaced my '99 models with the new model. They looked identical, but the new ones broke in MUCH faster (about two weeks instead of a month). At about the year mark the sole separated from the leather. I assumed this was due to how I treated them, but was upset as $200 boots should last longer than a year. I replaced them with some Scarpas, but missed the sleek styling of the Sundowners.
In 2016, on Jan 1 I got a new pair of Sundowners from Outdoors, Inc. They broke in easily, they looked great, and I was happy. On Christmas morning of 2016, I was kneeling over to pick up a present and the sole split along the bottom.  All the way through, ruining the boot.
I took them back to Outdoors the next day and (as I had my receipt and box) they offered to refund my money or exchange them. The manager explained that Vasque had changed from Italy to China and was having problems with the soles, but that they'd worked it all out. She offered to upgrade me to a pair of Danner Mountain Lights, but I loved the styling of the Vasque Sundowners.
I was given a new pair, but not my box nor receipt. I didn't make a big deal out of it as they were so nice and I was convinced that I'd just gotten a bad pair.
This is nine months later, and the sole not has a bubble in it where the midsole has (apparently) separated from the outer sole. Every step with my right foot feels like I'm walking on a grape and squishing it. EVERY STEP! It's been going on a month.
I'm not sure if I'm going to send them off to get a Vibram sole put on, or just scrap the boots, but I am sure that I'll never own a pair of Vasque boots again. They were great 20 years ago, but now are garbage.
Source: bought it new
Price Paid: $250

Solid leather, mid-ankle hiking boot.
I first acquired my Sundowners in 2003, and immediately loved them. In fact, they were so comfortable, they quickly became my everyday foot attire, not just when hiking or in the woods, but even around school and home. I had them properly sized in an outdoor equipment store, so there was plenty of room in the toe. The GTX has an extra rivet up the ankle from the original sundowners, which helped me get the right amount of ankle support.
The boots required no breaking-in, and were comfortable from the moment I first put them on. After approximately 10 years of regular heavy use, the padding along the back of the ankle had become a bit thinner, and they eventually started to rub a spot there. Until that time, I never had a problem with comfort, despite having rather delicate feet that rub and blister easily.
The boots can be a bit hot in the summer, but I wore them regularly as a camp counselor for years, and the foot temperature was never bad enough as to actually be a problem.
The boots also remained effective at keeping out water. As long as the water didn't reach over the top of the boot, my feet stayed dry. That being said, after thousands of uses and not much maintenance care, the leather eventually split along the toe crease where the boot would bend to accommodate the flex in my foot as I walk. Unfortunately, and mostly due to my own lack of tending, this was an irreparable problem and the boots could no longer be adequately water proofed.
Considering the amount of wear and tear I put on these boots, they were extremely well designed and durable. Eventually, as mentioned above, a lack of conditioning led to cracked leather. The sole also began to separate from the upper in one part after more than ten years.
That being said, I have heard rumors the newer models of the boot are no longer made to the same quality. I cannot vouch for this, as I have not tried them, but would recommend checking online to try and find some of the older models if possible.
Source: bought it new
Price Paid: $225

I've had both Italian and Chinese and there is no comparison.
I bought a pair of the Italian-made Sundowners in 1999. I wore them every day for seven years, had them re-soled at least twice, but maybe three times. When it was time for another re-sole, I decided to buy a new pair (fast-forward to 2008).    
The new ones didn't seem to break-in very well at all, were never comfortable and the worst part, the sole split at the ball of the foot, rendering the boot no longer waterproof. It is at this point when I began looking more closely at the boot that I realized it was made in China.  
I can tell you that the quality of the Chinese boots are far inferior to the original Italian. I tried to send the boots off to be re-soled...only to find out that the Chinese version cannot be re-soled...another knife to the formerly loyal customer. I would have gladly paid the cost of having the boots made to the old standard, but the Chinese boot is far inferior and not worth purchasing for any reason, not even if you are a casual hiker...
It is not possible for me to write a stronger recommendation against this counterfeit item. Vasque and Redwing should be ashamed to dupe their customers in this way.
Source: bought it new
Price Paid: $170

I have had my Vasque Sundowner GTX boots for—I don't really know—at least 15 years, maybe closer to 20 years. I bought them because at the time, they were the only decent hiking boots that I could find in WIDE width, to fit my ever expanding flipper feet.
I love these boots. They fit like a glove, like an old friend, like a pair of favorite old slippers. They have served me well for many, many miles of hiking and backpacking in the Sierras, Cascades, and Alaska. They have kept me dry and comfortable over a tremendous range of conditions. While everyone else needs to bring a pair of camp slippers in their pack, I just keep wearing my boots, because they are as good as slippers.
They have started to leak water a bit lately. I think that is because the sole is almost completely worn away around the front and sides, allowing water to penetrate between the sole and the boot. There isn't much left of the sole on the bottom either. I thought they were finished, but I found out about a guy in Seattle who can re-sole them, so I plan to give them a new life. They will probably outlive me.
The only problem is that they are so flexible that they cannot hold a crampon. They never were intended as mountaineering boots anyways.
Price Paid: I forget

I have had very mixed results with my pair of Sundowner GTX's. I have put about three hundred miles on my pair and recently completed the JMT in them. Prior to going on the trip I wore the boots constantly, and they seemed to break in nicely over about 50 miles on local trails.
Early on I purchased the Sole Ed Viesturs custom in sole, as I found the boots to have insufficient arch support, and these insoles fixed that problem as well as improving the overall fit of the boot. I highly recommend this insole as an addition to your pair if you have support/fit issues.
Anyways, for the first half of my trip, the boots were hell. They caused serious blistering on the tops of both my big toes, as well as in myriad other places, and caused me severe achilles pain and swelling on the front of my ankle. I have always tied my boots tight, and I was doing the same with these Sundowners, and I was miserable.
About halfway through my trip I spoke with a friend who recommended wearing the boots loose to the point that I was able to slip them off without unlacing (a NOLS technique, apparently). After doing this the boots were great, no pain, no blistering, and the wounds on my feet even began to heal over the last 100 miles of trail.
Overall, I give these boots 3 stars, the fit issues early on were unacceptable, I felt like packing it in for the second half of my hike and that is a terrible place to be. I will not buy these boots again, but now that I am tying them loose, they seem to be a solid boot.
Durability wise, these boots were great, scuffed as hell but no major tears, and the sole did not begin to peel as it did on my buddy's tps-535. They were grippy in loose rock and dirt and kept my feet dry in some fairly wet/muddy conditions.

Materials: Leather
Use: john muir trail w/heavy pack
Break-in Period: 50+miles
Weight: heavy

WORST...BOOT...EVER. These damn boots should be taken off the market NOW. I can't believe they are still on the market.
A few years ago I had the misfortune of buying a set of Sundowners. They look great and feel comfortable initially out of the box. After hard hiking however, their fatal design flaw becomes obvious. There is some rough stitching along the heel of the boot, at the Achilles tendon area. Over time, the friction from this stitching can cause agony and serious damage to the wearer.
After my hike I had to big red lumps on the backs of my heels, a serious condition that can often only be remedied by surgery. Those boots sent me to the foot doctor and actually had me discussing the option of surgery after one extended hike. I had to stay off the trail for a couple of YEARS before my feet returned to more or less 'normal'.
When I called Vasque to inform them of the flaw in their boot, I received a defensive and indifferent attitude from their 'customer service'. I wasn't looking for anything from them (certainly not another pair of their boots), but they wouldn't even take the boots back!
I ended up throwing the boots in the garbage, where they belong. I will never purchase another product that is even remotely related to the 'Vasque' company. I now enjoy pain free hiking (finally) with other, higher quality footwear.
Break-in Period: several months of light hikes before the big one
Weight: I'm about 170 lbs, my pack is around 40 lbs.

These are without a doubt the most high-quality clothing I've ever bought. I've had these boots for five years now and they are still going strong. I have no idea how long they're going to last me, but I'm guessing from the wear it will likely be another three years or more.
I have hiked some pretty rugged terrain with these and long distances. The original insoles were not the greatest, so I put in some Superfeet insoles (well, worth the money). These boots are thoroughly waterproof up to about 1cm from the top of the tongue. The ankles are very comfortable. The soles aren't Vibram, but I like them better because they don't slip like crazy on ice and they last A LOT longer. I can't say enough about how great these boots are.
One con. . . When a boot lace goes, it's hard to find the flat 55" laces to replace them. But actually a 45" or 50" lace is a better length -- still hard to find though. Also, when I broke them in they hurt like nothing I've ever experienced, but then I just moved the tongue and it was a lot better. The one rivet literally put me off my feet for almost two days.
If you're looking for an amazing boot, look no further.
Materials: Leather, Gore-Tex, Skywalker soles, Superfeet insoles
Use: short dayhikes, rough trails w/ heavy pack, etc.
Break-in Period: 2 weeks
Weight: 190lbs.
Price Paid: $170

For 20 years my only footwear except for thongs. Even the Chinese built are still really good, admittedly not as good as before, but what are you going to do?
Pros
Durability
Waterproofness
Comfort
Weight, trail feel
I have only had these boots since 1990, before then I had a pair and then tried an Asolo and a Merrell.  But I came back and have not strayed since.
Each pair lasts 4-8 years, this is my only footwear except thongs. I wear them around my farm and do not lace them up in the AM for morning feedings, just tuck the laces in. I also wear them when I ride horses.
I go 3 weeks back country every summer and log around 5 miles a day.
Source: bought it new
Price Paid: $175

This classic Vasque Sundowner boot was the best bang for the buck. It had excellent reviews and is an issue to most of our Park Rangers for use throughout the year.
Pros
Comfort
Performance
Price
Cons
Probably a little heavier than the latest composit boots
These boots amazingly, felt almost broken in when first laced on my feet. They are a no seam leather ankle high and can be worn comfortably as shoes around town or hiking in the Everglades or climbing Up Pikes Peak. Sand, dirt, H2O cannot detract from the steady comfort and support these classics provide.
Unless you are a fanatic with lots of money, these boots will provide what you need for years of tough walking, hiking, climbing while comforting your tootsies!
Source: bought it new
Price Paid: $114

My Sundowners endure the worst I can throw at them without blowing out. My current pair has lasted me since 2004, which is a new record for my boots. I've seen very fragmented rock go right through between treads and through the sole once, but it wasn't mine (it was on someone else in my crew's pair); I've had no problem with these on identical substrate.
Care is a bit of a pain, and I've found that I have to re-seal them roughly 3-4 times a year to keep them weather proofed to my liking. The rivets are solid, and as I'd said, I've never seen a pair blow out, so the stitching is fine. Even the tongue has good stitching. Aside from possible issues with the soles, they have very robust, almost idiot proof construction.
My one complaint is that a pair of gaiters is a must with these. Even more so than other ankle boots, they seem to be a magnet for pebbles and other environmental debris.
Materials: leather
Use: Rough trails (or no trails) with heavy gear
Break-in Period: 1 month
Price Paid: ~120 USD

This is my second pair of Sundowners. The first pair was the "Made in Italy" type. I had them for over 12 years until I decided to let them go. I was unaware that they stopped making them in Italy until I started shopping for a new pair.
I read all the bad reviews on the "Made in China" versions, but went to a store to check them out anyway. I liked what I saw and got them. The fit seems to me to be the same as my first pair (same last)and it broke in very quickly. The only noticeable difference that I thought I saw was the leather being used.
Overall I highly recommend these boots and I am completely happy that I bought the Sundowners again. These pair are on their second year with me.
Materials: leather/gore-tex
Use: short dayhikes and around town
Break-in Period: very short
Price Paid: $125

Bring back the 1990's quality.

Pros
Quick break in
Comfortable
Minimal stitching on the upper
Cons
Sole is glued on
Cheap leather
Cheap sole
The new Chinese sole will almost undoubtedly split at ball of foot. The leather splits at the flex point within first year easily.
I've owned 6-7 pair of these boots and will never own another since the shift to Chinese manufacturing. Danner Light II's for me now, far superior to the Sundowner GTX.
Source: bought it new
Price Paid: $180

I have had 3 pairs of Sundowners over the years. Yes, the Italian made boots lasted the longest in time. A pair I bought in 2002 lasted 1700 miles! I still have them to prove it. I wore that pair out on a AT thruhike in 2002.
The pros are that the boot is simple construction, durable soles, wide widths, and completely waterproof.
The cons are that the soles are not as grippy as the newer models and failure is usually in the front sole separation. Also the Chinese models seem to have an issue with the upper lace grommet sitting on your ankle bone. I fixed that with a Superfeet liner that is now in all my boots.
Use: long and heavy pack days
Break-in Period: 1-2 weeks
Price Paid: ~$190

When I first saw these boots I knew I had to buy them, the old school styling is perfect for me. I bought my pair of Sundowner boots when I moved to Aspen in 1993. I have been to some incredible places in these boots.
Today, the same pair is still on my feet several times a week. There has to be a good reason to wear the same boots for 14 years. I'm amazed that they have lasted all this time and equally amazed that Vasque still makes the model. I don't know what else can be said. One thing is for sure, if these finally wear out, they will be replaced with the same boots.
Price Paid: ?

I have been wearing Sundowners since my So.(93) year in college. When I first saw them, I said these are not any boots. I have had a pair every year since then. I wear my boots every day, winter and summer. I love these boots. They are stylish and of course comfortable.
My friends won't pay the price for them, but end up buying 10 different pairs because they keep messing their boots up in the rain and other conditions. But I can say one thing, the China version does not look as good as the Italian versions did. The leather version of the Italian made, had a little more opulent look with their leather.
Materials: gore-tex
Use: everything
Break-in Period: 1 month
Weight: 160
Price Paid: $175

Great boot. I've used the Italian made for 20 years. Bought a new pair built in China...same great shoe.
I can't understand some reviews here...lace stud hurts foot? Back stitching hurts foot? Maybe you sized yourself wrong or you need better socks...dunno.
All in all my opinion goes these boots a good rating. They are tuff, dependable, comfy after a long break-in and waterproof. They are a bit hot though due to the solid leather construction. Also not real light weight.
A good all around boot with a timeless design!
Materials: Leather and Goretex
Use: Hiking
Break-in Period: Long
Weight: A bit heavier than fabric boots
Price Paid: $150

I own both the old Italian made Sundowner and the new Chinese edition. The old Vasques held up for about 17 years of seasonal abuse and were finally retired last year as the sole wore too crooked.
The new version of these trusted boots seems to be equally well made and I have no complaints.
Have used them on several hikes, and will put them to to the test this summer with several long treks. So far so good.
Price Paid: $130

DON'T BUY THE CHINA MODEL! I have owned 3 pair of this boot. They used to be made in ITALY and WERE awesome, now they are made in CHINA and the leather quality and glue used to hold the sole together are useless.
Still light, and waterproof, but they won't hold up to a fourth of the use the ITALIAN made ones did. Find another boot.
Materials: leather, vibram, gore-tex
Use: hiking, casual
Break-in Period: the Italian boots, took about 50 miles, the China models, 2-5 miles
Price Paid: $150

I've read all the stuff about Vasque boots made in China, which mine are and I don't see any differance. They do take a while to break in all good boots do. This is my second pair (the first of which were made in Italy) and when they are gone I will most likely buy another pair.
Use: rough trail w/ heavy pack
Break-in Period: 2 weeks a little each day, wear them awhile then change to my old work boots
Price Paid: $169

Unpadded top rivets cut stigmata into my ankles. I sent these back after one week.
Price Paid: $185

Your Review
Where to Buy
Help support this site by making your next gear purchase through one of the links above. Click a link, buy what you need, and the seller will contribute a portion of the purchase price to support Trailspace's independent gear reviews.
You May Like
Specs
Men's
Price
MSRP: $239.99
Current Retail: $139.99-$250.00
Historic Range: $65.43-$250.00
Reviewers Paid: $114.00-$250.00

Waterproof
GORE-TEX with Performance Comfort Technology

Footbed
Molded Polyurethane

Midsole
Molded Polyurethane and TPU Shank

Outsole
Vasque Pyrenees

Last
Sundowner Classic

Weight
3 lbs 3 oz / 1438 g

Leather Type
Full Grain, Waterproof

Leather Weight
2.2-2.4mm

Women's
Price
MSRP: $239.99
Current Retail: $249.95-$250.00
Historic Range: $39.96-$250.00
Reviewers Paid: $225.00

Waterproof
GORE-TEX with Performance Comfort Technology

Footbed
Molded Polyurethane

Midsole
Molded Polyurethane and TPU Shank

Outsole
Vasque Pyrenees

Last
Sundowner Classic

Weight
2 lbs 10 oz / 1188 g

Leather Type
Full Grain, Waterproof

Leather Weight
2.2-2.4mm

Recently on Trailspace