Vasque Women's Sundowner

The Women's Sundowner has been discontinued. It was replaced by the Vasque Sundowner GTX.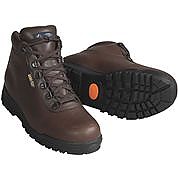 The toughest product I have ever owned.
Pros
Tough and durable
Waterproof after two decades
Cons
Stiff and need breaking in before they can be worn on a regular basis.
I bought my Sundowners in the mid-90s at REI. At that time it was one of the more expensive pieces of footwear I had ever purchased. And now 25 years later they would have been worth twice the price.
After reading some of the other reviews it makes me wonder how many contract builders Vasque has used over the years. My experience is fantastic. Without a doubt, my Sundowners have been the toughest, most durable product of any kind that I have ever owned.
When I first got them they were not comfortable. Like a pair of Redwing work boots, they needed to be broken in. I slathered them in mink oil and only used them for yard work at first. Once they loosened up a bit I started using them as motorcycle boots as well as yard work boots. After a while, I wore them at work in the motorcycle shop I was a mechanic at.
I took them on every camping trip I have ever been on and lots of hiking in the Colorado Rockies. And they have done all of those things flawlessly. They still have the original Skywalker soles. Where one person said they destroyed a pair in a few weeks hiking Alaska, I have been unable to wear mine out in 25 years and I have not been kind to them.
Of course, each experience is different over time. My experience has been perfect.
Experience
I had this pair for 25 years. In the past, I would destroy a pair of Hi Tecs in 6 months.
Source: bought it new
Price Paid: About $150

I bought a pair of these years ago - made in Italy - and destroyed them in 6 weeks, hiking in Alaska. The rep was shocked when he saw them. I am a relatively short woman, not some big guy. They did not hold up, and I have never bought another pair of Vasque boots since.
Price Paid: unknown

I am beginning to wonder if there is something to this "Made in China" thing about these boots? My husband very carefully shopped and bought me a pair of these for Christmas because I need a wide boot. I twisted my ankle last fall and he felt I needed something with more support. I don't want to tell him I am absolutely miserable wearing them.
I have been careful to wear them for short periods of time with good wool socks and even added polypro liners to the mix. I have probably worn them a total of about 10 hours total now. Some reviewers seem to believe the Made in China boots are inferior, others are saying they are not. Obviously, if I want to try to return them, I have to have a good reason for it, otherwise they will not take them back already worn.
I don't know how many more times I can put them on, my feet hurt from them so much! I know leather has a break-in period, but is 10 hours enough?
Materials: Leather Gore-tex
Use: Short day hikes
Break-in Period: Longer than 10 hours
Price Paid: Gift

After reading the other reviews, I'm glad that I have an old Italian made pair of these boots. I wanted a pair for years after noticing that many other hikers and backpackers wore them. I bought them as a gift to myself after I got my first "real job" after grad school.
They are a medium duty boot, not suitable for very heavy loads. But that's not a problem for me because I weigh less than 110lbs and I can't carry more than 30lbs because more than that gives me severe hip joint pain. (Luckily, my much larger husband doesn't mind carrying all the heavy stuff.) I like the fact that they are not as heavy as the boots made for heavy-duty backpacking.
My feet are narrow, but only a size 6, and the boot's narrow sizes start at 7, so I my boots are medium width. I wear them with a Spenco insole to take up some room and very thick wool socks and thin liners. The ankle support is good which I appreciate because I have loose ankle joints that sprain easily due to multiple ligament tears back when I was on my high school's cross-country team.
It was a long time ago that I first bought these boots, but I seem to remember that they required almost no break-in time at all. However, I wouldn't wear these for street wear, although I've seen it done, because they are too stiff to be as comfortable as normal street shoes for regular walking conditions. I also prefer a lighter and softer boot for day hikes, especially during hot weather when I like to have more ventilation. But I will wear these boots for shorter hikes that are likely to be wet since their Gore-tex liners do keep my feet dry.
The Cambrelle liners are better at keeping the boots comfortable than the leather liners of the boots I had before. The liners are probably one reason that the whole boot dries out quickly if it gets completely soaked. I wore these while walking from Rock Island to Washington Island (Wisconsin, Lake Michigan) during a dry summer when the water was only hip deep. But of course not even Gore-tex can keep water from pouring in from the top when the boot is completely submerged. However, I was pleasantly surprised to find that they dried completely overnight (with the insoles removed, of course).
Materials: leather, gore-tex
Use: backpacking in Sierras for 3-7 days
Break-in Period: almost none
Weight: don't know
Price Paid: ~$150 18 years ago


All Sundowner versions
In addition to the 4 women's reviews above, there are 75 reviews for other versions of the Sundowner. Read all reviews »
Your Review
You May Like
Specs
Price
Historic Range: $79.95-$109.95
Reviewers Paid: $150.00

Recently on Trailspace