Vasque Sundowner Summit GTX

The Sundowner Summit GTX has been discontinued. It was replaced by the Vasque Sundowner GTX.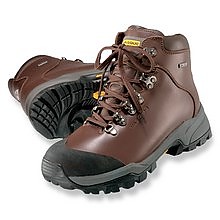 I received the Sundowner Summit GTX as a result of a Gore-Tex warranty claim on my old original Italian made Sundowner Classics. It was tough to give up an already broken in pair of good boots and I had been reluctant to go with a Chinese made product. I have to say that I was surprised by the quality and technology in the Sundowner Summit GTX.
The leather is much more supple than my old boots but at the same time it appears to be durable and should last for a long amount of miles. I wore my boots to work for a couple of weeks to break them in and even with brand new boots I did not receive any blisters during break-in. My first day hike was relatively short, and without a pack, so I cannot provide much input based on this. I just went on a 7 mile hike in Daniel Boone National Forest at Dog Slaughter Falls which has a lot of differing terrain from rock, to hard pack dirt, to pine needles to sand. The soles of these boots are some of the best I have seen. I believe that they will grip anything! I cannot wait to try backpacking in these!
Materials: Leather, gore-tex
Use: Day hikes - Plan to do some backpacking
Break-in Period: 2 weeks
Price Paid: $0 - Waranty Claim

I wore these boots on several 5-8 mile day hikes with no pack (to get basic break in). I took them on a 12mile overnight hike (40 pound pack) on the AT and had a horrible experience. This was going to be part of the break in period, but you can not break in a boot you are unable to walk in. I gave the boots this high of a rating because they did protect me from a couple bad sprains, jagged rocks, and puddle/marsh sogginess; but sitting here now I have to nurse the front part of my foot (at ankle) because of the poor quality. You have to super tighten the top of the boot to prevent a too open ankle collar and range of movement... because of this (and foot shifting forward A LOT during descent) my feet became swollen. I woke up on the second day and put my shoes on; I had to take a break every 20 minutes because my feet hurt so much. And what the worst part is, this was supposed to be a 30 mile hike. Had to cut it short because of the pain. Do not recommend.
Materials: Full leather
Use: 40 Lb Pack on overnights
Break-in Period: 2 weeks
Price Paid: $200

I've had 3 pairs of Sundowners My first pair I was cutting my tags off of to do my first backpacking trip. 5 days with a 52 pound pack in the Grand Canyon. They were fit properly (to the ball of my foot not full length). Inserts were required. I never got a blister then and never did. I still recommend breaking them in but I never had to. Key is getting them fit properly. I only use Smartwool socks.
I broke the shank in the first pair. The second pair, I wore out digging a ditch - Sundowners have an egg crate cushion so not as durable as they could be. Because of the sole cushion I moved up to Summits with a neoprene foam cushion and a more durable frame. Summits require breaking in even when fit perfectly.
I'm on my second pair of Summits, I broke the shank on my first pair just like my first pair of Sundowners. I'm hard on them. Sundowners get the nod for comfort and Summits get the nod for sole durability.
Price Paid: $180

Although these were billed as "Backpacking Boots" at REI I will never use them for that. They are much too heavy and after awhile my toes seem to go numb in them from the weird way they rock forward when I walk, although my then 11 y.o. son said they felt fine on him, during a week at Boy Scout camp.
They are comfortable to me only for short hikes on soft ground. I like to be able to "feel" the ground more when I walk than these allow. They are my back-up boots when my favorite pair are drying.
Even though they are women's boots I bought them for my son summer 2006. They haven't been worn very often since.
The discomfort may be in part to the boots being size 8M and I normally wear 7.5 Wide in Women's. I would advise getting a good fit in whatever boot is chosen.
Materials: Waterproofed nubuck leather, Gore-Tex drop lining with wicking nylon knit
Use: short dayhikes, backpacking
Break-in Period: At least 2 weeks
Weight: 3 lbs, 6.5 oz
Price Paid: $139

Finally, a pair of truly waterproof boots for hiking and backpacking.
These boots are the answer to all of my foot issues. They are wide enough for my weird feet, they were comfortable right out of the box and I can use them for casual hiking or climbing volcanoes. They are waterproof (really!). I have worn them on muddy trails and snowshoeing and they were perfect.  
Source: received it as a personal gift

These boots were very comfortable from the beginning, but I found they have a major flaw. I do a lot of hiking on uneven terrain and noticed my ankle turning unexpectedly. I constructed a jig for measuring the thickness of the heel with insoles removed. Two other pairs of boots that I use measured 1.25 and 1.5 inches. The Summit GTX measured 2 inches.

It is elementary physics that as the heel becomes thicker, one's balance becomes less stable when at an angle. Friction contouring on sloping sandstone could be risky. Although the Summit GTX is the most expensive of the three pairs I use, I have relegated them to hiking where the chance of injury is least.
This is the best boot I've ever worn. The leather upper is very supportive, and I'm certain that it's saved me from quite a few bad sprains. The sole of the boot is well balanced and tends not to roll, as well. The GTX does what it's supposed to - keeping my feet dry even when I walk right through shallow streams or deep snow. Overall, the construction is burly enough to ward off damage from constant use on sharp talus and the soles still look new after a couple hundred miles of hiking. I love this boot!!!
Materials: leather and gtx
Use: off-trail, heavy backpacking
Break-in Period: 2 weeks
Weight: ??
Price Paid: $200

I bought these boots for an AT hike. I broke them in by wearing them everyday and doing daily hikes up Stone Mtn with up 55 lbs. Spend some time getting the right sock combination and you'll be rewarded. Downhills with a heavy pack (+50 lbs) caused some shifting forward... I found that I kept the ankle laced tight. BUY 1 SIZE Larger than you normally wear!! This will accommodate socks and a feet that will enlarge over the period of a long hike. I removed the stock insoles and used SuperFeet (green)...
Materials: Leather, Gore-tex
Use: rough trail, heavy pack
Break-in Period: 1 month
Weight: ?
Price Paid: $160

It took awhile to find the right sock combination. This is a rugged boot. Your feet are well protected and the collared ankles are are not even noticeable while hiking! Wide widths are make for a comfortable fit. I highly recommend this classic boot.
Materials: leather/gore-tex
Use: rough trail heavy packs/watching football on winter days
Break-in Period: 30 plus miles
Weight: 3lb 4 oz
Price Paid: $165

Your Review
You May Like
Specs
Men's
Price
Historic Range: $57.30-$195.00
Reviewers Paid: $50.00-$200.00

Women's
Price
Historic Range: $99.96-$195.00
Reviewers Paid: $139.00

Recently on Trailspace