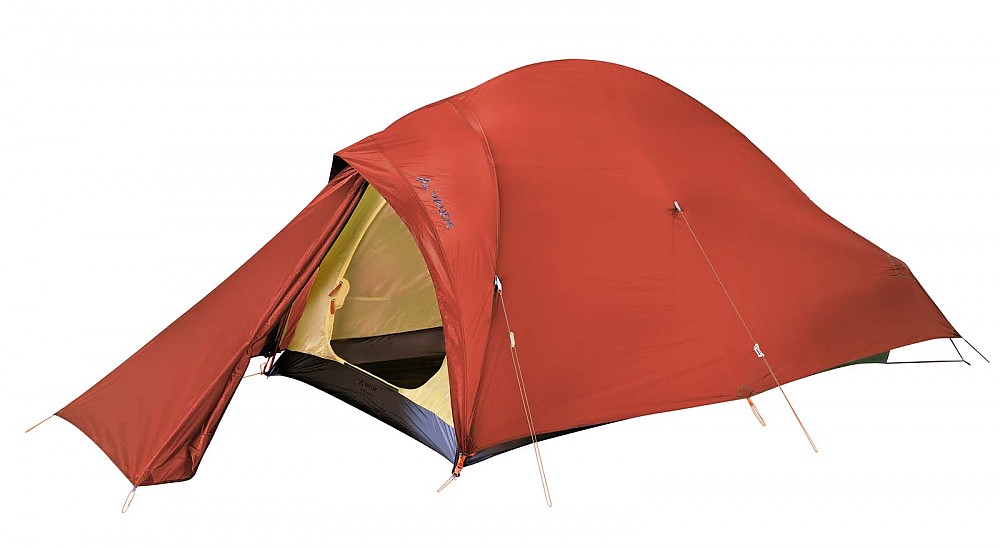 Specs
Price
Historic Range: $239.95-$299.95
Reviewers Paid: $157.00-$270.00

Total Weight
1860 g

Number of people
2

Pack Size
56 x 15 cm

Tent footprint
4.1 m²

Inner tent footprint
2.6 m²

Linkage
NSL 9.6 mm

Reviews
6

reviews

5-star:

0

4-star:

5

3-star:

0

2-star:

1

1-star:

0
This was almost my sole accommodation for a 12,000-mile, 4-month scooter trip on a wiggly route from the UK to Mongolia. I experienced every kind of weather condition from a heavy snowstorm in Poland, through 45 degree (Celsius) sweltering nights and desert sandstorms in Central Asia, and torrential rain with flash flooding in Siberia.
Pros
Light
Compact
Adjustable ventilation zip system
Waterproof in everything but the heaviest of REALLY heavy downpours (seriously I was riding a motorbike and the flooding was up to my ankles)
Easy to set up by yourself
Cons
Not self-standing
Only one vent for breathability
I bought mine because I'd used my mate's during the winter in Wales and thought it was pretty awesome.
I realise that my use of the tent is definitely out of the ordinary, so I didn't include in the cons the following things because they will probably happen to any tent over time:
After packing away my tent on what was one of the calmest nights in Russia one segment on the pole decided to stay bent rather than spring back. Used it for three more months and it didn't get worse... it just increased the pack down size of the tent.
The smaller tubing that you use to click the pole together (those pieces that sit inside the pole) aren't fixed. So if one decides to slide in during the middle of a storm, your tent collapses (only happened once).
Broke some of the teeth on the end of the zip, so the zip couldn't fully close in mosquito season! Superglued that sucker!
Yes... after using this tent for over 100 days that is ALL that went wrong with it. And with ZERO maintenance besides the little bit of superglue discussed above.
If you want a light 1.5-person waterproof tent then you can go a LOT worse than this tent. Mine has lasted four extreme months and it's still GREAT! If you want something light to carry and pitch in something less than 25 degrees Celsius when you always to dirt around (more on that later), this tent is FANTASTIC.
Would I buy this tent again? No. Why (especially as I have given it 4.5 stars)?
Well for the same reason I wouldn't buy any non-free standing tent... again :-). It limits where you can put it up. I found it was more comfortable to wrap myself in the tent like a burrito than to have it "half" up during a desert sandstorm. There are lots and lots of places out there in which there is NO dirt... and I had many sleepless nights in many of them.
The other thing, the ventilation doesn't COMPLETELY work. Because of the angle of the tent, most moisture went out the vent as it should, which is amazing. On the hot nights however, none of that beautiful breeze that you just wish you had get's in that vent. It needs a second one to funnel the air THROUGH.
Price Paid: 200 Pounds

Pros
well manufactured
light enough
Cons
floor fabric gets wet
pegs are fragile
I like Vaude. This is my second tent after Space K2.
After getting the tent from the mail, I could not arrange a time to set it up in a controlled environment, so I was a little hesitant when the occasion came up for a 30 km trek with an overnight stay in this very tent. I said what the heck and joined the group anyway.
As I get older, I try to decrease the payload I carry. This is one of the reasons behind me choosing this tent. I carry a 45+10 medium size backpack. Due to its rather compact size, I was able to easily fasten the tent to the front side of lower compartment without even overextending the straps. The additional weight it put on my pack was around 4 pounds, not very super light, but again not very excessive either for such a nicely manufactured tent.
When we reached the camping site, I extended my floor saver folded on the long side underneath the tent. The inner tent easily snaps on the frame with hooks, then the fly is extended and stretched using the fastening buckles and aluminum pegs; pegs are flimsy. The inner tent being separate from the fly is somewhat problematic if the rain is pouring.
In my case there was a light drizzle so the inner tent did not get wet. The floor fabric of the tent gets wet because one can see the dampness coloration on the floor; this was the same annoying thing in Space K2 too. The rain was steady during the whole night and in the morning, not a single drop from the roof.
I cannot say anything about wind resistance because we were camping under a coniferous canopy. There is no way two people as big as I am, 6.1, can get in. It's rather like a solo tent in my case. Argon version is a little lighter.
Anyway, this is very decent 4-season tent for sure. I think it is a good addition to my gear box.  
Source: bought it new
Price Paid: $157

This tent will handle just about anything Mother Nature can throw at you.
Pros
Pitching is very easy
Quality of build
Waterproofness
Cons
Just a bit small for two adults
I have had this tent for about 8 years. It has gone through pretty much every weather event with great results. I won't hesitate to purchase another now that it is almost time to replace this one.
It has had extensive beatings from the New Zealand Southern Alps and it has kept myself and my gear dry many times. I have even had three adults in it in a storm when the other guys' gear couldn't take the beating.
Last trip was the first time it developed a drip but that was only after two days and two nights of continuous west coast rain. The winds were so strong that it flattened my tent on me so many times I lost count, but it still sprang back up OK. The only thing wrong was a bent pole.
Would like to have slightly bigger pegs if I had a choice, but that is probably because of where I use it most. It wouldn't put me off buying another. Hiking with it is no prob, never weighed mine so don't know if it's any different from what's claimed. I have stuffed it in its bag many times dripping wet, got to my next site, and put it up and it was almost completely dry on the inside still.
Great quality and very reliable.
Source: bought it new
Price Paid: Can't remember

The tent construction and operation appear fine, but what is not OK is for Vaude to grossly false advertise the weight.
On their website and in the spec sheet that ships with the tent the max weight with tent, poles, and accessories is 1.7 kg (3 lb 12 oz), yet weighing on an accurate scale shows it to be 2.1 kg (4 lb 10 oz). Now 14 ounces may not be the end of the world, but when you are shopping for an ultralight and you purchase from a well-known quality tent maker and it comes in 23 percent above its advertised weight, one is most disappointed.
Don't know if I'll keep it or not. If it weighs that much my options are open to look at other brands.
Source: bought it new
Price Paid: $270

Light enough for one to carry, it will be luxurious; do-able for two, it will then be ultralight. Despite its weight performances, the Hogan Ultralight 1 guaranties you a good protection against bad weather during three seasons. It is as such very versatile while still being technical. There's not that much products on the market which combines both.
Finally the good quality of materials guaranties that this tent will last for long. However if you are really looking for a two persons tent, you should go for the classical Vaude Hogan Ultralight or Vaude Odyssee which are more spacious. The 4 season version of this tent is the Hogan Ultralight Argon.
For my full review of this tent (usable space / ventilation / protection / wind stability...) check the corresponding article on my blog : http://www.tozai-trek.com/lang/en/2009/06/vaude-hogan-ultralight1/
Design: three-season tent
Sleeps: 2
Ease of Setup: very easy.
Weight: 1.370 kg

I recently completed a 3-day backpacking trip using this tent. I will definitely be using it again.
Pros-light weight, yellow tent body gives the interior of the tent a light and airy feel, green fly blends in with the environment, also available with an orange fly
Cons-this tent slopes fairly sharply from the front to the back, this seriously limits the amount of headroom, two people would find this tent very confining, because of this I would recommend this as more of a one man or a 1.5 man type of tent.
I backpack solo and this tent gave me plenty of room for myself and all of my gear,also has a small vestibule. I also found this tent kept me comfortable temperature wise for a late winter trip, temps at night were in the mid 30s.
I really like the fact that this tent weighs less than 4 lbs. I also thought the quality of construction was excellent. I have heard that VauDe has a one man version of this tent now but I have not seen it yet.
Design: non free standing 3 season
Sleeps: 2
Ease of Setup: easy
Weight: 3 lbs 14 ozs
Price Paid: $180

You May Like
Recently on Trailspace