Vibram Men's FiveFingers KSO

#2 in men's Barefoot / Minimal Shoes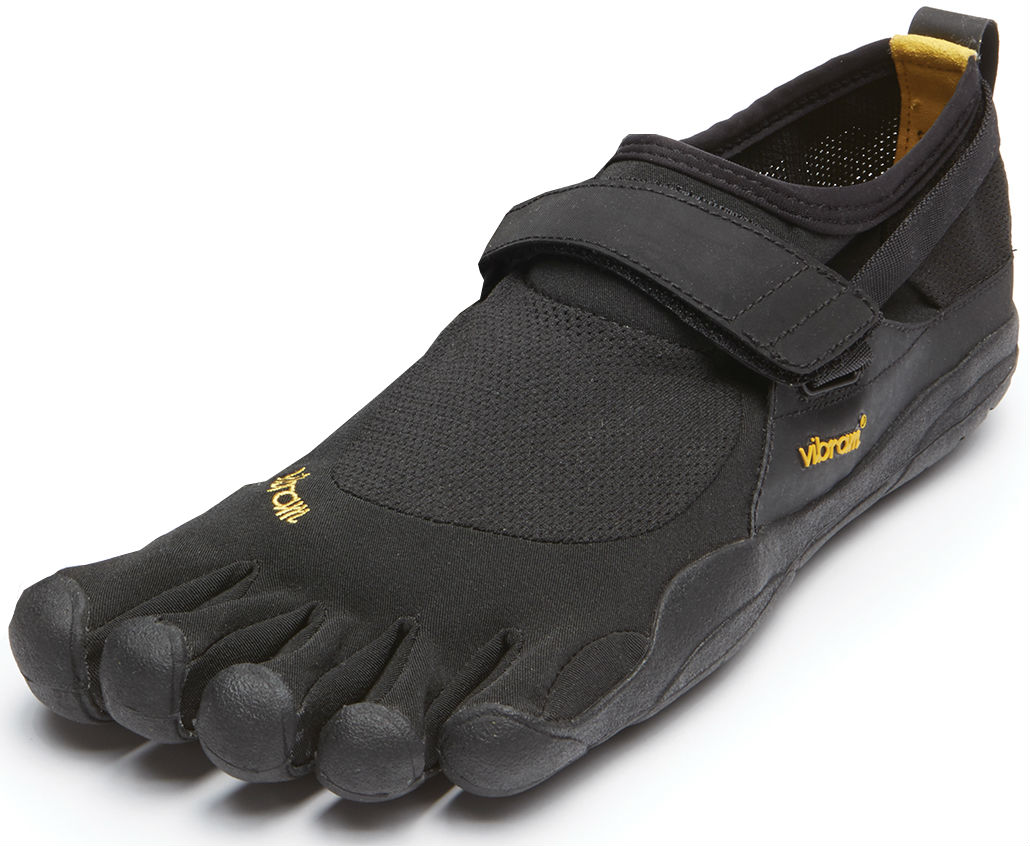 Specs
Price
Current Retail: $84.95
Historic Range: $15.98-$85.00
Reviewers Paid: $65.00-$90.00

Reviews
13

reviews

5-star:

7

4-star:

5

3-star:

1

2-star:

0

1-star:

0
I really like these minimalist shoes for trail running, paddling, and casual wear. They take time to get used to, but once I embraced the minimalist mindset in footwear, they have become a regular part of my outdoor gear.
Pros
Comfort
Adaptability to multiple sports
Lightweight
Cons
You can feel every rock and pebble... sometimes too much
I purchased these shoes when I took up trail running. I had previously purchased and worn minimalist shoes for road races and half marathons and liked how they felt and functioned. I decided to take them on a river canoeing trip last spring and wore them all day, everyday. In my opinion they are the ultimate water shoe as well and worked perfectly on the river and while portaging my canoe. 
I strongly recommend finding a reputable dealer that has experience fitting people for this shoe and once you find the proper fit they will serve you well. Break-in time was pretty minimal and I was surprised at how fast my feet adapted to the new feel and style of this shoe. 
While wearing them during my canoe trip I was pleased at how well they gripped and felt on the riverbed while entering/exiting my canoe and the support they gave me even on rocky terrain. 
The hook and loop design allows you to obtain a custom fit across the top of your foot compared with other minimalist toe style shoes that are only of a slip-on design. 
The one drawback I experienced with them is that they left my feet extremely hot and I feel that there is little ventilation in these shoes so once you come in from a run or from the river with your feet kicked up on the gunwales of your boat, your feet may tend to feel sweaty.
Source: bought it new
Price Paid: $80

I put over a thousand miles running and hiking on my first pair before they finally wore out, and my knees have never felt better.
Pros
Light weight
Reinforce proper walking biomechanics
Cons
Not even a little waterproof
Sizing crucial
My first pair was the basic Trek KSO, and I ran and hiked over 1000 miles in a year before I finally wore holes in the soles. Standard running shoes rarely get half the distance before falling apart. i picked up a second pair for running and grabbed one of the many later variants with deeper lugging for hiking.
These take a while to get used to, i admit. a new user really needs to ease into them, but i no longer have patellar tendinitis thanks to these shoes.  just be careful to purchase shoes that fit like a glove - no room for slipping and slopping - and run without that damnable heel-strike.
A word on water: not at all waterproof.  not even a little.  walk across a wet parking lot after the rain has stopped, and you'll still end up with wet feet.  that said, i've run in rain, sleet, and snow.  Injinji makes wonderful toe socks, some even using Smartwool. toe socks help keep the feet sufficiently warm while moving, and the extra layer has so far been total guarantee against any blistering, which claim i could not make with regular running shoes or hiking boots.
Over years of use, these shoes have reinforced a more biomechanically efficient and natural movement, which has helped to rebuild my fallen arches.  i just had to *pay attention* to how my feet are working, and the way i feel the ground through the minimal sole forces me to do that, so.  easy.  i've only ever once stubbed my toes, and that was near the end of a twelve mile run; i was very tired and just not paying attention.
I love these things and recommend them to anyone who is in decent shape looking to get into great shape.
Source: bought it new
Price Paid: $90

A year ago I joined a hiking club and i REALLY love wearing fivefingers. I have collected four pairs for my own (KSO, Speed, Bikila, Sprint) and I have bought two pairs for my wife.
Personally, I love the KSOs most. They are so comfortable, the best design for running. I like running, 3 days a week in KSO five fingers.
A week ago, I ordered a black/black KSO to my partner (club) for his birthday. Indeed we're big fans.
Price Paid: $75

I got these last season for camp shoes while hiking and they won me over. On a pretty long and arduous hike my boots failed miserably and the KSOs came through. The Vibrams carried me over approx 20 miles of the Sierra Nevadas worst, water crossings, a couple thousand feet of ascent and descent, I was amazed.
When used with injini outdoor socks I could walk right through water and keep hiking, they dry out and you stay on the move. There is a few tears in the fabric but the sole wears long all in all these are great and your feet just keep getting stronger as you wear them.
Materials: nylon / mesh upper
Use: all purpose
Break-in Period: a few weeks
Weight: 11oz
Price Paid: $65

I've had these shoes for about a month and have used them for a multitude of applications. I like how versatile and lightweight they are.
The only reason they do not get 5 stars is because when hiking through moist areas your feet will get wet and they will remain wet until you hang them to dry. This is the only flaw I've found with them.
For runners, you will need to adjust your stride but I haven't found it all to hard to do. Overall, I've found my running to be smoother an more fluid although I can't run near as far as I used to.
For hikers, you do notice more of what is under your feet. You need to be aware of where your feet are going and I advise not hiking at night with these (I did and walked into a stump. No protection to your toes) but they are super lightweight so they feel like your wearing nothing.
I've taken them up on the Appalachian Trail in Southwestern Virginia and as long as it hasn't rained recently they performed excellent. Since they were so lightweight I noticed my pace was also a little faster while wearing these.
For boaters and swimmers, they are excellent. Nice they fit like a glove, it makes them great for swimming in lakes and rivers where you can't always see what is on the bottom. Also, since they fit tight, they do not fill up with extra water like other loose fitting water shoes do. I'd say this was probably their best use.
For work I travel a lot and these shoes are great for packing in a suitcase. They pack down very small and again their weight makes them nice. I've worn them out exploring New York City and Baltimore. When walking, they are not the most comfortable though due to low padding on the heels. It's not noticeable while walking in the grass or on dirt but when you walk for hours around NYC, your feet become a little uncomfortable, but never enough that a 5 minute break doesn't cure.
Overall, I really like my KSO's and would like to try their dedicated running shoes out and see how they perform.
Price Paid: $85

From an oldish dude with two scoped knees...two thumbs up!
Pros
They improve your balance
They strengthen your feet
They force you to walk and run correctly
Help with back and knee pain (see above)
Cons
You have to learn how to put them on!
I'm 65, had both my knees scoped in the '80s...I can tell you something about knee pain believe me.
I've been wearing 5 Fingers for years...must have 7 or 8 pairs around, Classics, KSOs and Treks. I've worn them to concerts, backpacked in them miles and miles (40 lb pack)...they are my footwear of choice.
They were originally designed as deck shoes btw...explaining the razor cut soles...and yes they're great for that as well.
After reading Chris McDougall's "Born To Run" I had to try the 'barefoot' way of life...and I've never looked back.
I do a 100-200 miles a year in the Sierras and unless I know we're headed into a lot of that fist sized granite I'll be wearing my 5 Fingers.
Highly recommended!!
Check out "Wired; 5 Fingers" on YouTube...food for thought!
Source: bought it new
Price Paid: $69-110

Great minimalist shoe, most minimal Vibram Fiverfinger they offer.
Pros
Ultralight
Awesome ground feel
Comfortable
I use these more as a training aid in my trail running than as an actual trail running shoe. I use them on hard packed and smooth trails, because they are definitely an injury waiting to happen if you're tearing down a technical trail at a sub 7 minute mile pace. I wear minimalist shoes, but a rock plate is a godsend on the rocks and cedar routes of the 'Dacks. 
These shoes fit very well, if your feet are shaped the same as they are. I have no problems and I have pretty long toes, but I can see an "oddly" shaped foot having a hard time with them. If you have very short pinky toes, they may come out of the toe pocket.
These provide absolutely no support, you are essentially running on top of a very thin layer of rubber.
They are not water resistance, and your feet will get wet with the littlest bit of morning dew.
The traction is better than anticipated, especially on rock.  Your feet form to the surface and provide better traction than most knobby trail shoes in my opinion.
My feet stay very cool in these, they breath very well.
The durability isn't bad, but it isn't great.  They are basically a thin sock with a rubber sole. The construction is top notch as are all vibram products but the materials aren't the most sturdy in an attempt to keep comfort and lightness a priority.
Source: bought it new
Price Paid: $70

One of the most versatile shoes ever created. If you are looking to experience walking in a new comfortable way then purchase a pair of these. Highly recommend.
Pros
Comfort
Durable
Light weight
Cons
Can have odor — wash often
You will experience walking, running, hiking, and everything else you do in a new comfortable way. Once your feet get use to these shoes, about a month wearing any other type of shoe feels weird and restricting. These shoes are easy to put on, fit great, and even easier to clean. Simply drop them in the washing machine and allow to air dry.
I have been wearing these shoes for over a two years now and have taken them on many trips.  Recently to Utah for some slot canyon exploring, to colorado for hiking an river crossing, and lastly to Africa where the shoes met the streets and hot sands of Egypt and Ghana.
The construction and durability has held up well. Everything is working great, no holes or tears.   
There are many different styles to choose from, each providing something unique to the shoe.  I feel these KSO's are the most versatile out of all the five finger possibilities.  You can do just about anything you want in these shoes.
Source: bought it new
Price Paid: $90

A unique pair of minimalist shoes. These held up for over a year for me.
Pros
Fantastic ground feel
Durable
Comfortable
Unique
Fit is a bit difficult for many people. If you don't have average shaped feet I would look elsewhere. I found the KSO comfy out of the box and they only got better as the soles got thinner.
Walking/running thorough water? Your feet will get wet. The thin soles and separation between the toes means any water deeper than the thickness of the soles will get in.
I literally could not run without my FiveFingers. I had tried for a year and always got hung up with knee pains at the 1 mile mark. Thanks to FiveFingers (most importantly it's them forcing proper running form by preventing my heel strike) I've been running at gradually increases distances since August of 2009.
It's the only 'shoe' I run in and I have almost 500 miles on my first pair.
What's important to note is that not everyone 'needs' barefoot or minimal running…some of you developed great natural running form and being shod doesn't seem to effect technique. For those who didn't develop great technique…the journey that fivefingers can take you on will teach you much about your body and your ability to be a runner. At the end of the day it's great technique that will keep people running for a lifetime!
Price Paid: $75

The FiveFingers are a good shoe. I have worn them 20 times or so and they are ripping along the seems and have cuts through the soles from stepping on rock while running trails. When I run with them it hurts my achilles compared to running with no pain completely barefoot. Running with these shoes is not running barefoot.
They are good for hiking and trail running, and are really bad for rock climbing, equal or slightly worse traction even than climbing barefoot I would say, and nowhere near the performance of climbing shoes.
They are very comfortable though, and I do like them. The price is very steep for how easily they fall apart. Would've given them 5 stars if they cost 40 dollars or so.
Use: trailrunning, short dayhikes, riding bicycles, bouldering/climbing, water, mowing lawn
Break-in Period: a few wears
Price Paid: $80

I have used these shoes extensively over the past three weeks. Everything from running to swimming. I have yet to hike a long distance (10+ miles) in them but feel that I have an understanding for how they will do.
First off, let me tell you that they are indeed like walking barefoot. You feel the gravel under your feet as you walk. After running in them, my legs were burning like crazy for the next two days. I honestly viewed this as a good thing because I knew right away they were working the muscles in my leg in a more natural way. I can honestly say that I would prefer to wear these shoes over just about any shoe that I own.
The only reason for giving them a 4 star review is this. The fabric on the top of the shoe that is designed to keep stuff out is made up of two types of material. My shoes have repeatedly torn where the materials are stitched together. Nothing huge, nothing that I couldn't stitch back together in a few min. My friends however, use their shoes in the same way and have not experienced this problem.
Overall, I believe that you should try these out. I believe you will truly be satisfied. I never stop talking them up to my friends and those who ask me questions. And believe me, with shoes like this people will look and ask all day. When all else fails, I tell them they are my ninja shoes.
Get a pair today......never get lost....
Use: running, around town, hiking, swimming, sporting
Price Paid: $80 - ebay

As a professional kayaking guide I planned to use these shoes for on water guiding because of the low profile and when I teach, to keep out pebbles and such.
The material dries much quicker then that of the Flow's and the KSO's have a thinner sole for more feel of the ground. These are also great for camp shoes.
Materials: neoprene
Use: kayaking
Price Paid: demo


All FiveFingers KSO versions
In addition to the 13 men's reviews above, there are 5 reviews for other versions of the FiveFingers KSO. Read all reviews »
You May Like
Recently on Trailspace