Victorinox Swiss Army Ranger Grip 71 Gardener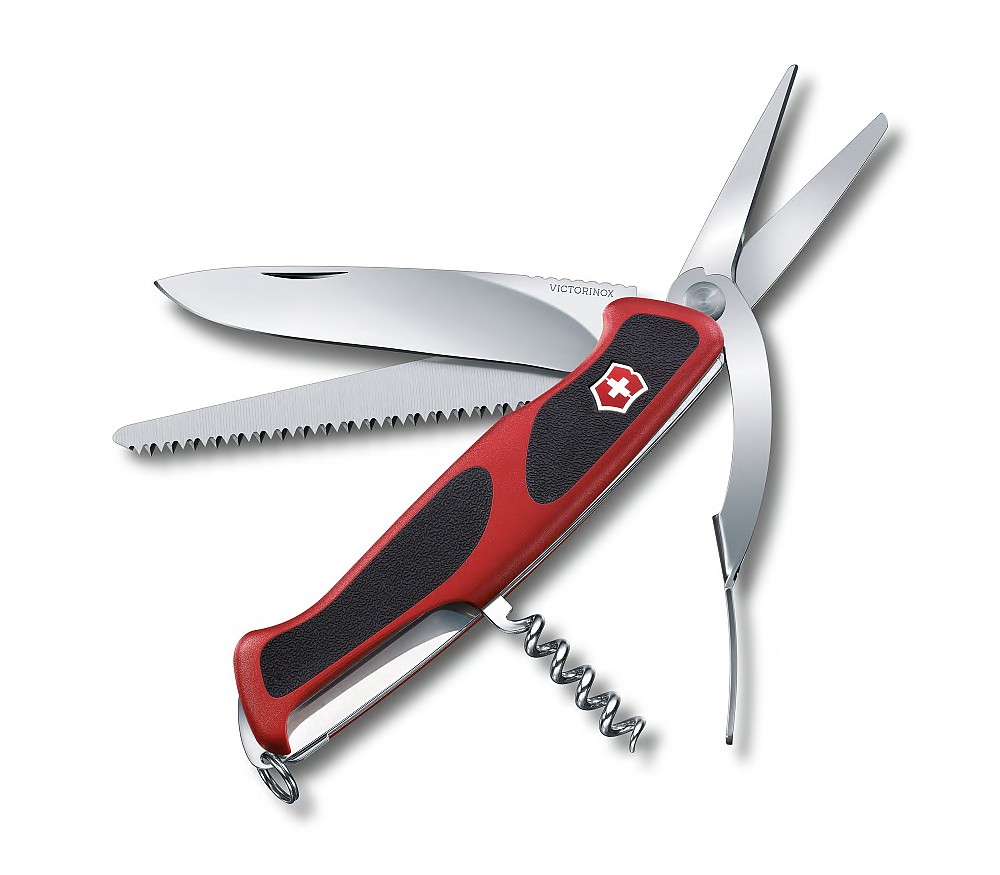 The RangerGrip 71 is an excellent purpose-built multi-tool for the gardener or hiker not bothered by a bit of extra weight who wants to do a lot of wood-processing/cutting related camp chores. The quality and design are what one has grown to expect from the Swiss Army Knife brands, and this particular model features a most impressive scissors. Not an every-day carry, but great to have if it suits your tasks.
Pros
Well built and well designed
Good grip and ergonomics for medium-big hands
Best scissors on a multi tool ever!
Nice long locking blade
Cons
May be too big for smaller hands
Lock disengage button is slightly too small (for me)
Specs:
Height: 1.1 in
Length: 5.1 in (closed) 8.9 in (open)
Weight: 7.7 oz (weighed in at 7.5 oz on home scale)
Features:
ergonomic handles with non-slip inserts
3.9-inch locking blade (not serrated contrary to what is listed on many retailers' websites)
heavy-duty scissors
wood saw
corkscrew
toothpick
tweezers
I have long been a fan of Swiss Army knives, so when the opportunity came up to test this particular knife/multi-tool I was particularly excited. First it was just because I quite like multi-tools, and second was because I have always owned Victorinox and not Wenger branded Swiss Army knives. This was for no actual reason other than initial preference that turned into brand loyalty. They were both official Swiss Army knife makers, and their quality was for the most part comparable.
In 2013 they merged and only release knives under the Victorinox brand. The RangerGrip series, to which this knife belongs was originally a Wenger design, and while I always found them interesting, I did not stray from the more classic Victorinox offerings. So this was a great opportunity to see what I was missing out on!
The initial impression when I opened the box was… wow, that's one big Swiss Army knife! The online photos do not do it justice. This is a serious multi-tool, and it certainly feels sturdy and up to the task of performing the heavy duty gardening work for which it is advertised.
It is not the type of Swiss Army knife that you carry around for everyday use. It is far too big and heavy, and there are a vast amount of other options which are better suited. Otherwise, as expected from other Victorinox offerings, it is well designed, and well put together in what I consider to be an attractive package.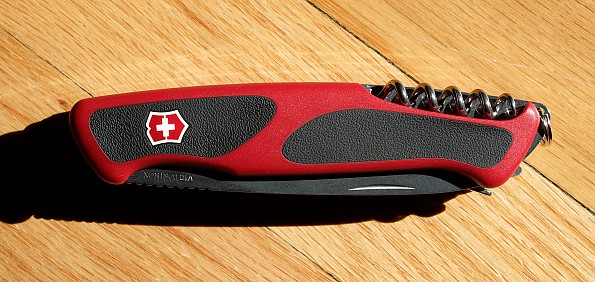 As stated above, the Gardener features a large 3.9 in locking blade (more on that later) made of what I assume to be standard stainless steel used in all of the offerings coming from the Delemont (Switzerland) factory, and also a similar length wood saw, and perhaps the best scissors I have ever seen on a multi-tool (more on that later as well). Additionally, the standard offerings of corkscrew, tweezers, and toothpick are included as they are on most other Swiss Army knives.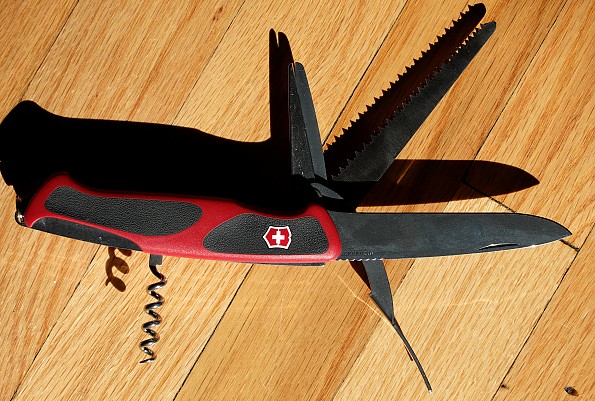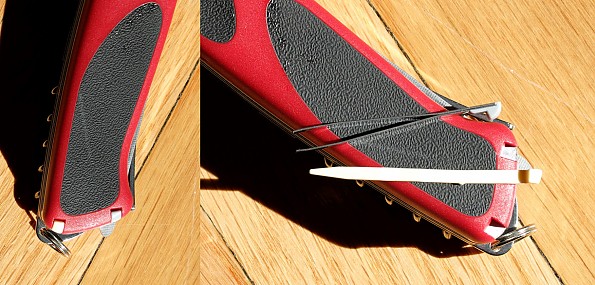 There are by now countless models of Swiss Army knives and most people are familiar with at least some of their offerings. Perhaps the best way to illustrate what sets this model apart is to compare it to some other well know/more standard offerings. To do so, I have used two of my favorites which I use and carry on a regular basis—the Victorinox Swiss Army Climber (red scales) and Soldier (green scales, the current standard issue knife). As mentioned before, an immediately noticeable difference is the size (especially the width), keeping in mind that the Soldier is not a small knife.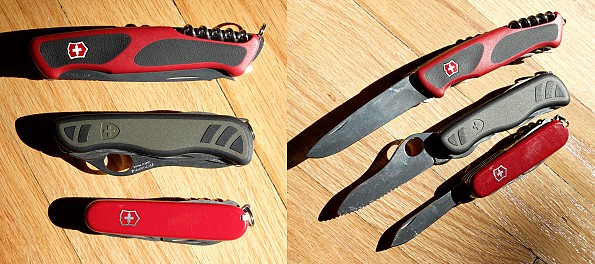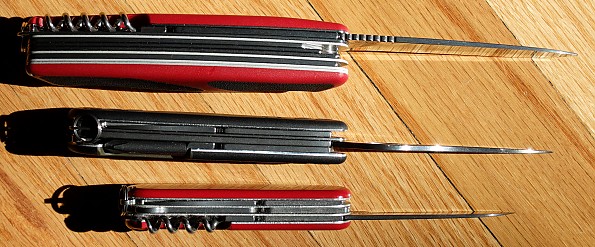 Comments on main features:
Wood Saw: Both the Gardener and the Soldier feature a wood saw (pictured below). I have always found the saw on the Soldier to be perfectly adequate at sawing branches of no more than 1 inch with ease, larger than that, it becomes much less fluid. The saw on the Gardener is much more substantial, and I found branches up to 1.5 inches to be easily manageable. 
I am not a gardener myself at the moment (due to living in the city), but I can imagine this would be perfectly reasonable for some quick work which doesn't warrant getting a proper saw. This would also be adequate for small camp tasks, though given the size and weight of this knife, I am not sure many people would carry it given the current leaning towards lightweight/ultralight items.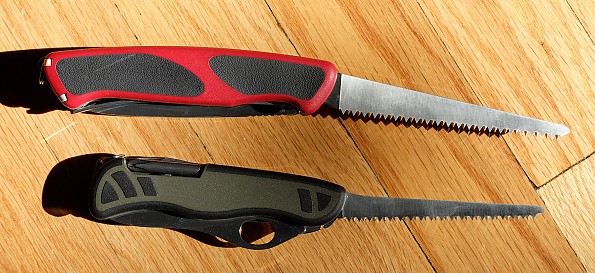 Scissors: I think my favorite feature of the Gardener has to be the scissors. This is by far the absolute best scissors I have ever used on a multi-tool. When people think of scissors on Swiss Army knives, they tend to think of the small, delicate scissors as pictured on the Climber (below).
As you can see, those on the Gardener are in a completely different class. You can tackle some serious cutting including pruning small branches and cutting rope. The handle is also reinforced so it doesn't dig in while cutting into items that have more resistance, which is a nice touch.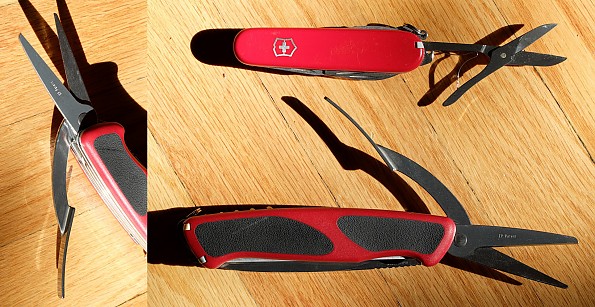 The Blade: The main blade is a 3.9 inch locking blade made of stainless (X55CrMo14 I believe) with a small amount of jimping (the notches on the spine of the blade which provide extra grip). As can be seen in the photos above, this is a substantial blade and up to the task of just about anything a multi-tool/folding knife blade would be expected to do. I probably wouldn't baton with it, but that's a whole other discussion for another time.
I found it to be very sharp right out of the box—sharp enough to shave some hair on my arms. After a few months use, it holds an edge reasonably well, though it is certainly not a super steel like some knife aficionados look for. The upside of that is of course, that it is much easier to re-sharpen.
Once opened, the blade is held into place by a liner lock (Liner Lock II mechanism from Wenger), which is cleverly released by pressing the Victorinox logo on the handle. While I think this is a generally well designed and clever system, I think it would benefit from being slightly bigger since I found the button to be quite small, and I don't have particularly big hands.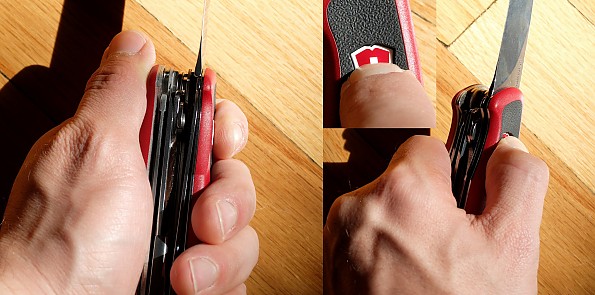 Grip and Ergonomics:
As is implied by the name, the RangerGrip scales feature rubberized inserts which have a nice feel and provide reasonable grip even when wet. The entire body of the knife is also slightly contoured. Combined, these two features make it much more ergonomic than the standard glossy red scales people associate with traditional Swiss Army Knives. However, as noted, this is a large knife and for those with small hands may feel uncomfortable after prolonged used.
Overall Impression and Conclusions:
Like other Victorinox (and formerly Wenger) Swiss Army knives, the RangerGrip Gardener is well designed, well built, and at a price of $70-$80, well worth the money (considering it is built in Switzerland). This is however a large knife, and not one I would consider for daily use, as most tend to associate with Swiss Army knives. This is a purpose built multi-tool, excellent for those doing gardening, yardwork, or wanting to do camp tasks relating to cutting down firewood, heavy ropes, etc.
To date, it has held up extremely well for general daily tasks (for testing purposes, I would not carry this as it may violate state laws depending on where you live) and outings where I purposely tested its applicability to cutting and processing small branches, dead wood, etc.
For the money, I would maybe expect a small carrying sheath, as is provided with other, more expensive Victorinox models, but that is just a luxury not a necessity. Otherwise I would say the slightly too small lock release button is my only concern. 
I give this item 4.5 stars, and for those whose needs coincide with the specs of this item, I would highly recommend it. Great gift for the gardener in your family with Christmas just around the corner.
Source: received for testing via the Trailspace Review Corps (Sample provided by Victorinox for testing and review)

Your Review
Where to Buy
Help support this site by making your next gear purchase through one of the links above. Click a link, buy what you need, and the seller will contribute a portion of the purchase price to support Trailspace's independent gear reviews.
You May Like
Specs
| | |
| --- | --- |
| Price | MSRP: $95.00 |
| Weight | 7.7 oz |
| Length | 5.1 in |
| Height | 1.1 in |
| Tools | 7—key ring / toothpick / tweezers / large blade / wood saw / scissors heavy-duty / corkscrew |