Victorinox Swiss Army Rucksack

The Rucksack has been discontinued. If you're looking for something new, check out the best multi-tools for 2023.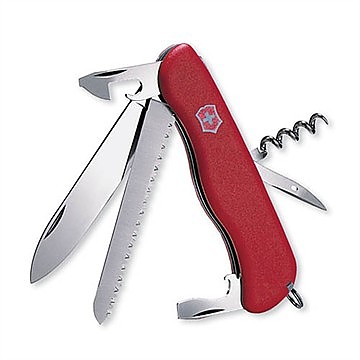 Choosing a Swiss Army Knife is like adding together all your activities, trying to find the average between them all, and trying to see which knife can do the most. This knife met more of my camping needs than any other did. The smart and simple design creates a larger-scale knife that is easy to hold and grip, all while keeping the profile and weight slim enough to still fit comfortably in a pocket.
Pros
Large blade wields an equally large handle
Slim profile fits easily into a shirt or pants pocket
Ergonomic shape comfortable to hold and hard to lose
Locking blade ensures safe use and handling
Cons
Adding folding pliers would make this my perfect SAK
I was born-and-raised on Swiss Army Knives.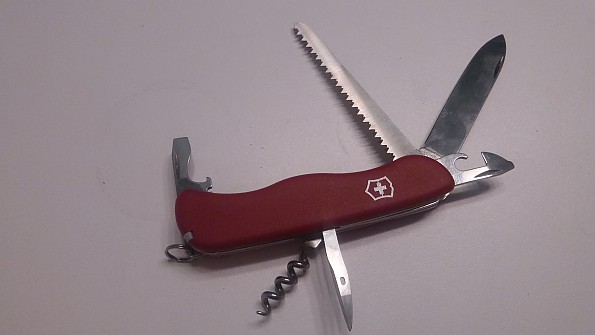 Multi-tools really don't appeal to me and I've never used a pair of pliers often enough to think it the primary tool I need with me at all times, especially on the trail. I wanted something with a substantial blade, and have the rest the tools serve as supporting players. My knife has to fit, comfortably, in my pocket. 
I've owned SAKs in the past that crammed so many functions into so many tools they rendered themselves useless on the trail. Too heavy. Too bulky. Too much fuss trying to find the right tool and even more fuss trying to pry it open. Once I figured out which tools I absolutely needed, and which I didn't, I set about shopping for a knife to work for my needs.
First things first, it's a full-scale knife (4.4"L x 1.25"W x 0.75"H) whose handle is able to be fully gripped with your entire hand. The extra leverage makes the knife instantly more useful and effective than its smaller counterparts.
The ergonomic shape of this knife benefits the user in two ways:
1.) it doesn't slip as easily from you hands as does a traditional, oval-shaped SAK, and
2.) it allows for larger notches in the tools that make them easier to open. 
A knife, however, is nothing without first being safe. The blade is a locking one: open it fully until you hear a "click" to lock it. Unlock it by sliding the grey button (which has raised bumps for better grip) on the handle.
The locking feature was probably the most important feature to me: when I was a scout, I almost lost my fingertip when a SAK blade snapped back on my finger.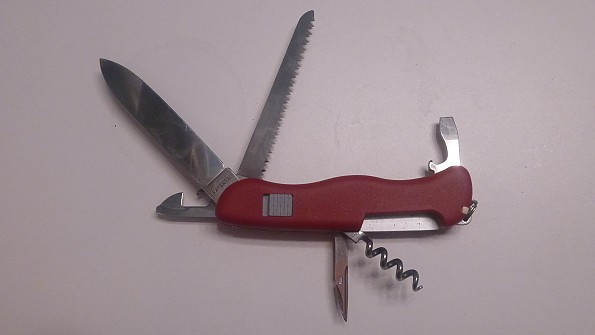 Here's a list of all its tools and functions:
Locking Blade

Can Opener with Small Screwdriver

Bottle Opener with Large Screwdriver and Wire Stripper

Wood Saw

Reamer with Sewing Eye

Corkscrew

Toothpick

Tweezers

Keyring
Like I mentioned before, I tend to ask myself how much I can accomplish with the knife blade alone before I need another tool. The saw can handle heavier-duty cutting than the knife blade, and makes quick work out of smaller, wrist-diameter branches. Be warned: the wood saw's teeth are extremely sharp and will cut through damn near anything if you're not paying attention and gripping the knife safely.
I love SAK knives, and the "Rucksack" by Victorinox is no exception. 
Durability is why people buy Victorinox or Wenger SAKs. You could practically make these family heirlooms, they're built that well and that tough. I've taken this knife with me every camping trip I've been on for a couple years, now, and it still looks new (the pictures in this review are of it in present day).
The knife even held safe and steady in my hands while I was setting up camp by myself during a torrential downpour. I trust it completely.
If they took this same line-up of tools and added a pair of folding pliers to this knife, it would be my perfect SAK. However, I knew full well getting into the knife I wasn't buying one with a pair of pliers. I don't use them often enough to justify a thicker, bulkier, heavier knife. 
That said, it earns five stars, because it meets my personal needs better than any other knife I've used.
Source: bought it new
Price Paid: $34.99

Your Review
You May Like
Specs
Price
Historic Range: $24.48-$49.00
Reviewers Paid: $34.99

Recently on Trailspace