Victorinox Swiss Army Soldier's Knife 08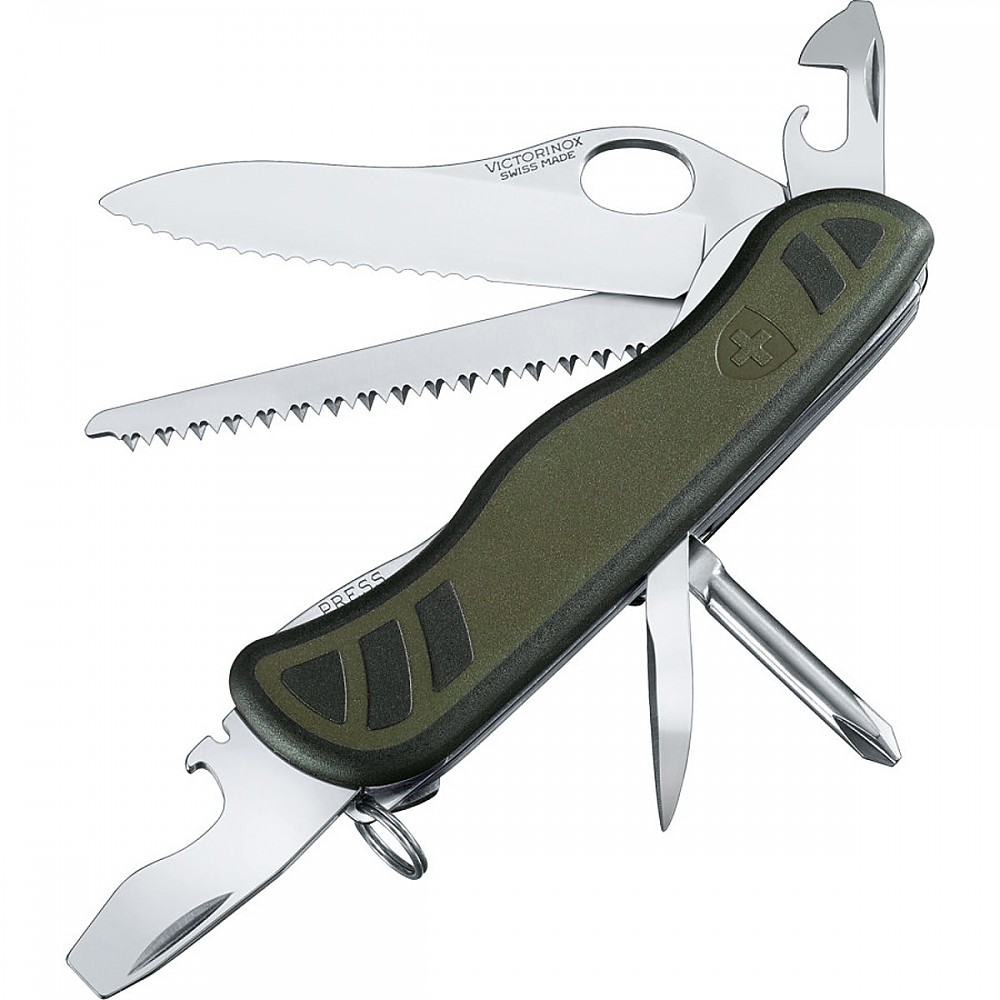 Model: Victorinox Swiss Soldier Knife
Type: Outdoor
Origin: Switzerland
Year of production: 2010(stamped on main blade)
Model number: 53945
Weight: 4.6 oz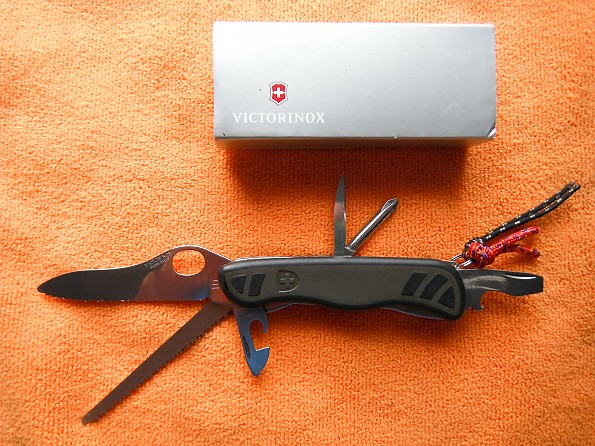 A good knife... Its just one of those items that is a must have on any backcountry excursion. 
Whether you are on a trip playing on some high remote mountain peak or whittling hotdog skewers for the kiddies by the campfire a knife is a necessity. 
There are many models to choose from with a massive range of implementations that can leave one scratching their head when it comes to what kind of knife will be the best choice for your use. 
I have had many knives over the years. Everything from The Puma White Hunter to a few knives I bought at flea markets and gas stations.
A few months back I decided to purchase the Victorinox Soldier Knife. Now mind you this knife was not purchased because I needed it. I basically found the knife for less than half of retail so I jumped on it.
I have been very impressed with this knife for reasons that I will get into further along in the review. 
Here is a quick run-down of the implementations on this model: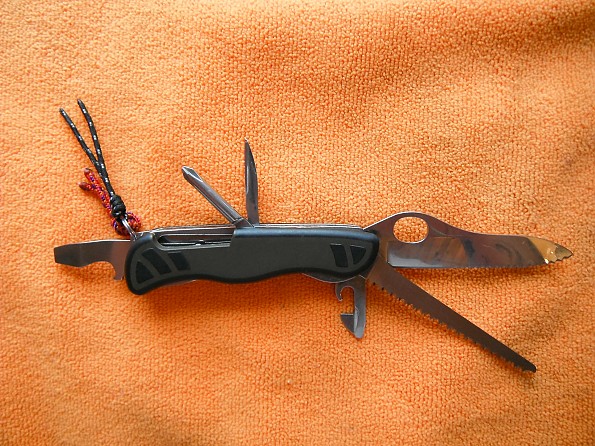 (As seen in the above photo)
large lock blade for one hand
large slotted screwdriver with bottle opener
cap lifter 
phillips screwdriver
wire stripper
reamer/awl
Key ring inox
wood saw
can opener with small slotted screwdriver
The good, the bad, and the ugly...
Pros:
very comfortable/secure grip regardless of conditions(wet/dry)
blade maintains an edge well
the saw on this knife is amazing
liner lock on the main blade as well as the opposite end of the knife for the large slotted screw driver
subdued color/OD green and black(just a personal preference)
serrations at the front end of the blade
can opener works well
T handle phillips screwdrive/awl
liner lock on the large slotted screwdriver is great
lifetime warranty
very convenient left or right hand opening
legendary Victorinox quality
Cons:
liner lock on the main blade is more geared towards left handed use
blade is only sharpened on one side which can have a bearing on how one uses the knife
a bit pricey(the One Handed Trekker is essentially the same knife with a black handle, tweezers and toothpick)
Now I will get a bit more in depth in regards to my own personal experiences with this model. I am going to do this by each feature so I don't confuse myself(which happens quite easily.)
Handles:
The handle measures in at 4.4" in length and 1.4" in width(per manufacturer's specs.)

The handle on this knife is very comfortable in the hand as I have stated above in the pros. The handle is a dual density design and regardless of whether it is wet or dry grip remains very good. 

Some have a tendency to over-look this aspect of a knife and I believe it to be a very important factor when deciding on what model to purchase. It has alot of bearing on control and safety.
Something that I personally like is the more subdued colors of the handle on the Soldier. This is just a personal preference and others may very well disagree. I will say that this color scheme can very well make losing the knife in the backcountry alot easier being that it blends in well. 
I have added 2 different kinds of line(I know bright trip-tease would have worked but this is what I had on hand) attached to the inox so if I do drop it the red would stand out during the day and the black trip-tease would reflect back to me when hit with the headlamp at night. 
Main blade:
The design of the main blade is a bit different compared to other knives that utilize a serrated and fine edge in regards to the placement of these edges. 
If you notice in the photo below the serration is more towards the front/tip of the blade and the fine portion of the blade is closer to the handle.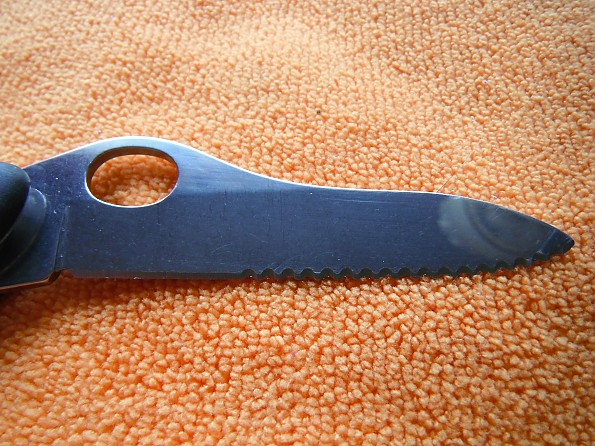 Now this may seem odd at first. After using this knife for sometime I have come to like it better than the opposite. 
With a fine edge you are typically slicing downwards. Now with the serrated edge one is typically pulling the knife towards you to make your cut(think a hand saw.)
In all honesty this design just seems to make sense not too mention it also works great.
The liner-lock works well but will cause one to switch hands when closing the knife safely. It can be closed with the right hand if you are very careful(not closing the blade on your thumb) but it is much easier/safer to just switch hands(see photos below.)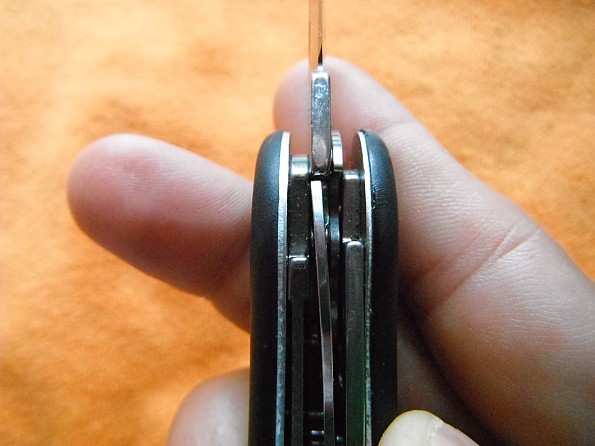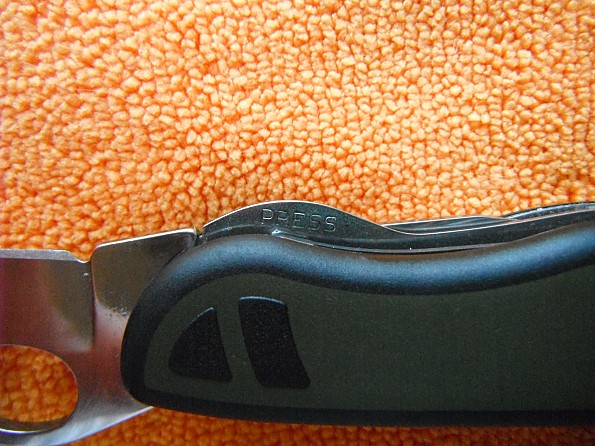 The blade holds an edge very well. I have used it on quite a few trips not to mention many other places and the blade remains very sharp. 
There is also a cut-out in the blade for one hand opening. This can be easily done with the left or right hand.
Now onto the way the edge has been executed...
If you take a look at the pics below you will notice that the blade is factory sharpened only on one side. This means if you are whittling up those hotdog skewers I mentioned earlier for optimal effectiveness and control you are probably going to want to be using the knife with your right hand. 
I would like to add that I measured the blade in at 3.25".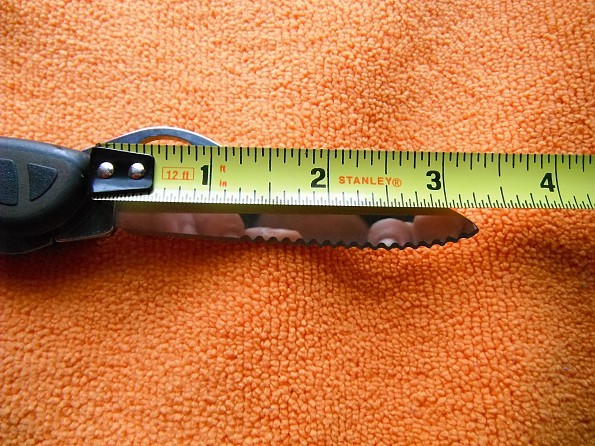 Saw:
I have to say I am seriously impressed with this saw. It makes short work work of branches up to 2" thick. I have used it quite a few times in the yard, etc. I don't personally go around cutting things up at random on the trail but in a survival situation(building a shelter) I have no doubt in its capabilities. 
I measured the saw in at 3.5". See photos below.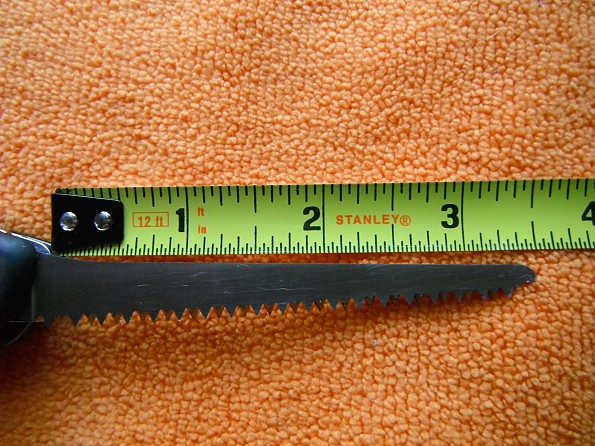 Got teeth?
I would also like to add with Halloween approaching this saw works amazingly well for the purpose of carving pumpkins. :p
It also works well on drywall.
Can Opener with small slotted screwdriver:
As with most typical designs of the SAK models this one comes with the traditional can opener. There is also a smaller slotted screwdriver implemented in the tip this tool.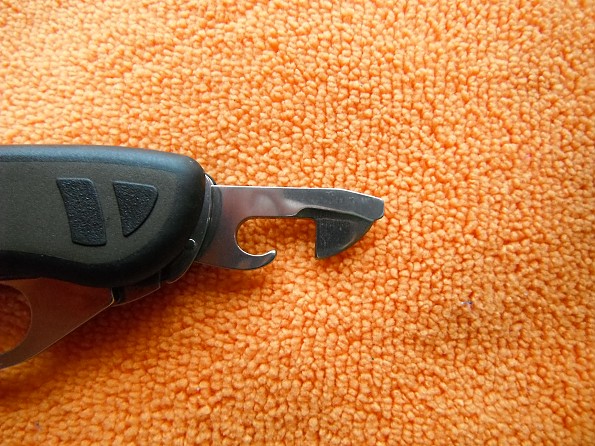 I have used the can opener on this SAK when my can opener here at home bit the dust and it made short work of a tuna can.
Large slotted screwdriver with bottle opener: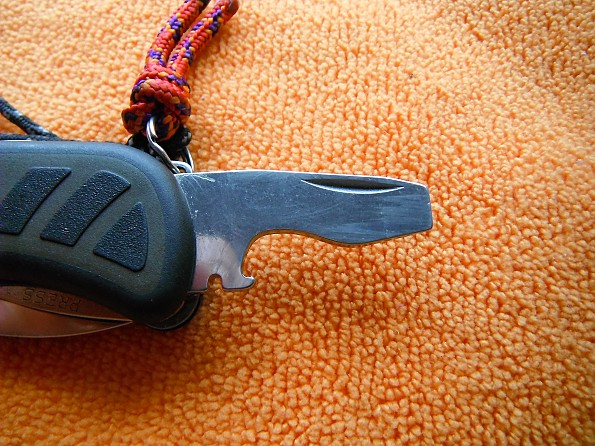 The large slotted screwdriver on this model works well.  This tool also doubles as a pry-bar. I have used it to pop lids off of paint cans but I honestly do not know how far I would push the envelope when using this tool for this purpose.
There is also a bottle opener implemented into the design of this tool but I do not use it because I personally do not take glass into the bc. 
With knives that I have used through-out the years that have a screwdriver implemented into the end of the handle I have quite often had serious issues with this tool when applying downward pressure. Let's just say it closed on me more times than not.
Well the R & D guys at Victorinox added a liner-lock so this eliminates the unintentional closing problem I mentioned previously. A big thanks goes out to Victorinox for that one. 
(See photos below)
Also if you look closely at the photo of the screwdriver itself you will notice the cut-out notch in it. This is the wire stripper. I have yet to use this feature so I honestly can't touch on it anymore than to let you know where it is.
Phillips screwdriver:
I have to be honest here. I like where this tool is located. It gives one the feeling of using a T handled tool. (see below)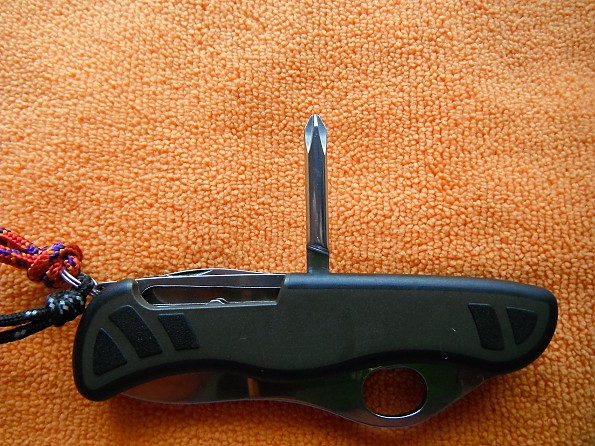 I have used this tool on quite a few occasions and I have had absolutely no problems with it. I especially like the location because it increases leverage and generates better turning power.
Reamer/awl:
The awl on this tool works well from what experiences I have had with it. Like the phillips screwdriver that I spoke about before it is located in the same area so all of the benefits I mentions above are applicable to the awl... Well with the exception of turning screws(then again if you want I am sure you could take a shot at it.)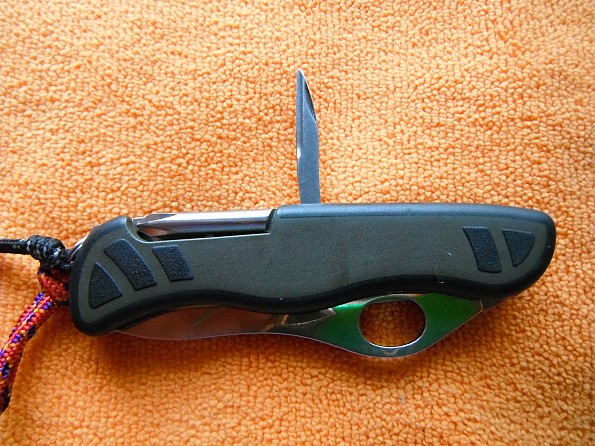 I have used the awl for belts and it ripped through them like butter. I also use this tool to pop drain holes in paint cans so when I put the lid back on the can I don't make a mess of everything. While probably not intended for this purpose it seems to do the job fine. There has been no damage to the tip of this tool from performing this act.
Summary:
Honestly, I really like this knife alot...
Granted I have a few issues in the aspect of the blade edge design being more geared towards right handed users and the use of the liner lock for the main blade being more "lefty friendly" but over-all its a really great knife for my uses. I am going to ding it for a half star each just for the inconvenience factor of these issues I mentioned here. Let's face it; its more of an inconvenience than anything but still a potential inconvenience all the same.
This is the knife that is typically in my pocket at all times. 
The build quality is excellent in my opinion and if I were to lose this one I would probably purchase another one if I found a decent price on it or just go for the One Handed Trekker.
There are many SAK style knives out there that have a ton of tools on them. Personally I do not need alot of the implementations that are available on this style of knife. Then again, that is just a personal preference from past experience.
The Victorinox Soldier just seems to have the tools I need and nothing that I don't. Its just a bare bones no nonsense SAK.
If you are looking for a SAK style knife that is a bit larger than the classic style(red) SAK and you want quality & durability ya may very well want to take a closer look at the Victorinox Soldier knife. 
I am quite happy with my purchase of this SAK.
In closing:
As always I want to thank you for taking the time out of your day to take a look at this review. I hope you gained a bit of knowledge in regards to this product and I hope this knowledge serves you well.
Happy hiking-Rick
Update: February 2, 2012
After quite a bit more use my findings in my initial review still stand.
It's a great knife and although I have found the set-up of the knife to have a few "inconveniences" as I have stated above I do not regret my purchase in the least. 
I would also like to mention that the blade holds an edge very well. For all of the use I have subjected it to the main blade still remains quite sharp. 
Very good job Victorinox, this is a great SAK.
Price Paid: $30 (msrp $62)

I like to keep a folding knife while hiking, not for protection but to help small task that I may encounter on the trail. 
It has a locking 4 inch blade, it can be open with on hand, but the lock makes you move to the left, instead of the right. Also the blade is made for a right handed person. When you cut wood or what ever it's made to cut away from your body, if your left handed you may have problems using this knife, this is because the blade is sharp on one side only, not both. 
The saw is great, I have cut 1 1/2 to 2 inches of dead branches with no problems. It takes less then 1 minute and the saw is very sharp, it's also 4 inches. 
It has a can opener and bottle opener, which works fine. I cut open a few cans of tuna, but the bottle openers on any knife is starting to get outdated. It has a screwdriver on the bottle opener which can be used as a small prying device. 
The phillips screwdriver is a good size, but in the field I don't think I'll be using it much.  The reamer is very sharp and can drill through wood, plastic or cut holes through leather. 
I like the handle better than the trekker, and this knife doesn't have tooth pick or tweezers.
Price Paid: gift

Overall great knife for a trekker or climber. The blade is locking and can be opened with one hand. It's nearly exactly the same knife as the One-Handed Trekker, so I would save $10 and get that. The only difference is the olive color and the rubber grip pieces on the Soldier knife. Otherwise, they are the same, but the Trekker is cheaper.
Price Paid: $45

Your Review
Where to Buy
Help support this site by making your next gear purchase through one of the links above. Click a link, buy what you need, and the seller will contribute a portion of the purchase price to support Trailspace's independent gear reviews.
You May Like
Specs
Price
MSRP: $55.99
Current Retail: $77.99
Historic Range: $26.95-$77.99
Reviewers Paid: $30.00-$45.00

Weight
4.6 oz

Height
0.7 in

Length
4.4 in

Tools
10—large blade with wavy edge / reamer, punch / bottle opener, lockable / wire stripper / screwdriver 7.5 mm / wood saw / Phillips screwdriver 1/2 / can opener / screwdriver 3 mm / key ring

Recently on Trailspace