Victorinox Swiss Army SwissChamp SOS Set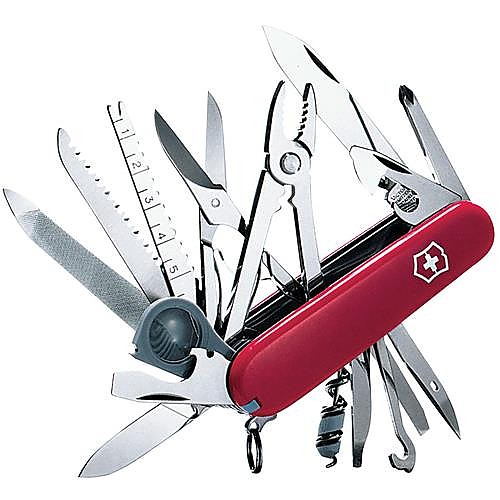 The SwissChamp SOS Kit is a brilliant multi-tool paired with a curious array of supplemental tools, packaged together and labeled for survival. If you accept that the kit is a bit gimmicky but built around a rock-solid SwissChamp tool, you can adapt the kit to contain your own deliberate survival tool choices.
Pros
Superbly designed and made multi-tool (SwissChamp)
Superb capability in a single multi-tool
Excellent materials, attention to detail of multi-tool
Compact kit concept has merit
Useful belt pouch accommodates multi-tool plus other items
Cons
SOS/survival label seems more gimmicky than valid
Additional survival kit tools don't merit the additional cost
What's in the Box
The SwissChamp Survival-Kit SOS-Set is a survival-focused kit that combines the SwissChamp (the flagship Swiss Army Officer's Knife from maker Victorinox) with a series of supplemental items intended to help support one in survival situations. The concept is a sound one: a survival kit in a package scarcely larger than a multi-tool pouch. This particular model is one of a number of kits Victorinox is offering at present that are based around certain models of its knives.
The knife and kit items are housed in a dark gray utilitarian leather pouch that features two covered side pockets and an interior pocket in the top flap, all secured with hook-and-loop closures. A belt loop on back allows one to wear the complete kit as one would a sheathed folding knife or multi-tool.
The knife is housed in the main compartment of the leather pouch, while pieces of the survival kit are housed in flapped pockets on the right and left sides of the pouch as well as in an internal pocket in the flap that covers the main pocket where the SwissChamp resides.
Victorinox identifies the kit pieces in a separate informational sheet.
The Tools: SwissChamp Knife and SOS Kit
The SwissChamp—generically known as a Swiss Army Knife or SAK—is in reality a multi-tool that features (according to Victorinox) 28 separate tools.
The body of the SwissChamp is 3.6 in/ 9.14 cm long. The SwissChamp weighs in at 6.52 oz/ 185 g; the kit items and pouch add another 3.5 oz/ 99 g. The complete weight of the SwissChamp SOS Set is 10.02 oz/ 284 g—not much more than a similarly sized multi-tool such as the Gerber Suspension (8.96 oz/ 254 g).
It is a sizable Swiss Army Knife, pushing the limits of what one might carry in one's pocket (it is pictured on left, below, with other Swiss Army Knives; I added the lanyard to ease removal from the carrying pouch).
Attached to the SwissChamp multi-tool itself are a host of tools listed below (and shown in a photo I took of a portion of the Victorinox User's Guide):
SwissChamp: Front Side (my designation in reference to side from which the main knife blade opens)
large knife blade (2.5 in/ 6.35 cm straight edge—no serrations; 30˚ edge)

small knife blade (1.5 in/ 3.81 cm)

wood saw (2.63 in/ 6.67 cm double-toothed edge)

double-sided file (with metal saw file edge for cutting)

spring-loaded scissors (1 in/ 2.54 cm cutting edge)

spring-loaded multi-pliers (pliers, wire cutter, crimper)

fish scaler with rulers--3 in (⅛ in increments); 7 cm (.5 cm increments) and fish hook remover (which can also be used to scribe straight lines parallel to straight edges for carpentry applications)

can opener with small flat-head screwdriver (.11 in/ 3 mm head)

bottle opener with wire stripper and large flat-head screwdriver (.20 in/ 5 mm head)

Phillips head screwdriver

plastic magnifying glass (.75 in/ 1.9 cm diameter)
SwissChamp: Rear Side (opposite main blade)
key ring (.375 in/ 95 mm diameter)

chisel (.125 in/ 32 mm width)

"narrow-necked" flat-head screwdriver (.08 in/ 2 mm width head) for inset screws

corkscrew

reamer (.875 in/ 2.22 cm sharpened edge), punch, and sewing awl

utility hook
SwissChamp: Removable Tools (housed in body of SwissChamp)
metal tweezers

plastic toothpick

ball point pen (blue ink, not "write-anywhere")

straight pin

flat head eyeglass screwdriver (threads into corkscrew)
SOS Kit Tools
leather pouch

fine sharpening stone (.44/ 1.11 cm wide, 3.25 in/ 8.26 cm long) with one flat and one rounded surface

mechanical pencil (3.5 in/ 8.9 cm long)

Victorinox Recta liquid-filled compass with rulers (2.31 in, 7 cm) and spirit level

small sheet of graph paper

international distress signal guide with Morse Code, knot-tying guide (2 knots), and name-address-telephone card

3 adhesive bandages

sewing kit with 2 needles, needle threader, and black and white thread

2 safety pins (2 in/ 5.08 cm long)

small bundle of nylon string

plastic signal mirror

five flat wooden matches in matchbook with striker panel
To spare the reader from endless images documenting each tool, I refer the reader to this Victorinox video which demonstrates the uses of the SwissChamp's tools. Please note that the bit driver and bits show around the 3 minute mark of the video are not included with the SwissChamp that came in this kit; Victorinox makes a number of SwissChamp models, and evidently these bit drivers belong to a different model than that included in this kit.
Quality Considerations
The SwissChamp is made from Sandvik X55CrMo14, a kitchen-grade stainless steel. It is hardened to 56 HRC (Rockwell hardness scale) for the knife blades; 53 HRC for the saws, scissors, and file; 52 HRC for the screwdrivers, can opener, and awl; and 49 HRC for the corkscrew and springs in the pliers and scissors. What does this mean? That Victorinox is attending to details, matching various hardnesses of the steel to the tasks for which they are intended. Such attention to detail benefits the user.
The SwissChamp itself is held together with solid brass rivets and flanged bushings. According to Victorinox's description on their SwissChamp video, their flagship knife is "made of 67 individual parts and requires an astonishing 450 steps of fabrication in Ibach/Switzerland."
I'll take them at their word: I spent quite a few minutes just marveling at the engineering of the SwissChamp—if you've ever held, used, or owned a Victorinox Swiss Army Knife or multi-tool, you'll know what I mean. Every available millimeter of space is used ingeniously and efficiently.
But aside from this, the SwissChamp itself comes with a formidable Victorinox pedigree. The company was founded in 1884 and soon after (1891) earned the contract for supplying its famous knife to the Swiss army. I learned from a 1978 NASA letter that Swiss Army knives have also been issued as standard United States astronaut equipment. Indeed, the design of Swiss Army Knives is so well regarded that the Metropolitan Museum of Art houses one in its Permanent Design Collection!
About the SOS Kit's supplemental tools I am more ambivalent. The sharpening stone is a well-designed and functions well, an excellent piece of kit. The clever, multi-function Recta compass/spirit level is equally well conceived and executed--it even came with an explanation of declination, and who would have thought to combine spirit level (see second image, below) and compass?
Other pieces, however, feel like add-ons: the pouch's leather is nicely finished, but the nylon used to create side pockets feels a bit cheap. The sewing kit is your classic imported mini kit, adequate but nothing special. The adhesive bandages are medium-sized, not full-sized (albeit grippy). The plastic signal mirror functions, but its plastic came warped, causing it to cast a peculiarly shaped light and making me wonder about its long-term lifespan (though one usually imagines survival in terms of a few days prior to being rescued, and no doubt it would last for that). The knot-tying guide consists of diagrams for two knots, not exactly exhaustive—but hey! The pencil works well.
Testing Conditions and Usefulness
I quickly realized that the only way I would be able to adequately test this knife and kit was to carry it with me daily—no handful of wilderness expeditions could exhaust the tools that come with this kit. So, while I did take this kit to my beloved Uwharries and also on a weekend trek on the Appalachian Trail in Tennessee and North Carolina, I also carried it everywhere and used it as occasion arose over a period of a couple of months.
It is amazing how often occasion arose. My son needed batteries changed in a toy; no problem, I had the SwissChamp.
I needed to open a package or feather a stick for tinder: again, no problem. My son, who has braces, looked longingly at an apple and wished it were cut up: out came the SwissChamp, and voila! He ate sliced apples. A student on the Appalachian Trail hike got a splinter: when the SwissChamp tweezers proved insufficient, we turned to the multi-pliers and soon had the splinter removed.
We used a first aid kit afterwards, but I suppose we just as easily could have used one of the adhesive bandages from the SOS kit. I did, in fact, use one when I sliced open my finger on a lawn mower blade one afternoon (the bandage resisted opening due to having been squeezed into the pouch for ages, but the adhesive held well).
I will sum up my daily carry experience by saying this: while you are not likely to need all of the SwissChamp SOS kit's tools on a day-to-day basis, you will find them surprisingly handy if you have them on your person when needs arise. In the backcountry or at home, this is one heck of a tool box to have on your hip if you're willing to carry the weight. As I have often carried a multi-tool with me at home or on the trail, the weight is something to which I grew accustomed quickly.
I'll address the utility of this kit for survival later.
Performance
If you work within rational limits imposed by the tools' sizes, you will find that the SwissChamp's tools excel. The knife came sharp and it carved as efficiently as any Victorinox I've had over the years. While the wider body of the SwissChamp took a little getting used to, I didn't think about it at all after a few days of use. It feels good to use this tool.
The blade's edge angle (30˚) allowed me to vary curls from fine wisps to thicker curls, a boon for making feather sticks for fire-starting. When I changed the angle, it bit deeply into wood, the keen edge slicing cleanly to allow me to carve notches with ease.
Having given the blade much use in the past two months, I decided to touch it up with the sharpening stone as I shot these images. It only took a few strokes to restore the edge. How convenient, having a sharpening tool included in the kit!
The saw is very sharp and efficient as long as one uses it to cut widths of wood less than the saw blade's length. Like the knife, it is fun to use, too. It notches wood well, and it allows one to fashion neat joints. It's a compact winner.
The various screwdrivers work well too, especially since most allow one to use either a 90˚ angle for additional leverage or a vertical position for more direct driving of screws. I found that both positions to be useful, and both slip into position in confidence-inspiring, authoritative fashion.
Since survival might conceivably depend on repairing one's gear, I took the opportunity of reviewing the SwissChamp to make use of the sewing awl, a Swiss Army Knife tool I've never used myself previously despite having them on several knives.
Working with heavy, needle-defeating fabric, I discovered that the sewing awl could effectively be used to mend tough fabric (note: lighter weight fabric would likely tear from being punctured by the awl, while thick fabric, webbing, or leather can be repaired with this tool). In the shots below, I used the inner thread of 550 paracord and the awl to sew through some rugged pack cloth.
Part of the fun of using such a multi-tool is discovering functions you haven't considered before. Viewing Victorinox's own video, I learned uses of tools I'd never thought about previously. Time and again in use the SwissChamp worked well. Never did I find it wanting.
No, you can't manhandle materials with the pliers like you might with a full-sized Leatherman. No, you can't saw down trees with this sharp but compact knife, but as long as you work within reasonable limits, you will find the SwissChamp up to the task and a pleasure to use.
Thinking about Survival and Rescue
So what is useful about the kit's contents in a survival situation? Ah, there's the rub.
Having a sharp and functional knife is key to many survival strategies, and many survival instructors would likely name a good knife as a key tool for survival. The SwissChamp offers keen blades and a sharpening stone, a combination that could keep someone with appropriate survival knowledge in business for quite some time (Felix Immler's six-part series reveals just how useful a Swiss Army Knife can be in survival situations).
The compass is a compact but very useful tool that could allow one to avoid getting lost in the first place or allow one to travel purposefully to seek help in the event of adversity. Obviously, this is a valuable tool in a survival situation. It is compact and readily carried, and it allows one to orient a map quickly to ensure accurate direction of travel. The limited gradations of the compass will allow for only rudimentary bearing-taking, but its size is convenient for a quick directional check from time to time.
Signaling is important, especially if you are in sight or in hearing range of a search and rescue team. The plastic signal mirror would likely attract attention from would-be rescuers if one used it properly, and it does have a hole in the middle to allow a user to focus its flashes on a rescue plane, vehicle, or person. However, the curious bend of the plastic does produce an unusual, eye-shaped light, oriented horizontally (see below).
Having a copy of Morse Code or international distress signals is certainly useful; no complaint here. The mirror can be used for Morse Code signaling.
There is also utility in safety pins, which could be fashioned into fish hooks or used to fix gear, transform a shirt into a sling, secure a bandage, or more. The large size of them allows for more robust use than would smaller sized pins.
Having the means to write—pen and pencil and paper—could alert a Search and Rescue team to one's needs or allow one to chart one's bearings during backcountry travel. The paper also could be used for tinder if one needed fire.
Of course, with all of the tools on the SwissChamp, any number of potential crises caused by gear failure might be averted, but each of these strategies requires a measure of pre-existing knowledge on the part of the would-be survivor.
Reservations about the Kit
This kit is labeled on the literature included in the box as the SwissChamp Survival-Kit SOS-Set. Acknowledging that some hyperbole may enter into marketing labels, this label nevertheless puts some fairly significant expectations on the kit.
For instance, a consumer might reason that he or she could expect the kit to help him or her survive in the event of some mishap. To be fair, this isn't an overnight survival kit or a 72-hour bag: it is a knife plus some accessories. Still, it is worth considering how this kit might help someone survive, given its label.
Survival priorities are generally held to be—in order of priority—shelter, water, fire, and food (survival instructor Creek Stewart explains them this way). There is an old survival maxim, oft-repeated, that one can endure extreme weather without shelter for three hours, survive without water for three days, and survive without food for three weeks. So how does this kit help address these priorities?
Shelter
The SwissChamp itself would be a champ for shelter making. The saw and knife allow one to conserve calories while executing tasks with precision: instead of wrestling with a piece of wood to break it in half, only to find tenacious fibers clinging as a hinge, the saw and knife can separate a piece of wood into usable lengths with ease. The saw bites cleanly through timber, and the knife slices away wood cleanly. One could build a shelter efficiently with these, and, indeed, when I practiced such cutting techniques with the SwissChamp, it worked well. Kudos, then, for a very functional multi-tool that would be useful for emergency shelter building.
The paucity of cordage provided in the kit was a bit of a surprise to me: the nylon string provided in the SOS kit I quickly used for a household task, but given the need for a lanyard to pull the SwissChamp out of its pouch and the fact that some commercial knives come with lanyards, I think Victorinox missed a practical opportunity to add more cordage that would have been useful for shelter building. Even a commercial-grade 550 paracord lanyard hooked through the key ring would give someone faced with survival not only the length of the paracord sheath, but also the seven inner strands that could be used for shelter building, fishing line, sewing, and more—a yard of paracord could yield 45 feet of usable cordage.
Water
There is nothing specifically included in this survival/SOS kit to aid with water purification, the second priority of survival. This struck me as a little odd: purification tablets are readily available, and certainly the pouch could have been designed to accommodate a few of these that would permit water purification. As it stands, the owner would have to start a fire to boil water in order to use this kit for water purification. The five matches provided in this kit could help, of course, but what if they got wet? Wouldn't this introduce a slim margin of error?
Was Victorinox banking on the fact, that in a survival situation, drinking unfiltered water might cause illness, but—in the short term—not death? It's hard to say. Maybe it simply came down to using the survival label as an effective marketing moniker.
Fire
Fire-building is presently severely curtailed in my region due to a fire ban caused by severe drought (and forest fires), so I experimented at home under controlled conditions. I wondered about scraping material from wood (and from resin-impregnated fatwood) with the SwissChamp to create tinder for fire-building. The file proved to work well, digging into a piece of fatwood with sufficient aggression to produce a fine, resinous tinder that would take a spark or the flame of one of the provided matches easily.
The wooden matches work well, too, offering a stout shaft to scrape against the sandpaper to light the match and providing a little bit of tinder as the wooden shaft burns. The provided matches ignited promptly, but there were only five. In adverse conditions—imagine rainy weather and wet fuel at cool temperatures—having only five fire-making attempts would be a liability if that was one's sole means of making fire.
A person proficient in primitive fire skills could use the SwissChamp to help make fire (carving a bow drill kit, for instance), but relying on such an option requires knowledge, experience, and practice—not things included in the kit.
Could the SwissChamp's magnifying glass be used to start a fire using the sun? It certainly is functional as a magnifier, as the image below attests.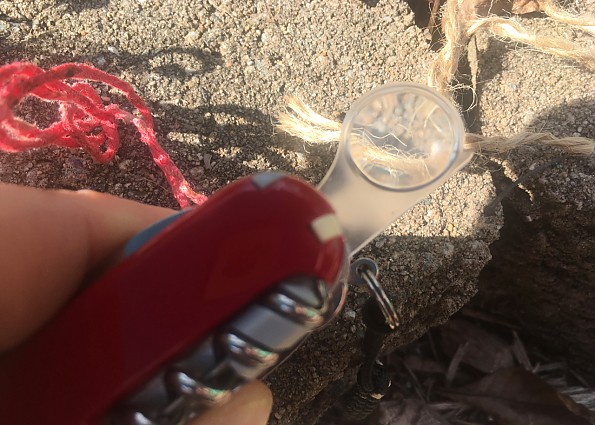 But in my attempts, no, it wouldn't start a fire: the diameter appears to be too small to grab enough solar radiation, a sharp contrast to a credit-card sized fresnel lens I used that had my shavings smoldering within seconds.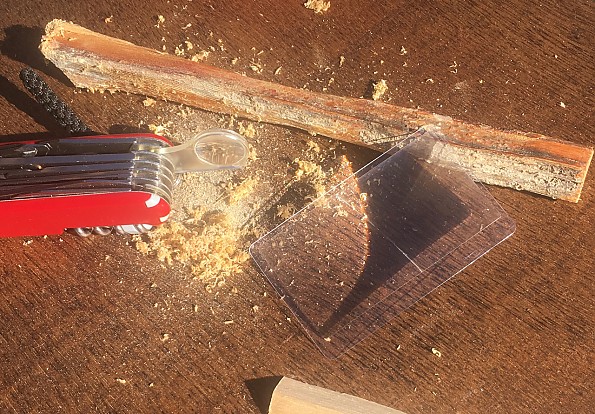 Overall, I was disappointed by this kit's fire-making options. A ferrocerium rod could easily have been included, and—while requiring more knowledge than matches—it would also provide literally thousands of more fire-starting attempts than the kit's provided five matches do. It's absence seems like a curious and major oversight. Do I really need both pencil and pen when I could ditch the pencil and, in its place, have a ferrocerium rod?
Food
The kit provides no obvious means of actively acquiring food: no fish hooks, no snare wire. This, too, seems a little curious: the knife itself comes with a fish scaler, and one could handle snare wire easily with the multi-pliers, yet neither fishing kit nor snare wire comes with this SOS/survival kit (evidently, Victorinox does make an SOS Deluxe kit that includes an emergency whistle, a comb—why?—a flashlight, a thermometer, a fishing kit, and extra toothpicks and tweezers).
One could make traps if one had the knowledge, and one could probably fashion a fishing kit using the nylon string and modified safety pins, but if preparing the kit for survival were my goal, I'd switch out the sewing kit and replace it with some monofilament and fish hooks.
Conclusions
Victorinox provides a stellar tool in the SwissChamp. Its design is intentional and extremely well conceived. Its tools are ready for the tasks they may encounter, provided, of course, that one doesn't imagine them to be the equivalent of a set of home tools. They will offer one much to work with, both around the house, on the road, in the backcountry, and certainly in a survival situation. Moreover, the long history of Victorinox suggests that the SwissChamp will hold up for many years to come. Sold alone, its MSRP is USD $80-90. This is fair value for a quality tool.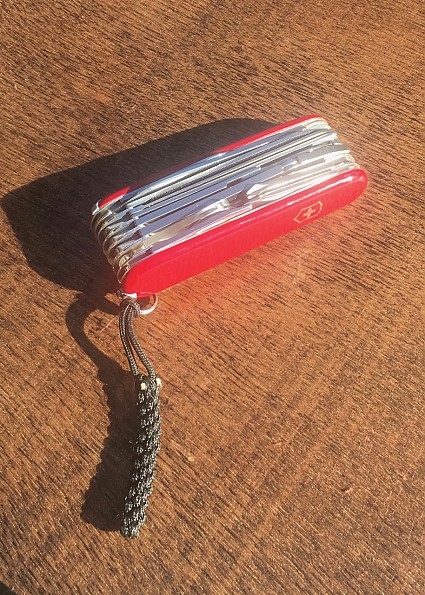 Were I to rate the SwissChamp on its own, I'd give it 4.5 out of 5 stars, docking it half a star only because of the weight and bulk of this multi-tool, which could discourage some from pocket carry.
Sold with the SOS kit, the price jumps to an MSRP of USD $160.  Are the kit tools and pouch worth an additional USD $70-80?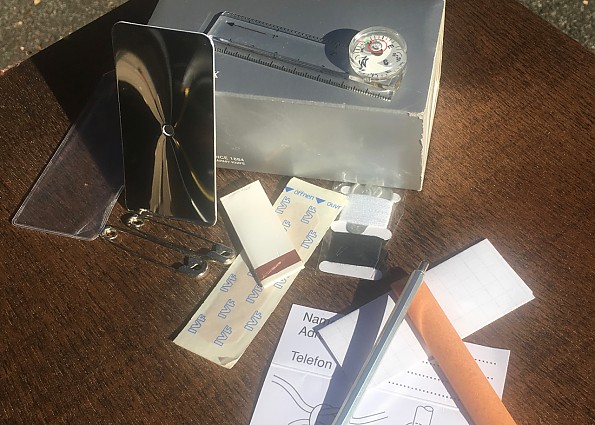 I don't think so.
While the compass and sharpening stone are quite nice and have much utility, I don't think Victorinox did quite enough research and development when putting together this kit. It seems to me a little gimmicky, which is disappointing given my elation at the value and performance of the SwissChamp itself.
Minimally, given the value of fire to human survival, the absence of a ferrocerium rod as a waterproof, many-use, fire-starting item seems rather surprising, especially since it could fit neatly into the existing pouch.
While other items are useful—the sewing kit, for instance—they are not things I'd prioritize for a survival kit. Given the the survival-SOS label and the priorities that label suggests, I don't think the sheath and supplemental tools merit the price jump. Were I just rating the kit apart from the knife, I'd give it a 3 of 5 stars.
However, a purchaser of this kit will end up with a superb multi-tool—the SwissChamp—and a useful compass, an admirably compact sharpening stool, and a belt pouch with potential. With some serious consideration of survival priorities, one could easily retrofit the survival kit to better live up to its name.
This would be the approach that I would recommend: knowing that if you purchase this kit, you'll get a great multi-tool with a nice compass, a sharpening stone, and a useful pouch; a core of items to which you can add your own additional pieces to truly make this the survival kit it is marketed as being. Approached with such a caveat, this kit would work well for anyone in need of a solid core around which to build a compact survival kit--for a car's glovebox, a hunter's pack, or a hiker's belt.
Source: received for testing via the Trailspace Review Corps (Sample provided by Victorinox for testing and review)

Your Review
Where to Buy
Help support this site by making your next gear purchase through one of the links above. Click a link, buy what you need, and the seller will contribute a portion of the purchase price to support Trailspace's independent gear reviews.
You May Like
Specs
Price
MSRP: $174.99
Historic Range: $169.99

Recently on Trailspace