Walrus Cascade Condo

Top 50 in 3-4 Season Convertible Tents
Walrus is no longer in business, and the Cascade Condo has been discontinued. If you're looking for something new, check out the best 3-4 season convertible tents for 2021.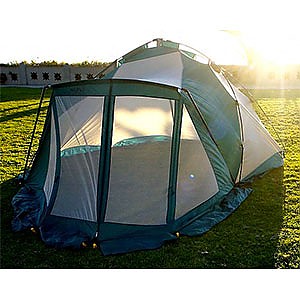 Specs
| | |
| --- | --- |
| Price | Reviewers Paid: $65.00 |
Reviews
3

reviews

5-star:

1

4-star:

2

3-star:

0

2-star:

0

1-star:

0
Walrus Cascade Condo Limited Edition Family Tent 4 + Person. (circa 1999)
Pros
BIG.
Can set up fly first in rain, then inner tent while keeping it dry under fly
prototypically unique concept of Walrus/Moss quality in Campground Family Tent
Huge front vestibule "Screen Porch"
Specialized nylon, and other integrity fabrics.
Cons
Too soon to evaluate cons
Surprised it has MOSTLY fiberglass poles.
Hello,
The Cascade Condo was made by WALRUS, a high respected tent maker, like MOSS.
Both are no longer in business, but were acquired by MSR for their very highly rated tent designs. They are only available as pre-owned and with no replacement parts, although I assume somewhere there is a fabricator or artisan or repair tentmaker, or skilled DIY types, that could fabricate or repair existing tent components to some degree.
I am including many images of the tent, plus data, instructions, and "definitive care for [at least this] Walrus tent".
I have encountered data online saying it is four-season, and "built to 4 Season Base Camp Specs," but am doubtful due to big porch with mesh and fiberglass poles for most of tent? (It does have skirting around entire perimeter, but instructions say that is folded under and inward, as opposed to snow-skirting.)
The data included with my tent from Walrus does NOT specify how many seasons. I'll strongly assume it's a THREE SEASON at best, and as specified in instruction pamphlet, "CAMPGROUND STYLE," and on the tent itself: "family series limited edition," tent.
I think the point of this Walrus Cascade Condo (and related Walrus Armadillo) is that WALRUS and MOSS were making VERY high quality tents, but they, ultimately, wanted to offer their idea of a Campground Family Tent, and yet with their signature high quality fabrics, seamwork, zippers, and design, but nevertheless still be CAMPGROUND TENTS. While they brought in much higher quality materials than standard campground tents they still chose, as they felt it was strong enough for campground use, mostly fiberglass poles throughout this model tent (with aluminum or steel couplers).  The front porch is supported by two large diameter beefy steel poles vertically (actually slanting forward), and then a multi segment fiberglass cross piece at top.
NOTE: Since there is controversy on how to wash tents, it's interesting that Walrus gives its clear opinion of how to wash and dry tent, as well as pole care, etc. Notice what instructions say on the option of washing with commercial front loading machine (It explains it as a definite option and the details.  it CLEARLY SAYS YOU CAN NOT USE HOME "AGITATOR" TYPE WASHING MACHINES!!  NO, NOT, NADA!  That vertical agitator in a top loading washing machine even tears up (my) clothes, and would certainly seriously risk injuring or destroying a tent).
Being a novice, i would worry a machine washing would risk important coatings? I would assume one would use exceedingly mild soap or none.
AGAIN, THE FIRST GROUP OF IMAGES ARE OF FLY AND EXOSKELETON ONLY.
First two shoots show tent quickly jury rigged into place with only Outer Tent (Fly) Up.
Next (NOCTURNAL) shots further below will show ENTIRE TENT WITH INNER & OUTER TENTS.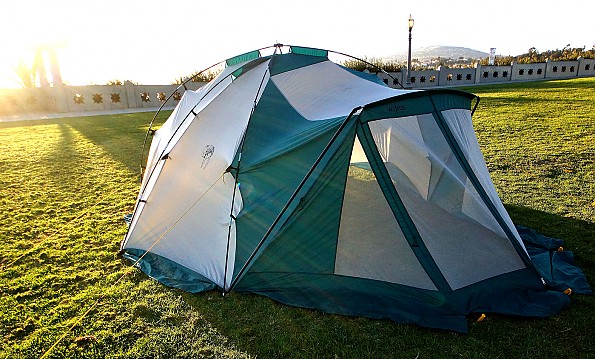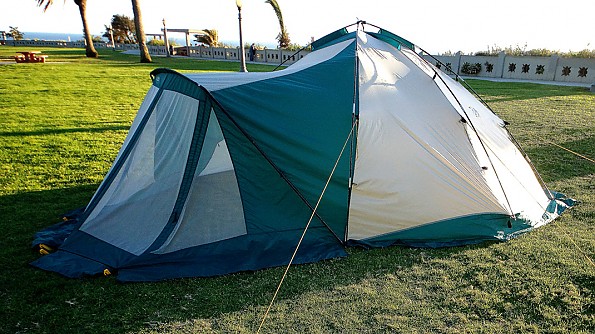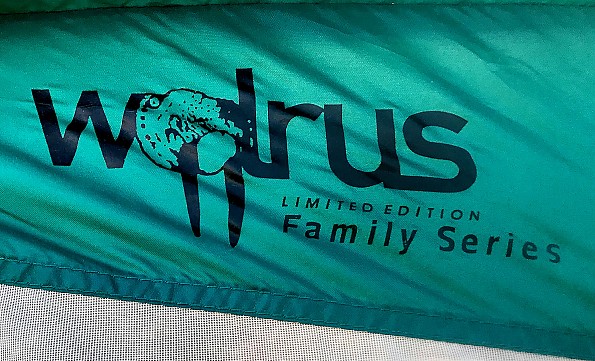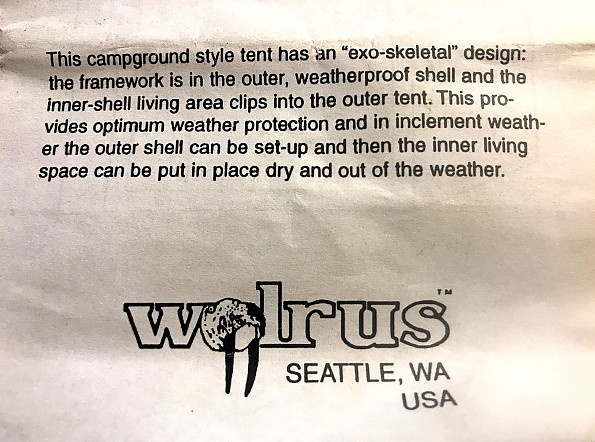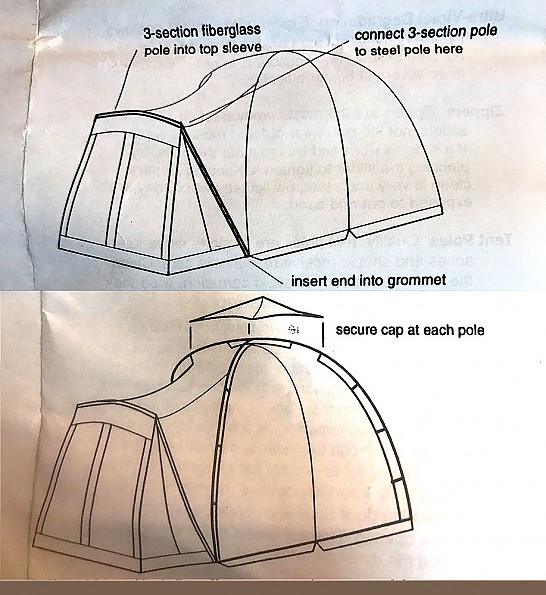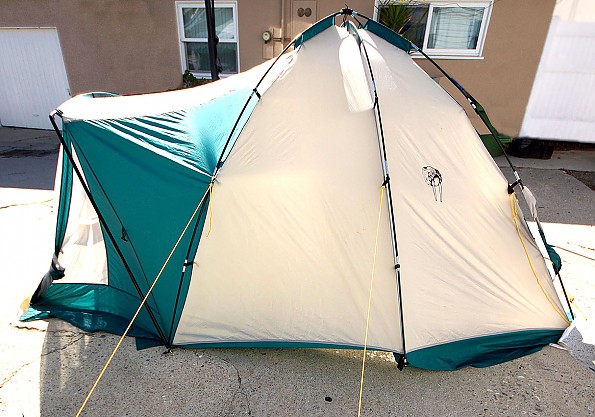 NOTE: NEITHER THE DIAGRAM, BELOW, OR THE INSTRUCTIONS, SPECIFY THE ADDITIONAL segmented Pole that arcs across the tent from one side to the other and does NOT go into the top hub, but arcs underneath that hub and goes through a sleeve on top of the tent, and is secured by clips on the sides.  You can see this additional pole in the photo of my tent directly above, and two images above in their diagram of the whole tent in a line drawing, but not in diagram below.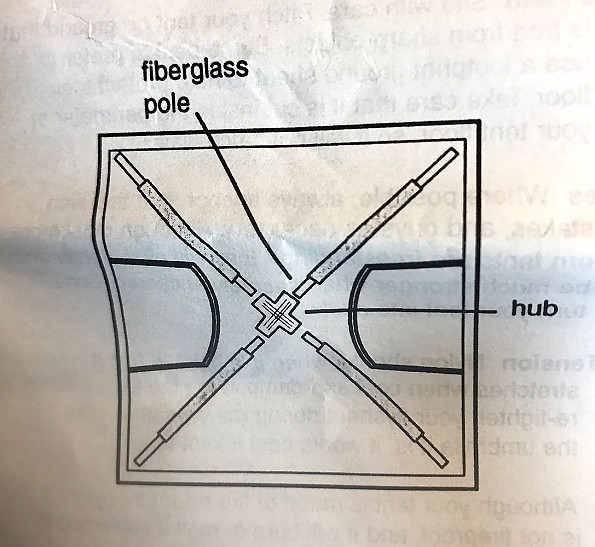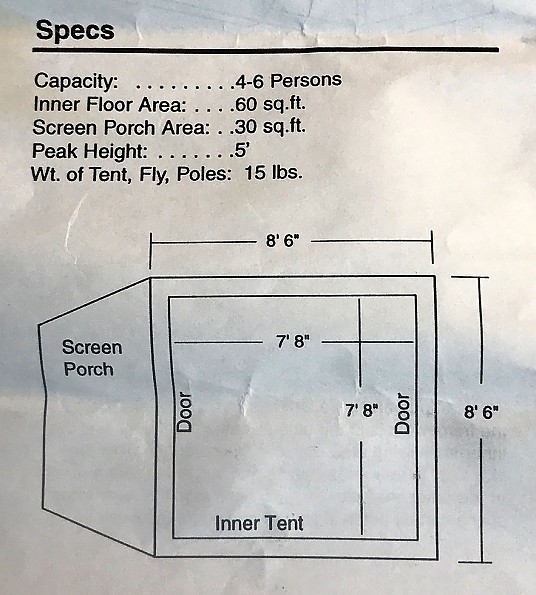 THE DIAGRAM ABOVE DOES NOT SHOW REAR VESTIBULE.

Ultra-wide angle lens distortion in interior images.


ABOVE 2 IMAGES SHOW INTERIOR LOOKING TOWARDS FRONT VESTIBULE (SCREEN PORCH)
BELOW IMAGES NOW HAVE "INTERIOR TENT INSTALLED" which hangs by clips from the outer tent which is the Rain Fly.  The Outer Tent MUST be installed FIRST, then interior tent is hung from it form the inside. 
FIRST IMAGE BELOW IS FROM INNER TENT LOOKING TOWARD, AND THROUGH, FRONT SCREEN PORCH (an elaborate large front vestibule, big enough for a couple small camp or beach chairs.... can sit and read, or paint, etc., in front screen porch, or store gear).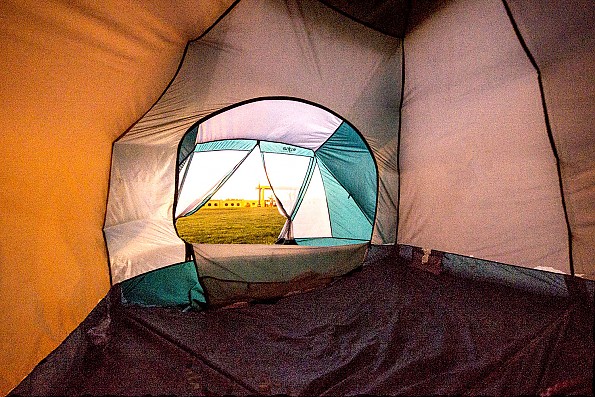 BELOW:  YOU SEE WHOLE TENT UP WITH OUTER AND INNER TENTS VISIBLE.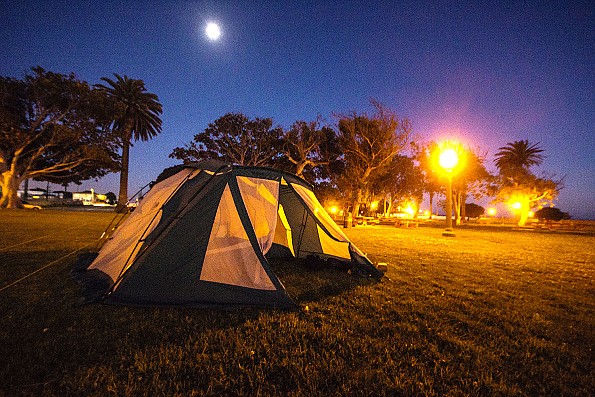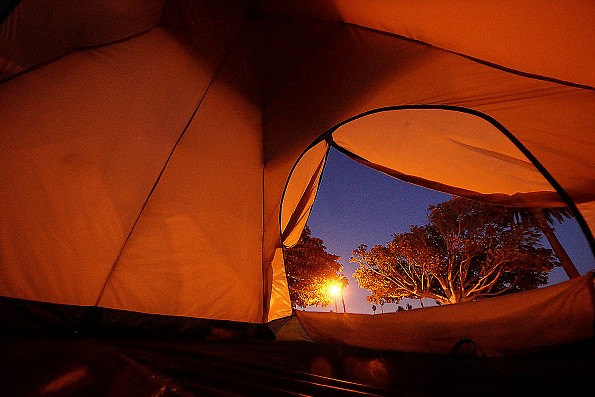 ABOVE: VIEW FROM INNER TENT LOOKING TOWARD AND THROUGH REAR VESTIBULE AND DOOR.  (Rear vestibule is substantial, but smaller than large front porch vestibule).

BELOW: fully set up tent with outer and inner tents.  View from back looking through rear vesibule through tent and out through front porch/vestibule.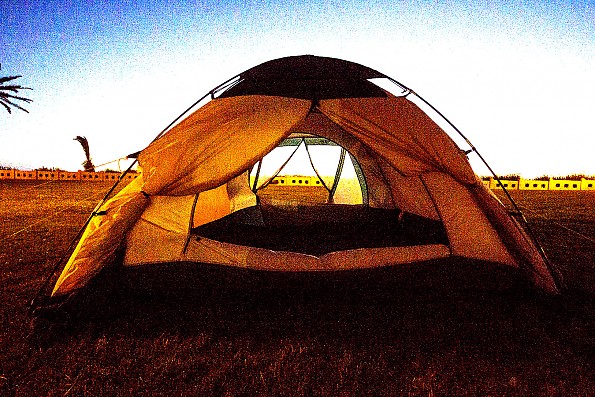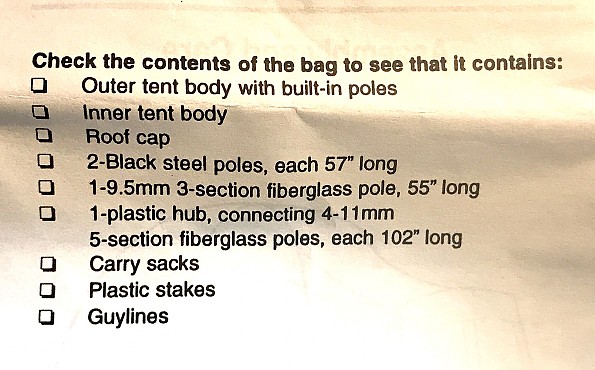 FORGIVE MY PERHAPS TOO CLUTTERED PHOTO BELOW, WITH MY OWN EXPLANATIONS ON INSTALLING THE INNER TENT, BY HANGING FROM THE OUTER TENT.
MY REASON:  I ultimately encountered postings on various very random forums, with some people saying they loved the tent, but that the set-up was complicated and painful, hence these added notes i put on my own photos of the tent.
Personally, and being very unskilled in all this, I have nevertheless learned that after practicing a few times, the entire set up goes very easy, whereas in my first attempt I was totally humbled.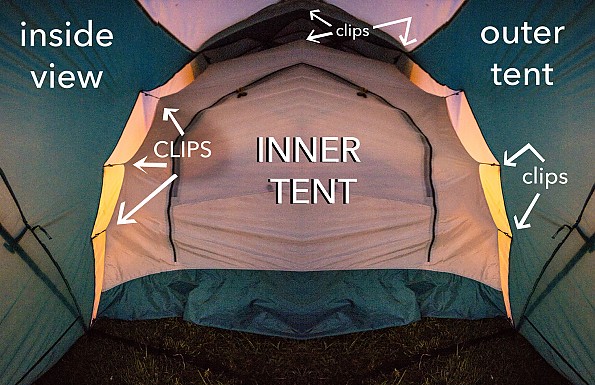 Above, I photographed this from inside the front vestibule (screen porch) to show how the dome of the inner tent is hung by clips to the outer tent.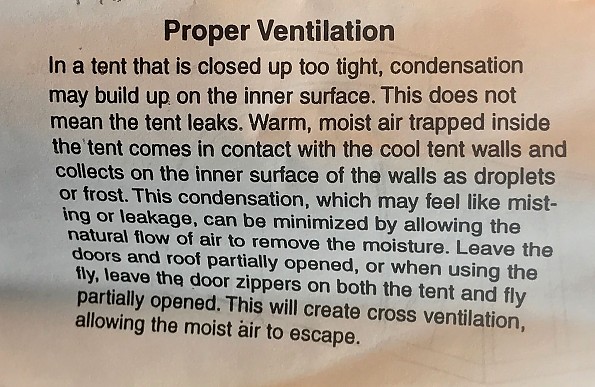 My Walrus Cascade Condo is above, but I just found that the Armadillo model is apparently nearly identical except for size. One smaller than mine simply called the Walrus Armadillo and a unique HUGE Walrus Armadillo "Big Sur Model" below.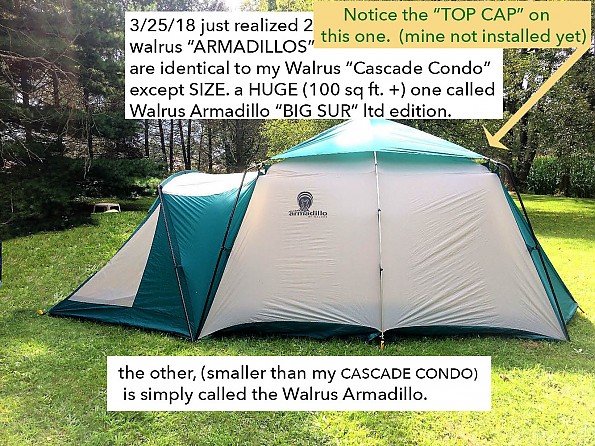 BELOW: MY WALRUS CASCADE CONDO, PRACTICE SET UP THIS EVENING ON MESA ACROSS THE STREET FROM WHERE I LIVE NEAR CLIFFS OVER PACIFIC OCEAN, A "CAMPGROUND", "MODERATE 3 SEASON BASECAMP" OR I GUESS "FESTIVAL" APPLICABILITY OF THE TENT BUT, AGAIN, WITH WALRUS/MOSS LEVEL CONCEPTUAL AND SKILL LEVELS.   Within these parameters, and given the tentative nature of this early review and very limited practice set-up trials with it, i like it very much. 
Source: received it as a personal gift

Cons
Requires some practice to set up
Our Walrus was our shelter through years of family camping at Rocky Mountain, Great Basin, and Yellowstone. It's over 20 years old, and my daughter has it for her family now. I shipped it off with a misty eye; many years of hard use. It takes two to pitch, and at least one of them better know what they're doing...
It was great in snow and sleet (Yellowstone in June) and pretty wind resistant. It really needs to be staked to pull out the side panels, but lots of headroom for standing and dressing, etc.
It's not a warm tent, too much interior space. Takes five bodies to heat, so to speak. But a spectacular piece. Heavy, of course.
Source: bought it new
Price Paid: can't remember

I just picked one of these up in new condition. Can't wait to use it!
Pros
Just awesome! A design ahead of its time
This tent like all Walrus products are the best. Best made and best designed.
The Cascade Condo is very spacious. Grab one if you can!
I now have four Walrus tents. I'm looking for a Heatwave, or at minimum the rain fly for a Heatwave.  I have one, but I bought it incomplete and would love to have a full setup.
Experience
Walrus tents are the best. I have four—looking for a Heatwave it anyone has one for sale.
Source: bought it used
Price Paid: $65

You May Like
Recently on Trailspace