Warbonnet RidgeRunner

#10 in Hammocks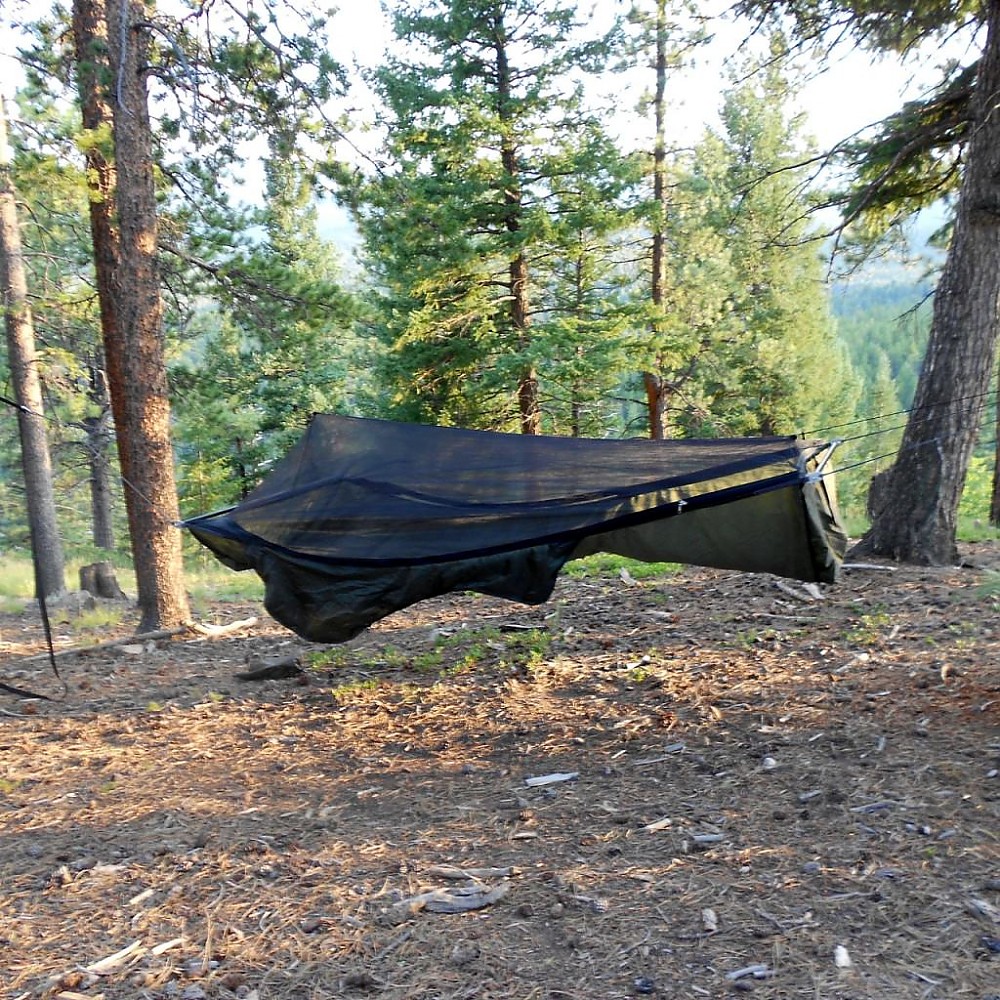 Original Review: January 16, 2013

A hammock you can lay on your stomach in? It's true. I am a devoted stomach sleeper and find this hammock to be my answer to a comfortable night's sleep.
Pros
Can lay on stomach or semi-fetal on side
Full bug netting (3 full side zippers)
Bug net stores in pouch at foot-end when not in use
2 good size gear storage pouches (one each side of sleeper)
Spreader bars can be replaced w/ hiking poles to reduce weight
It's a hammock, you can camp almost anywhere
Cons
Need a large tarp to ensure keeping dry in wet weather
Okay, I didn't believe it either, but it is true. You can actually lay on your stomach in the Ridge Runner hammock by Warbonnet. I decided to try hammock camping because I love the idea of being able to set up just about anywhere I wanted to.
Here in N.H. trees are abundant but flat, clear spots not so much. I was never as thrilled as other hammock sleepers because I am a stomach sleeper and in a gathered end hammock you sleep on your back. But now I'm hooked and will only go back to tents on those few occasions that I can get my wife to camp with me. 
I am not a fitness geek, I don't spend my life in the woods, but I do weekend backpack about ten times per year, a couple of those in winter.
I bought this hammock new, directly from the manufacturer. It sets up like any other hammock, wrap your strap around a tree and tie the hammock ends off.
What's good about it...
With the Ridge Runner you lay flatter than other hammocks and you can actually sleep on your stomach without any pain. (Because I can now sleep on my stomach I find that the use of a pillow is best). 

Has a bug net, with a two-way zipper, that zips around on three sides. Seals you off from the bugs if they are out and just unzip the three sides and tuck it away into the small storage pouch at the foot-end of the hammock if you don't need it. (I'm 5'9" and I never know it's there).

It has two storage pouches which hold a decent amount of stuff. They are located on each side of you as you lay in your hammock. I put in tomorrows clothes, down booties (in case my feet get cold), a water bottle (hey, what if I wake up thirsty), a snack, a headlamp and a book to read. You never feel any of it while laying in the hammock and they are extremely easy to grab when you need them. 
They say you can replace the spreader bars with hiking poles but I have never done this because the spreader bars don't weigh much at all and I'd rather use the hiking poles on the tarp.
Speaking of tarp; this is the only drawback that I have experienced. You need a large tarp to ensure both ends are covered and you don't get wet when it rains. I find that 11' x 12' works good.  You don't get a lot of overhang on the ends but enough to work. (Too much would be a waste of weight anyway).
Update: December 24, 2013

If you're a stomach sleeper then this is the hammock you've been looking for. The advantage to hammocks is that they get you off the ground, and that here in New Hampshire you can set up anywhere.

It has two side storage compartments (one each side) that will hold whatever you will need during the night and you don't feel them while laying in the hammock. It has a zippered bug net that unzips from foot to foot and can be rolled out of the way if not needed.
Pros
Lay flat on stomach or back
Hang anywhere there are trees
Excellent workmanship
Ample gear stow compartments
Zippered bug net
Cons
It's a hammock, you sleep alone
A hammock is very easy to set up, just find two trees about 15 feet apart and attach the straps. No need to worry about rocks on the ground or even a stream. The tarp should you choose to use one, you know to keep rain off of you, requires simple attaching to the same two trees the hammock is attached to and then staking out the corners.
I have used mine in some very heavy rain and also in some pretty strong winds and have had no problems and slept well each time. I don't use end doors on the tarp so there are never any ventilation problems. I am 5' 9" and there is plenty of room, the manufacturer says there is room for someone up to 6' 6". 
Source: bought it new
Price Paid: $150

Great hammock if you are a small person.
Pros
Easy setup
Great workmanship
Reasonable price and weight
The best hammock for smaller people
Cons
I think if you have broad shoulders you will be unhappy
I like this hammock. I am 5'10" 168 pounds with broad shoulders. Lying on my back there is a slight shoulder squeeze. Not enough to bother me, but if I was any broader in my shoulders the shoulder squeeze would bug me.
BTW, side sleeping is GREAT in this hammock. Love everything about this hammock although I wish there was a carbon fiber spreader bar option. You can get one of these for 130 dollars without bug net which IMHO is a heck of a deal. FYI I also own a Blackbird XLC, a Hennessy, a Therm-a-Rest, a Bliss, and a few others.
One more thing—the ENO Blaze (older model) full length under quilt works perfectly. 
Experience
FYI, I also own a Blackbird XLC, a Hennessy, a Therm-a-Rest, a Bliss, and a few others.
Source: bought it new
Price Paid: $140

A True Flat-Lie Hammock System.
Pros
Side sleepers, rejoice!
Superbly designed and built
Made in USA
Cons
Maybe not for serious gram-counters
I have spent decades looking for a perfect camping hammock, ordered my first "jungle hammock" from an ad in the back of a comic book. A disaster of course. Tried the mesh cargo net types in the '70s. Bought an original Hennessy. This one is the real deal. 
I'd second all the features mentioned by other reviewers. The mosquito netting is easy to use. The side pockets are roomy and make it easy to keep your nightly needs organized. There is also a shallow pocket at the head and foot ends.  The double base / pad sleeve is open at both ends which makes it much easier to insert a pad than if one end is closed. All zippers run smoothly with little tendency to snag. 
I opted for the down underquilt, which is a masterpiece of tailoring. It fits the hammock so perfectly there is no room for drafts to get between them. It clips at the four corners with mini-carabiners and requires no fiddling to get it perfect. Note that the quilt has a flat side which goes against the hammock, and the more quilty-side hangs down. With a space blanket tucked into the pad sleeve I have slept toasty at +5 degrees F. 
I also opted for the Spindrift Sock, a breathable nylon cocoon that encloses the hammock and adds 10 degrees of warmth. I ordered it with double doors, which are now standard. I originally planned on using the sock only for shoulder season and added a pair of bridge hammock whoopie hooks from dutchwaregear.com to facilitate installation and removal of the sock. Without these, you have to unthread the webbing from its D-rings, then rethread it.
As it turned out, here in the Rockies I leave the sock on all summer. As a bonus, the sock protects the down quilt from dirt or rain splash-up. You can rig or stow the mosquito net with the sock in place. Rigging the netting adds a surprising amount of additional warmth. Full disclosure, be prepared for frustration the first couple of times you install the sock.
One of the many things I credit Warbonnet with is not falling to the usual "stuff sack as marketing tool" syndrome where the main function of a stuff sack is to look tiny on the store shelf and move inventory. All of their stuff sacks, be they normal or double-ended, are of sufficient size for easy stuffing and no potential gear damage.
I did make a larger double-end stuff sack to hold the hammock, Spindrift, underquilt, and space blanket in one swell foop, which makes setup a breeze. The double-end sacks allow hanging or dropping the hammock without letting anything except the suspension touch the ground.
The standard suspension is webbing with carabiners on the tree ends and aluminum D-rings on the hammock ends for length adjustment, with dyneema cords for the "dog bone" lines leading to the spreader bars. While this is not the lightest possible option, it is VERY convenient and I haven't felt any need to change it out to save a few grams. My only nitpick with the stock spreader bars is that the one for the head end has a short intermediate piece which could be hard to keep track of. I just taped the little 4" piece to one of its longer partners.
Because of the spreader bars, a bridge hammock does need a bigger tarp than a gathered-end one. I originally planned on using one of my flat home made tarps, but after a few outings I ordered a "superfly" from WBO. It does an admirable job of covering the Ridgerunner pitched at varying angles for different conditions. I use a full ridgeline, which you can easily make or get one ready-made from dutchwaregear.com. A full ridgeline makes adjusting the spindrift (or netting if not using it) very easy, gives another place to hang gear or wet socks, and saves wear and tear on your tarp, plus helping out if you have to rig in a blustery downpour.
Dutchware sells spreader poles that fit the superfly and give lots of room underneath without having to rig your hiking poles as stand-up tarp spreaders. They seem pretty tight though and I worry about stressing the tarp attachments too much.
Weights for the system components, as measured:
Hammock and suspension          28.6 oz    810 g
Spreader Poles                          11.7 oz    332 g
Spindrift Sock                            12.3 oz    348 g
Down Underquilt                        17.8 oz    504 g
Superfly Tarp                             23.4 oz    664 g
plus the stakes of your choice 



If you are considering partaking of the many advantages and joys of hammock camping, I'd say the RidgeRunner is as close to a home-in-your-own-bed night's sleep as you can get.
I recommend that eveyrone watch Warbonnet's instructional videos. They are available on their website or on YouTube, and will inform you not only on their products, but many things hammocky and even general knowledge. (Do you know how to tie a slipped buntline hitch? Or how to coil your guylines so they will not twist and tangle?)
Happy Camping
Tim
Source: bought it new
Price Paid: Full retail at the factory in Evergreen, CO

Why do you want a Warbonnet Ridgerunner? It lays flat, like a bed. It also lays flat, like a bed. Then there is how it lays flat.
Pros
Bug net. I live in MN
Dual layer allows pad
I just got my RidgeRunner today. YAY! Had to run it out and find two trees. I found two that were about 20 feet apart. I put up straps and connected whoopies. They said to have the RR sag close to the ground, it will lift when you put the Spreader bars in. It lifted. I went over, laid into it, and ended up on the ground. I had it hanging way too low. I tightened, and raised and tightened and raised, and raised the head end and finally I was lying right.
Now it was time for the underquilt. I have a DIY that is 48" wide and I found that it is just too wide. Hey I'm a gear junkie, no problem. I grab a Therm-a-Rest pad. It was better, it would work OK, but I am probably just as wide as the pad, I could see cold spots. Back in, I grab a Nemo Cosmos pad. Yup, that was it. Flat, warm, soft, flat, flat. Did I say flat? I could lay on my back, my side and even roll on to my stomach.
Now I have to say, with a pad as thick as a Nemo, it is a little more tippy, but I still don't see it as an issue. I can't wait to sleep in it, I'll see you on next week.
I already am thinking of getting a spindrift sock for cool temps.
Source: bought it new
Price Paid: Full Price

Your Review
You May Like
Specs
Price
MSRP: $130.00
Reviewers Paid: $140.00-$150.00

Recently on Trailspace